Exporting and trading internationally has become challenging due to the Covid-19 epidemic. In order to increase sales and find online customers, numerous companies in several industries, including the cosmetics industry, have used eCommerce.
Additionally, to support eCommerce activities and achieve the objective of growth and scalability, cosmetic retailers shift from traditional business practices to keep up with the general development trend of the global economy.
In Vietnam alone, a handful of cosmetic firms in Vietnam have demonstrated extraordinary flexibility and agility in reacting to market adjustments "despite" the complicated changes brought on by the global pandemic.
The following brands have gained the trust of and made a lasting impression on cosmetic customers by creating professional and insightful eCommerce websites.
Hasaki
Hasaki, a company founded in April 2016 to provide full health and beauty care for Vietnamese people, has developed secure and quick online shopping experiences with a choice of high-quality cosmetic items from many of the world's leading brands in today's market.
Hasaki's eCommerce website was invested in and methodically developed from the start with the open-source platform – Magento – in order to deliver clients satisfaction in terms of comfort and efficiency when purchasing online.
More than 7 million visitors per month of traffic at a very high level demonstrate the wisdom of Hasaki's eCommerce investment. This company's expansion of its distribution network increased market penetration, and identification and diversification of the target customer were all made possible by sensible strategy.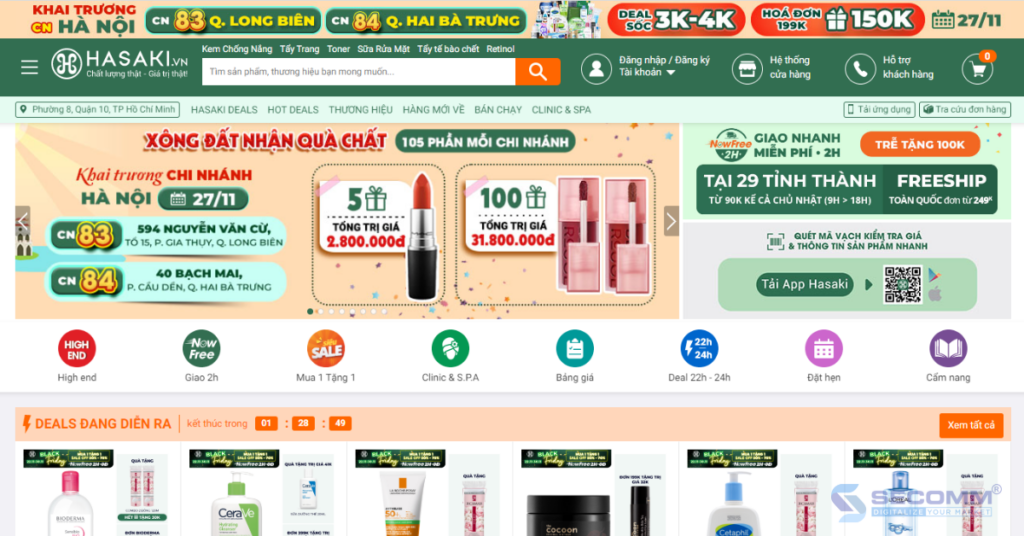 The Gioi Skin Food
The Gioi Skin Food is another well-known eCommerce site with over 2 million monthly visitors that focuses on selling cosmetics. This business worked with Haravan to create an effective eCommerce website with an easy-to-use interface.
The Gioi Skin Food has up now employed eCommerce in addition to the conventional retail shop method, which has been incredibly successful. This would enable the business to catch up with the online-to-offline (O2O) trend and raise brand awareness and revenue.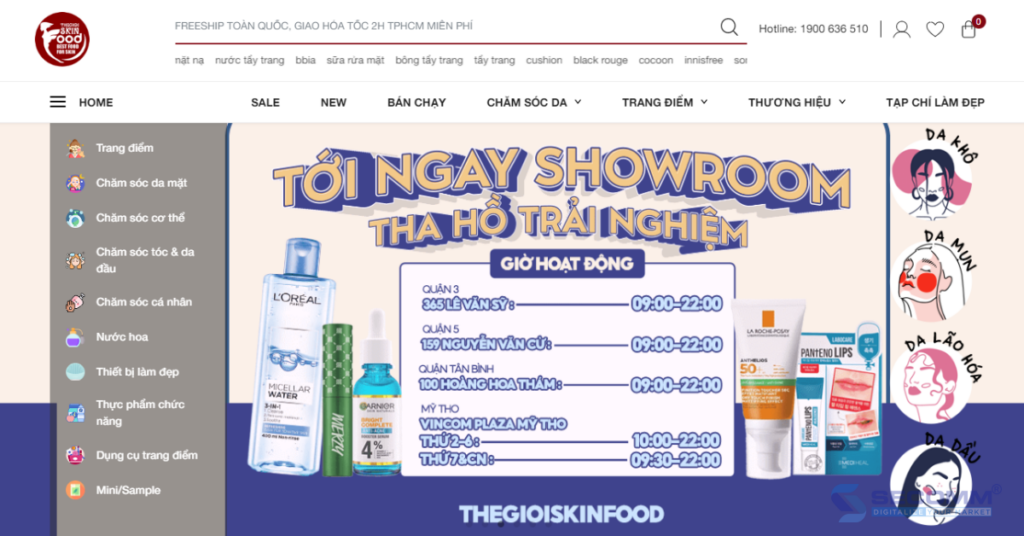 Watsons Vietnam
The Watsons Group, Asia's top retail organization for health and beauty products, owns the Watsons Vietnam brand. The company desires to provide Vietnamese customers with the finest shopping experience possible while also bringing them high-quality products that are appropriate for their needs.
Notably, Watsons adopted the O2O business model right away after entering the Vietnamese market. With the goal of dominating the market, Watsons Vietnam invests in developing an eCommerce website with SAP Commerce Cloud in addition to the store system dispersed throughout the neighbourhoods of Ho Chi Minh City.
Additionally, the user-friendly and aesthetically designed interface contributes to the website's amazing monthly visitation of more than 1 million.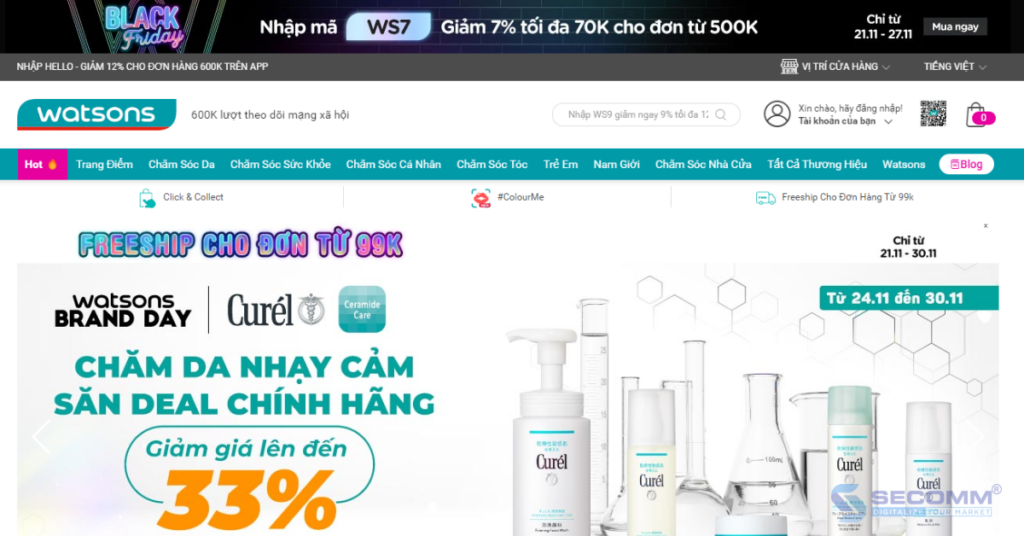 The Gioi Son Moi
The Gioi Son Moi is one of the places where people go to get lipstick that is well-known and reputable because of the guaranteed product quality and the courteousness of the staff. Every day, new products are added to the site, ensuring that there is always enough supply of well-known companies' lipstick lines in the right hues at competitive rates.
The Gioi Son Moi also swiftly launched an eCommerce website to join the common playground of the cosmetic retail sector, in addition to two physical locations in HCMC that are constantly being renovated, extending the amount of shopping space. As a result, the website is built on the Haravan platform and has a straightforward interface that is nonetheless opulent and complex.
Also, the extremely high monthly traffic volume (more than 1 million) also demonstrates the company's successful business strategy in the context of the market's innovation trend.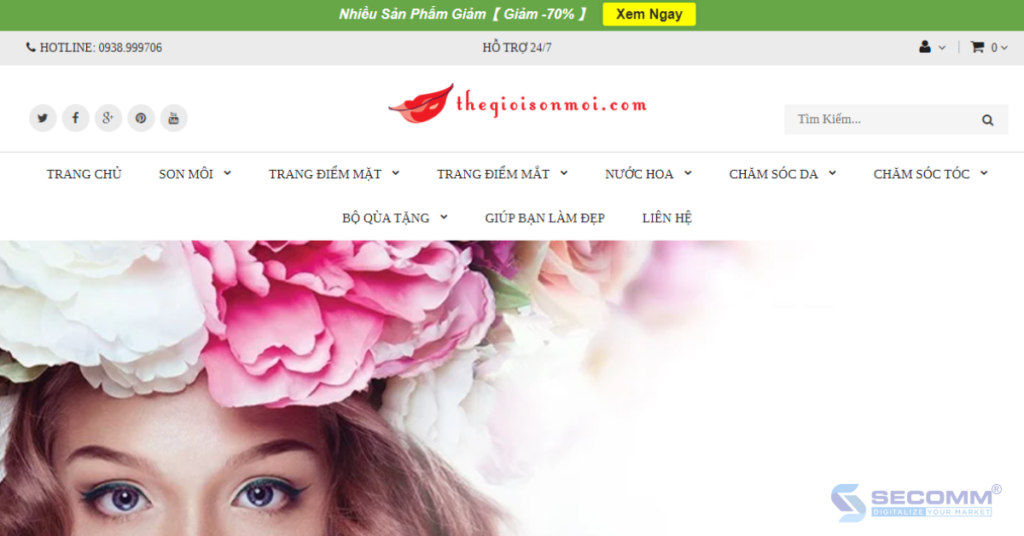 Bo Shop
Beauty lovers in HCMC can't help but be aware of Bo Shop, a company that provides a broad range of high-quality cosmetics, from skincare to makeup, at rates that are specifically stated to fulfil customers' demands for all types of beauty care.
The company quickly creates an eCommerce website using WooCommerce to keep up with contemporary business trends in order to become the top cosmetic retail brand in Vietnam.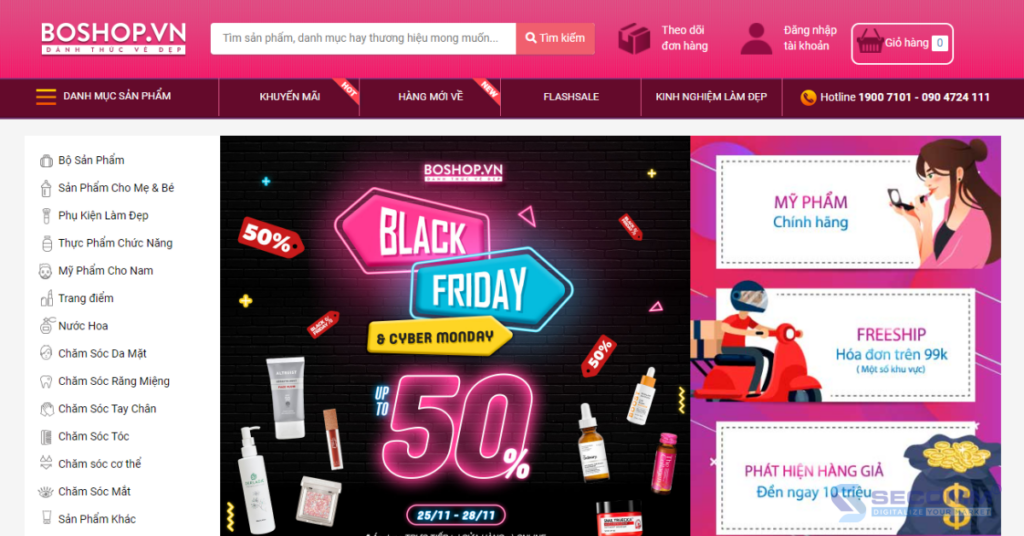 Guardian
For many years, Vietnamese consumers of cosmetics have been familiar with the name Guardian. This is a brand from the Dairy Farm Group that manufactures and distributes well-known health and beauty care goods all over Asia. In Vietnam, where Guardian first opened in 2011, the company now has more than 100 outlets.
In 2019, the business started its transformational path and parallel fusion of offline and internet business models. In order to create an omnichannel sales network (Omnichannel), Guardian focuses on building eCommerce websites with Shopify in addition to deploying potential sales channels like eCommerce platforms, apps, and fast delivery channels via GrabMart.
This gives customers more affordable, quick, and convenient home shopping options. After only a short period of time in operation, the Guardian website has attracted close to 1 million visitors each month.
Guardian has risen to the top of the industry and evolved into the biggest and most prominent retail chain for health and beauty products in existence today thanks to a significant investment in developing a multi-channel ecosystem.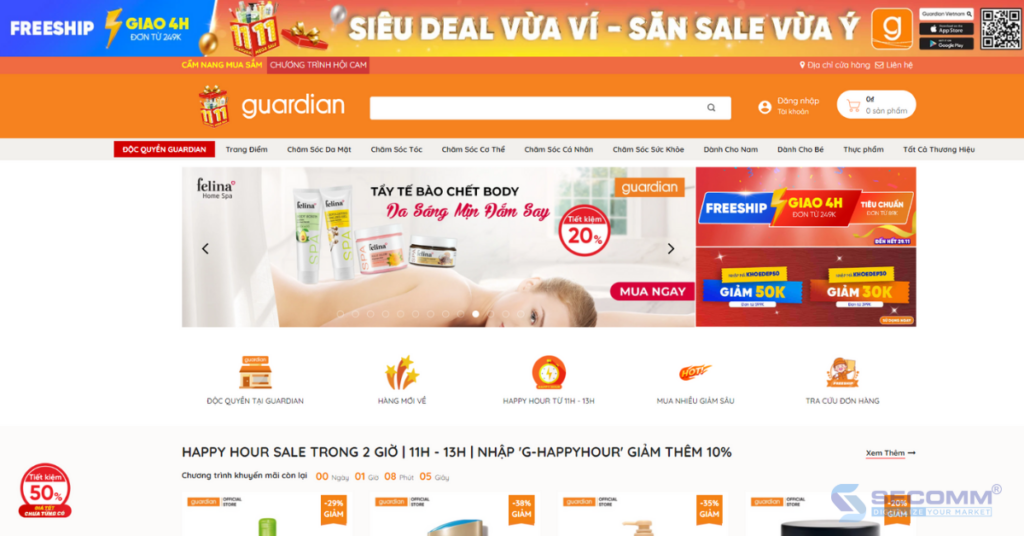 Lam Thao Cosmetics
Since Lam Thao Cosmetics' formal opening in 2017, young people have come to love it as one of their favourite cosmetic shops. Lam Thao Cosmetics is continually upgrading its product line with the most affordable rates in an effort to give customers more options with the trendiest goods and improve their experience.
Along with offering high-quality goods, Lam Thao also runs an eCommerce site on the Haravan platform to enhance clients' offline and online purchasing experiences. The success of eCommerce implementation has also helped Lam Thao Cosmetics reach a significant number of online prospects, boosting both sales and brand recognition.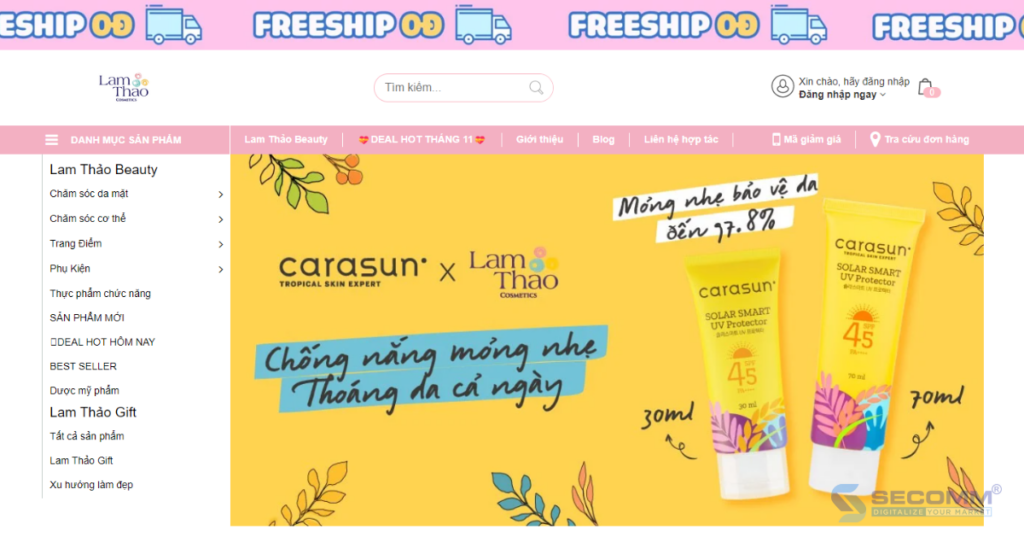 Nuty Cosmetics
For those who love cosmetics, Nuty Cosmetics is regarded as a cosmetics heaven. After operating and growing for more than ten years amid market ups and downs, the business is still a renowned source for real beauty products from well-known manufacturers in the US, Germany, France, Japan, and Korea.
The WooCommerce platform was used to create Nuty Cosmetics' website, which has an easy-to-use interface and exceptional features that may satisfy clients when they shop online. Additionally, Nuty Cosmetics' website offers thorough information about each product, along with clearly stated costs.
Because of this, despite the fact that there are only roughly 200,000 visitors per month on the site currently, Nuty Cosmetics has the potential to become a major player in the cosmetics industry with the correct efforts and attitude.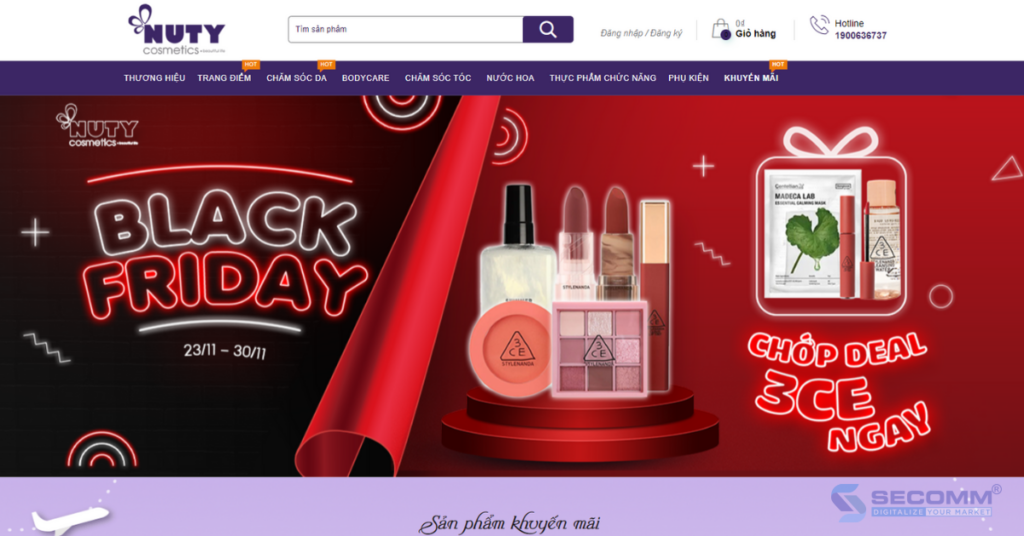 AB Beauty World
In the midst of the Covid-19 outbreak that was raging in 2020, AB Beauty World (ABBW) was founded with the goal of being the top family-friendly cosmetics retailer in Vietnam. The brand has not given up despite the fact that this birth appears to have occurred at the wrong time.
In fact, AB Beauty World has grown and expanded with approximately 20 branches spread throughout the city's districts in just two years since opening the first store in HCMC, concentrating on growing eCommerce, thanks to the timely redirection.
The WooCommerce-powered cosmetics website for AB Beauty World features an interface and capabilities tailored to the sector. The website has already seen more than 150,000 visitors in the short time since it launched, which is nonetheless viewed favourably for a newcomer to the fight for digital transformation.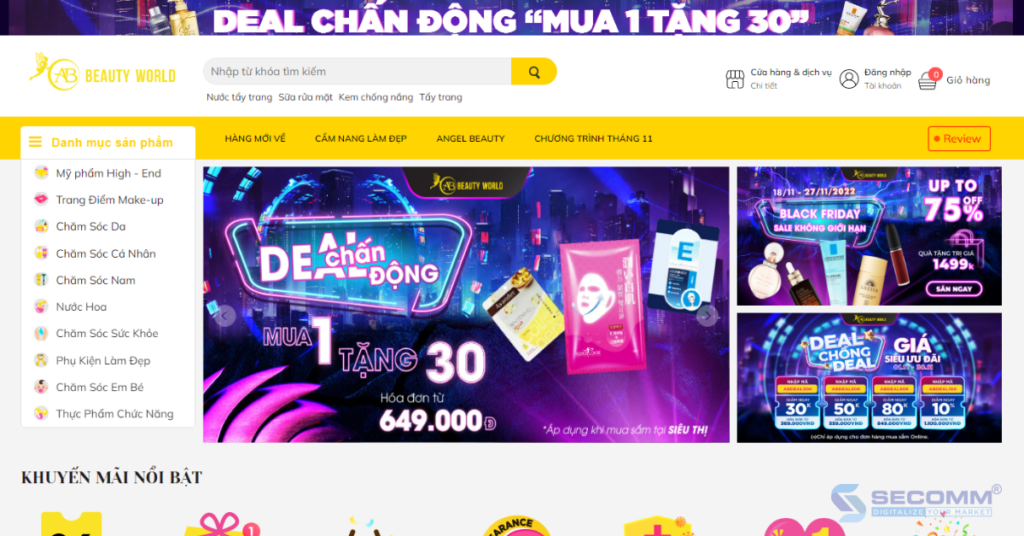 Beauty Garden
Beauty Garden is one of the top retail and distribution brands for real cosmetics today. Since its establishment in 2014, the company has effectively extended its retail network to be present in numerous provinces and major and minor towns throughout the nation, including Hanoi, Da Nang, Ho Chi Minh City, Dak Lak, Gia Lai, Dong Nai, and Can Tho.
In addition, Beauty Garden concentrates on developing eCommerce websites in the context of economic integration. As a result, the company's website is expertly and systematically constructed using WooCommerce, the most popular eCommerce development platform worldwide, and is ideal for the cosmetics business.
The eCommerce implementation of Beauty Garden is seen as a sensible move since the development potential of this area is extremely great and at that time, the company had many advantages to build a business model, even though the number of users is still modest with more than 100,000/month.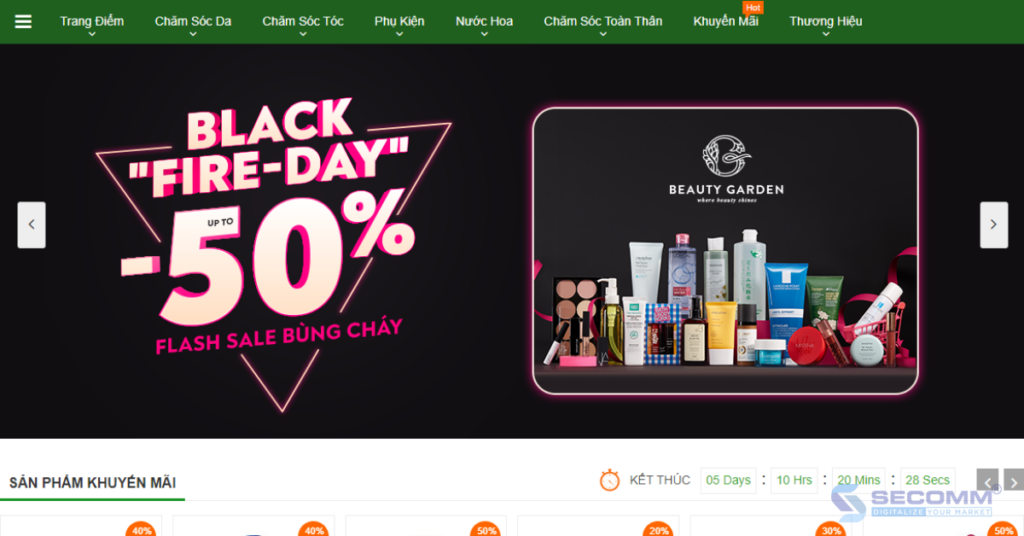 All things considered, the Covid-19 pandemic outbreak has impacted and altered consumer shopping behaviours for a variety of goods. Shopping for cosmetics, in particular, has seen a significant change from physical to online formats.
The information above is a summary and evaluation of SECOMM for 10 eCommerce sites with a good reputation and the capacity to meet customers' demands when making a decision to purchase cosmetics.
These companies demonstrate their efforts to create the technological infrastructure needed to enhance the online shopping experience as well as their well-founded optimism regarding the market's growth potential and dominance in Vietnam.
With many years of experience in successfully implementing e-commerce for many customers in many countries, SECOMM specializes in providing consulting services with comprehensive and professional e-commerce implementation solutions.
Contact SECOMM today for free support and advice.