In recent years, BigCommerce has achieved a significant milestone as it emerges as one of the preferred platforms for eCommerce website development among numerous online businesses. According to BuiltWith, there are presently 45,952 operational websites utilizing this platform.
This article will highlight 10 notable eCommerce websites from around the world, spanning various industries, that have adopted BigCommerce for their operations.
Skullcandy
Skullcandy opened its first store in 2015 in Park City, Utah, and it remains the company's exclusive physical retail location in the United States due to its primary online sales strategy. Skullcandy is a technology brand known for crafting headphones and speakers with a youthful and modern style. Their eCommerce website is developed using the BigCommerce platform.
Aside from seasonal promotions, Skullcandy provides customers with diverse payment choices, including PayPal, VISA, MasterCard, and even a Buy Now, Pay Later option through Klarna.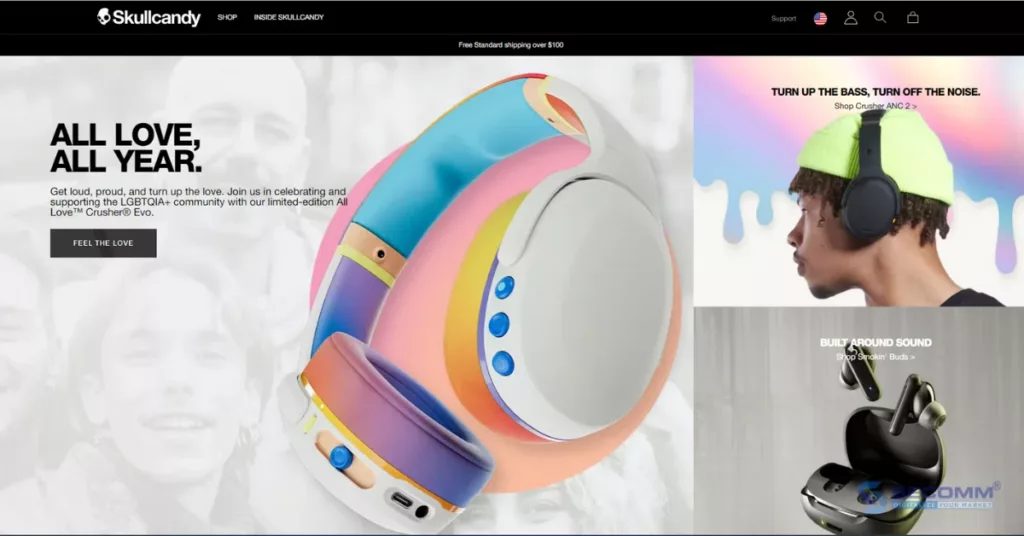 BURROW
BURROW is an online furniture brand that specializes in offering seasonal furniture and sofas with a minimalist, modern, and vibrant style. The company's approach revolves around three key principles to deliver unique value to customers. First and foremost, they have built their eCommerce website on the BigCommerce platform, encouraging online shopping through enticing promotions, illustrative product videos, and free shipping. Secondly, their products are known for their custom designs, high durability, multifunctionality, compactness, portability, and versatility to fit into various spaces. Lastly, BURROW places a strong emphasis on building a community that connects customers from all around and enhancing brand awareness.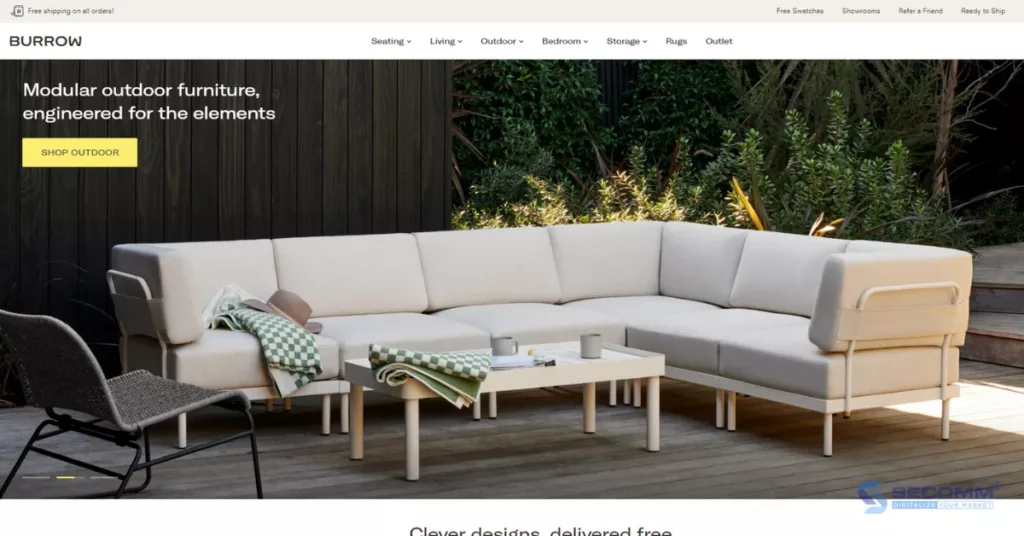 LARQ
LARQ is renowned for its stylish and compact reusable water bottles, designed with sustainability in mind. These bottles are manufactured using advanced technologies like PureVis and NanoZero to ensure high water quality. LARQ's bottles possess self-cleaning capabilities, utilizing UV-C LED lights to eliminate up to 99.99% of bacteria.
These exceptional features led to a significant $1 million investment from Shark Tank. LARQ has developed its eCommerce website using BigCommerce, complete with a dedicated Basq Magazine section where they share valuable insights on hydration with their customers.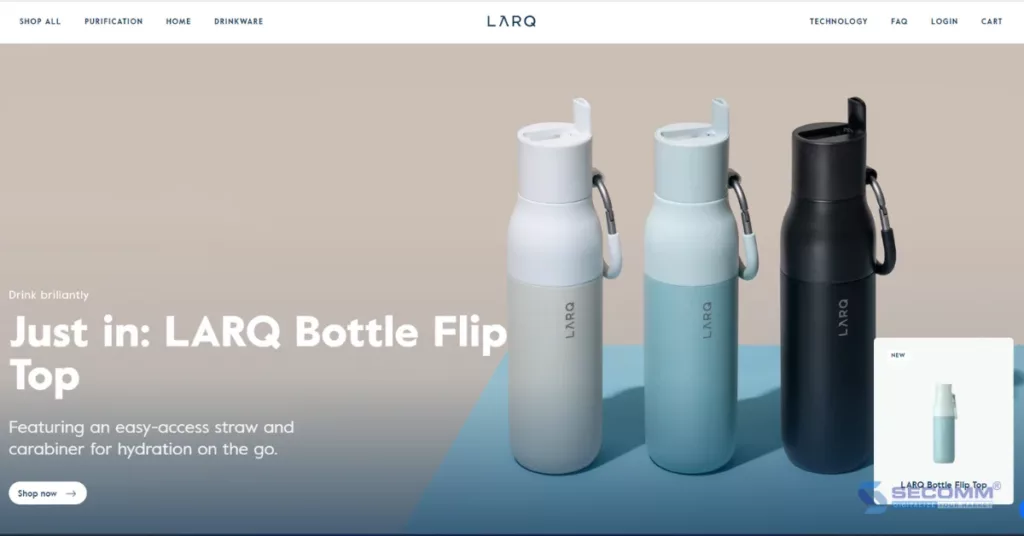 Molton Brown
The premium beauty brand, Molton Brown, hailing from the UK, has also used the BigCommerce platform to build their eCommerce website. Their product range, spanning fragrances, hand washes, essential oils, scented candles, and bath & body products, is entirely manufactured in the UK and is cruelty-free. Their product packaging is crafted from high-quality reusable glass, adhering to eco-friendly standards.
At present, the company exclusively offers online shopping services to customers in the US, Japan, and the majority of European regions. Molton Brown consistently introduces seasonal collections, special occasion sets, gender-specific product lines, and personalized gift recommendations, simplifying the shopping experience for their customers.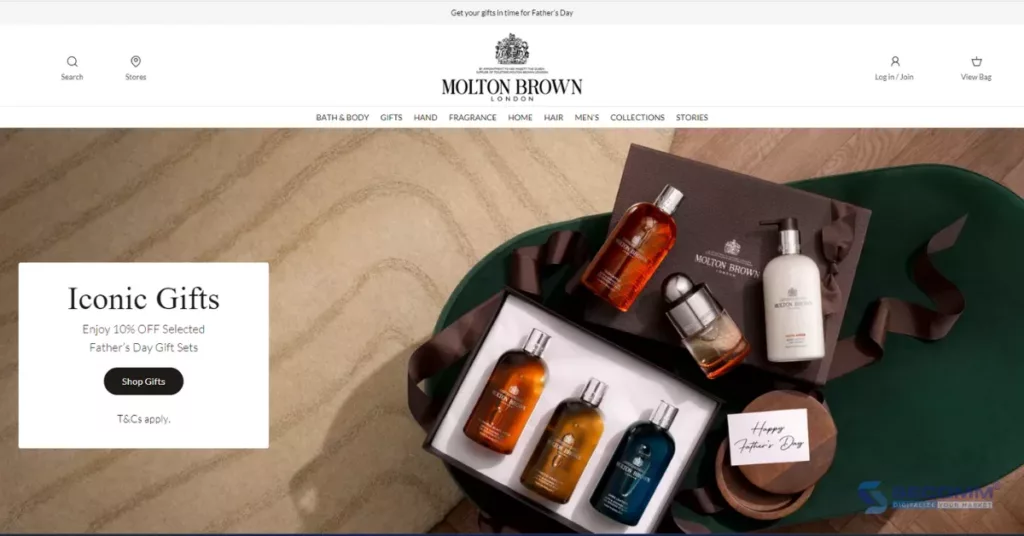 Tommie Copper
Tommie Copper is a brand that specializes in offering comfortable, lightweight fashion products designed to reduce pain and aid in functional recovery for both men and women. With a strong emphasis on expanding online sales, the company has invested significantly in its eCommerce website using the BigCommerce platform. They have also implemented various customer engagement programs to encourage more shopping. One notable initiative is the Customer Loyalty Program, featuring three tiers: Score, Performance, and Pro-Grade, with detailed and precise instructions on point accrual and redemption.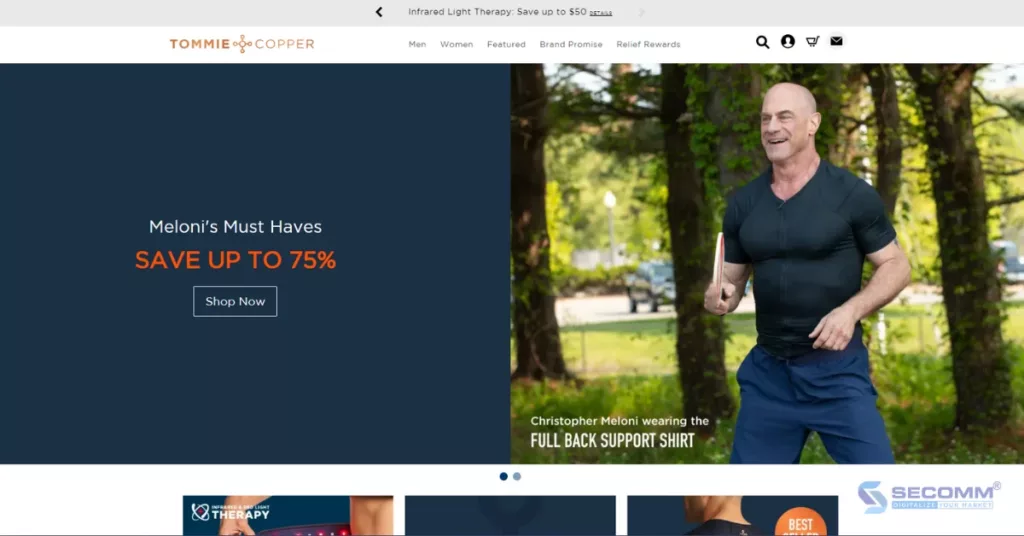 Saddleback Leather
Saddleback Leather is a company specializing in handcrafted leather goods, and they develop their eCommerce website with BigCommerce. Their product range is extensive, encompassing items such as bags, backpacks, belts, and even intricately designed mouse pads. Visitors to their website are greeted with a distinct "Texan" design aesthetic and captivating narratives. Notably, customers can also become part of the Saddleback Club, granting them access to exclusive and appealing member-only offers.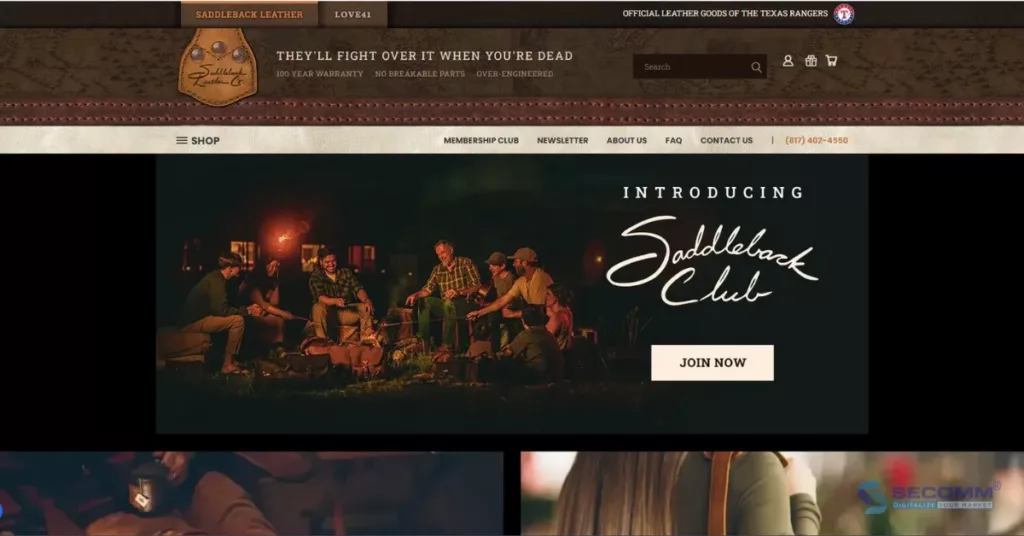 Barron Designs
Barron Designs stands as a top-tier brand specializing in the design and provision of premium interior and exterior products crafted from high-quality materials like wood, tiles, and stone. Their diverse product range includes wooden doors, stone fireplaces and chimneys, mailbox posts, engineered wood panels, and more. Barron Designs has developed its eCommerce website using the BigCommerce platform, offering a multitude of features to ensure the best shopping experience for customers. 
When customers browse and click on their favorite products to view details, they can choose colors and select options such as fire resistance and UV protection before placing an order. The production and delivery times typically range from 2 to 4 weeks. For those interested in sampling a product,  they can simply click on the option, and a complimentary mini-size sample will be sent to their doorstep. Furthermore, a discount coupon will be emailed to encourage customers to make a full-size purchase.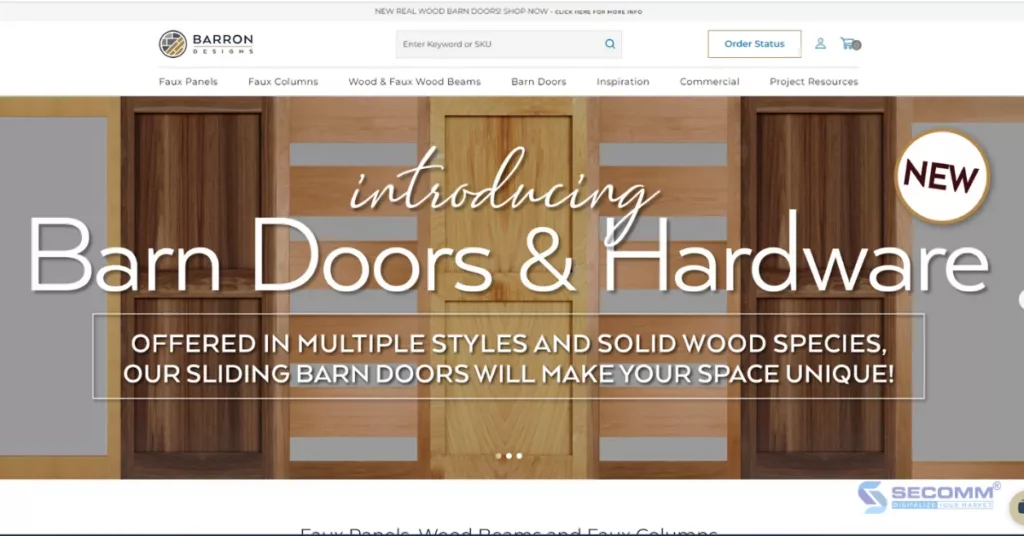 SugarBoo & Co
SugarBoo & Co is a well-known BigCommerce eCommerce website that offers a wide range of handmade products for personal and household use. It offers a diverse range of handmade products for both personal and household use, including items like notebooks, decorative pieces, ceramic dishes, baby toys, and more. To provide an excellent online shopping experience, the company offers multiple payment methods, including well-known options like ShopPay and AfterPay.
SugarBoo & Co's blog section is filled with interesting content, regularly sharing tips on gift selection, the advantages of using ceramic products, home decorating ideas, and more. Plus, during special occasions and holidays, the website provides customers with a selection of discounted shopping suggestions.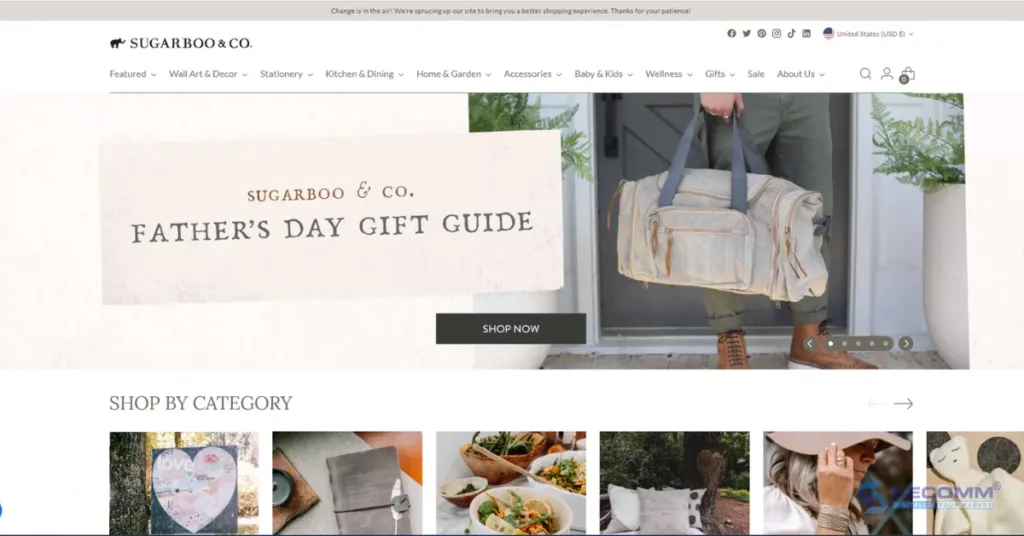 Autograph Foliages
Autograph Foliages is a prominent brand in the United States, specializing in landscaping solutions for both homes and commercial establishments. The company offers a diverse range of collections, including seasonal and holiday-themed foliage like Christmas decorations, catering to the needs of families and businesses. What sets Autograph Foliages apart is its enduring partnerships with major entities such as Walt Disney World, Universal Studio, Warner Bros, and Seaworld Parks & Entertainment, a testament to the superior quality of its foliage products.
Their website, developed on the BigCommerce platform, prominently displays new and seasonal products. To access the pricing details for specific items, customers must register an account on the website. They can also subscribe to receive weekly newsletters containing valuable tips on plant care, decoration, and more.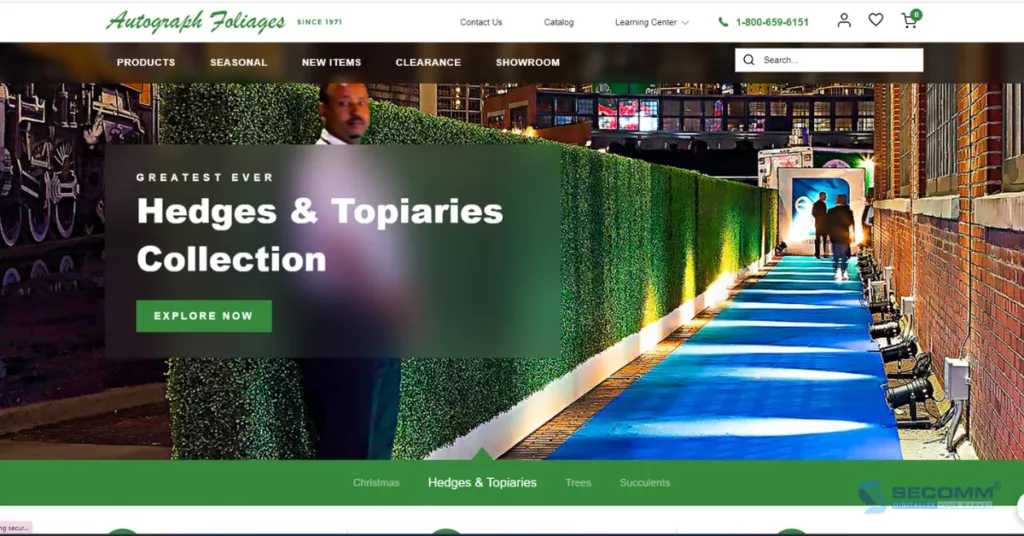 Body Bliss
Established in 1999 and officially launched its products in 2000, Body Bliss specializes in a wide range of personal care items. With over two decades of development, the company has continually researched and refined its products to prioritize customer health, using gentle and environmentally friendly ingredients.
Body Bliss's BigCommerce website follows a minimalist design, featuring well-organized product categories for easy customer navigation. The site also offers appealing incentives such as complimentary gifts and free shipping. Furthermore, the company uses Instagram to engage with customers and it is seamlessly integrated into the website to keep customers updated on the latest updates.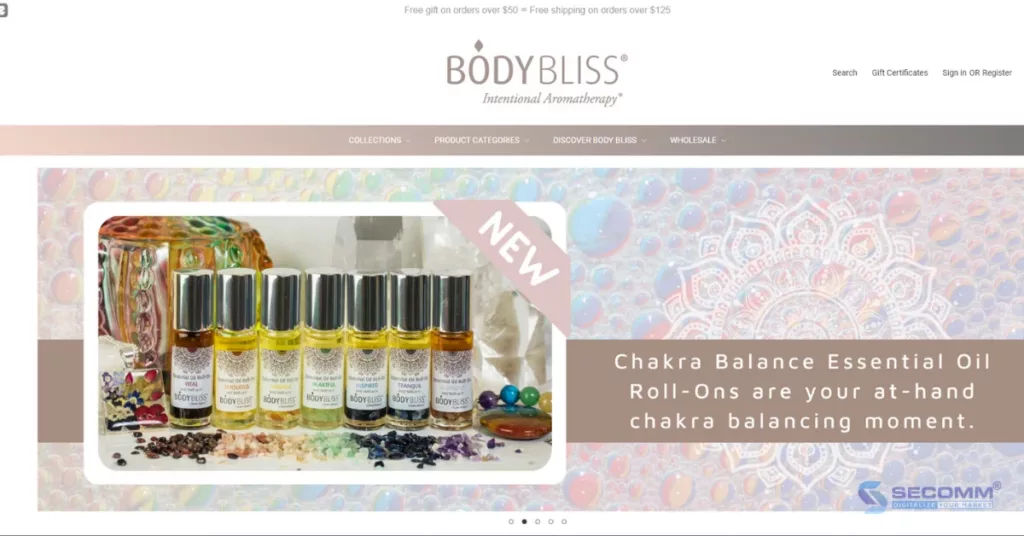 This is SECOMM's summary and review of 10 eCommerce websites that have achieved success using the BigCommerce platform, effectively capturing customers and leading in their industries.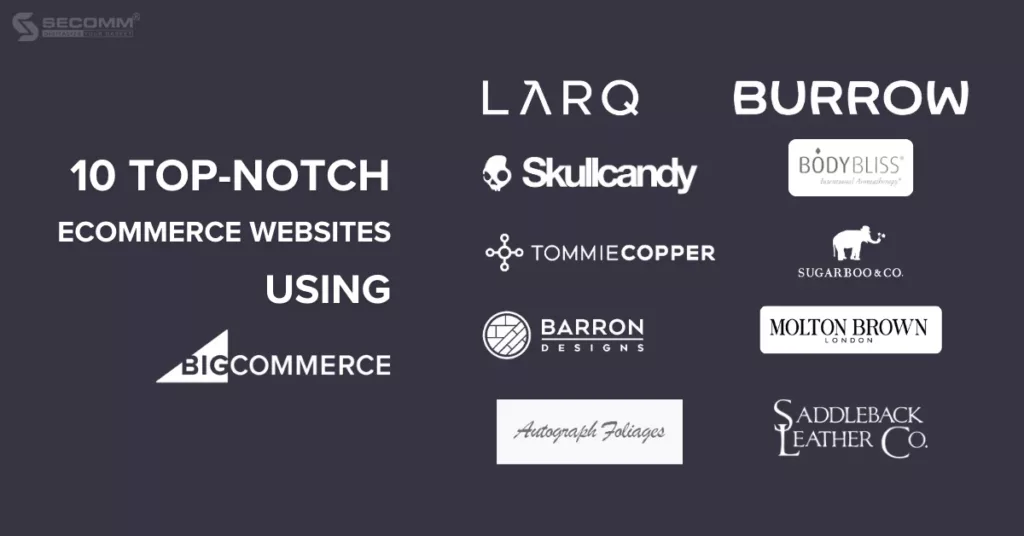 Related content: BigCommerce 2023: Pricing, Features, Pros and Cons
With a wealth of experience helping clients in various countries deploy eCommerce, SECOMM specializes in providing consulting services with professional eCommerce deployment solutions.
Get in touch with SECOMM or call the hotline at 02871089908 today to receive free support and expert guidance.