The global business landscape has faced significant challenges due to the Covid-19 pandemic. In response to this, many businesses across various sectors, particularly in the Baby industry, have prioritized the implementation of eCommerce strategies to connect with online customers and drive sales. Furthermore, to align with the broader economic trends, these retailers have transitioned from traditional business models to robust eCommerce operations to ensure growth and market expansion.
The following list showcases 15 successful Baby brands in Vietnam and around the world that have effectively adopted eCommerce websites, thus facilitating the swift participation of numerous other businesses.
Ava Kids 
Ava Kids is the Baby eCommerce website of The Gioi Di Dong Corporation, offering a range of enticing online shopping benefits to customers. These include a 1-month return policy, complimentary shipping, special discounts for new customers, a rewards program, and informative guides for maternal and child health care.
Having been in operation for over a year, Ava Kids' eCommerce website now enjoys over 2.1 million monthly visitors and has expanded its offline store network from 5 to 66 outlets.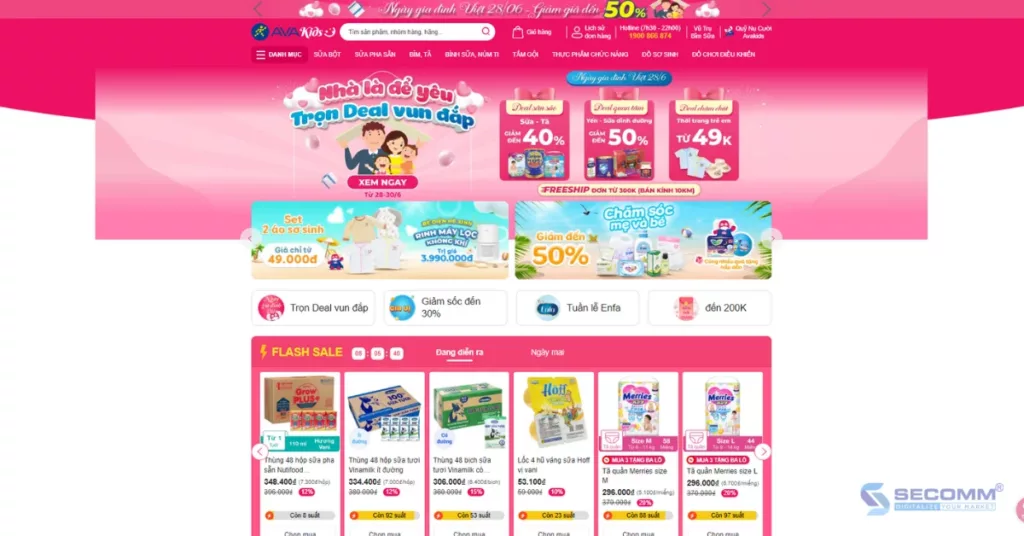 Con Cưng 
Established in 2011, Con Cung has grown to become Vietnam's leading retail chain specializing in products for expectant mothers and babies, boasting over 700 stores across the country.
In recent years, Con Cung has made significant strides in developing its eCommerce website, catering to the online shopping demands of its customers. This expansion has enabled them to provide a rich shopping experience with a wide range of enticing offers, flexible payment methods, and 1-hour delivery services.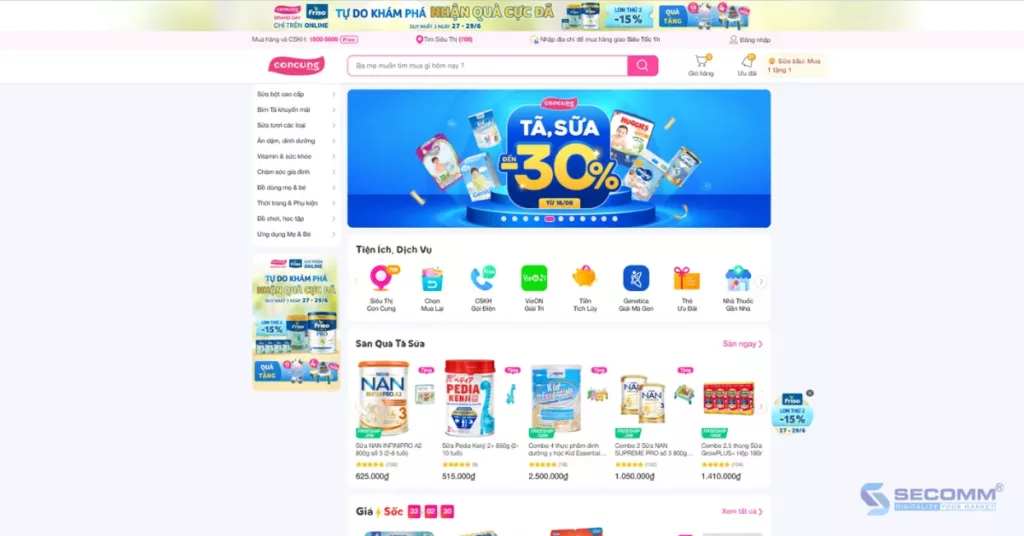 Kids Plaza
Founded in 2009, Kids Plaza is a major player in the eCommerce competition for the Baby industry. Kids Plaza has built an eCommerce website on the Magento platform to efficiently manage a vast and diverse product catalog. The brand consistently runs enticing promotional campaigns, offering gift-with-purchase deals, flash sales, buy-5-get-1-free offers, and a loyalty points system for redeemable rewards. These efforts have significantly driven up website traffic during promotional events, making Magento's customization and scalability features indispensable for handling sudden surges in visitor numbers. On average, the website garners approximately 1 million visits per month.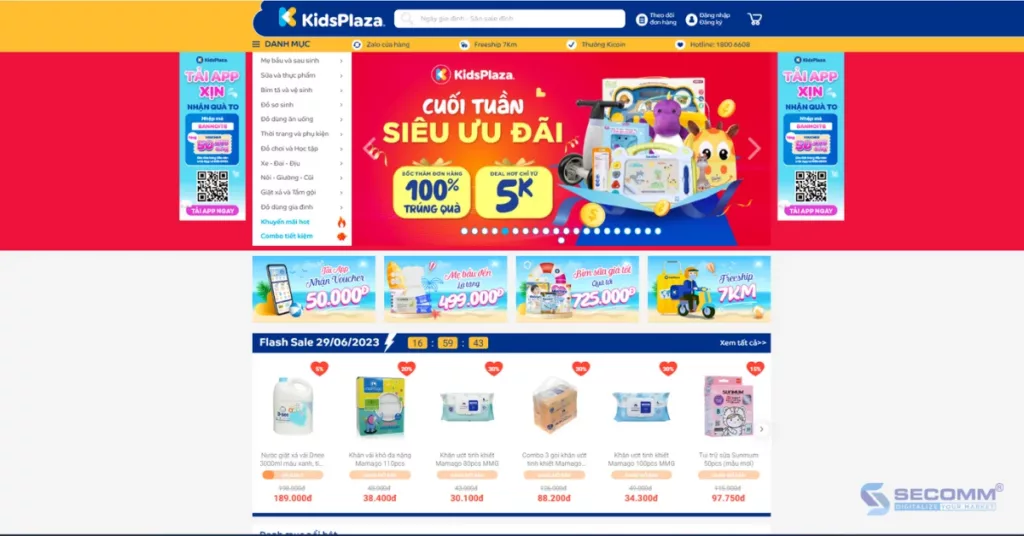 Bibo Mart 
Founded in 2006, Bibo Mart, a retail chain dedicated to serving expectant mothers and babies, offers a diverse range of products, including maternity clothing, diapers, formula, and strollers. Just like its competitors, Bibo Mart is a strong contender in the eCommerce race.
To enhance the customer shopping experience, Bibo Mart opted for Magento Enterprise Edition (aka Adobe Commerce) to develop a custom eCommerce website. This platform enables the implementation of attractive promotions and a Loyalty Program. Presently, the website enjoys more than 500,000 monthly visitors.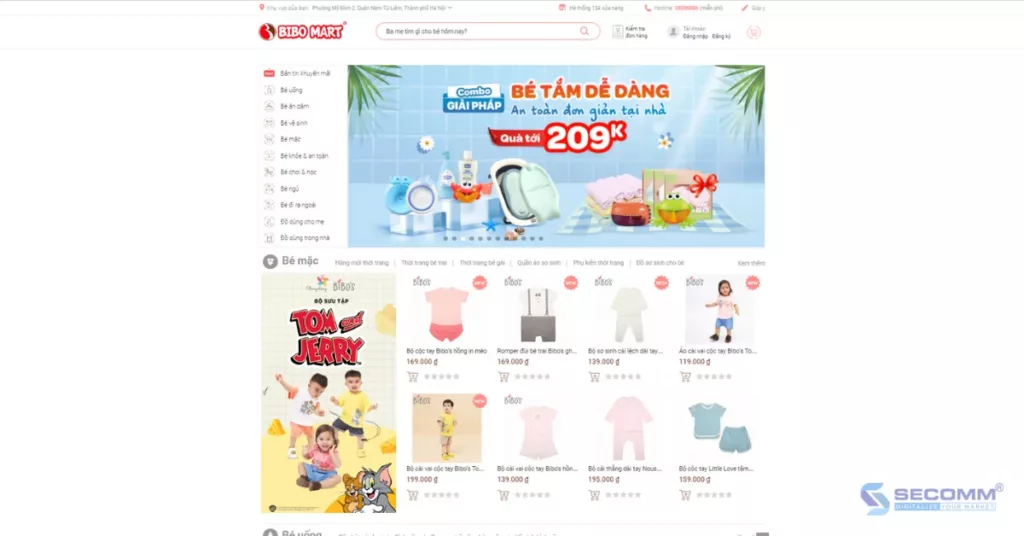 Shop Trẻ Thơ 
Shop Trẻ Thơ stands as a well-known brand in the Maternity & Baby sector. The company is dedicated to establishing and advancing its eCommerce website alongside its network of 22 physical stores. This strategic move is aimed at staying in sync with the online shopping trend and securing a competitive edge in the realm of eCommerce.
Beyond a diverse product catalog, Shop Trẻ Thơ offers various enticing incentives to encourage online shopping, such as Buy 1 Get 1, cost-saving combos, gifts with purchase, discounts for new customers, and more. Currently, the website maintains a stable traffic of over 100,000 visitors per month.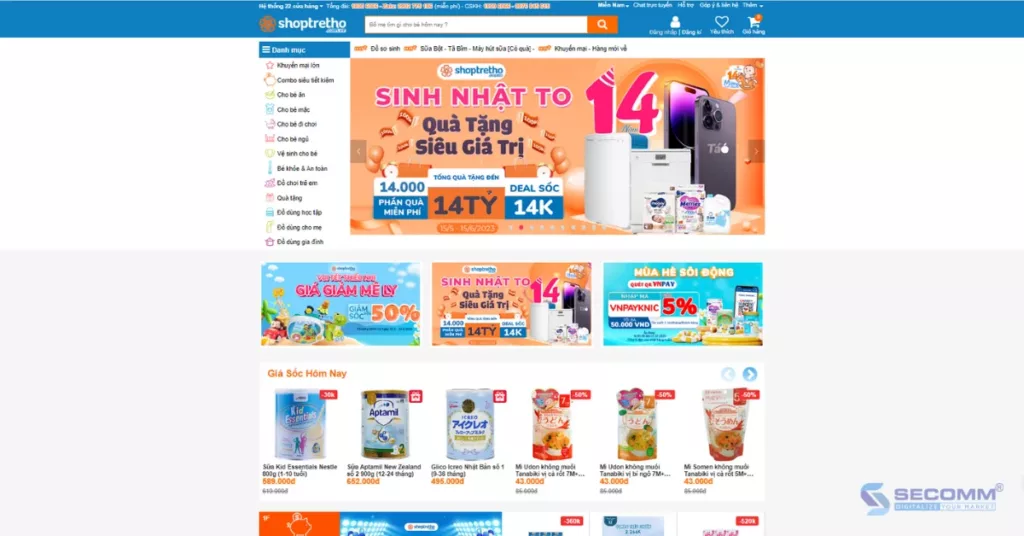 Tuticare
Tuticare is considered a prominent brand in the Maternity & Baby industry with a chain of 55 stores across Vietnam. Tuticare's products undergo stringent checks, from their origins to their quality, providing a sense of assurance to mothers during their shopping experience. 
The company has started an eCommerce website to provide customers with an optimized online shopping experience, along with various attractive programs and offers like a Tuti Gift Card, a subscription for diapers and milk, and more. Additionally, Tuticare offers diverse payment options, including eWallets and buy now pay later.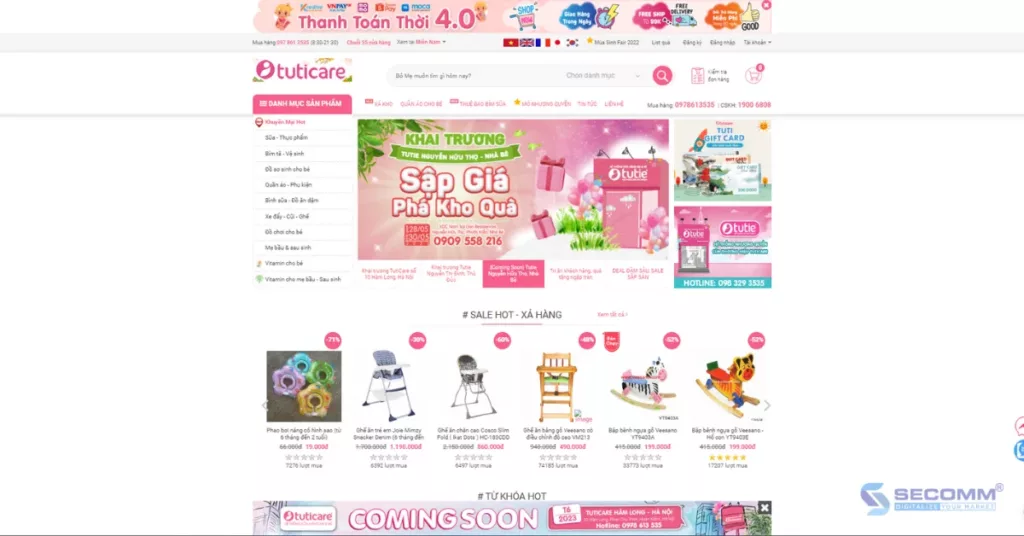 Mothercare 
Mothercare, a brand focused on Baby products from the United Kingdom, offers a diverse range of fashion and essential items for expectant mothers and children of various age groups. Despite its recent inception, Mothercare has rapidly garnered attention, primarily due to its commitment to providing high-quality products at affordable prices.
The Mothercare website is strategically developed using the Magento platform, effectively catering to the online shopping preferences of their customers. Beyond attractive promotional programs, the Mothercare website also provides valuable insights on caring for newborns and young children through its dedicated blog section.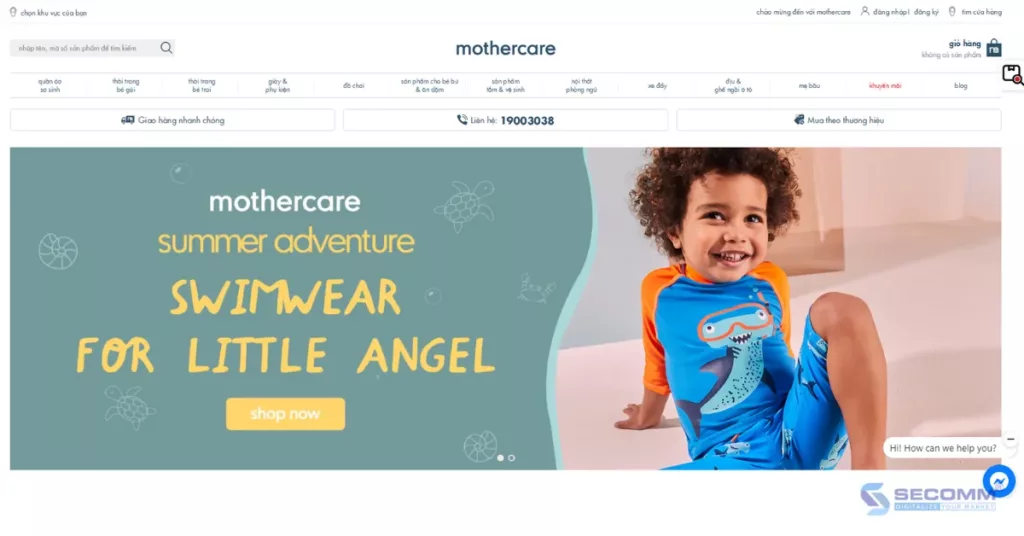 Soc & Brothers
Soc & Brothers is a rising name in the Baby eCommerce market, offering a diverse range of products for expectant mothers and children, including clothing, formula, diapers, strollers, and toys. The company has built an eCommerce website using Haravan and receives approximately 28,000 monthly visitors. Moreover, Soc & Brothers has implemented a Loyalty Program with three tiers: Silver, Gold, and Diamond, which can be utilized for purchases and point accumulation both at their offline retail stores and various online channels.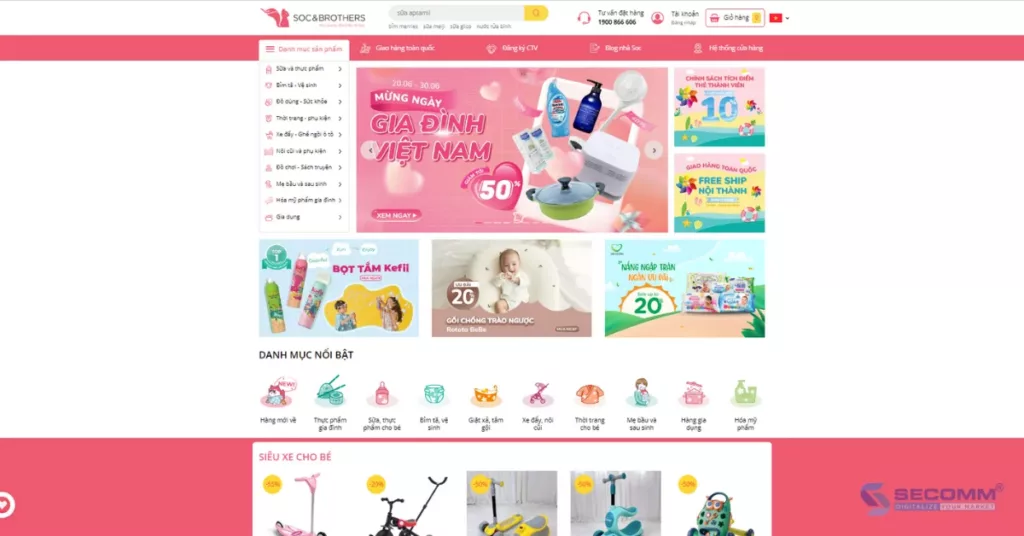 Carter's
Carter's is a well-known children's clothing brand in the North American region. Carter's offers a wide range of products suitable for children of all ages, heights, and weights. Their website is built on Salesforce Commerce Cloud and features a primary color scheme of blue and white, emphasizing minimalism and cuteness. Currently, the website receives about 8.4 million monthly visits. Moreover, customers can purchase physical or eGift cards through the website, which can be customized in terms of design, value, and personal messages.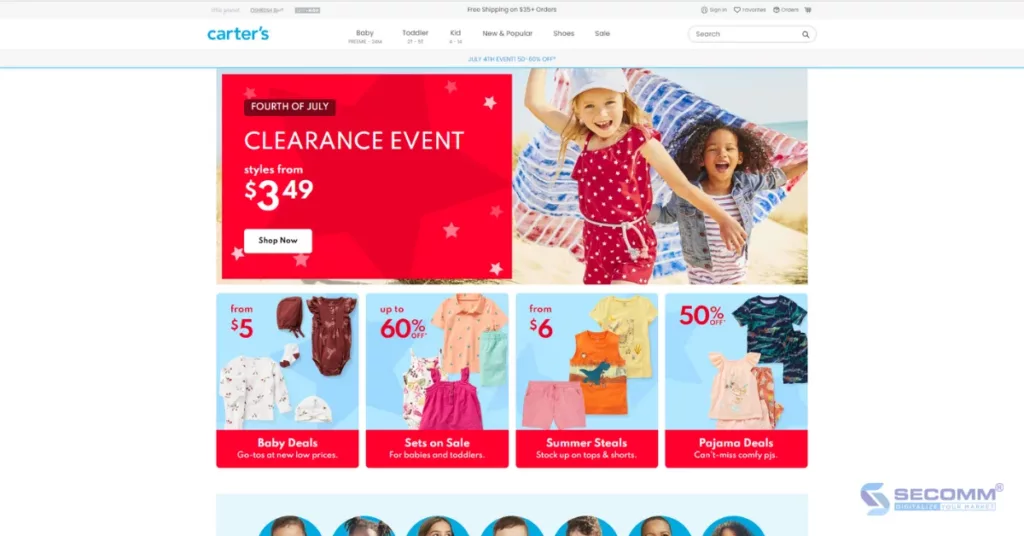 Hanna Andersson
Hanna Andersson is a well-known Swedish brand that specializes in children's clothing, offering beautiful designs and a wide range of styles, sizes, and types of clothing, from everyday wear to sleepwear and swimwear. Hanna Andersson's eCommerce website is built and developed using the Salesforce Commerce Cloud platform and garners more than 1.4 million monthly visitors. Hanna provides a personalized shopping experience by inviting its customers to participate in clothing selection consultations, parenting advice, and direct communication for new customers.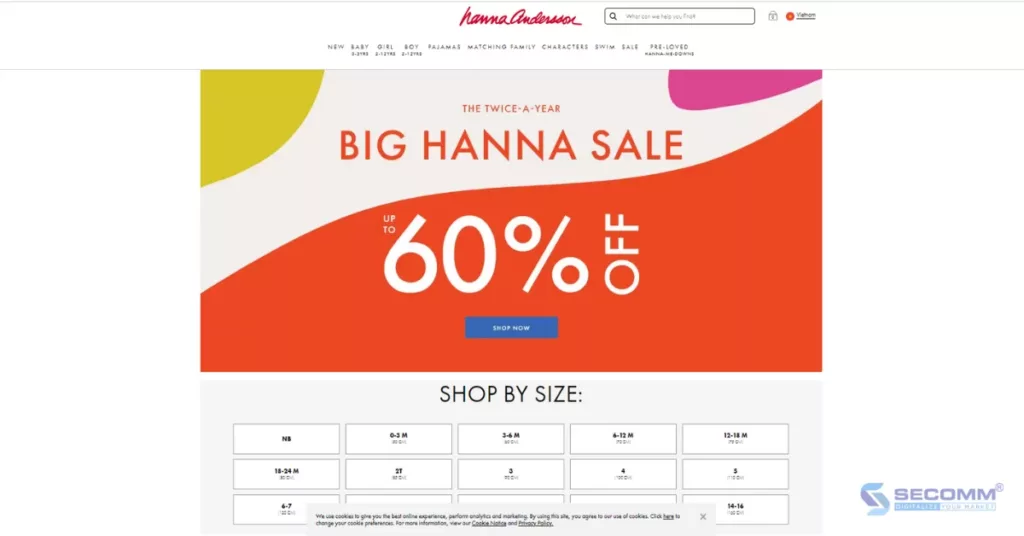 OshKosh B'gosh 
OshKosh, a globally beloved children's clothing brand, has achieved significant success by utilizing Salesforce Commerce Cloud to create an eCommerce website that delivers an exceptional online shopping experience. Presently, the website receives more than 900,000 monthly visitors and provides numerous appealing shopping incentives to its customers, including a rewards program that offers unexpected gifts, birthday presents, and discount vouchers.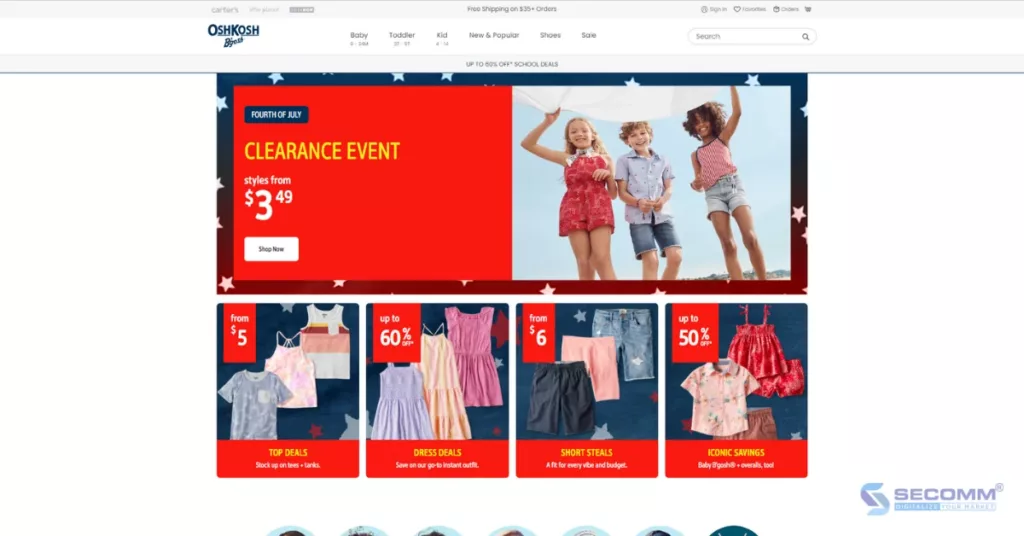 Janie and Jack
Janie and Jack, another children's fashion brand, has built an eCommerce website using the Salesforce Commerce Cloud platform. The company provides a wide variety of products for boys, girls, infants, as well as items such as jewelry and home decor. Notably, Janie and Jack has entered into a collaboration with Disney to offer fashion items featuring beloved Disney characters for children.
Additionally, the brand offers a gift-wrapping service that allows customers to select their preferred products, gift boxes, wrapping paper, and greeting cards. Customers can choose to wrap gifts themselves or take advantage of Janie and Jack's professional gift-wrapping service.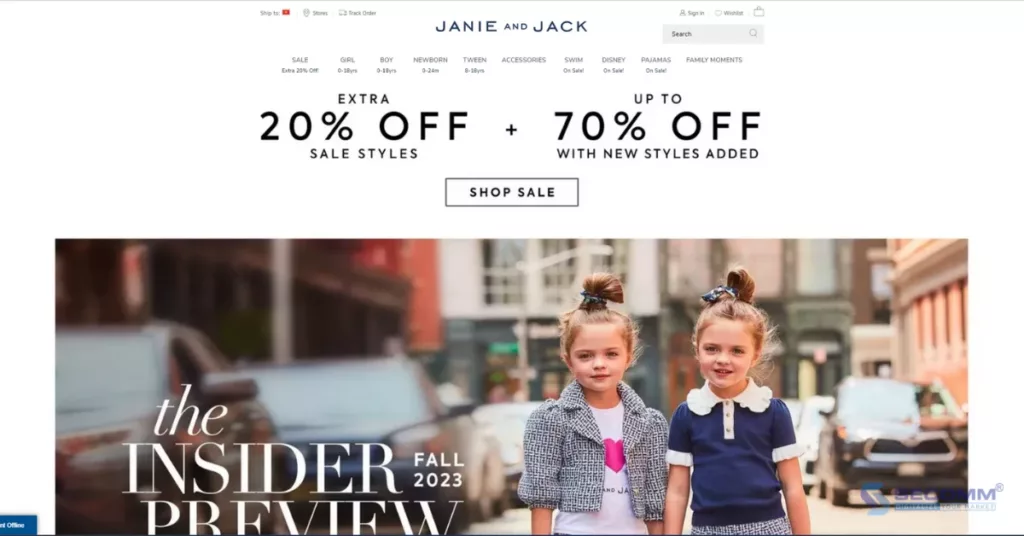 Children Salon
Children Salon, established in 1952, is one of the leading brands in high-end fashion for children. They offer many products, including clothing, shoes, and hats for boys, girls, and teenagers. The company specializes in designing and producing children's fashion collections for top global brands such as Versace, Givenchy, Burberry, Dolce & Gabbana, Calvin Klein, and more. Additionally, customers who purchase these designer products on the Children Salon website can enjoy discounts of up to 60%.
Children Salon's eCommerce website is built on the Magento platform, featuring advanced functions like filtering products by size and age, displaying available sizes, and currency conversion for product prices, among others. The website currently receives over 600,000 monthly visits.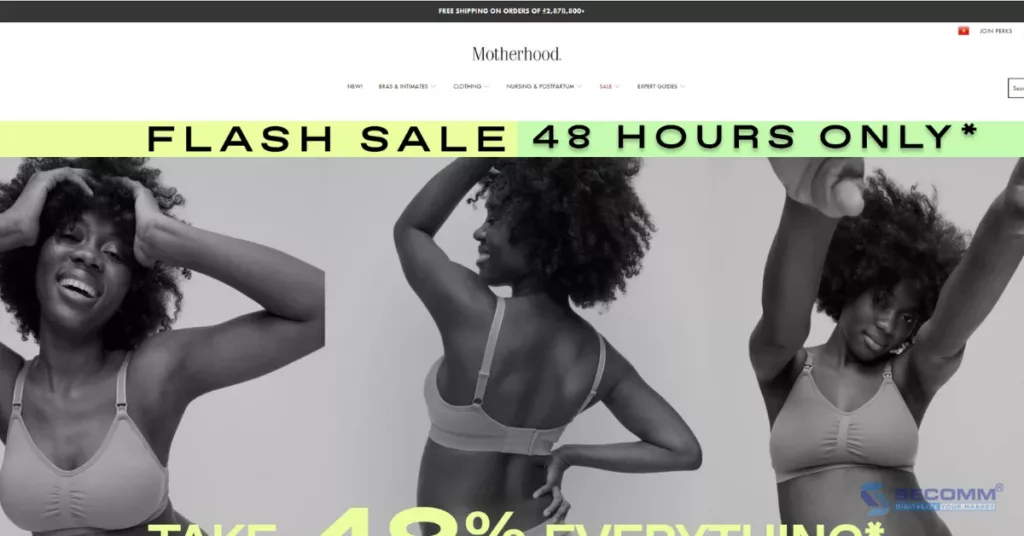 Motherhood Maternity
Motherhood Maternity's eCommerce website is a well-known and trusted fashion shopping destination for expectant mothers. The website, built on the Shopify platform, garners around 400,000 monthly visits.
Beyond its wide array of clothing and supportive accessories, Motherhood offers an "Expert Guide" section dedicated to sharing valuable knowledge about prenatal healthcare. Furthermore, the "Preggie Perks" program allows customers who shop on the website to have the chance to receive discount vouchers or unique gifts, conveniently delivered with their products to their doorstep.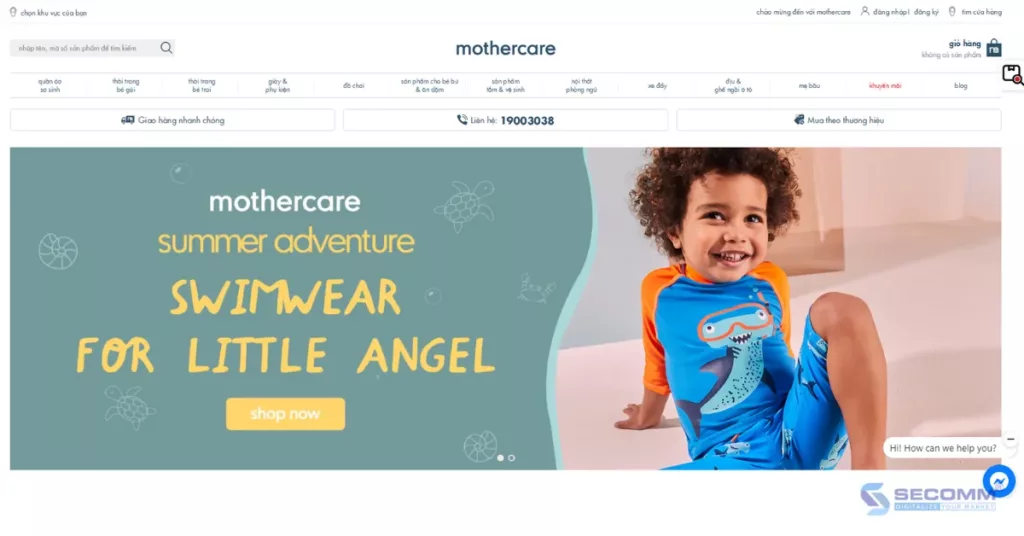 HATCH Collection
HATCH Collection, a renowned global brand, specializes in offering fashion and beauty products for expectant mothers. Despite its establishment in 2011, the brand has chosen to maintain only two physical stores in California and New York, as HATCH's primary focus lies in online retail. 
Operating through its eCommerce website, HATCH has introduced several programs  for their customers. One notable initiative is "NIKKI's List," wherein customers respond to specific questions, enabling HATCH to generate personalized product recommendations. The HATCH website is constructed and managed using the Shopify platform and receives approximately 223,000 monthly visits.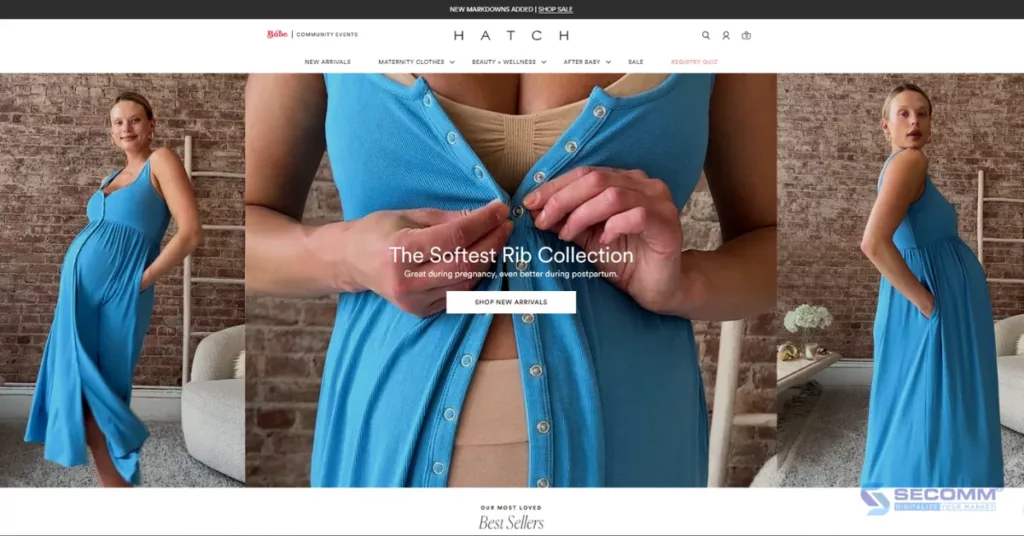 The surge of the Covid-19 pandemic has made a significant impact on consumer shopping habits, particularly in the Baby sector, where a profound shift from offline to online shopping has been witnessed.
Presented here are 15 eCommerce websites, showcasing leading brands in the Mother & Baby industry, both in Vietnam and internationally. These brands exemplify their adaptability in capturing consumer trends and their commitment to enhancing technological infrastructure to compete for a share in the billion-dollar market.
With a track record of successfully implementing eCommerce solutions for a diverse clientele across various countries in recent years, SECOMM specializes in offering expert consultation and tailored eCommerce deployment solutions, tailored to the specific requirements of each industry.
For a free consultation, contact us or call directly to the SECOMM hotline at (02871089908).