Businesses may quickly detect a change in consumer behavior throughout the course of the pandemic as online purchasing steadily expands from basic necessities like food and medicine to a variety of other industries like fashion, wine, and furniture.
Also, customers' awareness of a pleasant, modern, and healthy lifestyle has grown dramatically, which has given the furniture business a chance to go online and serve as a catalyst for Vietnamese eCommerce furniture to see breakthrough growth.
Realizing the great potential of this field, Vietnamese furniture enterprises have been embarking on building an eCommerce website system, which is considered an important factor leading to the success of this modern business trend.
Baya
Initially founded in 2006 under the name Sieu Thi Noi That Uma, the business has only recently (in 2019) changed its name to Sieu Thi Noi That Trang Tri Baya.
Although the brand's name has changed, its essential values haven't. It still offers clients high-quality furniture with a clean, sophisticated, trendy design in a neutral tone, and each piece is beautiful in its own right.
Thanks to the wise investment in developing a professional eCommerce website with the Magento open-source platform with an attractive and user-friendly interface, Baya's website currently receives more than 100,000 visits each month. 
In order to give clients the best eCommerce experience, this furniture manufacturer is constantly improving the system.
In addition, the company demonstrated its awareness of market trends by creating an app called My Baya with a QR payment method and positioning it as one of the primary categories on an eCommerce website to draw consumers' attention to the website.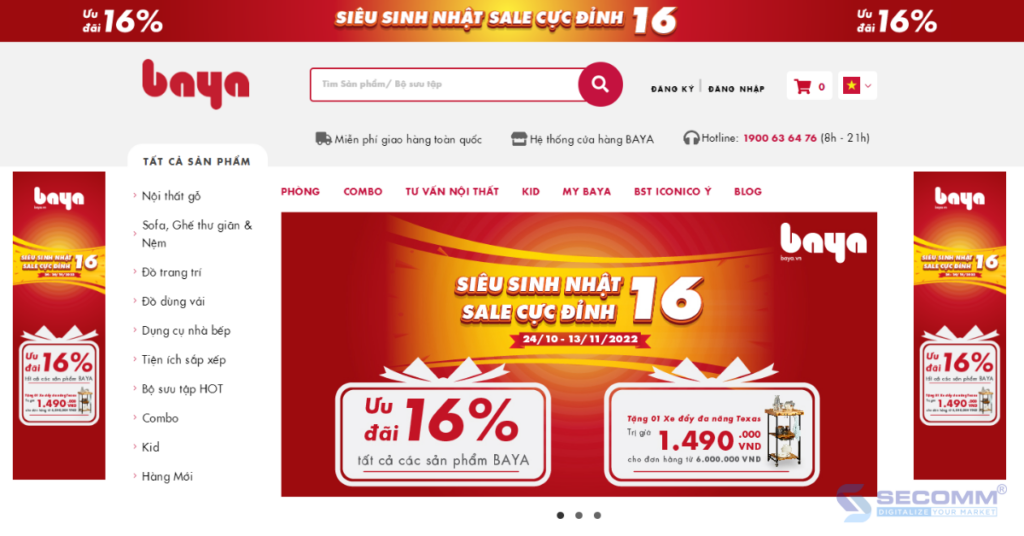 Hoa Phat Furniture
With nearly 30 years of market experience and a wide range of clients, Hoa Phat Furniture is one of the top furniture suppliers and manufacturers in Vietnam.
All of Hoa Phat's items are designed with a contemporary, opulent, and refined aesthetic in mind. In addition to a business strategy that is flexibly adjusted to the changes in the market, the company fully exploits the potential of eCommerce by building a professional and well-organized website on the BigCommerce platform.
From there, businesses increase their coverage and brand awareness on the Internet and reach more customers thanks to effective marketing methods.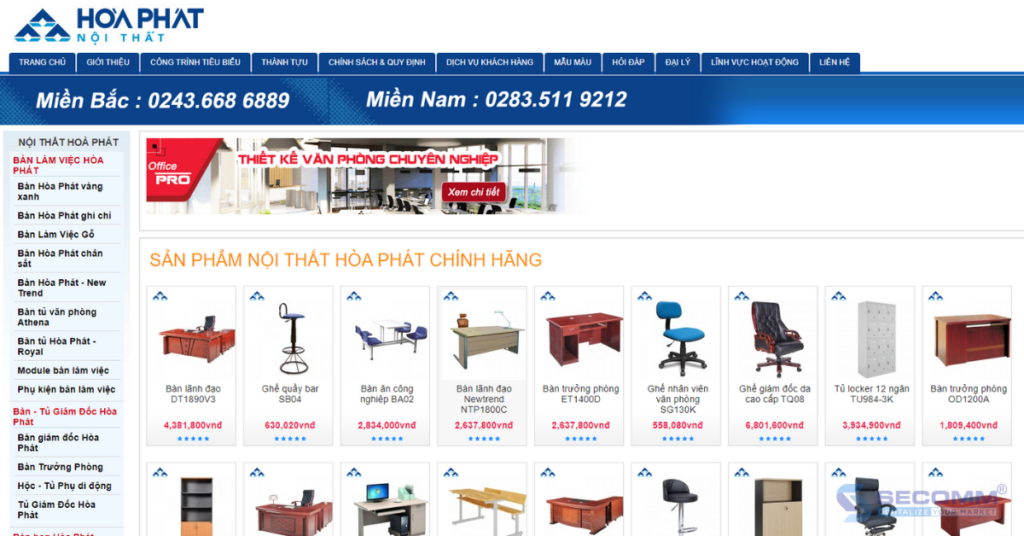 Moho
The Moho furniture brand was established in March 2020 and is a subsidiary of Savimex, a company with over 35 years of expertise in the production and export of furniture. In order to fulfill the goal of sustainable development, Moho has kept offering clients furniture goods with affordable pricing and quality in accordance with international standards.
With more than 50,000 monthly visitors and a popular Haravan platform, Moho's eCommerce website is well-liked by customers for their online buying experience.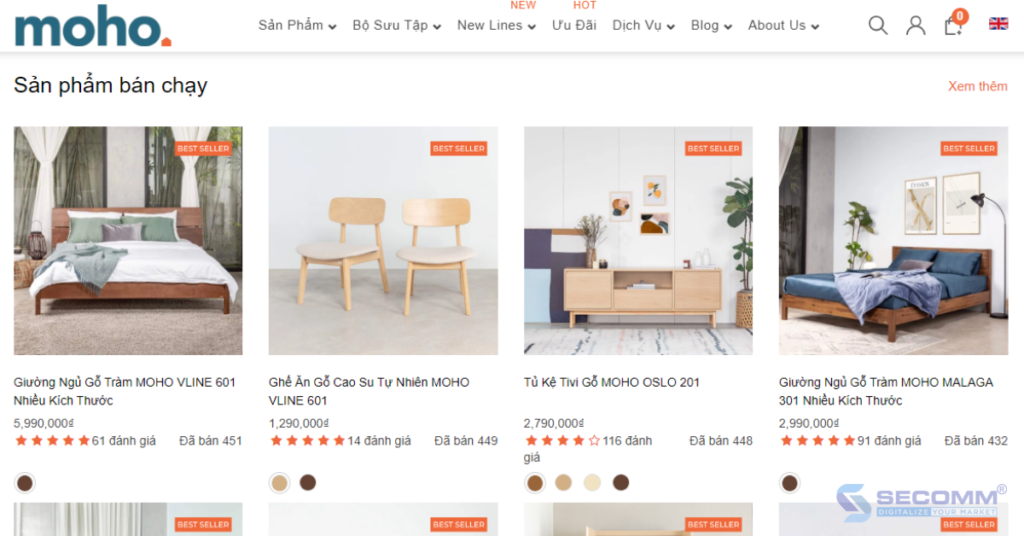 Cozy
COZY is a famous furniture brand present in the market since 1995 with high-class Italian-style designs. All products distributed by COZY are subjected to quality checks. With more than 25 years of establishment and development, COZY is one of the leading prestigious units in Vietnam in importing furniture from high-end brands from Europe.
In order to increase sales channels and reach a large number of potential customers online, COZY invested in developing an eCommerce website using the Shopify platform in addition to the showroom system dispersed around the districts of Ho Chi Minh City.
Because of the website's elegantly crafted, opulent, and smart user interface, it receives an astonishing 45,000 visitors each month.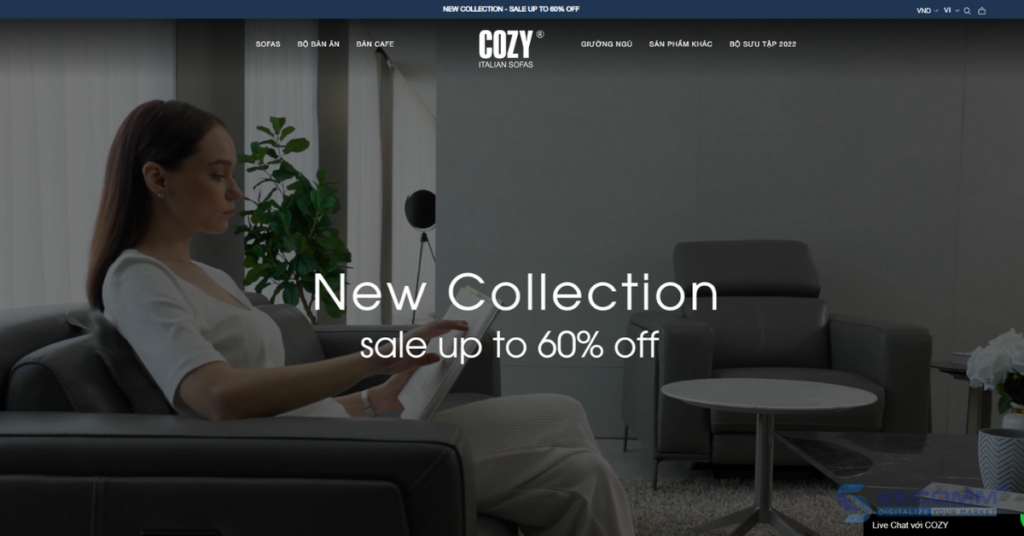 Nha Xinh
​​​​Nha Xinh chooses a simple and intimate interior design style for each of the company's products. The WooCommerce platform's straightforward and user-friendly design of Nha Xinh's eCommerce website's interface amply illustrates this.
Furthermore, Nha Xinh's website uses 360-degree technology to enable buyers to experience the company's interior items from a distance in an accurate manner, providing information and a complete price list for each item from every angle of the room and product.
The eCommerce website now receives more than 40,000 visitors each month because of its painstaking attention to every last detail.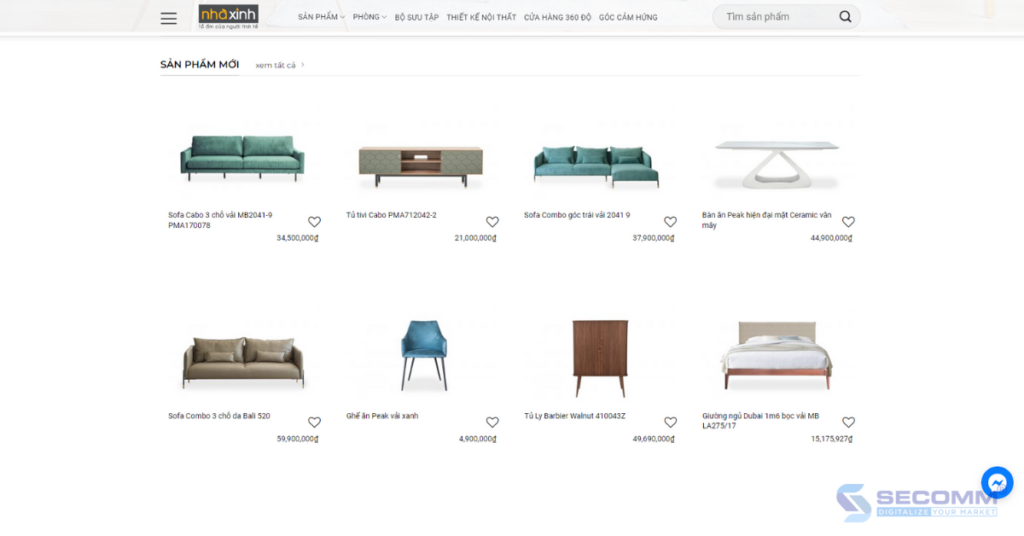 Customers can save a ton of time and money when shopping online, especially when purchasing furniture. However, there are a lot of potential hazards associated with this type of business, particularly with regard to product quality and information security, and safety during the shopping and payment processes.
The furniture eCommerce sites discussed in this blog post are well-known destinations that have been active on the market for a long time and have serviced and satiated the wide range and expanding needs of clients.
These companies demonstrate their efforts to create the technological infrastructure that will enhance customers' online shopping experiences, and they take priority on the development of a professional, well-invested supply chain that will expedite shipments while maintaining the quality of the goods until they are received by the customer.
When Vietnamese furniture businesses launch their own fully-functional eCommerce websites, professionalism, adaptability, and speed are the key success criteria.
Nevertheless, in order for the furniture eCommerce firm to succeed, business managers must carefully and comprehensively take into account the growing client wants and the continuously shifting market trends.
In particular, the task is to lay out a solid and methodical company plan so that the best short- and long-term actions can be taken. Completing that difficult task will take a lot of time and resources. As a result, many furniture companies opt for a more straightforward approach to the issue, enlisting the assistance of a highly qualified and dependable unit.
With many years of experience in successfully implementing eCommerce for many customers in many countries, SECOMM specializes in providing consulting services with comprehensive and professional e-commerce implementation solutions. , repertoires.
Contact SECOMM today for free support and advice.