The first step in the strategy for building and developing an eCommerce website, a crucial consideration for business owners in various sectors, is selecting an eCommerce platform that aligns with their business requirements.
The Baby eCommerce industry is no exception to this rule. So, what is the ideal choice? The following article outlines and clarifies the pros and cons of the top five eCommerce platforms for the development of Baby eCommerce websites.
Magento
Magento (now owned by Adobe), is an open-source eCommerce platform that grants businesses full authority to develop and manage their eCommerce websites.
For large enterprises in the Baby eCommerce industry with complex requirements for building and developing eCommerce websites, Magento's high degree of customization and scalability, along with its wealth of outstanding features and extensions, can effectively cater to their needs. However, to fully leverage Magento's capabilities, businesses should invest in both a specific budget and a requisite level of technical expertise.
Currently, Magento offers two primary versions:
Magento Open Source: a free version

Adobe Commerce: a paid version with two options, on-premise and on-cloud.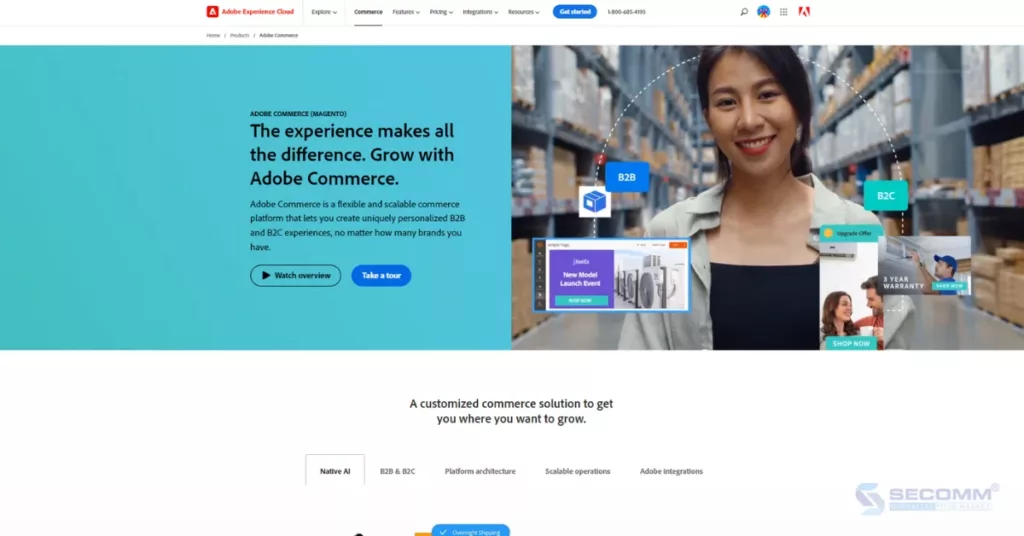 Key Features:
Multi-brand solution

: Supports multiple languages, currencies, and stores for various business models (B2B, B2C, B2B2C, D2C).

MSI – Multi-source inventory

: Enables the shipment of a single order with multiple products from different warehouses while ensuring delivery times.

Headless eCommerce

: Utilizes the separation between Frontend and Backend for easy customization and website development.

B2B feature

: Provides support for B2B customers, including category sharing, creating business accounts, quick ordering, and customer group creation.

PWA – Progressive Web App

: A mobile application built on web technology, easily discoverable and downloadable from a web browser.
Pros:
Feature-rich system from basic to advanced, tailored to specific industry needs.

High customization and scalability compared to SaaS platforms.

No limits on sales volume.

Wide range of extensions.

High security.
Cons: 
High implementation costs.

Lengthy implementation time, ranging from 6 months to 1 year.

Requires a certain level of technical expertise and understanding of Magento.
Pricing:

Brands built their Baby eCommerce websites on Magento including Kids Plaza VN, Bibo Mart, Children Salon, Mothercare VN, Aden+Anais, Hornby, v.v 
Salesforce Commerce Cloud (SFCC)
Salesforce Commerce Cloud (SFCC) is a cloud-based Software as a Service (SaaS) solution that helps businesses build their eCommerce websites. This platform enables businesses to integrate all their sales channels, delivering a seamless shopping experience for customers.
SFCC offers two key solutions:
Salesforce B2C Commerce Cloud: A solution for building websites and enhancing the overall shopping experience for retail customers.

Salesforce B2B Commerce Cloud: A solution for building websites and providing a shopping experience for customers engaging in large-volume transactions.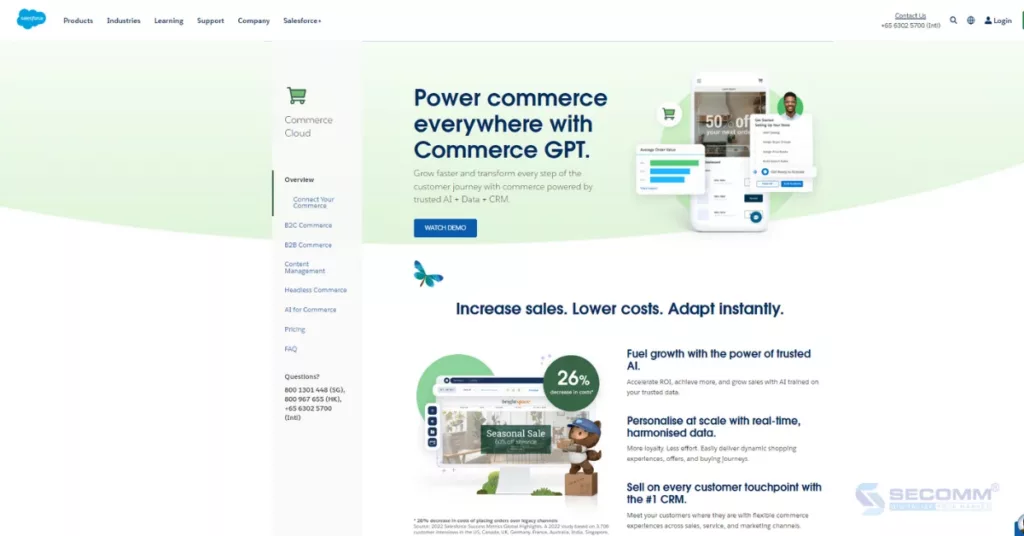 Key Features:
AI Einstein

: Offers personalized search and product recommendations with Einstein Product/Search Recommendations. Provides personalized experiences across all channels with Einstein Recommendations API. Gathers customer insights to boost revenue with Einstein Commerce Insights.

Headless Commerce

: Build headless e-commerce websites and enhance user experiences using SFCC's Open Commerce API or any developer's preferred APIs.

Marketing & Merchandising

: Supports design, scheduling, and automated marketing campaigns, optimize SEO to increase traffic, and manages multi-store, multi-language, and multi-currency capabilities from a centralized dashboard.

Omnichannel

: Enables multi-channel sales and provides a consistent customer experience.

Localization

: Allows businesses to create multiple separate websites with different languages, currencies, and strategies for specific target markets.
Pros:
User-friendly interface.

Strong support from AI tools during implementation.

Diverse tools and features.

Automation of order processing and promotional campaigns.

Exceptional analytics and reporting capabilities to capture customer insights.

High security.

24/7 customer support service.
Cons:
The license fee is not publicly disclosed, making it challenging to estimate exact expenses.

Limited seamless integration with third parties.

Limited customization and scalability. For high customization needs, businesses may incur additional costs.

Being a SaaS platform, it carries inherent risks from the provider, and data access limitations cannot be entirely avoided.
Pricing
For Salesforce B2C Commerce Cloud, businesses are offered three solution packages: Starter, Growth, and Plus, and they need to contact Salesforce for specific consultations and pricing.
For Salesforce B2B Commerce Cloud, businesses should get in touch with Salesforce for specific price levels and implementation details.
The cost of developing an eCommerce website using the SFCC platform can range from $2,000 to $500,000, depending on each business's requirements.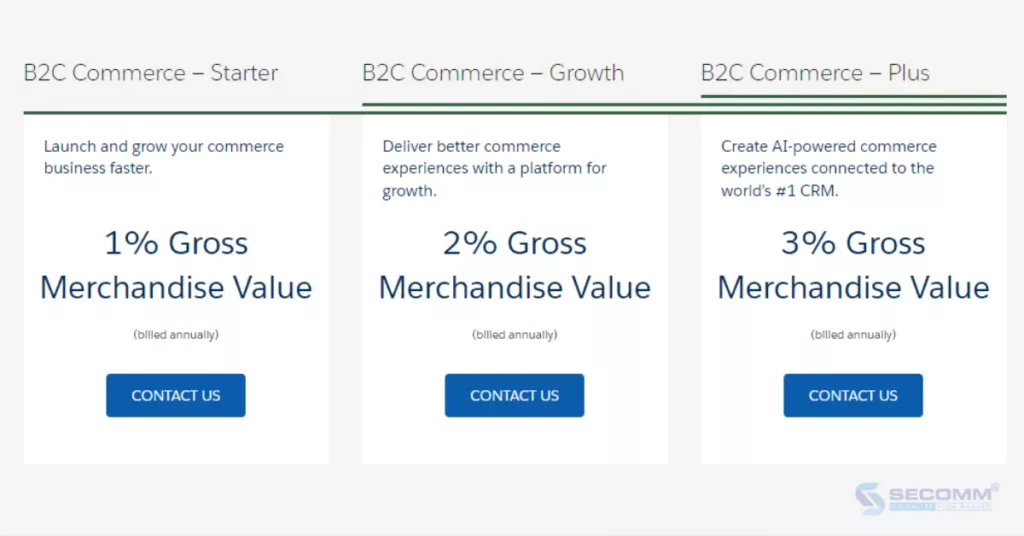 Some Baby brands that have developed eCommerce websites on the Salesforce Commerce Cloud platform include Carter's, Hanna Andersson, OshKosh B'gosh, Chicco, Crayola, Toys "R" Us, Melissa & Doug, and more.
Shopify
Shopify is a SaaS platform known for its diverse features and themes that cater to businesses of various industries and scales, facilitating the rapid and effective development of eCommerce websites.
Shopify offers three standard solution packages (Basic, Shopify, Advanced), tailored for small and medium-sized businesses. Meanwhile, the Shopify Plus solution is aimed at medium to large businesses with elevated development and customization requirements.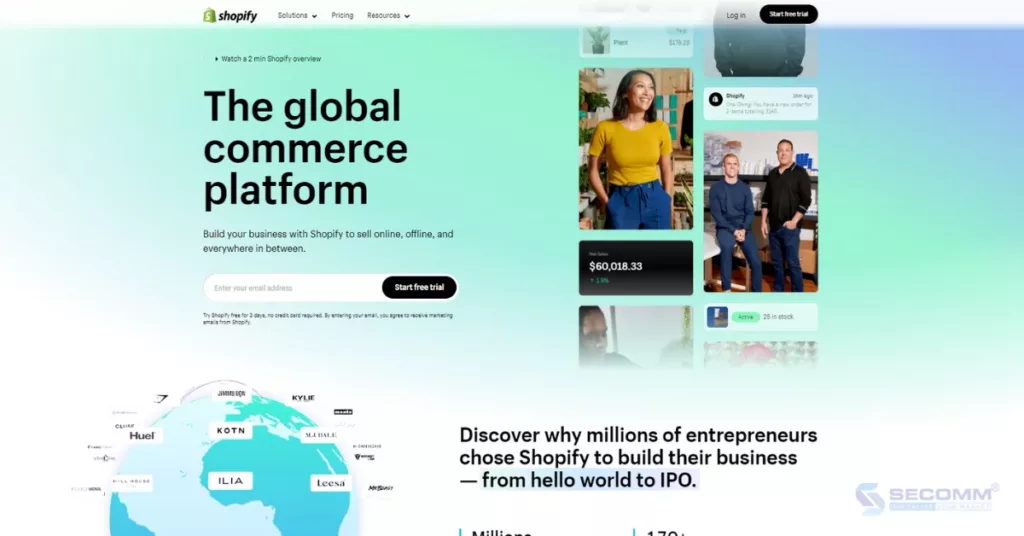 Key Features:
Shopify POS

: This feature is available in all solution packages and allows seamless integration of point-of-sale from online to offline, supporting order and inventory management across retail locations, online stores, and other active sales channels.

eCommerce automation

: Automates marketing processes and order execution. Available in the Shopify and Advanced packages, while Shopify Plus businesses have Shopify Flow and LaunchPad.

Shopify Hydrogen

: Allows Shopify Plus and standard Shopify businesses to build custom storefronts using the React-based Hydrogen framework, which can then be directly integrated with the Oxygen in-house hosting. This is Shopify's new solution for businesses building and developing Headless websites.

Abandoned cart recovery

: Automatically sends email with discount codes to customers in cases of cart abandonment during the checkout process, leaving the website with products in the cart but unpaid, or viewing products without adding them to the cart.

International commerce

: Supports multiple languages, multiple stores, and multiple currencies. However, tax calculation at checkout is only available for the Advanced and Shopify Plus packages.
Pros:
User-friendly interface.

Reasonable initial costs.

Diverse integrated apps and themes.

24/7 customer support service.

Support both online and offline sales.

High security.

Ideal platform for opening dropshipping stores. Some

Baby dropship stores using Shopify

include Posh Peanut, Baby Boxco, Happiest Baby, and more.
Cons:
Costs increase over time.

Limited customization and scalability when compared to open-source platforms.

Limited blogging features and content management capabilities.

Restrictions on free themes.

Risks associated with the provider and data access limitations.
Pricing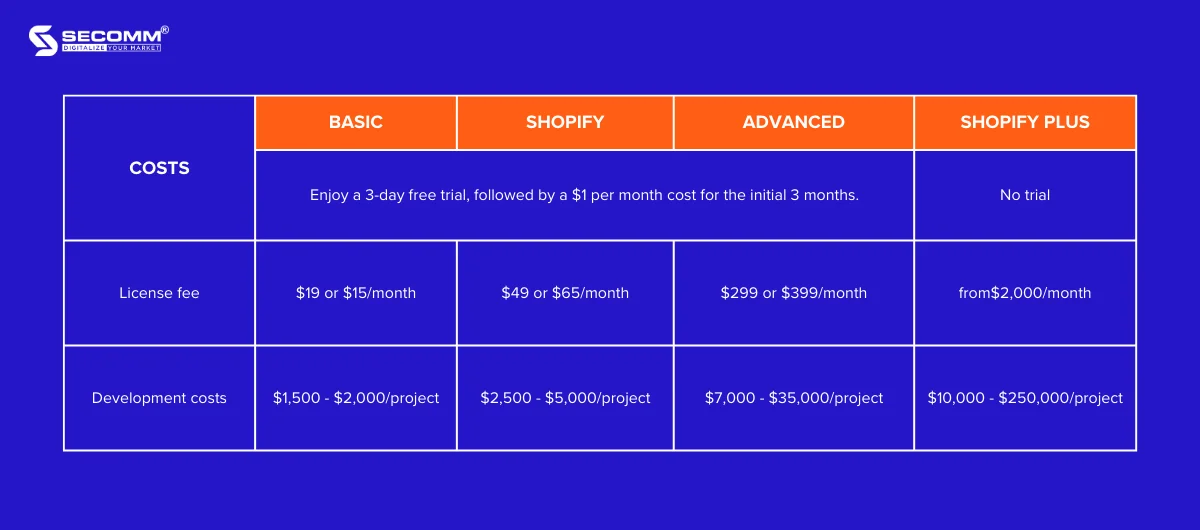 Shopify serves as the choice not only for Baby dropshipping stores but also for numerous well-known Baby brands that have used this platform to build their eCommerce websites, including HATCH Collection, Motherhood Maternity, 4moms, Maclaren, Manhattan Toy, Tegu, and many others.
BigCommerce
BigCommerce is another platform worth considering for Baby eCommerce businesses due to its ease of use and its ability to cater to the eCommerce website-building requirements of businesses across various scales and industries.
Furthermore, BigCommerce is recognized as a SaaS platform that includes a wide array of features within its solution packages (Standard, Plus, Pro, Enterprise) aimed at fostering eCommerce growth.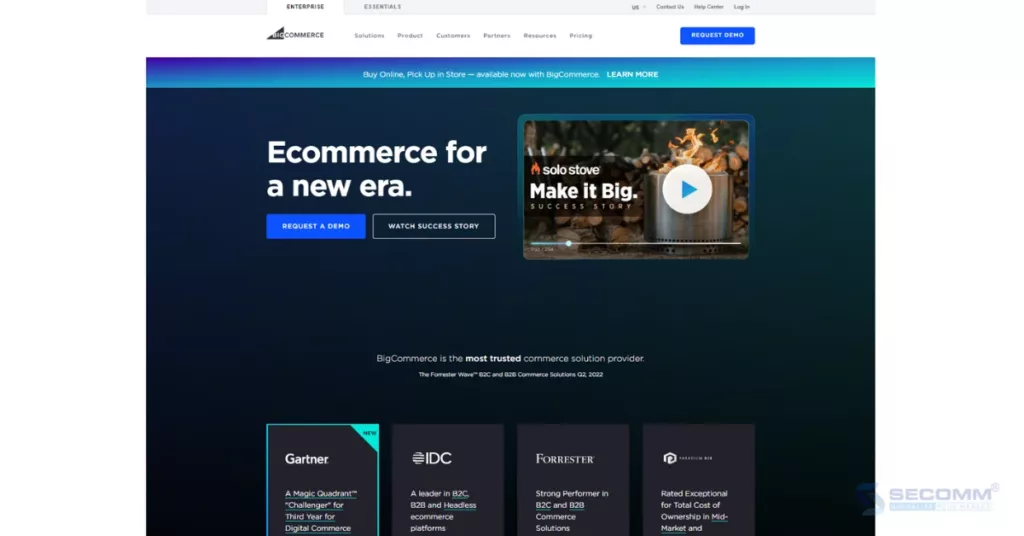 Key Features:
Built-in blog

: Enhances SEO rankings and provides an engaging content experience through a blog.

Professional reporting tool

: Offers professional analytics and reporting tools that help businesses evaluate operational performance for informed adjustments.

Real-time shipping quotes

: Provides real-time, accurate shipping cost estimates from various carriers.

Google customer reviews

: Allows businesses to collect and display customer reviews on Google from those who have purchased their products.

BigCommerce mobile app

: Monitor performance, track and update orders, and manage customer journeys with the BigCommerce mobile app. The app is available for direct download from the App Store or Google Play.
Pros:
User-friendly interface.

Richly integrated features.

Diverse solution packages with reasonable usage costs.

Offers 65 popular worldwide payment solutions with integrated transactions fee-free.

A variety of themes and extensions tailored for the Baby industry.

High security.
Cons:
Sales volume limits.

Increasing implementation costs over time.

Limited customization capabilities.

Provider risks and data access limitations.
Pricing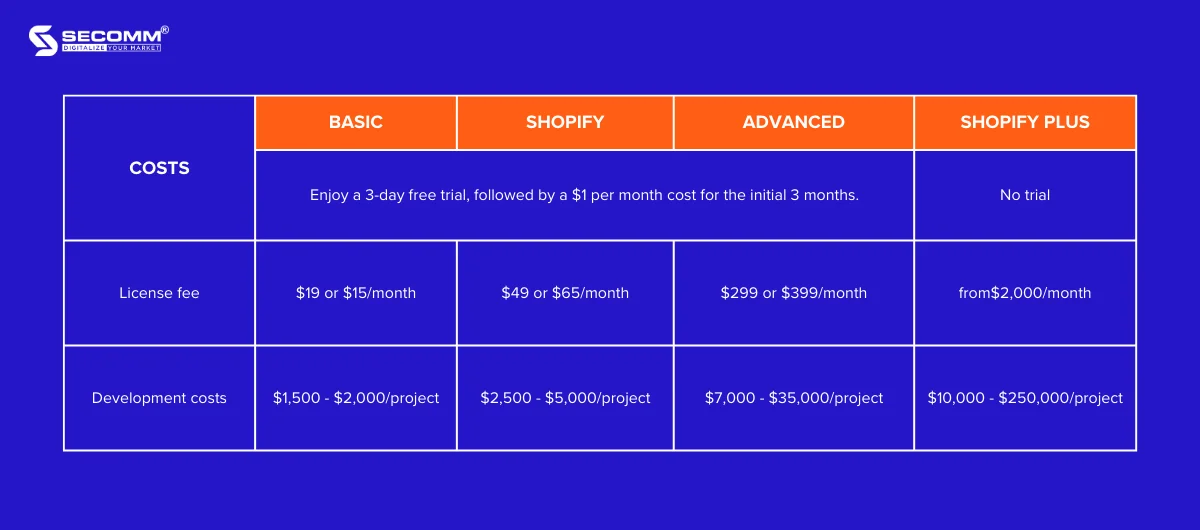 Brands built their eCommerce websites with BigCommerce: Le Petit Kids, Scentos, Nature's One, Kids Furniture Warehouse, See Kai Run, Feltman Brothers, v.v
Shift4Shop
Shift4Shop is a SaaS eCommerce platform that equips businesses with the essential tools and features to build and customize eCommerce websites. It presents a range of free and premium themes suitable for marketing Maternity and baby products.
Shift4Shop provides three paid plans (Basic, Plus, Pro) and one free plan, subject to a minimum monthly revenue of $500, designed for U.S. sellers under the End-to-End category.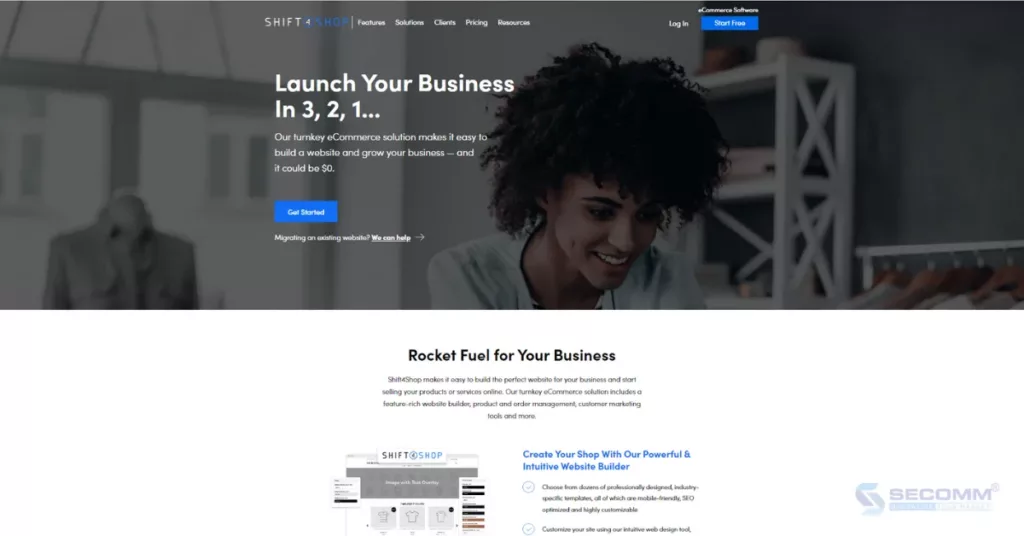 Key Features:
Built-in tools

: Integrated tools for blogging, SEO optimization, social media integration, etc., aid businesses in enhancing the effectiveness of their marketing strategies.

RMA system

: This feature simplifies the product return and refund process.

Shopping cart

: Allows customers to quickly view and customize their shopping carts. Customers can also choose one-page or three-page checkout options.
Pros:
User-friendly interface

Various integrated features

Reasonable initial cost

No transaction fees

24/7 technical support service
Cons:
Limited customization and expansion capabilities

Increasing deployment costs over time, even for the End-to-End package

Volume limits for paid plans

Limited and basic selection of free themes

Vendor risks and data access concerns
Pricing

Brands built their Baby eCommerce website with Shift4Shop: eLeMeNO-Pee, Sugar Babies, Nicki's Diapers, Enfant Style, Ideal Baby & Kids, v.v
The above are the top 5 platforms that have been preferred by the majority of Baby businesses for establishing their eCommerce websites. 
After years of eCommerce implementation across various countries, SECOMM has accumulated invaluable insights to expedite the process of website development and growth for Baby businesses.
Get in touch or directly call SECOMM's hotline at (02871089908) for immediate guidance on platform selection and eCommerce implementation today