When grocery business activities face many obstacles such as strict lockdown measures by Covid-19, shortage of necessities, and geographical distance, the demand for egrocery increases daily.
Ecommerce marketplaces such as Tiki (Tiki Ngon), Lazada (Lazada Supermarket), Shopee (Shopee Fresh), and super apps like Momo (Online shopping), Grab (Grab Mart), etc. all, in turn, deploy egrocery to respond to consumer needs promptly. In particular, grocery stores' eCommerce websites such as Bach Hoa Xanh, WinMart, and Co.opmart quickly seized the opportunity and grew impressively!
The egrocery market continued to thrive after the lockdown period was removed, indicating the expanding potential of the grocery eCommerce business.
Not only was grocery eCommerce appearing in the Vietnamese market but also globalization. For example, in the United States market, egrocery has an annual growth rate of 200% (according to Statista).
Businesses must swiftly develop an eCommerce system fit for industry and customers to capture changes in the market. However, administrators must consider several concerns while implementing grocery eCommerce to efficiently engage in the market.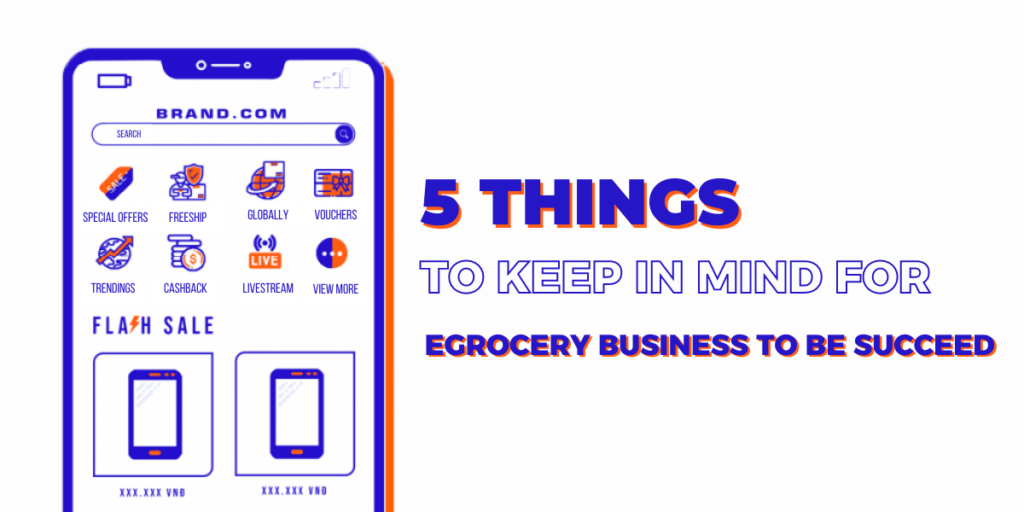 Choose the right eCommerce platform
Choosing the right eCommerce platform is essential for any business, not just the grocery industry. An eCommerce platform compatible with business strategies will help companies save time, accelerate the digital transformation process, and save money on deploying eCommerce websites in both the short and long term. In addition, businesses do not need to switch platforms many times, saving time and budget for recruiting and training personnel to familiarize themselves with the system.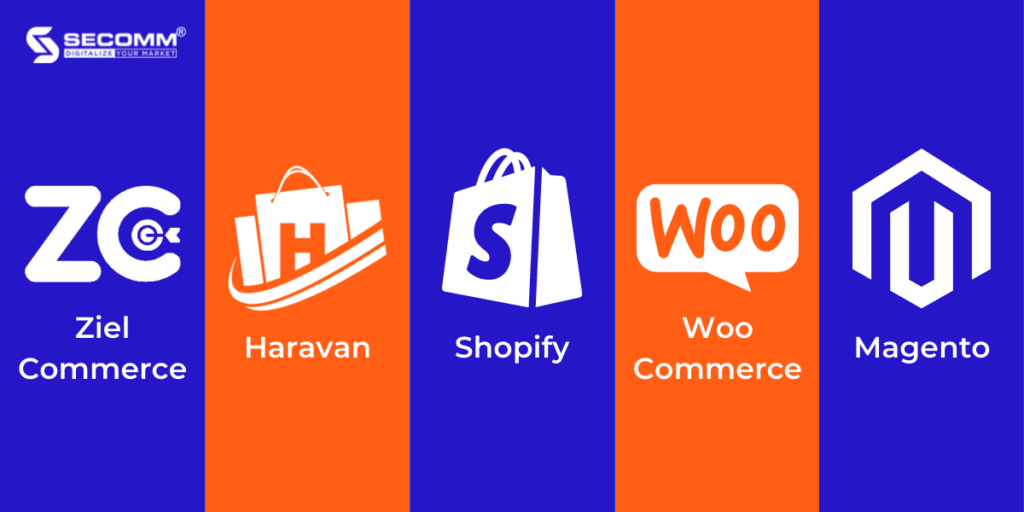 Some grocery business eCommerce platforms include Ziel Commerce, Haravan, Shopify, WooCommerce, and Magento. In particular, Ziel Commerce is a platform designed explicitly for eGrocery businesses.
SaaS platforms like Haravan and Shopify are suitable for SMEs (small and medium enterprises), startups, or new entrants to eCommerce. WooCommerce is ideal for businesses that need to own the source code and customize the website at an affordable cost. The Magento platform is suitable for many different business models (B2C, B2B, B2B2C, etc) and many different business sizes (SME, startup, large corporation, etc).
This platform meets the needs of building an industry-specific eCommerce website under its characteristics, with full ownership of the source code and the ability to customize the website. However, due to the prolonged deployment time and high prices, many businesses are hesitant to use Magento, while many enterprises trust it.
Building a system of industry-specific features
A big problem that egrocery businesses need to pay attention to is that the grocery industry has a relatively complicated operation.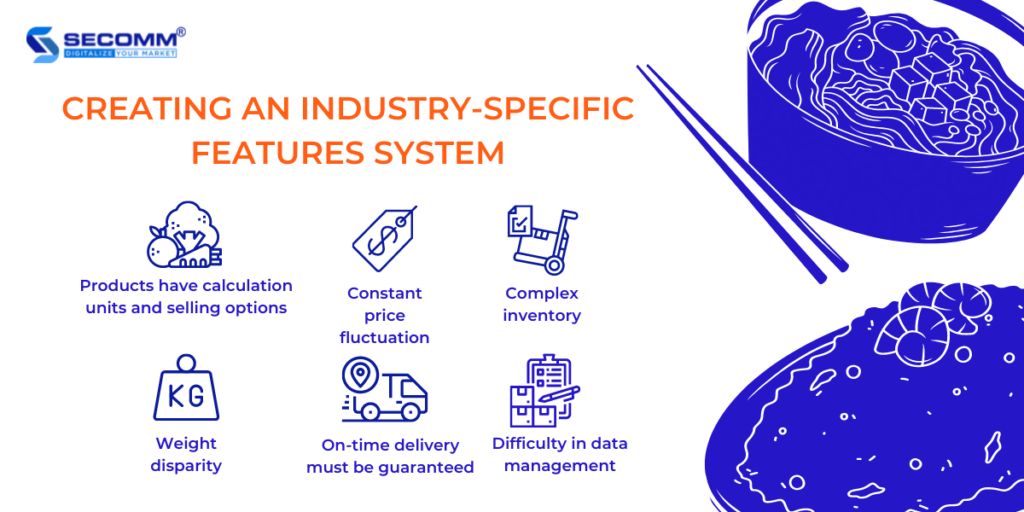 Grocery products have many units of measure, weight differences, and different ways of selling; prices constantly fluctuate and update continuously by day/week/month/year.
The import and export of warehouses are complicated (general warehouse, store warehouse, warehouse for each area in the store), so when deploying an online grocery store, businesses need to synchronize the price and quantity of products so that when restocking, the data will not be lost. Weight and cost data on branches are changed under control, avoiding the lack of synchronization between frontend and backend, causing data processing to be interrupted.
At the same time, grocery products are mainly fresh foods such as meat, fish, eggs, milk, etc, so they need to be refrigerated, delivered quickly, or selected with the correct delivery time.
Handling all the problems in the complex operating process of the grocery industry requires a team of highly qualified IT and eCommerce personnel to design an eCommerce system that is suitable for the specific process and requirements of the business – something current SaaS platforms are not enough to meet.
Enhance customer experience
When running an online grocery store, the user experience requirements are very high; from navigating shopping behavior to the checkout process, order delivery needs to be optimized. Because user experience increases the likelihood of customers placing their first order, it also gives customers more reasons to buy again, contributing to a competitive advantage over competitors in the same industry.
There are many ways for businesses to enhance the user experience, such as layering product categories to navigate customers more intuitively and building specialized functions such as quick add products to cart, fast checkout, search enhancements, and product recommendations based on collected data, etc.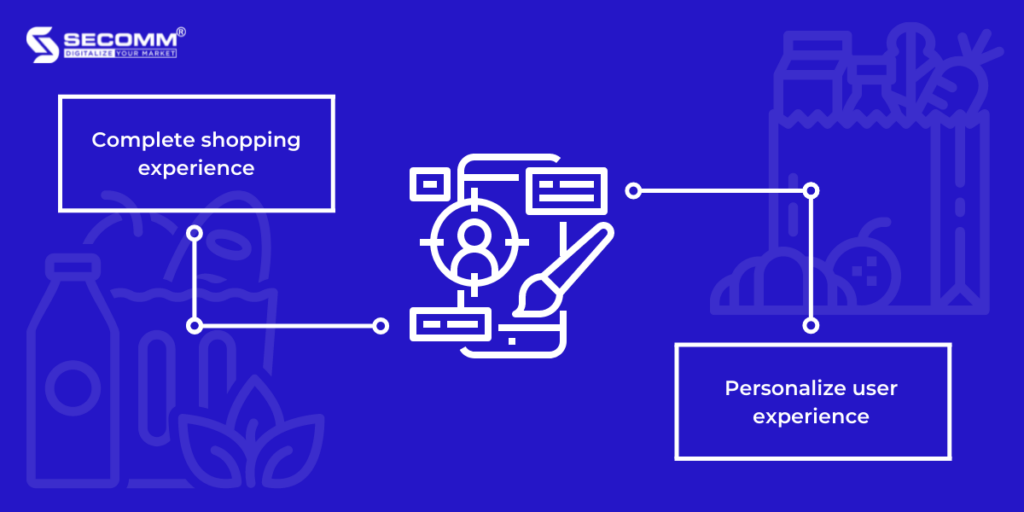 At the same time, personalizing the user experience is an essential factor in the customer's shopping journey. Businesses exploit, analyze, and leverage data to build the right customer journey, match consumer behavior, and increase the user experience level of personalization.
Personalize from CMS content and display products to navigate the shopping journey for businesses to increase loyalty and customer lifetime value (CLV).
Implement attractive promotions
The secret of doing an online grocery business is building incentive programs suitable for customer segments.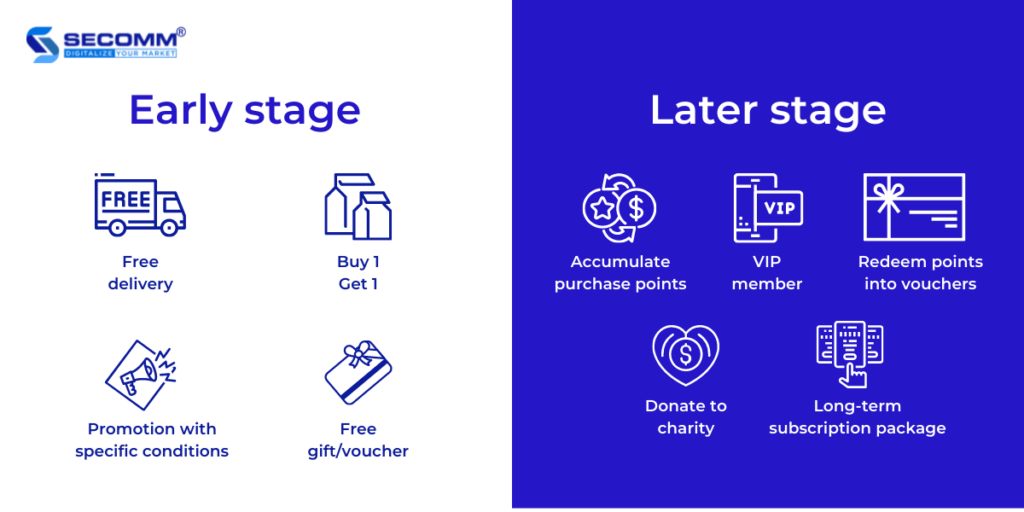 Some popular promotions that businesses can apply in the early stages include free shipping, buy one get one free, gifts/vouchers, or promotions with specific conditions (certain items reach a particular value).
After that, businesses can deploy loyalty programs such as accumulating points for purchases, VIP membership, converting reward points into discount codes, donating bonus points to charities associated with the brand, subscription plans, etc.
Applying omni-channel
Omni-channel is one of the inevitable eCommerce trends in 2022; the application of Omni-channel will help businesses do online grocery business more conveniently.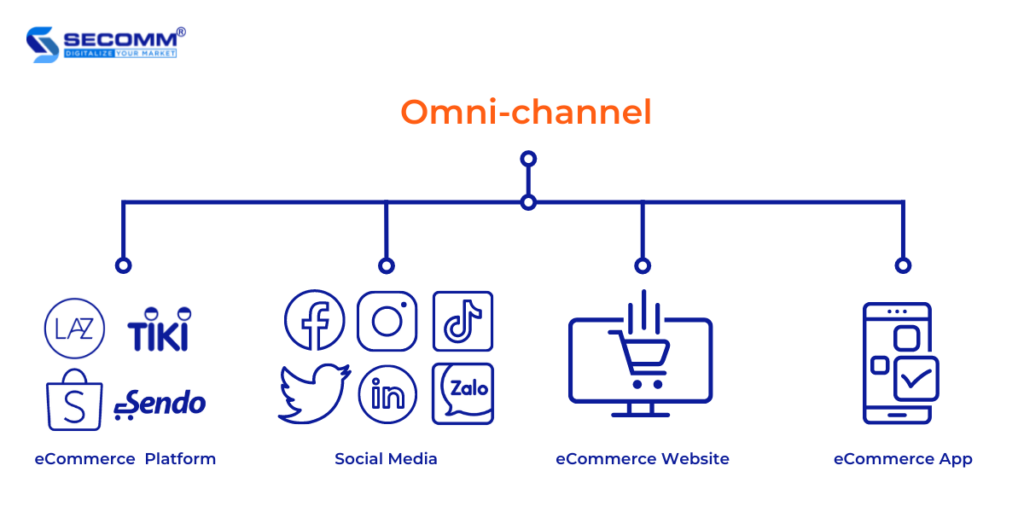 Omni-channel will help customers' shopping experience be seamless from the physical store to the website, helping businesses follow customers from eCommerce platforms, social networks, websites, etc.
In addition, by collecting and analyzing information from Omni-channel, businesses can efficiently study customer behavior, preferences, and psychology and know whether they are satisfied with the product, service quality, or not to take reasonable measures to change.
It can be said that the grocery eCommerce business has both opportunities and challenges, requiring business managers to think carefully about tactics to make the most effective steps. But, of course, that work is not easy, finding a companion is also tricky, building an in-house team is not easy, and businesses have to pay a lot of opportunity costs and time to reach the "finish line" themselves. 
With experience in successfully implementing complex grocery eCommerce systems like An Nam Gourmet, SECOMM understands grocery businesses' obstacles. Contact SECOMM now for a free consultation on detailed eCommerce system development solutions!