In 2021, The Vietnamese eCommerce market size reached 13.7 billion USD, which means the industry is growing rapidly and playing an important role in Vietnam's economy. 
It forces business owners to find ways to make their businesses stand out and connect with customers.
One of the effective approaches is to implement an Omnichannel eCommerce strategy. This is a marketing method aimed at providing a consistent customer experience across multiple channels. It may be confused with Multichannel eCommerce, where brands sell on various channels but provide different customer experiences on each channel. Although customers can shop on social media, eCommerce websites, physical stores, etc, their experience across these channels could not be seamless. There is also the Single-channel eCommerce model, where a brand only uses one channel for sales. 
Retailers globally recognize the potential and impact of Omnichannel eCommerce on their business operations. According to Report Linker, the market for multi-channel retail platforms reached 5 billion USD in 2020 and is projected to reach 14.5 billion USD in 2027. Industry analysts and experts also emphasize that Omnichannel is the future of eCommerce and is a great way to attract customers and provide them with true value. 
Here are 6 tips to help you, as a business successfully build an Omnichannel eCommerce strategy.
Tip 1: Understand the target audience & their shopping behavior
Tip number 1, regardless of any business strategy, you have to know who your target customers are and their shopping behavior. You can start by gathering relevant data about demographic information, purchase history, etc from various sources, including eCommerce websites, social media platforms, physical stores, etc. Then, you will analyze how they interact with the brand across different channels and create detailed buyer personas.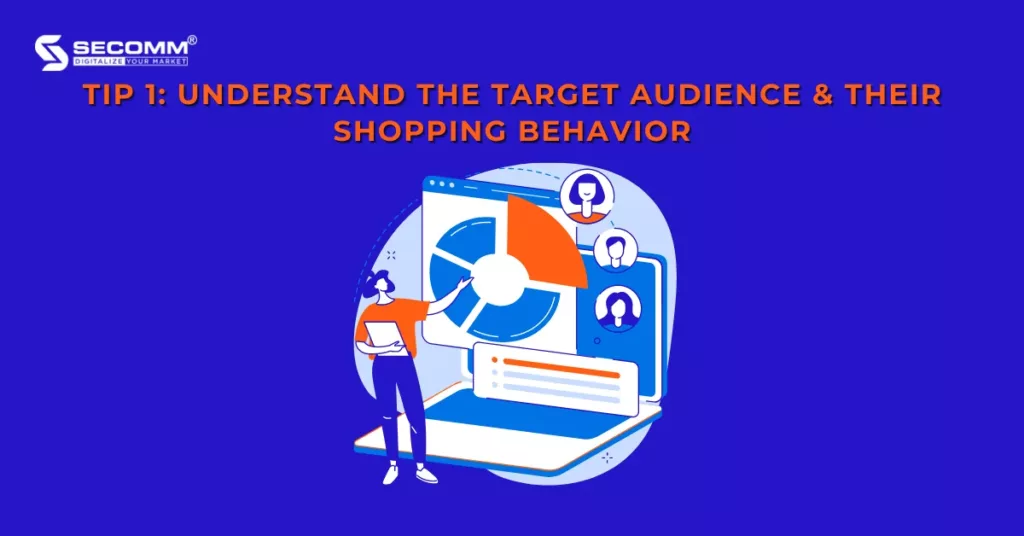 This helps identify effective approaches for each customer segment and tailor messages for each channel. For example, if a significant portion of your customers prefers shopping on mobile devices, you can optimize your suitable marketing campaigns alongside improving the website to attract more customers. Or, you can invest in developing mobile applications to enrich the customer shopping experience and drive conversions.
Tip 2: Map the customer journey
Tip number 2 is to map out the customer journey to visually understand the process that a potential customer goes through when interacting with your brand. It helps you clearly understand their needs, buying motivations, and so forth. When developing an Omnichannel eCommerce strategy, mapping the customer journey allows you to proactively provide personalized customer experiences across channels. It not only enhances cross-selling, and upselling but also improves customer intention and loyalty. 
There are typically 5 stages in the customer journey: Awareness, Interest, Purchase, Retention, and Advocacy.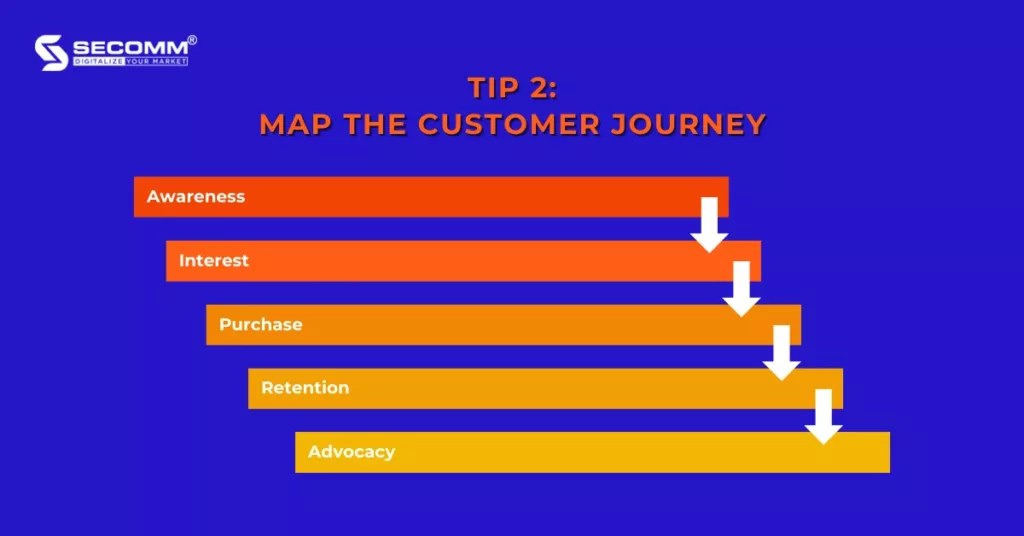 Here are the basic steps to create a customer journey map:
Set clear goals for the map

Identify buyer personas and define the target customers

Determine the stages and objectives for each stage

List out the touchpoints

Collect data and feedback

Identify areas that need to be improved
Tip 3: Develop a brand image & messaging
Another valuable tip is to develop a consistent brand message and image across channels. It requires you first to identify and understand the brand values, vision, and mission. For example, you can use consistent elements such as colors, fonts, etc, to help customers easily recognize your brand. Moreover, you need to train your staff on the brand message and image to ensure they understand and communicate the message properly across all channels.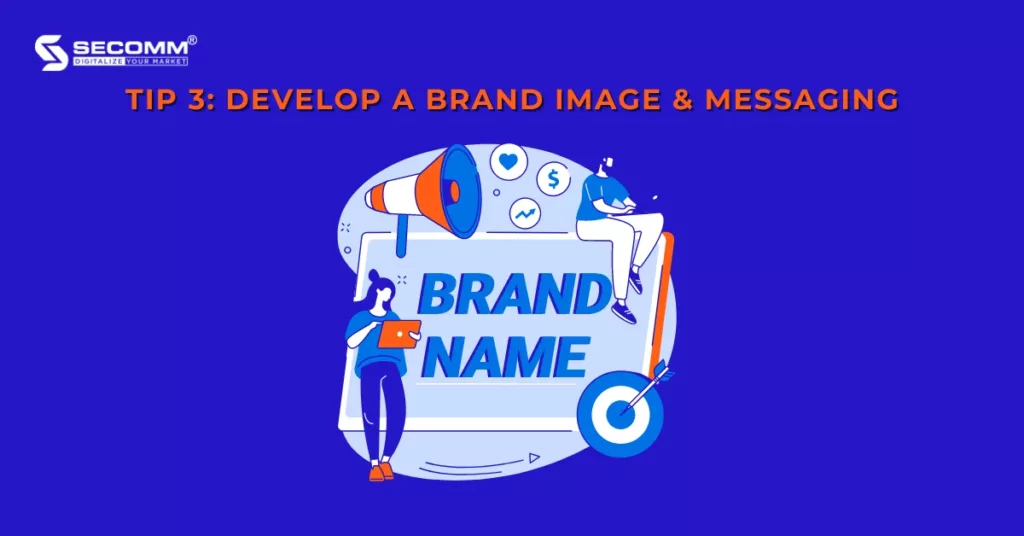 This tip not only helps increase brand recognition and customer loyalty but also creates a seamless customer experience.
Tip 4: Engage customers on social media
Next, you can incorporate social media into your Omnichannel eCommerce strategy and focus on engaging with customers on social media platforms alongside other effective marketing channels. With over 3.6 billion social media users globally, building your brand presence in these places is no longer an option but an imperative measure  to effectively connect your brand with customers.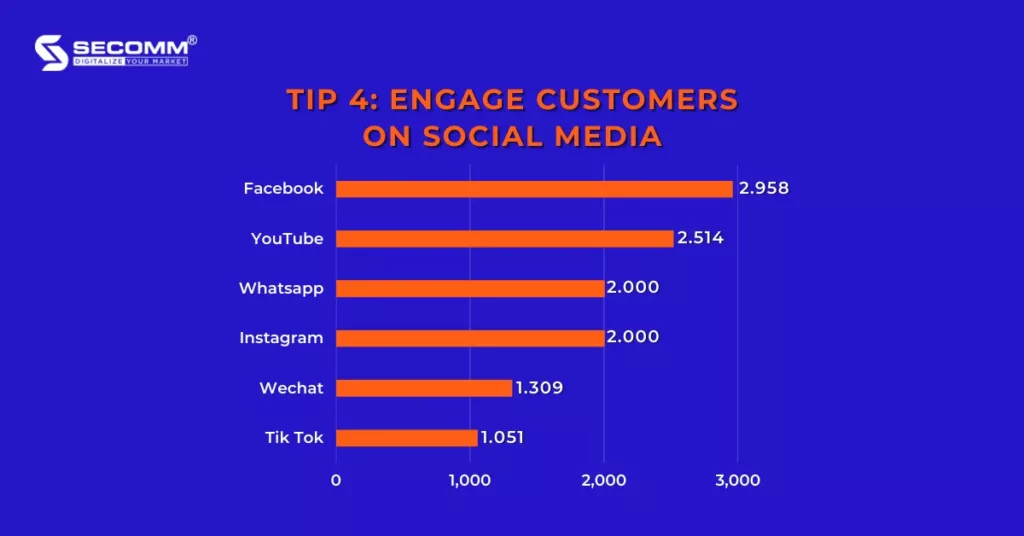 Leveraging social media enables you to engage with customers by responding to inquiries and addressing concerns through messaging or interactions on the news feed in a friendly and approachable manner. In addition, social media provides you with great space to deliver brand messages and voices to customers in a quicker and more intimate way to enhance brand awareness. You can create your own ideas and content or collaborate with influencers. 
To tightly integrate social media with other channels in the Omnichannel eCommerce strategy, you can, for example, encourage users to like, comment, and share posts to receive attractive discount codes for purchases on websites or physical stores. 
Tip 5: Optimize the shopping experience
Tip number 5, for a seamless omnichannel experience, you need to ensure that customers can make purchases through any channel they interact with, such as eCommerce websites, marketplaces, social media platforms, and physical stores.
Additionally, to keep up with mobile commerce trends, you should optimize mobile-friendly and responsive websites as well as user-friendly mobile apps for easy navigation and usage.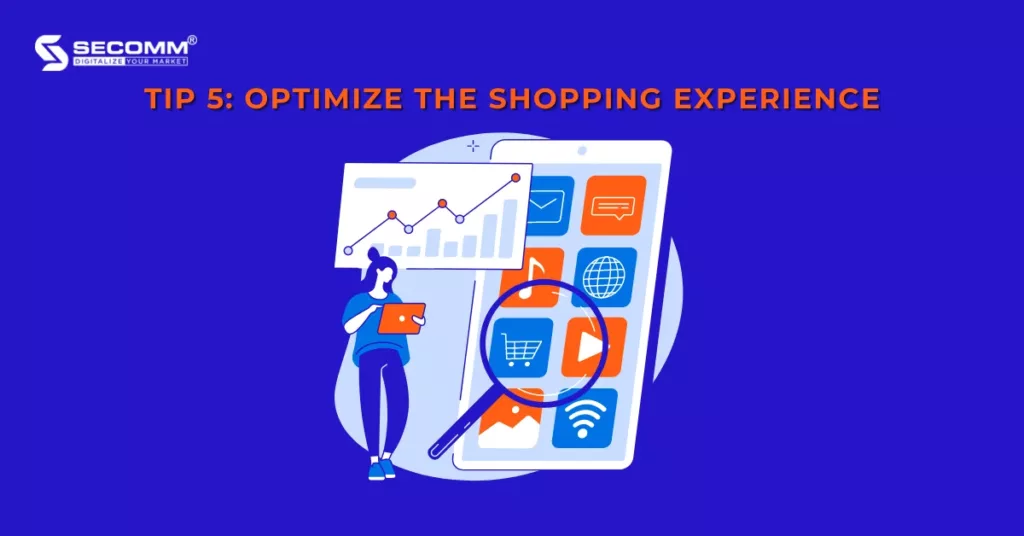 Since Omnichannel eCommerce emphasizes consistent experiences across all channels, content and customer-related information such as login credentials, payment details, and shopping carts should be synchronized. This enables customers to move seamlessly between channels and devices while preserving the items in their shopping carts or without the need to spend time logging in or re-entering payment information. Moreover, you can leverage data analytics to personalize product recommendations for each customer, displaying relevant or complementary products based on their behavior and purchase history across channels to increase cross-selling and upselling opportunities.
Tip 6: Measure & analyze the outcome
Tip number 6 is measuring and analyzing the results of the strategy. During the implementation process, you can utilize data analysis tools such as Google Analytics, Google Tag Manager, Facebook Pixel, and others to check, track and analyze customers across all channels. It helps identify which channels generate the most traffic, level of engagement, and sales revenue, and identify areas for improvement. In addition, you can gather customer feedback to enhance and optimize your strategy. The work should be conducted to make appropriate adjustments and achieve desired results.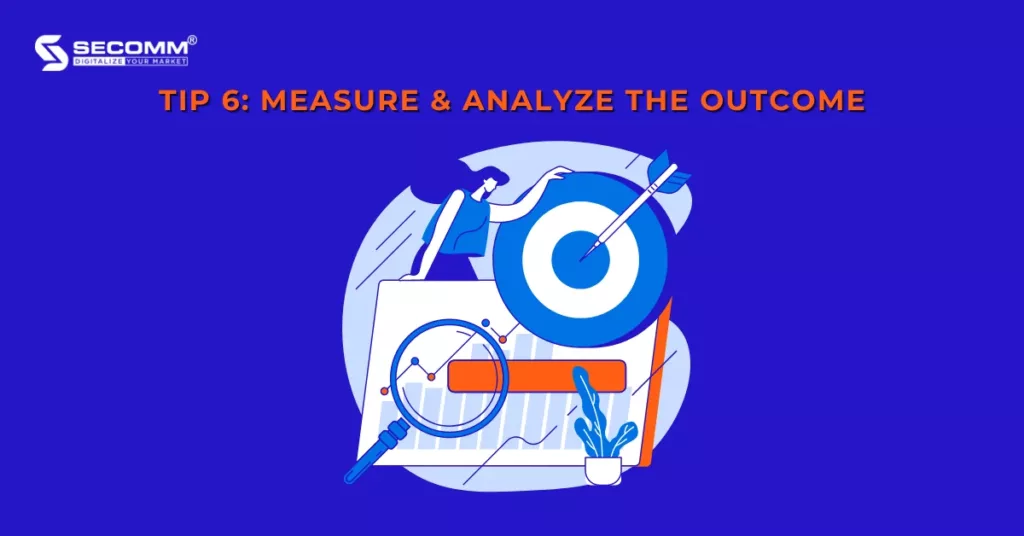 Contact SECOMM now for a consultation on building an Omnichannel eCommerce strategy.