BigCommerce is one of the most popular eCommerce website-building platforms today. Its flexibility, user-friendliness, cost-effectiveness, and a wide array of built-in tools and features make it a preferred choice for businesses of all sizes.
This article aims to clarify the definition of BigCommerce, its features, pros and cons to provide businesses with valuable insights into the multitude of platforms available for selection.
What is BigCommerce?
Established in 2009, BigCommerce is a user-friendly platform tailored for businesses of all sizes and technical expertise to start developing their own eCommerce websites. Over the years, BigCommerce has emerged as one of the most feature-rich platforms, encompassing all the essentials for website creation, search engine optimization, marketing, and more, all at a cost-effective implementation.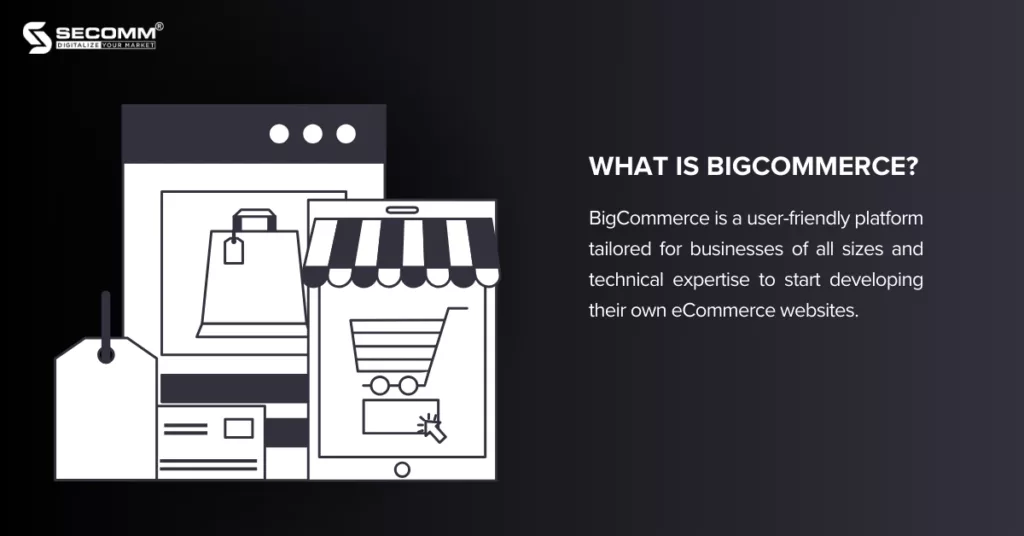 In addition, BigCommerce is known as a SaaS eCommerce solution, which means businesses subscribe on a monthly basis, and the platform takes care of hosting, maintenance, and system security matters.
BigCommerce Pricing Plans
BigCommerce provides three pricing plans tailored for small and medium-sized businesses (Standard, Plus, Pro), priced between $29 and $299 per month, each equipped with essential features. Moreover, the platform offers a customizable plan (Enterprise) for large businesses based on their deployment requirements.
The table below illustrates the cost variations among these four pricing plans and includes some relevant factors: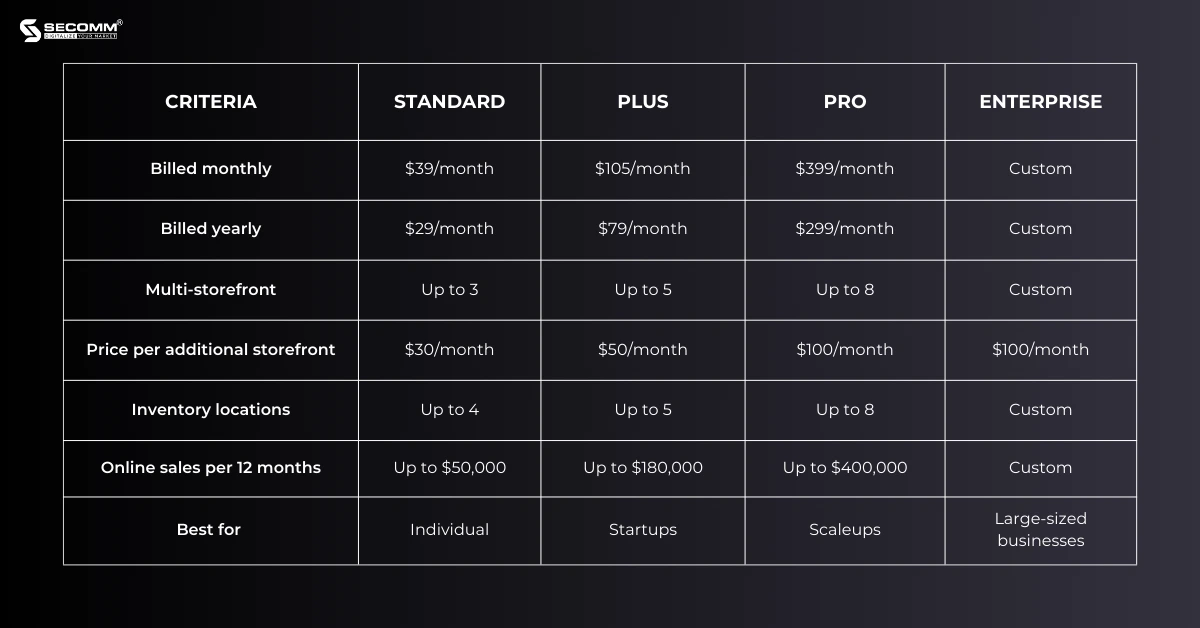 Despite several differences, all four packages share some common points:
No transaction fee

Unlimited bandwidth, products, file storage

Unlimited staff accounts

24/7 customer support

12 free themes
BigCommerce Features
Included in all plans
Key features of BigCommerce, available in all four pricing plans, include:
Point of Sale (POS)

: Seamless integration of online and offline sales with POS systems like Vend, Square, Clover, and more.

Mobile-Responsive Design

: Websites are designed to adapt and perform well on mobile devices.

BigCommerce Mobile App

: Manage orders, track customer journeys, and monitor performance via the user-friendly BigCommerce mobile app, downloadable from the App Store or Google Play.

Single-Page Checkout

: Simplify the payment process with a single-page checkout, reducing cart abandonment and boosting conversion rates.

Promotions and Discounts

: Easily create and manage coupons, discounts, and gifts without the need for third-party integrations.

Built-In Blog

: Improve SEO and engage customers with a built-in blog.

Product Ratings and Reviews

: Gather customer feedback to enhance products and services.

Multi-Currency Support

: Accept over 100 currencies and local payment methods.

Professional Reporting Tools

: Access professional analytics and reporting tools for performance evaluation and adjustment.

Real-Time Shipping Quotes

: Provide accurate shipping costs in real-time from various carriers.

Free Site-Wide HTTPS & SSL

: Ensure website security with free HTTPS protocol, creating a safe shopping environment for customers.
Features 
The features available in the 'Standard' plan are consistent across all four pricing plans. However, there are some advanced features that are not included, and businesses may need to consider upgrading their plan to access these specific features. Here's a breakdown:
In addition to the 'Standard' features, this plan offers:
Cart abandonment

features.

Stored credit cards

for future purchases.

Customer groups and segmentation

for pricing, product recommendations, targeted promotions, and personalized experiences.

Top social & marketplace

: Integration with top e-commerce platforms and social networks such as Amazon, Facebook, Instagram, etc.
The 'Pro' plan encompasses all 'Standard' and 'Plus' features, along with:
Google customer reviews

for collecting and showcasing customer feedback on Google.

Advanced

product filtering

to enhance the shopping experience.

Custom SSL

integration with third-party SSL services.
Designed for large-scale enterprises, this top-tier package includes all features from the previous packages and introduces several advanced capabilities:
Unlimited API calls

, facilitating seamless data sharing between eCommerce websites and third-party applications without any limitations.

Priority support

with personalized assistance, including dedicated API support.
Pros of BigCommerce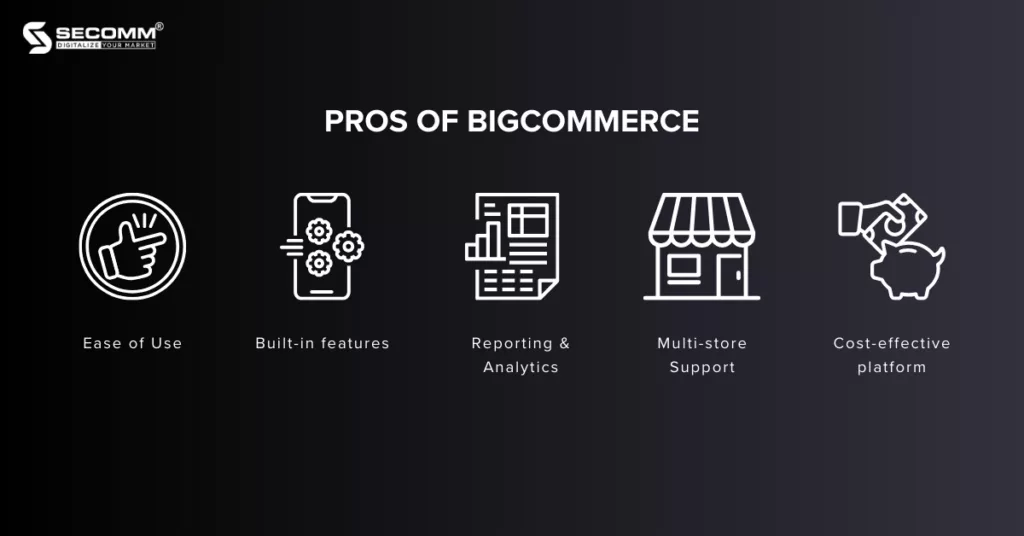 Ease of Use
BigCommerce, designed as a SaaS platform, boasts user-friendliness catering to both tech-savvy and non-technical users. It offers a wide range of themes to facilitate swift website development and provides an array of tools for executing promotional campaigns.
Built-in features
When compared to other SaaS platforms, BigCommerce stands out for its capacity to offer a comprehensive set of built-in features and tools across its pricing plans. This results in cost savings for businesses, reducing their reliance on third-party applications and plugins, which can often incur extra expenses. Moreover, these features have been fine-tuned to boost performance and streamline the eCommerce management process.
BigCommerce also provides its users with the BigCommerce mobile app, enhancing the convenience of managing, monitoring, and updating their eCommerce websites.
Reporting & Analytics
Unlike Shopify, which offers a range of reports and analytics based on the pricing plan chosen, BigCommerce provides professional-level reporting and analytics across all its solution packages. These encompass customer reports, sales reports, financial reports, marketing reports, and more. Moreover, for businesses in need of more extensive data capabilities, BigCommerce offers a wide app library for easy integration with third-party software
Multi-store Support
BigCommerce distinguishes itself from competitors by providing multi-store support across all of its pricing plans. This feature is especially advantageous for businesses that operate multiple stores or are active in various segments, such as B2B and B2C. With the Standard plan, a business can create up to 3 stores, while the Plus and Pro plans allow for 5 and 8 stores, respectively. In contrast, Shopify, a leading SaaS platform, offers multiple store capabilities exclusively through its Shopify Plus solution, which starts at a monthly cost of $2,000.
Cost-effective platform
Using BigCommerce helps businesses save costs in various aspects such as hosting, maintenance, updates, and security. BigCommerce handles these tasks, eliminating the need for additional expenses. Regardless of the chosen pricing plan, BigCommerce doesn't impose transaction fees, provides unlimited bandwidth and file storage without extra charges, and permits the creation of an unlimited number of staff accounts.
In addition, compared to Shopify, where businesses may incur significant costs to integrate third-party apps and utilities for enhanced functionality, BigCommerce includes essential features tailored to each plan. This integrated approach results in significantly more cost-efficient operations.
Cons of BigCommerce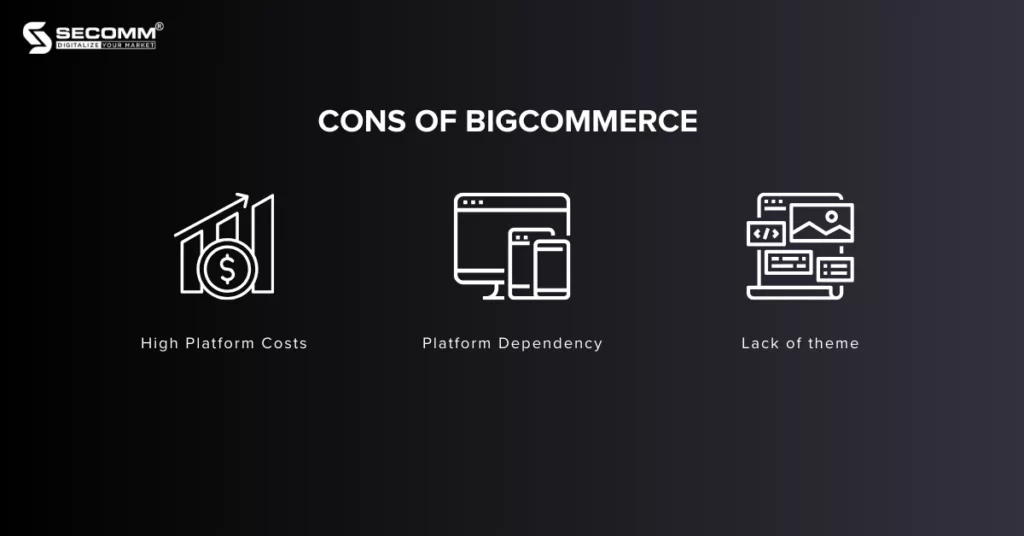 High Platform Costs
When compared to other SaaS platforms like Shopify or Squarespace, the cost of using the BigCommerce platform seems relatively higher.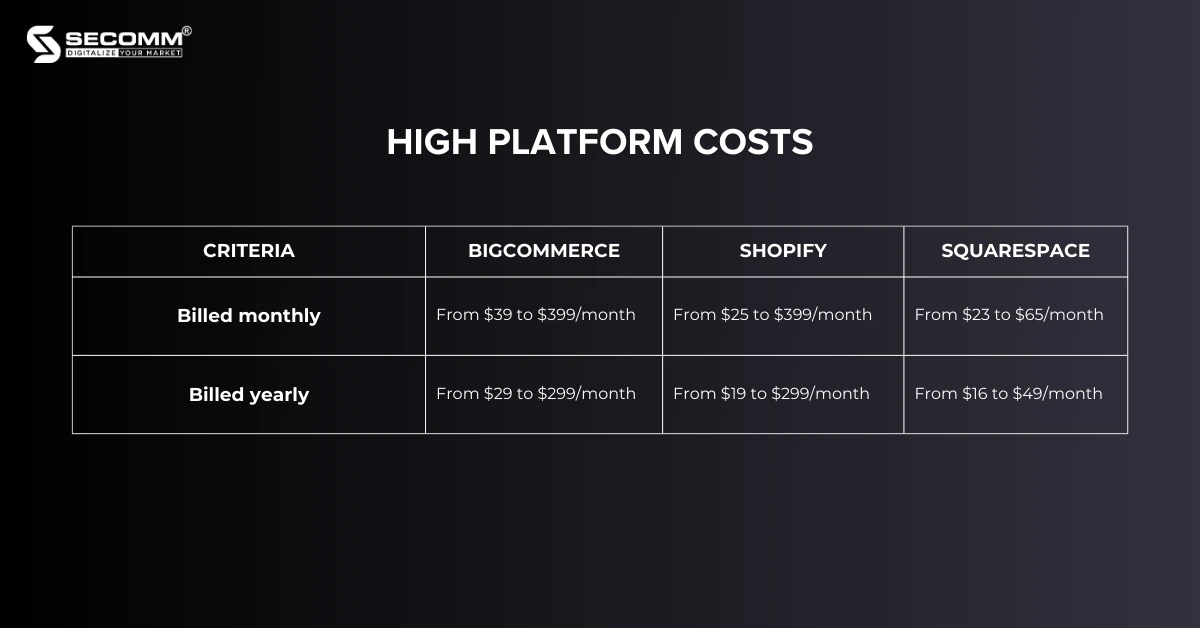 Plus, businesses must continue to pay this ongoing fee along with any charges for third-party services (if applicable) on a monthly basis, without ownership or control over the source code and system data.
On the other hand, open-source platforms such as Magento or OpenCart require businesses to make a one-time payment for both usage and service integration fees, granting them long-term ownership of the source code and system data.
Platform Dependency
Just like other SaaS eCommerce platforms in the market, BigCommerce retains ownership and control over the source code and data of the entire eCommerce website system.
In practical terms, this means that all of a business's eCommerce data becomes closely tied to BigCommerce's database. Therefore, if a business wishes to migrate to another platform in the future, it can only access CSV files containing a portion of its data.
Additionally, while it's exceptionally rare, in the unlikely event that BigCommerce were to suddenly cease all operations, all data related to a business's activities on this platform could potentially be lost.
Lack of theme
At the time of writing, BigCommerce provides users with a selection of 12 free themes and approximately 180 paid themes. This count is somewhat limited in comparison to other SaaS platforms like Wix or Squarespace.
The free themes come with modern and professional interfaces, suitable for businesses to start their eCommerce website journey. However, these themes are quite similar to each other, differing mainly in color schemes.
In reality, despite the claim of having 12 themes, users often discover only around 5-6 truly distinctive options.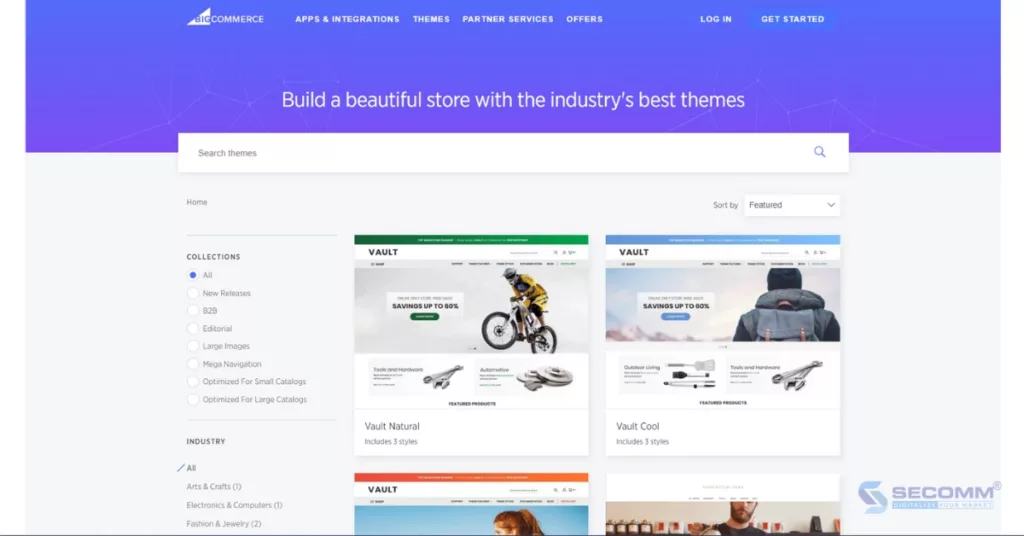 The paid themes, on the other hand, come with a price tag ranging from $195 to $395, and some of them may have similar designs.
However, BigCommerce offers a significant advantage: all the free and paid themes are visually appealing and highly responsive. This means that these themes can automatically adapt their layouts to suit various screen sizes, including smartphones, tablets, desktop computers, and more.
For many years providing eCommerce solutions for clients across the globe, SECOMM has observed a growing trend when it comes to eCommerce website development, particularly on the BigCommerce platform. 
To gain a deeper understanding of BigCommerce and how to deploy it the right way, feel free to reach out to us or call our hotline at 02871089908 for free consultations.