BigCommerce and Magento are trusted names representing two types of eCommerce platforms: SaaS and Open Source. The demand for developing eCommerce websites on these platforms is increasing. However, deciding between the two is a complex task. 
This article aims to highlight the pros and cons of each and provide a thorough comparison, helping you as a business make informed decisions.
Overview
What is BigCommerce?
BigCommerce is a robust SaaS eCommerce platform, boasting an array of integrated features packaged to accommodate businesses of all scales and technical proficiencies. This platform facilitates the swift development of eCommerce websites. Beyond its inherent capabilities, BigCommerce extends a diverse suite of tools and extensions covering sales, marketing, SEO, data analytics, and transformation, empowering businesses to drive eCommerce growth.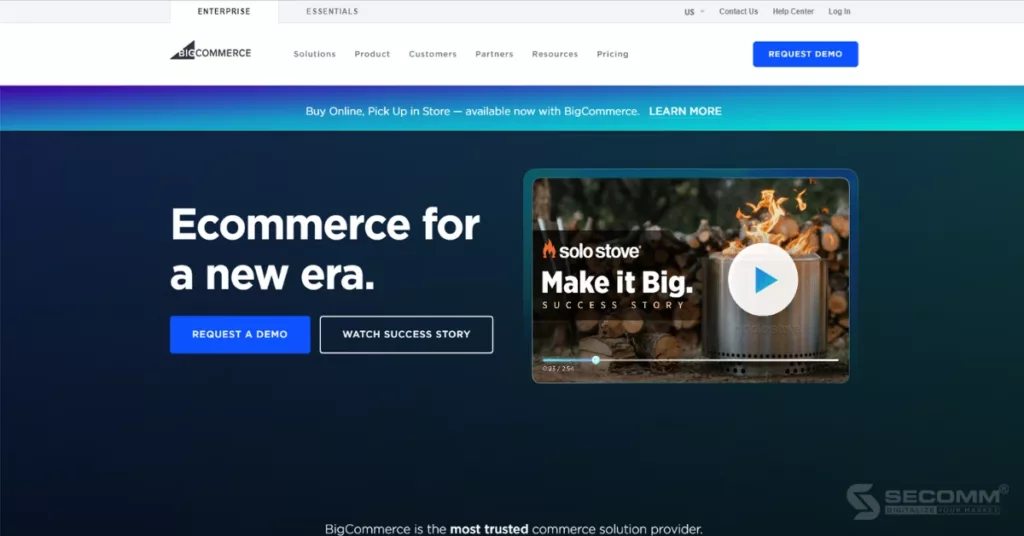 What is Magento?
Magento (now owned by Adobe) is an open-source eCommerce platform that empowers businesses with full control over developing and managing their eCommerce websites. Known for its high level of customization and scalability, Magento offers a wide range of advanced features and extensions, making it an ideal choice for meeting the complex requirements of large-scale enterprises with ample budgets and a certain level of technical expertise. Magento currently comes in two main versions:
Magento Open Source: the free version

Adobe Commerce: the paid version with two options, on-premise and on-cloud.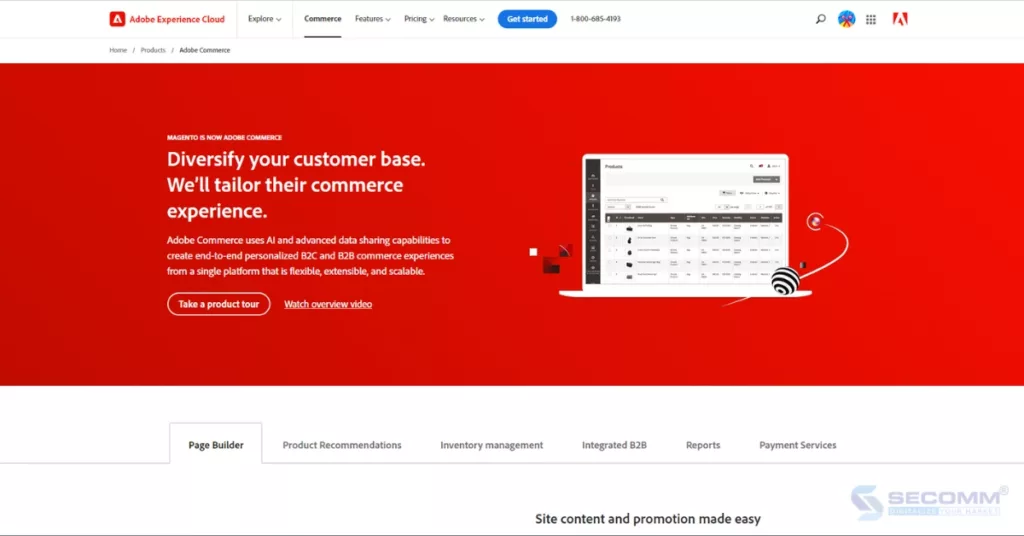 BigCommerce vs Magento: Pros and Cons
BigCommerce
Pros:
User-friendly and easy-to-navigate interface

Suitable for businesses of all sizes

Comes with a rich set of integrated features

Offers a variety of reasonable pricing plans

Includes 65 popular global payment methods integrated with BigCommerce at no transaction cost

Offers a diverse selection of themes and extensions
Cons:
Sales volume restrictions apply

Deployment costs tend to rise over time

Customization options are limited
Magento
Pros:
Ideal for large enterprises with complex customization needs and ample budgets

High customization and scalability

Diverse and advanced built-in features compared to SaaS platforms

No sales volume limitations

Wide range of available extensions
Cons:
Requires a high level of technical expertise

Lengthy deployment times

high initial costs
BigCommerce vs Magento: Detailed Comparison
Ease of Use
Ease of use of a platform is one of the primary considerations for an eCommerce business when selecting one. A platform with an intuitive interface that is easy to set up and manage allows businesses to focus on their core operations.
BigCommerce
BigCommerce is a SaaS platform, making it more accessible for businesses that may not possess technical expertise or have a strong tech background in building eCommerce websites. It eliminates the need for complex programming; businesses simply need to provide basic information to gain access to the BigCommerce dashboard, where they can configure and manage all aspects of their online store, from product additions to layout modifications. 
What's more, BigCommerce offers a user-friendly drag-and-drop page builder that empowers businesses to create a storefront without the necessity of coding skills. Moreover, themes and extensions can be swiftly integrated with just a few clicks. 
Magento
On the other hand, Magento users should have a certain level of technical expertise to execute tasks during the setup of an eCommerce website, including configuring FTP files and integrating themes into the Magento website, among other things. Tasks like modifying themes, integrating extensions, applying security patches, and optimizing speed require coding skills.
Therefore, many businesses opt to collaborate with Magento agencies to develop and maintain their Magento eCommerce websites. However, following the initial technical setup challenges, businesses can readily customize attributes and functionalities for their websites through the platform's backend. 
Pricing
BigCommerce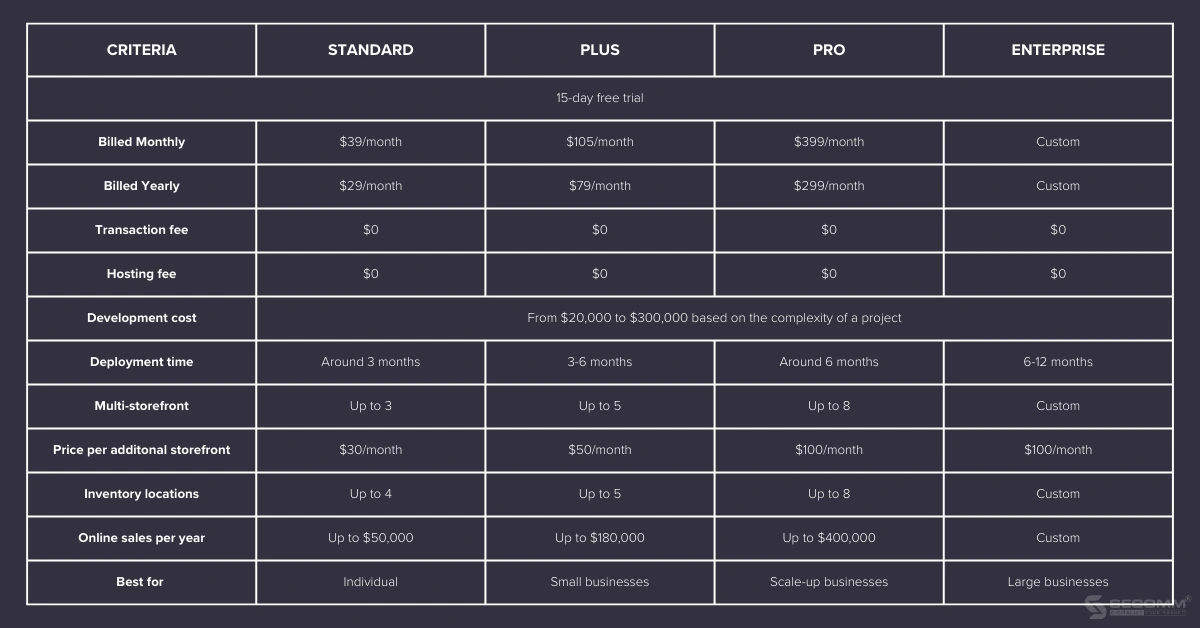 Magento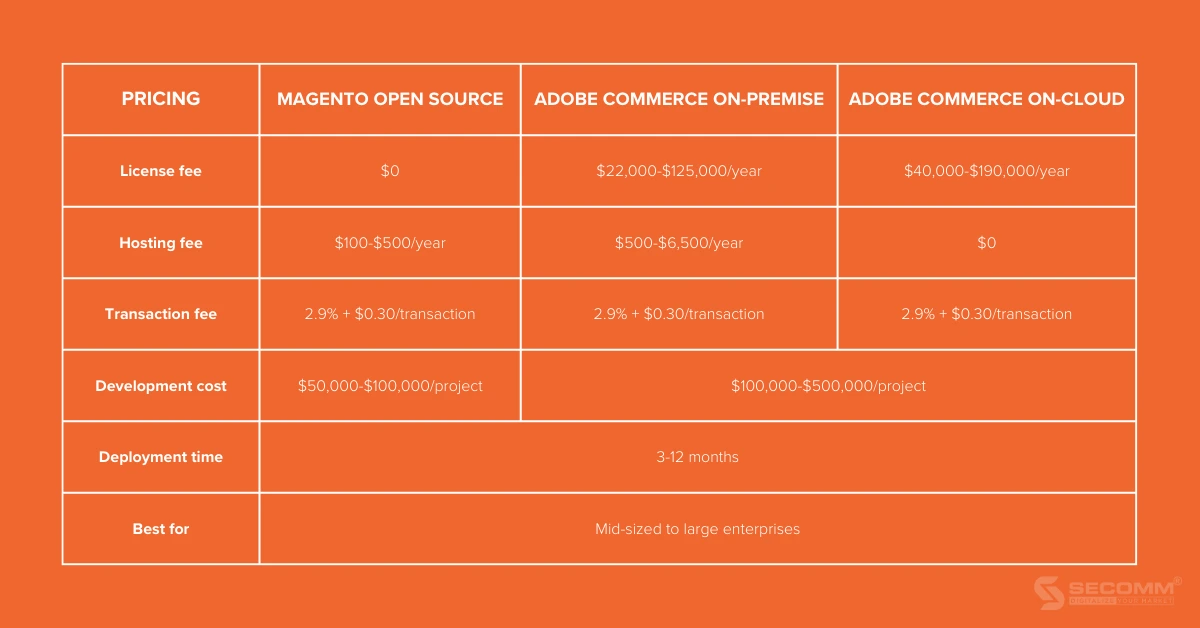 Hosting
BigCommerce
Being a SaaS platform, BigCommerce offers support for various hosting-related issues, ensuring an impressive average uptime of 99.99%, quick page loading, and minimal website maintenance. 
Magento
Magento Open Source

: Businesses purchase hosting from specialized third-party providers who are responsible for infrastructure setup, security, and maintenance, allowing businesses to focus on core operations.

Adobe Commerce on-premise

: Businesses have complete control over configuring and managing their in-house hosting environment, offering customization options to meet specific needs.
Adobe Commerce on-cloud: Hosting for the business's Magento eCommerce site is provided, configured, managed, and stored on virtual servers offered by cloud service providers (CSPs) like AWS and Microsoft Azure.

Features
SEO
SEO is a crucial feature that every eCommerce website needs and it's an important factor for businesses to consider when assessing a platform. Both BigCommerce and Magento offer essential SEO optimization features, which include:
Google site maps

SEO-friendly URLs

URL rewriting

Meta descriptions

301 redirect handling

Mobile compatibility
However, BigCommerce includes a built-in 'blog' feature in its solution packages, while Magento requires businesses to integrate a 'blog' extension to use this feature.
Plus, businesses can enhance their website's SEO by using extensions available in the Magento and BigCommerce marketplaces. It's worth noting that Magento offers a wider range of advanced SEO tools, although the cost of Magento extensions may be higher than those available for BigCommerce.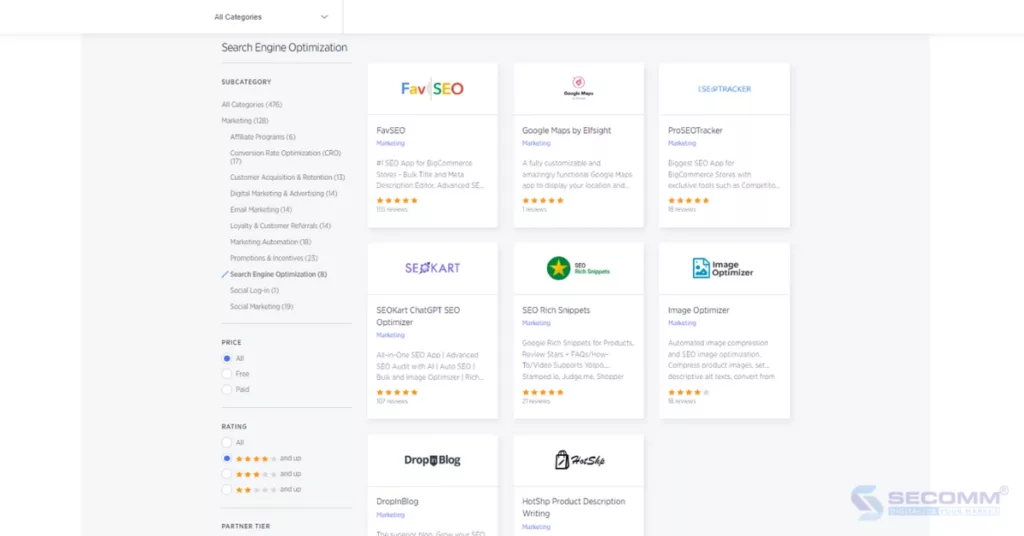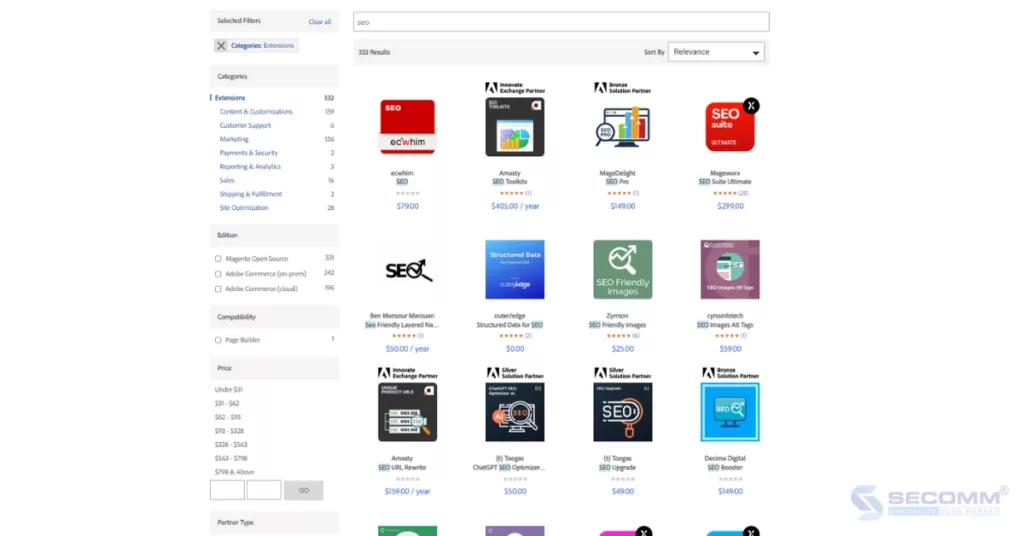 Multiple channels integration
With this feature, BigCommerce excels over Magento by pre-integrating the most prevalent sales channels like Amazon, eBay, Walmart, Facebook, and Instagram into all pricing plans. However, if businesses require integration with additional sales channels beyond these pre-set options, they can do so by utilizing apps from BigCommerce's marketplace. 
On the other hand, Magento offers businesses the flexibility to implement multi-channel sales by integrating various desired sales channels into their eCommerce website, each with its own associated costs. Notably, Amazon integration can be done for free. 
Purchase flow
eCommerce businesses have to ensure a seamless, swift, and user-friendly customer buying journey, encompassing features like product search support and an effortless payment process. Both Magento and BigCommerce provide capabilities to facilitate online shopping, including
Product filtering

Product comparison

Recently viewed items

Wishlist

One-page checkout

Checkout as a member or visitor

Real-time shipping rate calculation

Multiple shipping addresses

Order tracking via registered accounts

Reordering
Payment options
BigCommerce provides businesses with 65 integrated payment gateways, including popular options like Apple Pay, Google Pay, and Amazon Pay, all with no transaction fee.
In contrast, Magento offers only PayPal and Authorize.net for payments, requiring businesses to integrate third-party payment providers for more choices. Magento's marketplace features over 450 payment-related extensions with various costs, but businesses will need time to select and integrate them. 
Themes & Extensions
Aside from features, themes, and extensions also contribute significantly to the growth of an eCommerce website. Therefore, this is another factor that businesses take into account when selecting a platform.
BigCommerce
The platform provides 266 themes with prices ranging from $195 to $395, including 12 free themes. Businesses can purchase BigCommerce themes on ThemeForest at prices ranging from about $16 to $179.
These designs are modern, suitable for various industries, and offer good responsiveness across multiple screen sizes, including smartphones, tablets, and desktops. However, when compared to other SaaS platforms like Wix or Squarespace, BigCommerce's customization options and the quantity of both free and paid themes may appear relatively limited. Moreover, the exact count of free and paid themes might not be entirely precise, as some themes share very similar layouts, differing mainly in color schemes.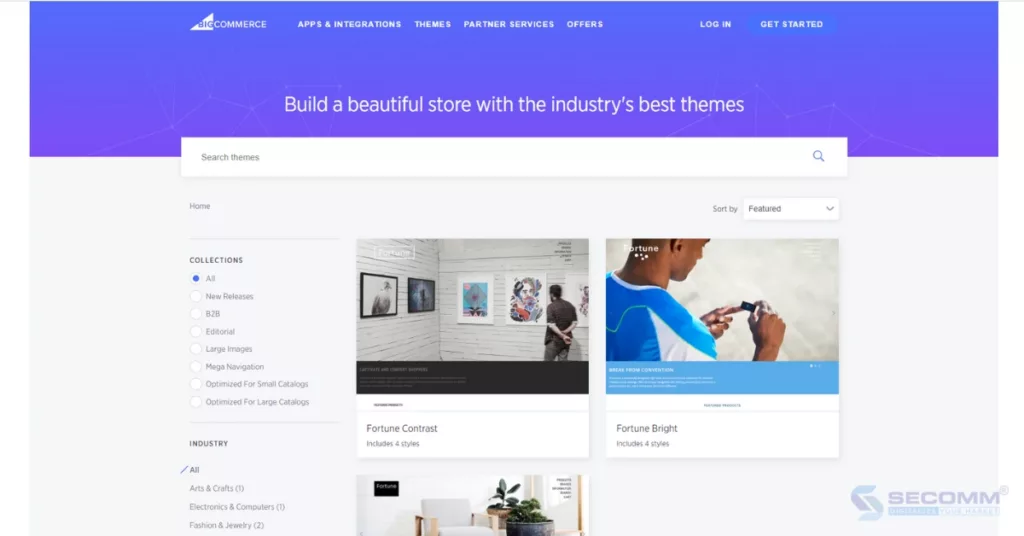 Magento
Unlike BigCommerce, Magento provides a limited selection of themes, with just 9 options available. Among these, only 3 themes are free, while the rest range in price from $150 to $499 each. If businesses opt to purchase Magento themes on ThemeForest, they can expect prices ranging from $39 to $299 per theme.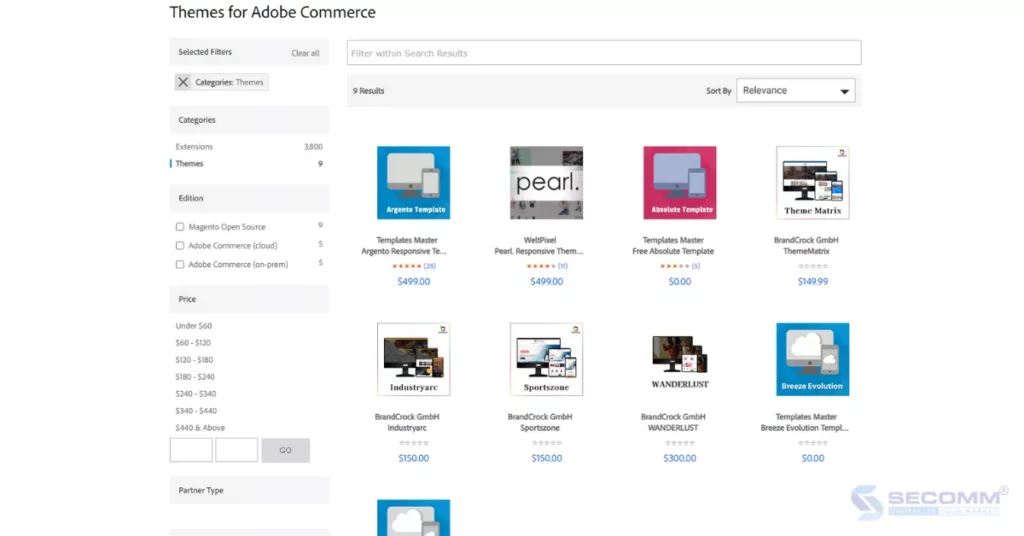 Moreover, businesses have the option to create custom interfaces tailored to their unique requirements by partnering with specialized providers, incurring costs typically ranging from $1000 to $5000. 
Regarding extensions, both BigCommerce and Magento offer extensive extension libraries to support businesses in growing their eCommerce stores. However, Magento has a slight edge in this regard.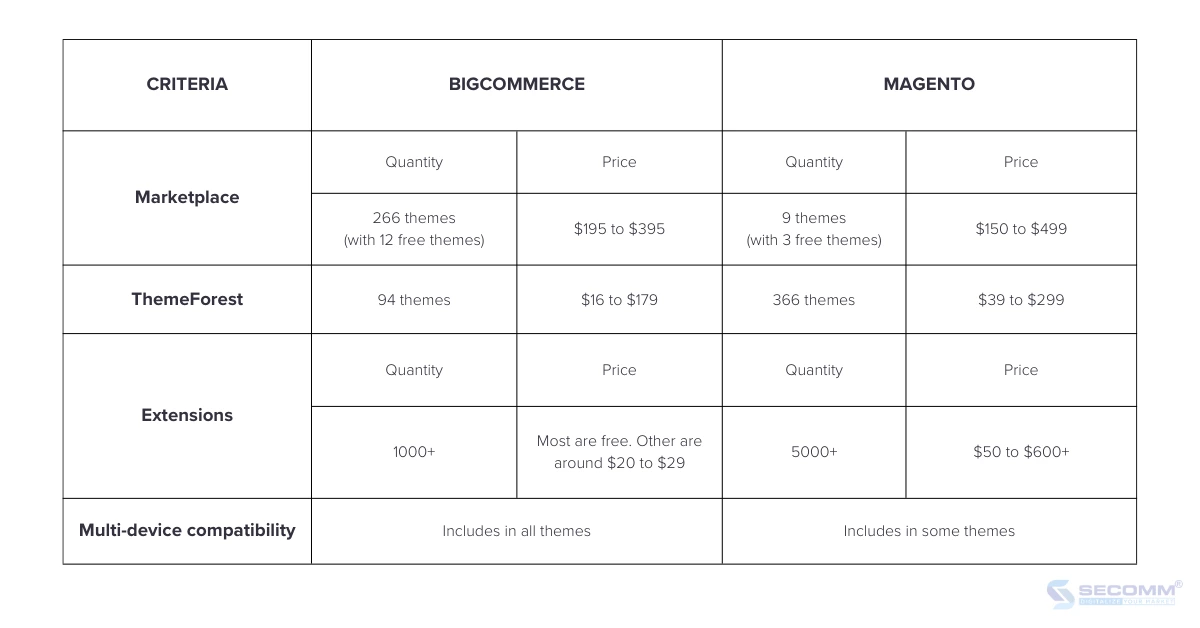 Customization & Scalability
Customization involves the capacity to adjust any feature, theme, or integrated extensions to meet specific requirements for an eCommerce website. Scalability, on the other hand, refers to the ability to maintain platform performance as the eCommerce site expands. Therefore, these factors play a vital role in platform selection.
Customization
Magento operates as an open-source platform, giving developers full access to and control over the source code.
On the other hand, BigCommerce functions as a SaaS platform, restricting businesses from making backend modifications. While certain frontend interface adjustments are possible with a few code snippets, most modifications need to be done in the backend. Hence, BigCommerce's customization is somewhat limited compared to Magento. 
Scalability
Both Magento and BigCommerce can handle large website traffic and sales volumes. However, Magento outperforms BigCommerce in this aspect, which is also why Magento doesn't have sales volume limits. 
Meanwhile, BigCommerce imposes annual sales volume limits based on the pricing plan being used. When businesses reach the sales volume limit of their current pricing plan, they need to upgrade to a higher-tier plan.
Standard: Up to $50k/year

Plus: Up to $180K/year

Pro: Up to $400K/year

Enterprise: Custom 
Security
Both BigCommerce and Magento are prominent names in the eCommerce industry, trusted by numerous businesses for their security features. Nevertheless, when it comes to providing security-related assistance, these platforms exhibit notable differences.
As a SaaS platform, BigCommerce includes security support as an integral component of its solution packages. This encompasses SSL certificates, firewalls, backups, and intrusion detection. In case any complications arise during the eCommerce deployment process, businesses can readily access 24/7 customer support for swift assistance.
In contrast, due to Magento's open-source nature, businesses bear the responsibility for managing the security aspects of their Magento eCommerce websites. This entails tasks such as overseeing SSL certificates, implementing two-factor authentication, and adhering to PCI compliance. Additionally, while Magento periodically releases security updates, the manual update process can pose challenges for users without technical expertise.
Magento's support options also present limitations when compared to BigCommerce. Businesses can seek assistance during Magento's specified operating hours or engage with third-party intermediaries, a potentially time-consuming and complex process.
Popularity
BigCommerce and Magento are both leading options for eCommerce businesses, but their levels of popularity differ somewhat.
According to BuiltWith, at the present time, there are 142,010 active websites using Magento, whereas there are only 44,796 active websites using BigCommerce.
Thus, when it comes to popularity, Magento has the upper hand.
Well-known brands such as Coca-Cola, Nike, and Tesla utilize Magento, while renowned brands like Skullcandy, LARQ, and Molton Brown opt for BigCommerce.
After many years of implementing eCommerce solutions for clients all around the world, using both the BigCommerce and Magento platforms, SECOMM has gained invaluable experience in helping businesses develop and operate their eCommerce websites quickly and efficiently.
Contact us or call SECOMM's hotline directly at (02871089908) for a free consultation on implementing eCommerce websites with BigCommerce or Magento.