As reported by Digital Commerce 360, global consumers have collectively expended more than $3.25 trillion on famous eCommerce marketplaces such as Amazon, Ebay, and Alibaba. This indicates the increasing significance of online marketplaces in customer shopping experiences. 
Therefore, many businesses have promptly devised strategies to enter the race for market share in eCommerce landscape. To achieve this goal, businesses must first develop their own marketplaces. The initial but crucial step in this process is selecting the ideal platform.
The following article focuses on introducing this platform as a recommendation for large businesses among countless optimal choices out there. 
What is Marketplacer?
Marketplacer is a Software as a Service (SaaS) platform hosted on AWS, providing businesses with essential tools and features for building professional and highly adaptable eCommerce marketplaces capable of rapid scalability and swift page loading.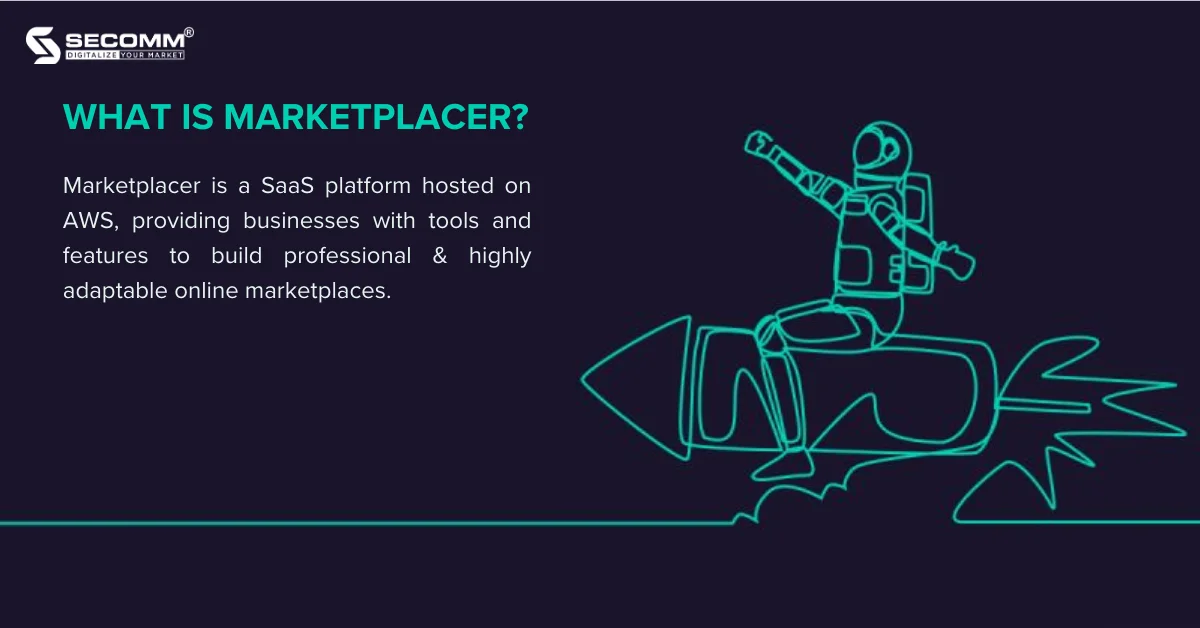 This platform streamlines the management and administration of eCommerce marketplaces. It simplifies tasks like order fulfillment, product category adjustments, third-party extension integration, cross-marketplace operational synchronization, and the implementation of strategies for revenue optimization.
To date, this platform has successfully established and expanded over 100 eCommerce marketplaces, forging connections with more than 13,000 sellers spanning the globe.
How Marketplacer works?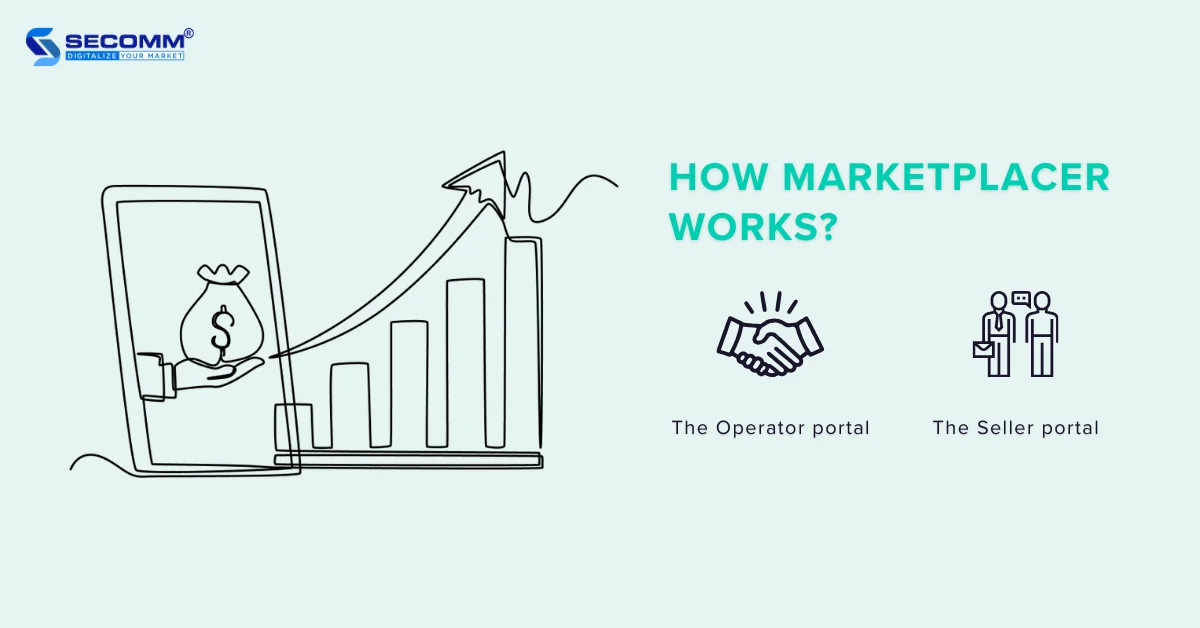 The Operator portal
This platform offers businesses a Marketplace-wide API based on GraphQL API, allowing them to:
Build a headless frontend or seamless integration with existing eCommerce systems.

Access and manage all data on the online marketplace via the Operator Portal, which includes:

Manage Sellers

Manage Seller payouts and billings

Product category management

Order management

Delivery management

Content management

Custom reporting
Furthermore, Marketplacer provides businesses with access to Webhooks, enabling them to receive notifications from the Marketplacer platform for any changes or updates during their operations.
The Seller portal
This platform provides sellers on the marketplace with Seller API based on V2 (REST) API to
Automate their sales processes on the marketplace

Access and manage various aspects of their seller data through the Seller Portal, including:

Product management

Sales & Marketing management 

Order management

Inventory management

Analysis & reporting
Similar to how businesses operate their business on the marketplace, sellers also have access to webhooks for receiving notifications regarding changes throughout their selling journey.
Marketplacer implementation models
This platform offers two implementation models, allowing businesses to tailor the development of their online marketplace to align with their specific goals.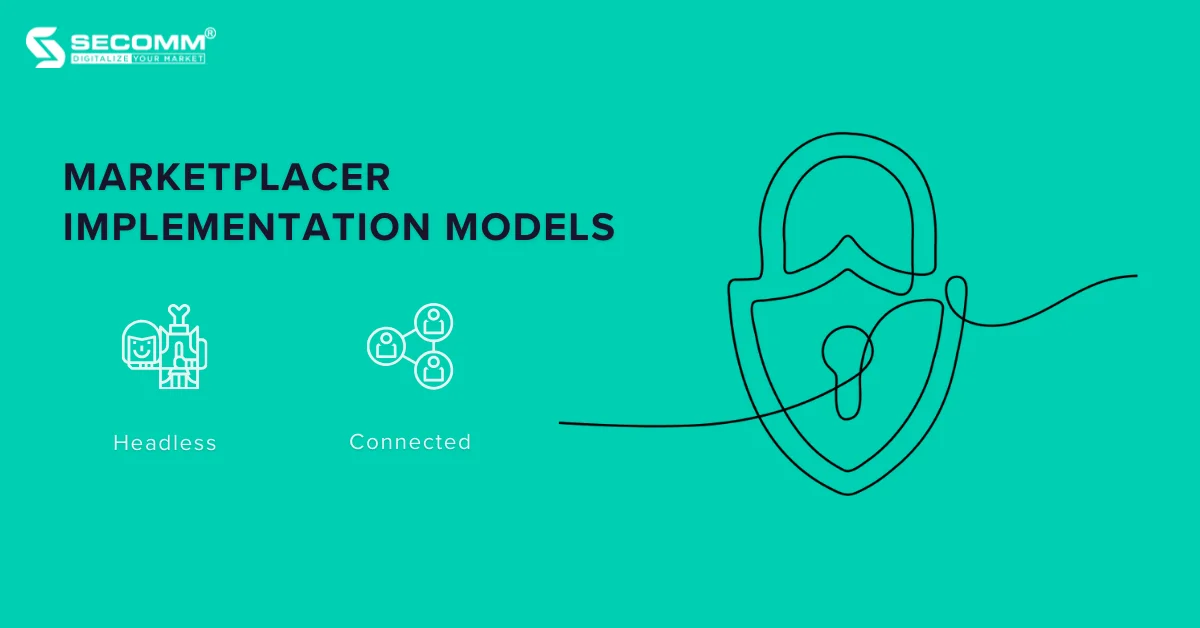 Headless
The Headless model empowers businesses to utilize their tailor-made frontend, commonly known as the "head," which represents the user interface. This frontend is integrated with Marketplacer's fundamental backend through APIs to execute the marketplace. 
Therefore, opting for the Headless model is ideal for businesses seeking extensive control over the user experience while leveraging Marketplacer's core technology to foster eCommerce growth.
Connected
In the Connected model, businesses can efficiently integrate a pre-built eCommerce system into Marketplacer's backend, avoiding the need for an extensive time and financial resources to build from scratch. This integration allows businesses to maintain the full functionality of the pre-existing system while benefiting from this platform's advanced infrastructure for seamless marketplace deployment.
It's worth noting that Marketplacer currently offers pre-built connectors exclusively for three prominent platforms: Adobe Commerce, Salesforce Commerce Cloud, and commercetools. As a result, the Connected model is best suited for businesses utilizing one of these three platforms to facilitate their eCommerce.
Pros of Marketplacer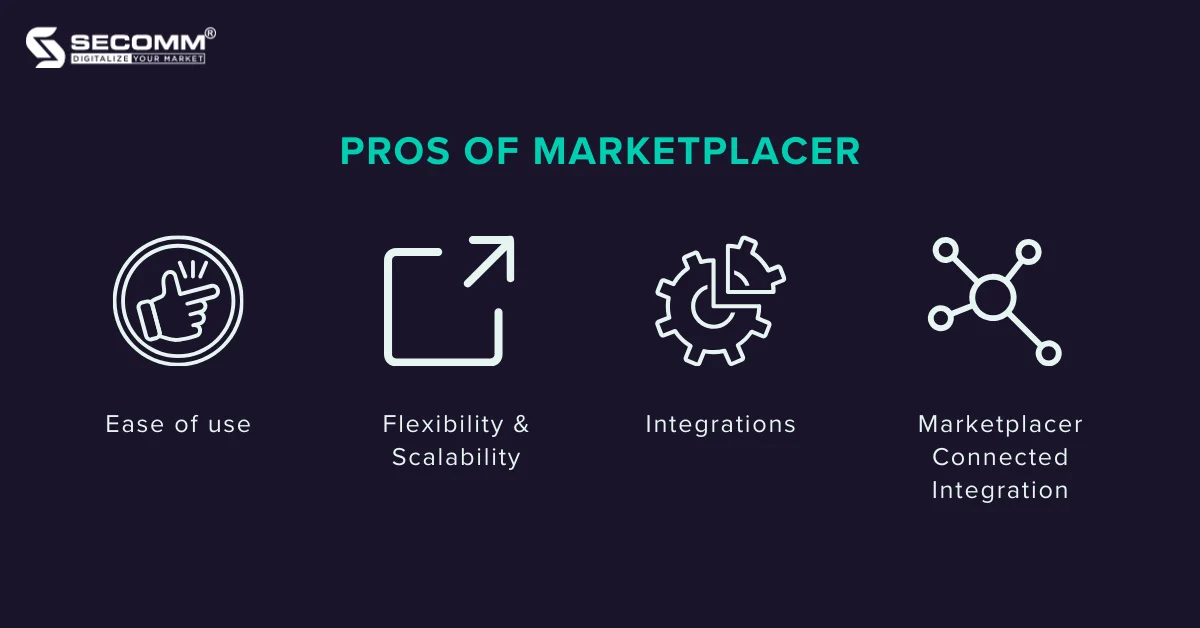 Ease of use
This platform offers a user-friendly interface and intuitive tools, making it simple for businesses to build and manage their online marketplace. 
Flexibility & Scalability
This platform is tailored to suit online marketplaces of diverse sizes. The platform boasts excellent scalability and remarkable flexibility, empowering businesses to manage an ever-increasing volume of sellers, customers, and listing products. This facilitates seamless expansion of operations as needed.
Integrations
Businesses can easily discover well-known applications and extensions within Marketplacer's growing collection of available integrations. Some noteworthy integrations include popular social media platforms like Facebook, Twitter, and LinkedIn, as well as payment gateways such as PayPal, Zooz, Yotpo, and advertising management tools like Fuze, Firstpage, and Citrus Ad.
Marketplacer Connected Integration
Marketplacer's success is attributed to its 'Connected' technology, enabling businesses to deploy their marketplaces with two versatile options: crafting a tailored frontend or integrating seamlessly with existing systems.
Also, businesses can effortlessly blend third-party products into their current inventory, broadening their product range and portfolio with minimal investment and mitigating product lifecycle management tasks. This model is known as the Hybrid Marketplace and has been successfully adopted by enterprises like Amazon, Walmart, and others.
Cons of Marketplacer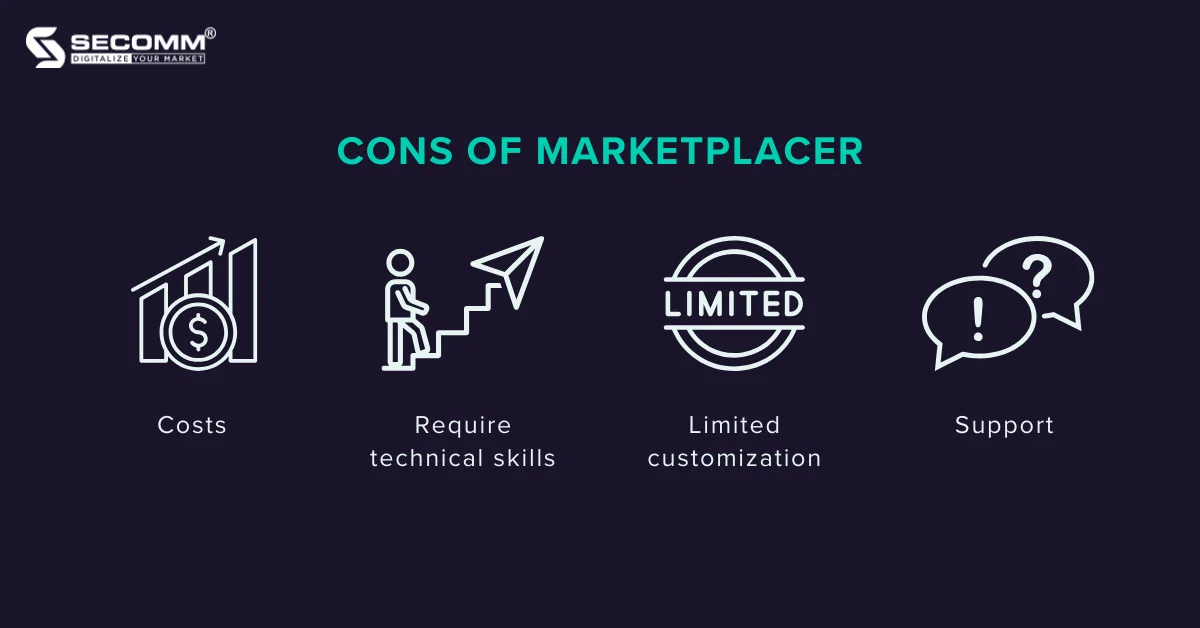 Costs
The license fee isn't publicly available and businesses are required to reach out to the Marketplacer team for a personalized consultation and cost estimates. Furthermore, the platform doesn't offer a trial version, which may pose challenges for businesses when planning their implementation budget.
Require technical skills
While this platform offers a user-friendly interface, it may pose challenges for users who are not familiar with building and operating an eCommerce marketplace. Therefore, the implementation process will require businesses to have technical expertise, or they can seek specialized assistance to efficiently build and optimize the platform.
Limited customization
Despite its flexibility and high degree of customization, Marketplacer's ability to meet the highly complex deployment needs of large-scale eCommerce systems may pose challenges.
Support 
This platform provides 24/7 support services and offers learning resources, but there is room for improvement in the quality and responsiveness of their support. Plus, as an Australian-based company primarily serving the Australian market, some of their terminology might be less clear to international customers.
To successfully build and operate a thriving eCommerce marketplace, the first thing businesses need to do is choose a platform. This platform is one of the standout platforms that businesses should consider.
Feel free to contact or call SECOMM's hotline at (028) 7108 9908 for free consultations.