Consumer demand for beauty and health care is rising as the quality of life gradually improves. The fact that so many individuals are involved in commerce has also contributed to the cosmetics industry's reputation as one of the most important sectors in the modern economy.
Additionally, the rapid growth of eCommerce following the pandemic is gradually emerging as a successful business strategy and a crucial step in the digital transformation of every industry, including the cosmetics industry.
The market size for cosmetics sold online is estimated by CommonThread to be $483 billion in 2020 and expand to $511 billion in 2021 at a compound annual growth rate (CAGR) of 4.75%. The market size is anticipated to surpass 716 billion USD by 2025 and reach 784.6 billion USD by 2027.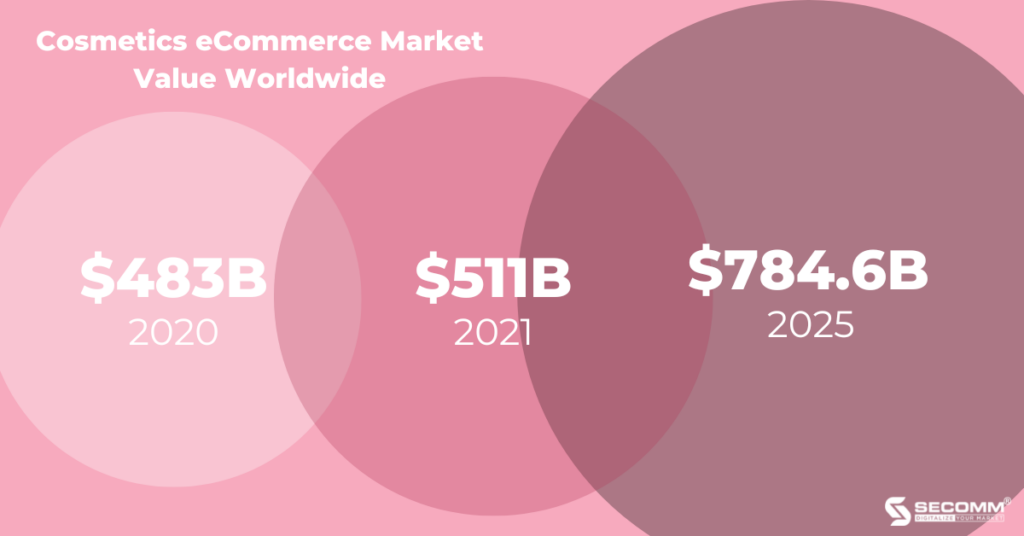 How do cosmetics firms benefit from eCommerce?
Keep up rapidly with the market shift
In the past pandemic years, the global economy has witnessed a sudden decline in sales in many industries, including the cosmetics industry.
People are compelled to reduce their social interactions while social distancing mechanisms are in effect.
At this time, people's psychology will be more concerned with keeping an eye on and caring for themselves. Due to the unpredictable changes of the pandemic, there has been a sharp rise in the need for skincare, hair care, and body care products to enhance spiritual life.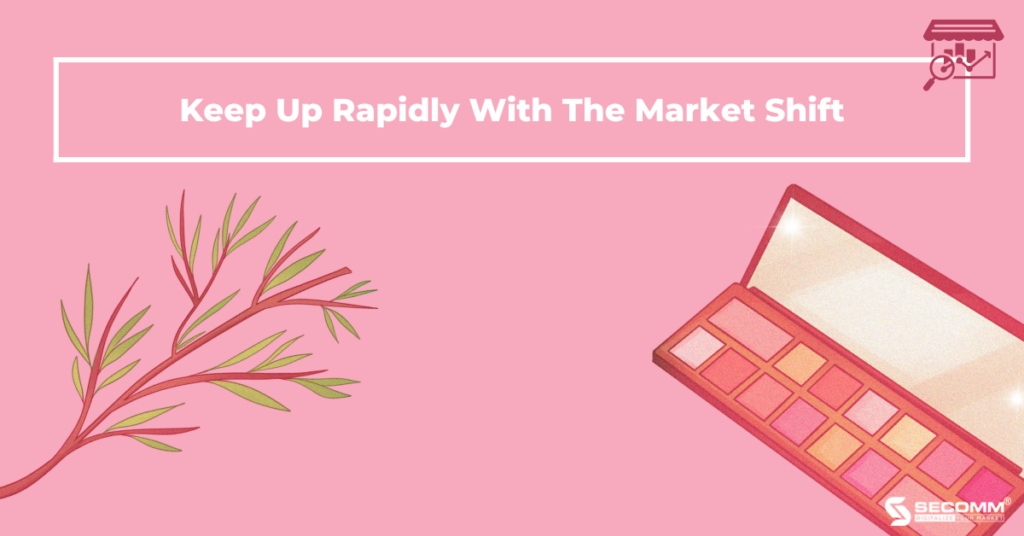 Due to restrictions on leaving the house, online shopping at the time had become not only a need but also an urgent method of purchasing in place of in-person purchases. That serves as a springboard for eCommerce to take off and spur significant growth in other industries like fashion, grocery, wine, and even cosmetics.
These two elements highlight the enormous potential of this "cake," assisting several cosmetic companies in realizing and swiftly implementing eCommerce for both sustainable development and market revolution.
Scale up the business
Using eCommerce as a solution will allow the cosmetics industry to shift from offline to online (O2O) business models rather than allowing their businesses to "get lost" in the crisis of the global pandemic.
Additionally, if businesses still do not have a competent eCommerce website to introduce and sell products to customers who love to shop online ​​in the age of digital transformation, they will quickly lose many potential customers to rivals.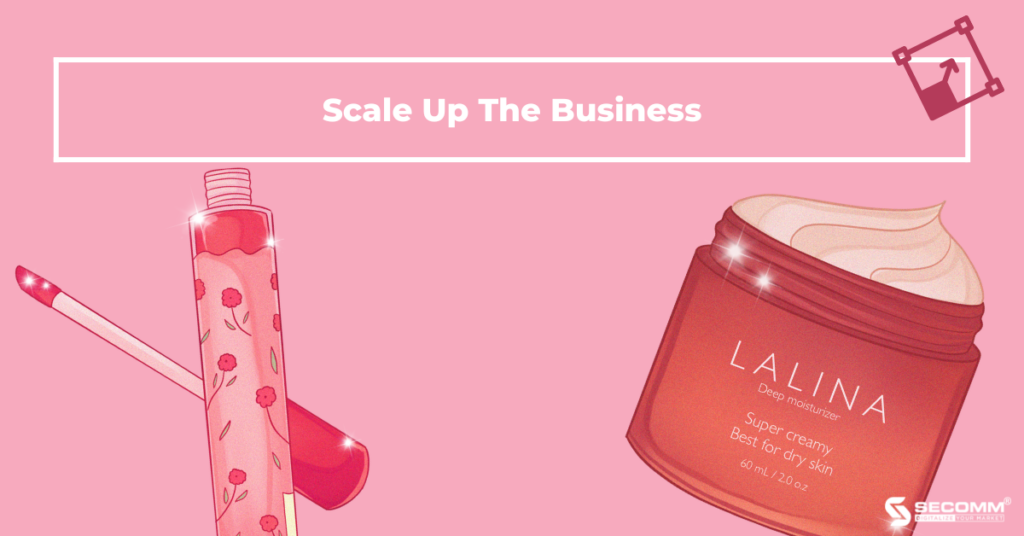 This is especially true for a highly competitive industry like cosmetics, but several firms, including Hasaki, LixiBox, Watsons, Guardian, etc., have embraced the trend early and are now the market leaders in cosmetic eCommerce.
Furthermore, early eCommerce development will also provide benefits that will make marketing efforts more successful, broadening the economic opportunities for businesses.
Enhance customer's shopping experience
​​Businesses must consider customers' purchasing experiences when launching eCommerce websites, and not just for the cosmetic industry.
Thanks to the use of contemporary technologies, which are quite popular in the cosmetics industry, the purchasing procedure will be swift, and effective, and bring customers satisfaction when they choose to buy cosmetics online.
For example, a 360-degree intuitive vision, virtual reality (VR), or augmented reality (AR) technology (AR).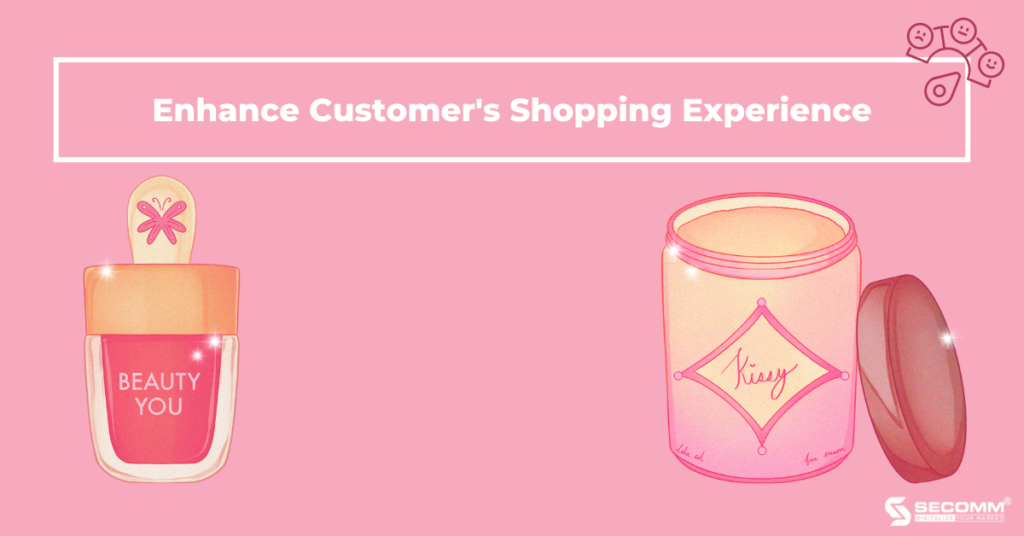 eCommerce enables businesses to quickly and effortlessly tailor the experience for customers by gathering, evaluating, and synthesizing the consumption behavior of each target group. Typically, this is done with the capabilities listed below: Products have seen, similar product recommendations, etc.
eCommerce provides clients with a seamless experience in addition to an intuitive one across a variety of channels, including social networks (Facebook, Instagram, Tiktok, Zalo, etc.), eCommerce platforms (Shopee, Lazada, Tiki, Sendo, etc.), eCommerce websites, mobile apps, etc.
Best cosmetics eCommerce sites that really stand out
Kylie Cosmetics
One of the most successful cosmetic brands that has a significant global media impact is Kylie Cosmetics. When it comes to Kylie Cosmetics, it's tough not to give Kylie Jenner credit.
She's the youngest female millionaire in the US and has been hailed as a business genius by prominent publications like Forbes due to her success in the saturated cosmetics industry.
​​When Kylie Cosmetics was founded in 2015, it generated an astonishing $ 420 million in revenue in its first 18 months. It is predicted that by 2022, net sales will have reached $ 1 billion.
The sensible business strategy, in addition to the founder's reputation, focuses on utilizing the "gold mine" of eCommerce and launching social media marketing campaigns, which are the factors that contribute to that respectable revenue block.
As a result, the company used Shopify, a platform that specializes in creating websites for the top online retailers in North America, to develop its eCommerce website.
With pink and white as its primary colors, the website's design is incredibly clean and uncomplicated. The layout of the website centers on showcasing the company's products.
Also, this is a part of Kylie Cosmetics' business strategy, which includes releasing collections of cosmetic products like lipsticks, eyeshadow, and eyebrow pencils with limited design and manufacturing to appeal to customers' FOMO (Fear of Missing Out).
It is not surprising that Kylie's new collections or cosmetics Cosmetics are continually "sold out" every time it is published because this is thought to be a very intelligent strategy of Kylie Cosmetics, completely different from other well-known cosmetic firms.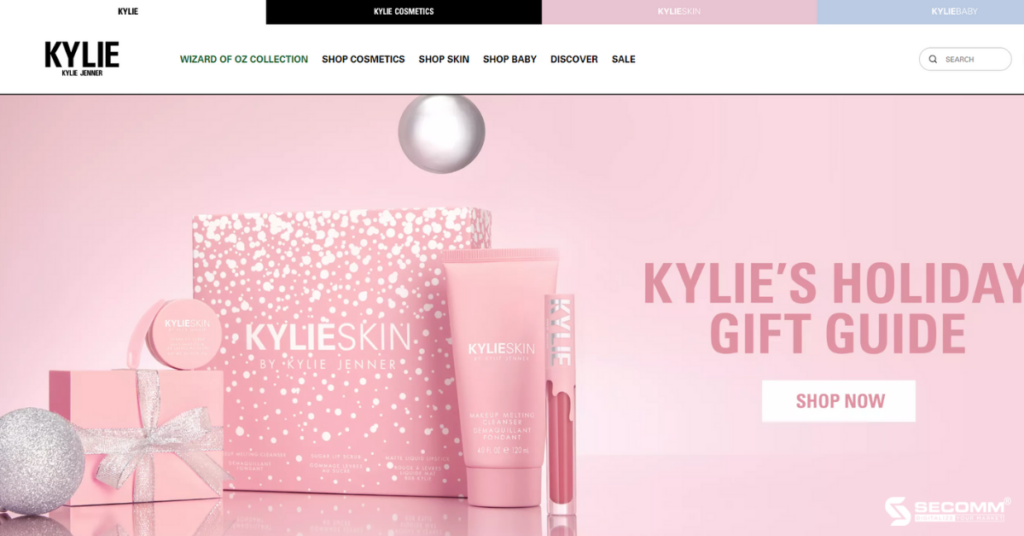 The business also utilizes social media platforms that are hugely popular in the US, like Instagram, Youtube, and Snapchat, to create content to market brands and products and engage with a huge audience across three platforms before driving traffic to the eCommerce website and generating conversions.
The company's inventiveness and innovation are also on display in offline events that draw customers to free product samples. Here, the company wins over even customers who have reservations about the product's quality, which greatly increases sales.
Since Kylie Cosmetics established its first traditional cosmetic retail store in 2018, customers may now purchase cosmetics from this cult brand at Ulta Beauty locations around the US.
Indeed, Kylie Cosmetics started off quite shrewdly and went on to tremendous success by keeping up with market changes by building an online business model at first, that is, selling through an eCommerce website and relying primarily on social media for promotion.
Guardian
Since entering the Vietnamese market in 2011, Guardian has grown to be a very well-known and recognizable brand among consumers of cosmetics. This brand is a part of the Dairy Farm Group, a company that manufactures and distributes health and beauty products in Asia.
Since its start, Guardian has made ongoing improvements to encourage millions of followers to lead healthy lifestyles and offer a trustworthy, high-quality purchasing experience at the finest rates and services.
With a system of more than 100 outlets "encompassing everywhere," this retail chain is delighted to be a place to shop for cosmetics "for everyone" who can "purchase everything" and simply select appropriate items.

A clever business strategy and significant investment in successful marketing efforts are the only explanations needed to understand Guardian's success.
When first entering the Vietnamese market, Guardian specifically pushed to quickly expand its business chain, focusing on cities with high purchasing power, with 80% of stores located in Ho Chi Minh City, the rest in Hanoi and some other major cities such as Da Nang, Can Tho, Bien Hoa, and Vung Tau.
Because at the time, online channels were not really well-known and powerful enough for this business to keep an eye on.
As a result, the company successfully raises the level of brand recognition with extensive coverage from the Guardian orange white wave, taking into account the characteristics of the cosmetics and beauty care industry, which require customers to have a direct point of contact, learn from, and test.
By 2019, the company began its journey toward digital transformation by combining offline and online (O2O) business models in parallel, and simultaneously, deploying Omnichannel.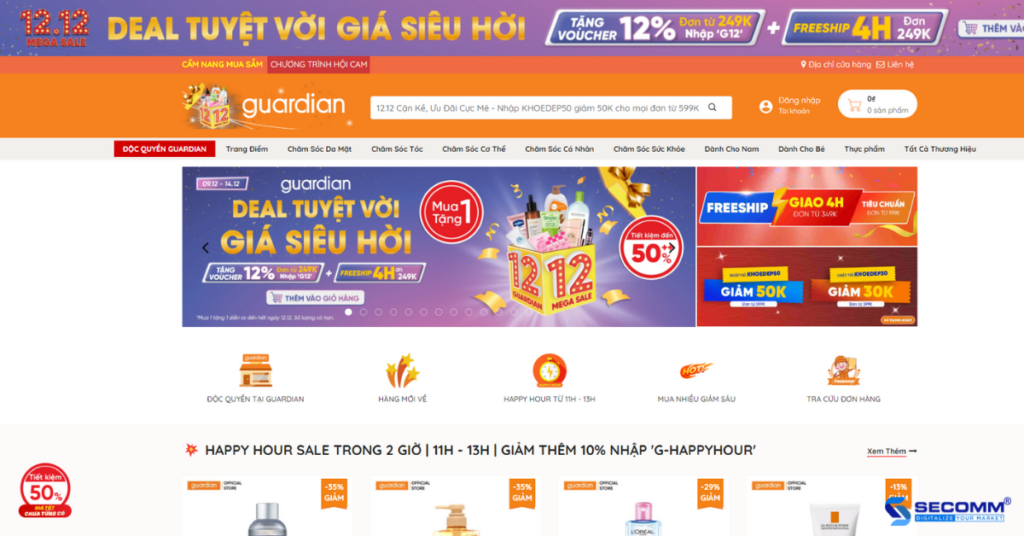 It is even more critical for Guardian to immediately implement potential sales channels like marketplaces, applications, fast delivery services like GrabMart, and eCommerce website operate side by side with a chain of 105 retail outlets in strategic locations due to the pandemic's dual effects, which include changing market trends and altering consumer buying habits.
The orange and white colors and quick page loads make the Guardian website's design stunning. Additionally, Guardian offers enticing incentives in the shipping policy, such as free fast delivery within 4 hours with orders from 349,000 VND, to encourage online shoppers.
The company's unique product catalog, which is prominently shown on Guardian's eCommerce website and features items like shampoos, shower gels, and hand sanitizers, is another standout.
The foundation for helping Guardian dominate the cosmetic retail market and leave a lasting impact on customers is a deliberate investment in developing a multi-channel ecosystem.
Hasaki
​​Modernity and growth come with invisible pressures that have an impact on everyone's life as people struggle to keep up with the "standards" of the times.
However, that does not result in a drop in the demand for beauty and self-care, on the contrary, it is always rising, with a diversity of sufficient options to match customer expectations.
Vietnamese women are among the most beautiful in Asia, but, due to the responsibilities of work pressure and family, they occasionally neglect to care for and love themselves.
Because of this, Hasaki Beauty & Clinic was established with the desire to become a reliable beauty and spiritual care destination for Vietnamese women.
The Hasaki store system, which was introduced in 2016 and now has 76 locations across 29 Vietnamese provinces and cities, has steadily established itself as one of the top retail chains for real cosmetics. Hasaki is dedicated to offering real cosmetics at discounted pricing, living up to its motto of "True Quality – True Value".
Along with system expansion, Hasaki also works on creating an eCommerce website with features appropriate for the cosmetics industry and always enhancing and upgrading the system to provide customers with the greatest online shopping experience.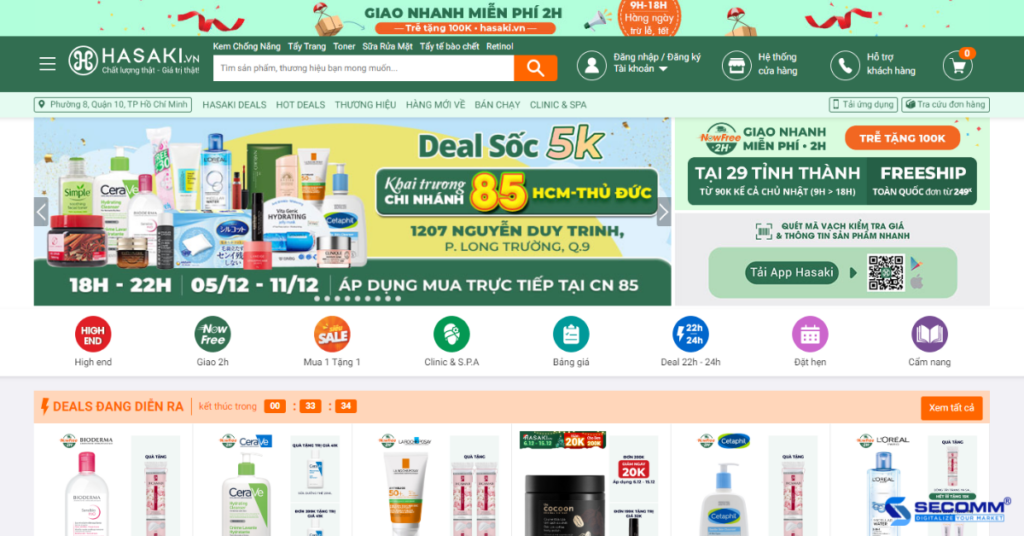 The Magento platform was used to build the website, and the interface is attractive with green serving as the primary color tone for the entire eCommerce website and app system. Customers can check current promotions and conveniently look up order details when accessing the Hasaki website.
Additionally, the "handbook" section at Hasaki has a wealth of knowledge on cosmetics and skin care tips that each customer may learn and arm themselves with before making a purchase decision. Since then, the process of beauty restoration is safe and effective.
Similar to Guardian, Hasaki encourages people to order online with NowFree 2h and take advantage of free shipping rules.
As a result, Hasaki will provide free delivery to customers within two hours of receiving orders of 90,000 VND in 29 provinces and cities where the company has locations, including on Saturday and Sunday. Customers will benefit from free national shipping on orders that are at least 249,000 VND.
Therefore, Hasaki has sparked a "green craze" among many beauty fans and is now gradually competing with the country's top cosmetics brands thanks to its quick recognition of market trends and broad perspective with an efficient marketing mix strategy.
It is clear that the growth of the furniture market has been hastened by the speed at which eCommerce is developing.
Today, numerous local and international cosmetics companies participate in and offer the greatest shopping experiences to customers through the effective implementation of an eCommerce website, including Kylie Cosmetics (USA), Guardian, and Hasaki (Vietnam).
From there, companies may quickly connect with a wider pool of Internet users and generate conversions through efficient marketing strategies.
However, business leaders need to carefully and comprehensively take into account the growing customer expectations and rapidly shifting market trends, not to mention specifically describe a systematic and precise business strategy for taking the most advantageous actions in the short and long term.
Completing that difficult task will take a lot of time and resources. As a result, many cosmetics companies opt for a more straightforward approach to the issue, enlisting the assistance of a highly qualified and dependable unit.
SECOMM has many years of expertise in effectively executing eCommerce for numerous customers in various countries. We specialize in offering free consultation services with qualified eCommerce implementation solutions.
Contact us right away for free counsel and assistance.