Inbound Marketing and Outbound Marketing are two widely used marketing approaches that businesses often mix. Although they are common, many businesses still need to distinguish between these two types of marketing. Which is the most suitable strategy for businesses to implement Inbound Marketing and Outbound Marketing in the eCommerce world?
What is Inbound Marketing?
Inbound Marketing is a marketing approach that focuses on engaging customers by offering valuable content and delivering a meaningful customer experience.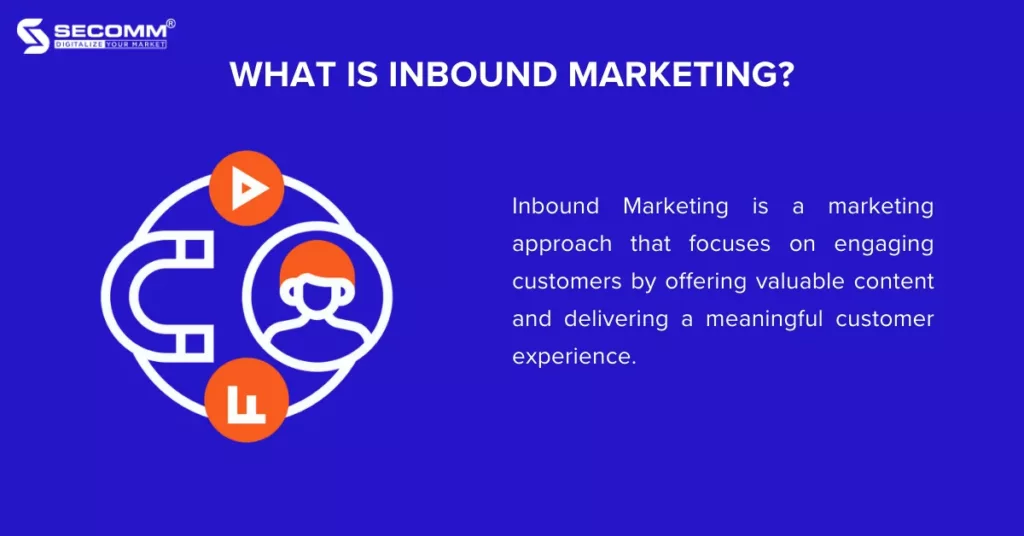 Key strategies employed in Inbound Marketing include:
Blogging: Creating informative content to provide valuable insights to potential customers.
Social Media Marketing: Using popular social media platforms like Facebook, TikTok, Instagram, Twitter, etc., for customer engagement through the sharing of valuable content.
Search Engine Optimization (SEO): Optimizing websites and content to achieve higher rankings in search engine results, such as Google, Cốc Cốc, Safari, Firefox, and others, facilitating the discovery of the business by potential customers on the Internet. 
Email Marketing: Building email sequences tailored to customer needs and personalized to enhance customer care.
YouTube Marketing: Developing marketing strategies on the YouTube platform to provide useful knowledge alongside marketing messages to specific potential customers.
Audio Marketing (Podcast): Creating and broadcasting podcast programs related to the business or its products, allowing the brand to share information, stories, and other valuable content with potential customers through audio.
Lead Generation: Offering valuable content like ebooks, guidelines, webinars, etc., to gather contact information and build a database of potential customers.
What is Outbound Marketing?
Outbound Marketing is a conventional marketing approach where businesses proactively reach out to customers by sending marketing messages to a broad targeted audience.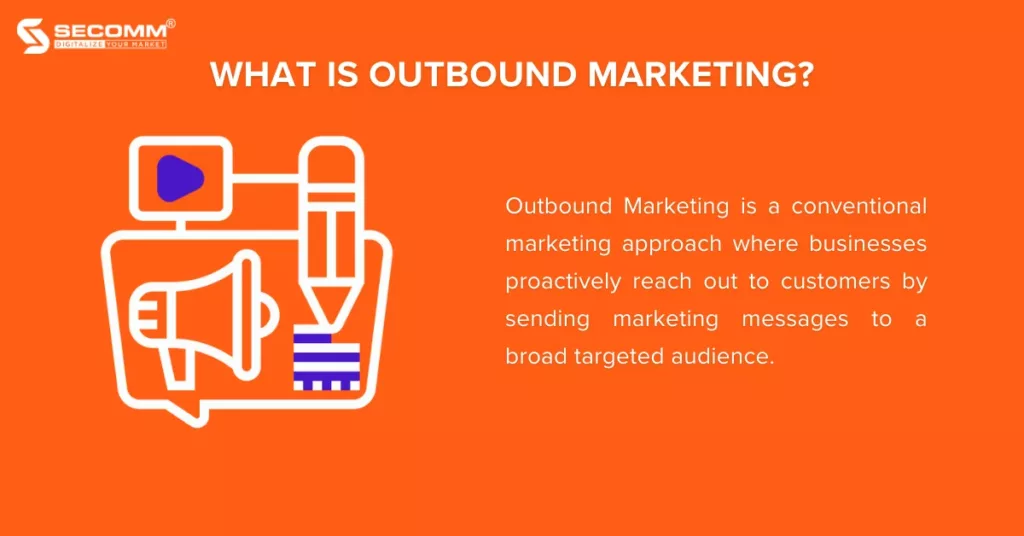 Here are some primary methods employed in Outbound Marketing:
Cold calling: Making phone calls to various phone numbers collected from diverse sources, without any prior relationship, such as potential customer lists, or business databases, to introduce products/services.
Cold email outreach: Sending direct mail or parcels to customer lists, much like cold calling, to announce products, services, or upcoming promotional programs.
Events and exhibitions: Participating in and organizing events and exhibitions to have direct contact with potential customers and promote the business's products/services.
Traditional advertising: Using traditional advertising channels such as television, radio, print media, magazines, and outdoor advertising (billboards) to convey marketing messages to a large number of customers.
PPC (Pay Per Click) advertising: Utilizing paid online advertising forms like Google Ads, social media advertising (Facebook Ads, Instagram Ads, TikTok Ads, etc.), or various display advertising techniques to reach a diverse consumer audience.
Telemarketing: Making direct phone calls to potential customers to advertise products or services and generate sales.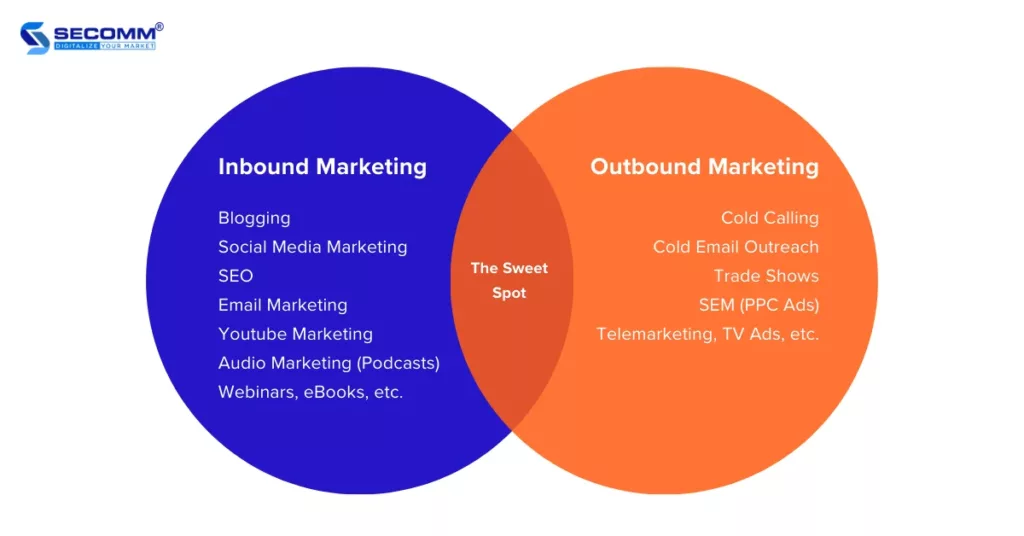 Inbound Marketing vs Outbound Marketing: Basic Comparison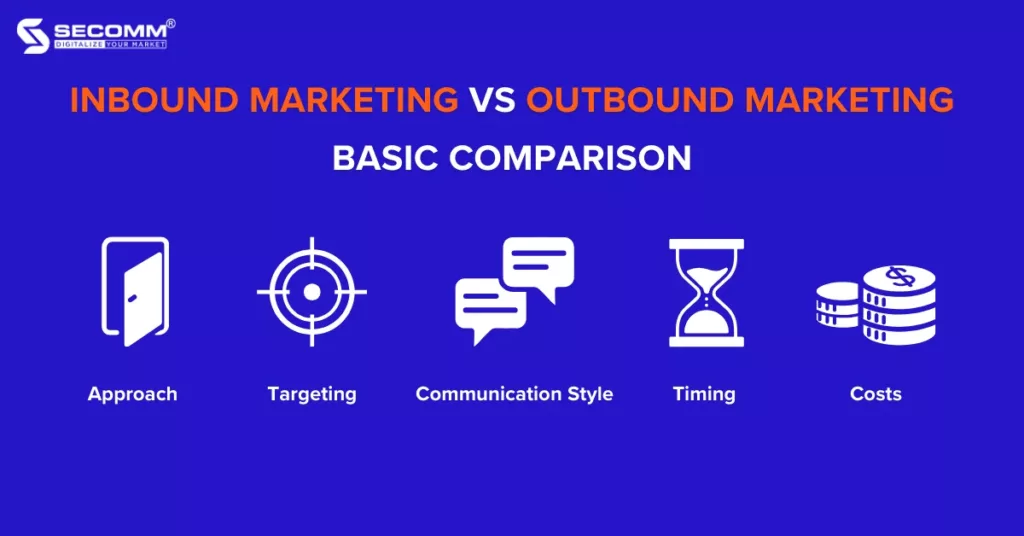 Approach 
Inbound Marketing centers around the customer, prioritizing the attraction of potential customers through valuable content and experiences. In the realm of eCommerce, Inbound Marketing primarily revolves around establishing relationships and engaging with customers through the business's website or eCommerce app.
Conversely, Outbound Marketing takes a product-centric approach, aiming to send marketing messages to a wider audience. Outbound Marketing involves reaching potential customers through diverse channels like advertising, direct mail, or telemarketing.
Targeting
Inbound Marketing focuses on attracting and connecting with specific, targeted audiences through the creation of relevant and valuable content. Its goal is to draw in potential customers actively seeking information or solutions related to the business's products or services. 
On the other hand, Outbound Marketing establishes a broader network and targets a wider audience, typically relying on demographics or general interests. The goal of Outbound Marketing is to reach a large number of people with the hope of grabbing the attention of potential customers. 
Communication Style
Inbound Marketing promotes two-way communication, where businesses actively participate in conversations with potential customers, giving priority to listening, understanding customer needs, and offering valuable information or solutions.
Outbound Marketing typically involves one-way communication, with businesses delivering marketing messages to the audience without immediate interaction. The primary objective is to raise awareness and generate interest in the business's products or services.
Timing
Inbound Marketing tends to have a long-term orientation as it revolves around building trust and credibility over time, nurturing potential customers until they are ready to make a purchase. However, it may require some time to see results. 
On the other hand, Outbound Marketing is typically linked to immediate outcomes or short-term goals. Its primary focus is on generating potential customers or immediate sales by actively promoting products and services through channels such as paid advertising or telemarketing.
Costs
Inbound Marketing can offer long-term cost savings as this strategy relies on creating valuable content, optimizing online presence, and leveraging channels that the business controls, such as optimizing the eCommerce website/app, SEO, and managing social media pages. While it may require an initial investment of resources and time, the returns on this investment can be significant over time. 
Conversely, Outbound Marketing often entails upfront expenses, such as advertising costs. The expenses can vary depending on the selected channels and the scale of the target audience.
Inbound Marketing vs Outbound Marketing: eCommerce Tactics
Inbound Marketing Tactics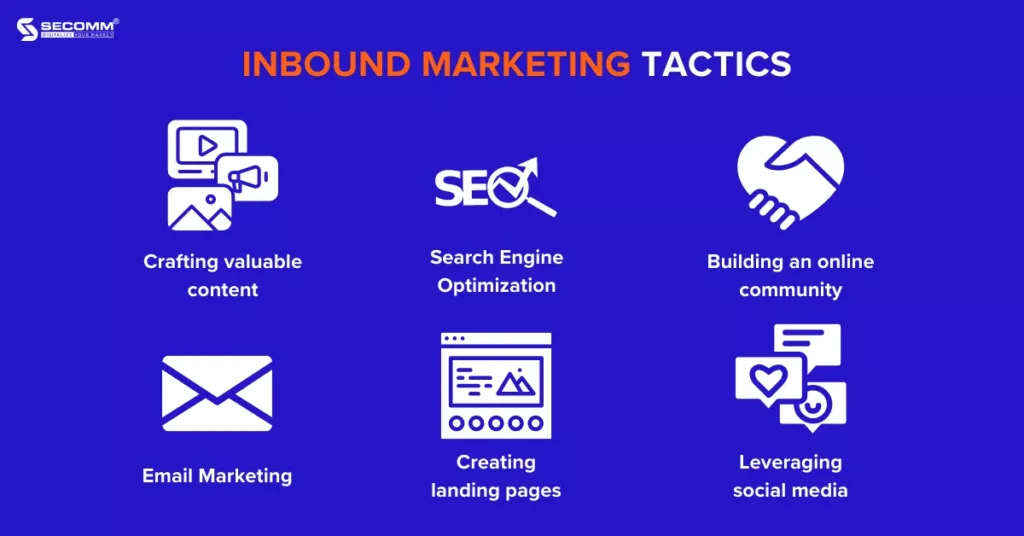 In the world of eCommerce, Inbound Marketing employs the principles and strategies of Inbound Marketing to attract and engage potential customers. Here are several common Inbound Marketing methods applied in eCommerce:
Crafting valuable content: Generating useful content relevant to the business's products or services, such as blogs, user guides, instructional videos, infographics, and other content formats.
Search Engine Optimization (SEO): Optimizing the website and content to improve search engine rankings.
Building an online community: Using social media, blogs, forums, or other platforms to interact with potential customers and foster an online community centered around the brand and its products.
Email Marketing: Building an email list from potential customers and executing email marketing campaigns to deliver information, updates, promotions, and customer-specific content.
Creating landing pages: Creating landing pages to establish a potential customer database and engage with them through marketing campaigns.
Leveraging social media: Using social media platforms like Facebook, TikTok, Instagram, Twitter, and more to share content, interact with potential customers, and enhance brand recognition.
Outbound Marketing Tactics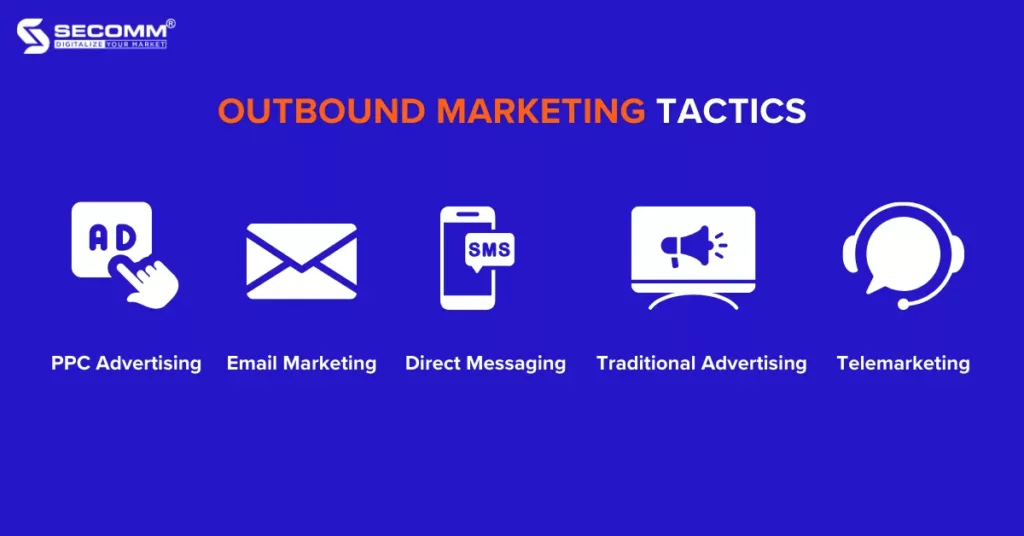 In the eCommerce world, Outbound Marketing employs the methods and strategies of Outbound Marketing to build brand recognition among a broad customer base with the objective of boosting online sales. Here are some common Outbound Marketing techniques typically utilized in eCommerce:
PPC Advertising: Using paid online advertising channels such as Google Ads, Facebook Ads, or other online advertising formats to deliver marketing messages to potential customers.
Email Marketing: Sending direct advertising emails to potential customers or existing customers to announce products, promotional programs, or relevant news.
Direct Messaging (SMS Marketing): Sending direct messages to potential customers' mobile phones to inform them about products, offers, or promotional programs.
Traditional Advertising: Using traditional advertising forms like television, radio, print media, magazines, and billboards to drive a large customer base to the eCommerce website/app for purchasing.
Telemarketing: Making direct phone calls to potential customers to introduce products or services, provide advice, or make sales. 
In essence, Outbound Marketing in eCommerce can rapidly establish brand recognition and reach a large online audience, but it also necessitates consideration of effectiveness and the response of potential customers, with the ultimate goal of increasing online sales.
Here is a summary of the basic information about Inbound Marketing and Outbound Marketing in eCommerce. Depending on their individual needs, businesses will allocate time and budget for Inbound Marketing and Outbound Marketing accordingly. 
Contact or call the SECOMM hotline at 02871089908 today for a free consultation on the implementation of eCommerce Marketing.