Along with the development of technologies, social platforms like Facebook, Instagram, and Twitter have been around to satisfy the demand for online interaction for over two decades. However, the change in consumer behavior makes TikTok the new favorite. 
By the end of 2022, TikTok was reported to reach 1B users globally, becoming the fastest-growing social platform ever. Having a large user base amid the rise of online shopping is an advantage, which contributes to TikTok's ongoing transition into a Social Commerce platform. 
Recently, the social media platform has added a new buying and selling feature called TikTok Shop. It is a new solution for businesses of all sizes to boost customer engagement, brand awareness, and sales. 
What makes TikTok special?
The content of TikTok consists of vertically arranged videos that are compatible with smartphones and users only need to swipe up to watch a series of videos that are only a few seconds to one minute long. Creating content on TikTok is also easy and simple, users only need to upload the original video and add a few effects, then they will have an interesting and fun short video. With over 1 billion videos viewed on TikTok every day, it has opened up marketing opportunities for many brands. 
The majority of TikTok users are Millennials and GenZ, and it now expands to even younger users. They are a driving force behind the increasing expectation of digital experiences. Over 55% of GenZ in Vietnam are using TikTok, in the US, 62% of people between the ages of 10 – 29 are using this social network. The attention span of Millennials is about 12 seconds and for GenZ it's around 8 seconds. Therefore, TikTok's short-length videos are particularly popular with these generations because of their easily consumable content.
When compared to Reels (a feature of Instagram) and Short (a feature of Youtube), TikTok even has the upper hand. As The Graygency has noted, the monthly user base of IG Reels is in the lead with 2 billion users, followed by Youtube Shorts with 1.5 billion, and finally TikTok with 1.2 billion. The Reels feature was launched in 2020 and immediately became popular due to Facebook and Instagram's enormous existing user base. The same is true for Youtube Shorts.
Meanwhile, TikTok was launched in 2016 but has reached 1 billion users in just 5 years. For Instagram and Youtube, this number took 8 years. A new player like TikTok when compared to the 2 major social platforms with a not-so-significant difference in user base, makes TikTok incredibly special. Plus, when considering other criteria like Engagement Rate, Female Users, Male Users, etc, TikTok even has higher rates than IG Reels and Youtube Shorts.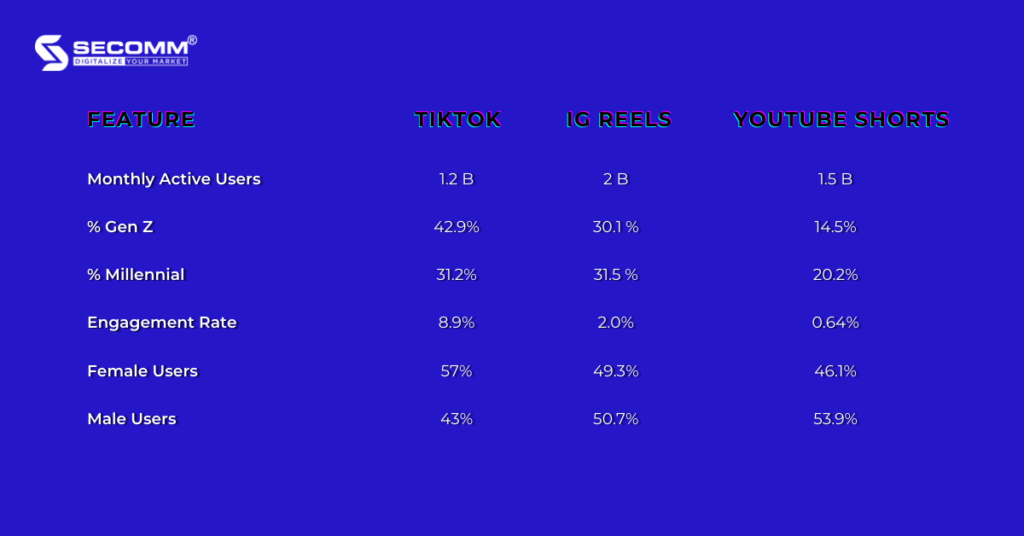 Another thing that makes TikTok special lies in its algorithm. When opening the app, users will see the "For You" page where TikTok displays videos that users may be interested in and immediately capture their attention. However, these videos don't come from creators or brands that the user is already following but from the users' interactivities on the videos, which is completely different from other social media platforms. 
The "For You" page is the most successful feature of the app as it creates content every second specifically tailored to each user's personal preferences. These successes have led to a new step for the social platform – TikTok Shop
What is TikTok Shop?
TikTok explained in its launch statement:
"TikTok Shopping is a suite of solutions, features, and advertising tools that give businesses the opportunity to capture the full power of TikTok's influence on purchase decisions"
Simply put, TikTok Shop is a new feature that allows TikTok users to buy products right on the app. Also, it provides businesses a way to display, promote and sell their products to a huge user base on TikTok. 
After setting up the TikTok Shop feature, a dedicated shopping tab will appear on the brand's profile. That way, customers can browse through and purchase within the TikTok app or be transferred to the brand's eCommerce website for checkout.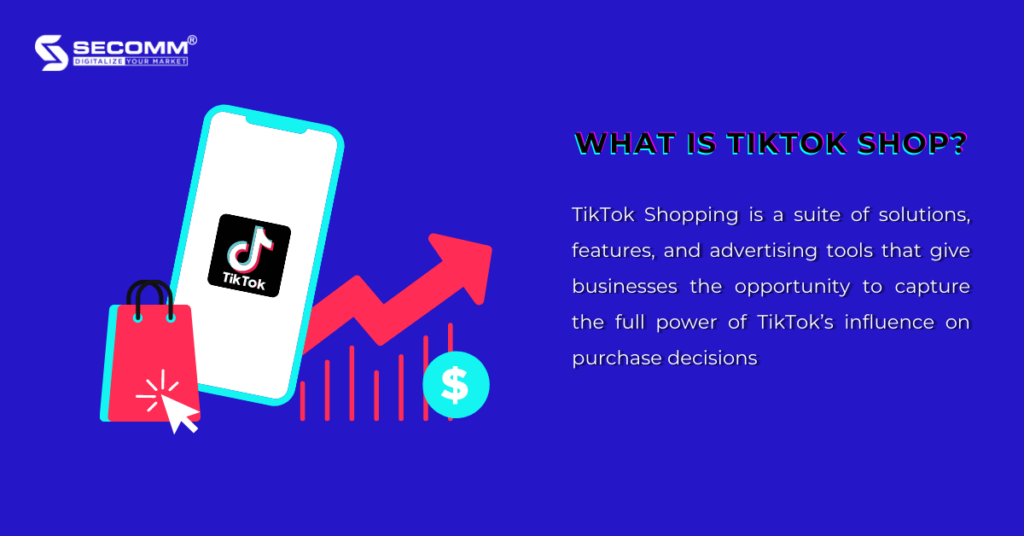 TikTok Shop Live
Besides the TikTok Shop feature, TikTok Shop Live is also a great resource to take advantage of. Brands can integrate their products from TikTok Shop into their live stream to encourage customers to interact with the brand and whenever they see a product they like, they can buy it during the live shopping stream. 
Let's see the key TikTok Live Shopping stats:
50% of TikTok users have bought something after watching TikTok Live;

Users on TikTok are 50% more interested in branded Live content than non-TikTok users;

1 in 5 users watch TikTok Live and of that group 62% watch it every day

TikTok users are two times more likely (compared to non-TikTok users) to say the live stream is the most trustworthy to use when shopping.
Ha Linh, a female beauty vlogger in Vietnam, is widely recognized by everyone in the Vietnamese beauty community for her genuine product review videos. She fearlessly provides critical feedback on any brand, and her reputation precedes her. Recently, Ha Linh held her first live stream on TikTok, which incredibly got 11 million hearts and 80K views. To everyone's surprise, within an hour, all the products from the three factories of the brands she collaborated with were sold out. This case highlights the effectiveness of influencer marketing campaigns in conjunction with TikTok Live Shopping for brands targeting young customer demographics.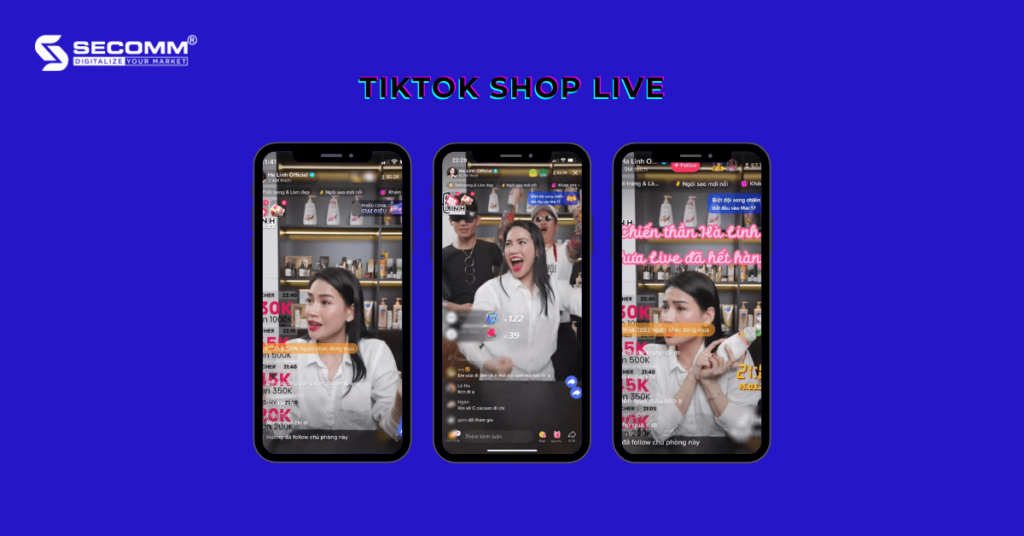 Why brands need to embrace TikTok Shop?
Keep up with Social Commerce
According to research, 87% of customers make their purchasing decisions through information provided on social media, 90% discover brands through social media, and the average spent per day on social media is over 2 hours. This is a new great boost for Social Commerce globally. In 2022, global Social Commerce sales reached $992B and are estimated to exceed $3 trillion in 2026.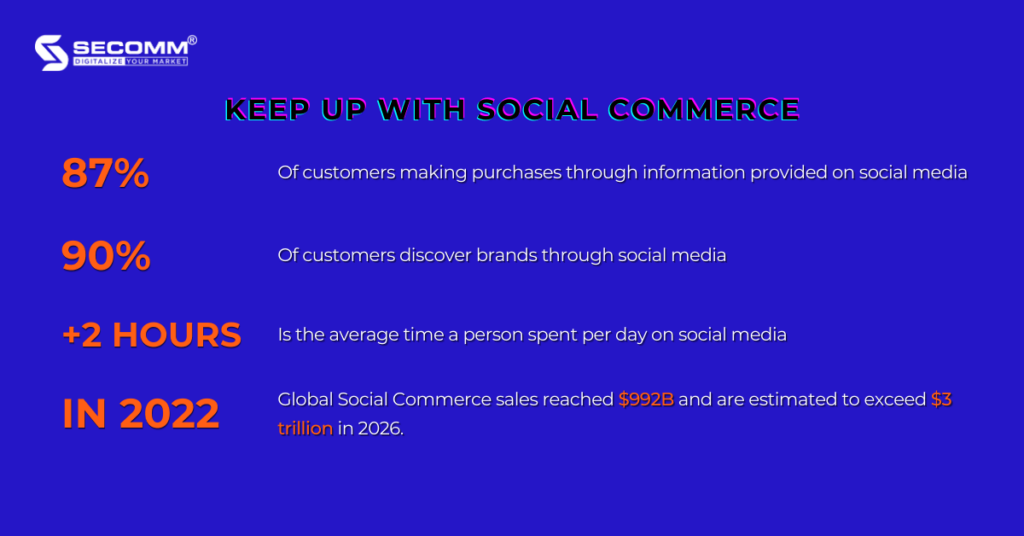 With a massive user base of over 1 billion, TikTok has the potential to become the leading platform in global Social Commerce, and the TikTok Shop feature has been launched to achieve that goal. TikTok Shop is currently available in Europe, North America, and 7 Asian markets, including Vietnam.
The short videos on TikTok are already very appealing, and when combined with cleverly integrated advertising content, they can attract users' attention. This not only entertains and engages users, but also motivates them to make purchases from the advertised shoppable content. According to data compiled by TikTok, 67% of users have purchased after watching a video even if they didn't intend to do so beforehand. 
Thus, TikTok has created an infinite loop of shoppertainment that combines shopping and entertainment within the app. As TikTok prioritizes user-generated content and 83% of its users have created videos on the platform, after purchasing, they are more likely to share their experience with other people on the app. This ultimately creates an endless loop of shopping, discovery, consideration, purchasing, reviewing, and engaging that repeats itself.
Reach out to a large user base on TikTok
The majority of TikTok users are in the age range of 18-34. According to Statista, as of January 2023: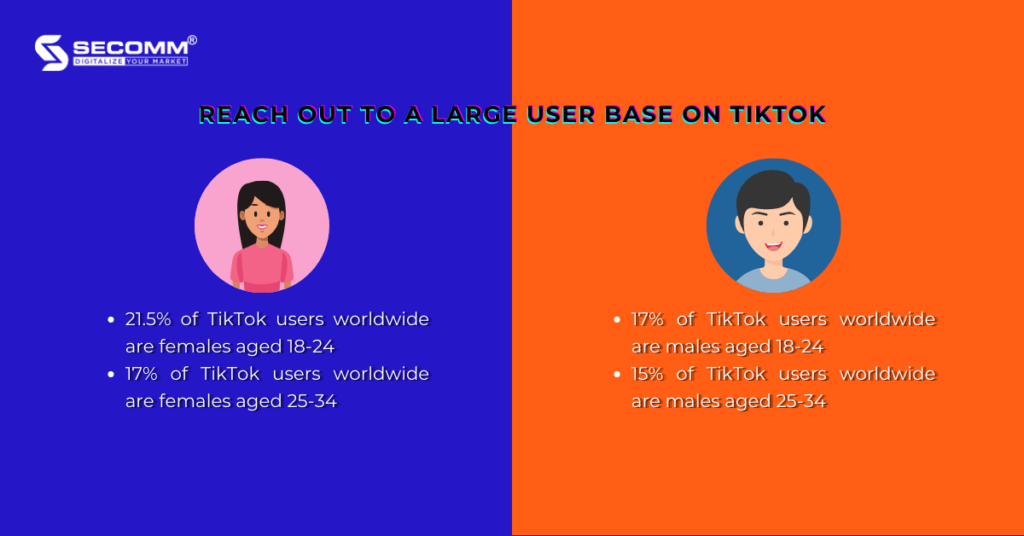 Bên cạnh đó, những danh mục nội dung phổ biến nhất trên TikTok bao gồm giải trí, thể thao/fitness, nấu ăn, mỹ phẩm, thời trang,…
Do đó, nếu các doanh nghiệp đang kinh doanh trong những lĩnh vực này và hướng đến phân khúc khách hàng trẻ tuổi thì xây dựng hiện diện nhanh chóng trên nền tảng TikTok và tận dụng tính năng TikTok Shop là điều cấp thiết phải triển khai, như cách mà Kylie Cosmetics đã làm.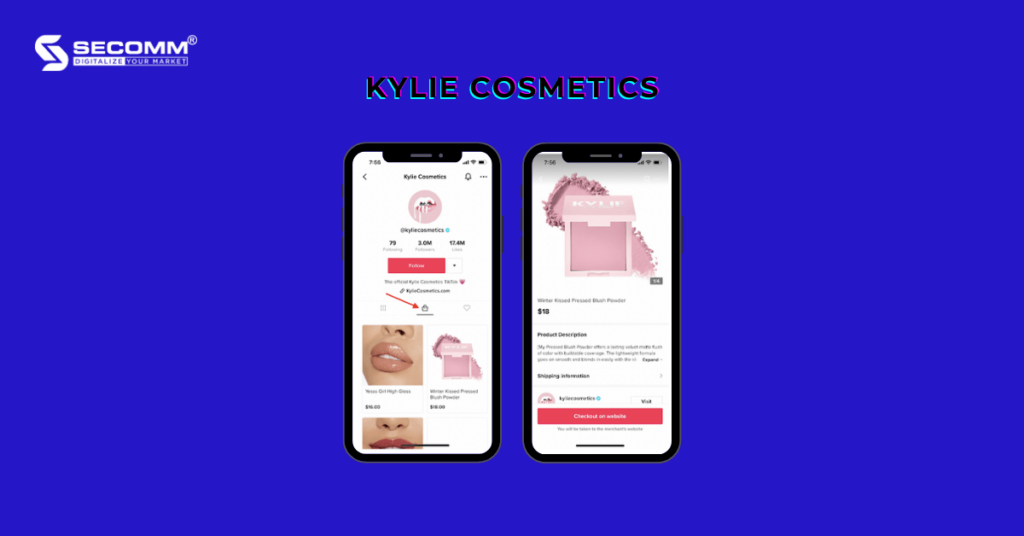 Moreover, the most popular content categories on TikTok include entertainment, sports/fitness, cooking, cosmetics, fashion, etc. Therefore, for businesses operating in these fields and targeting younger customer segments, building a quick presence on TikTok and leveraging the TikTok Shop feature is crucial to implement, as Kylie Cosmetics has done. 
As soon as TikTok Shop was launched in the US market, Kylie Cosmetics was one of the first brands to get involved. To date, the brand's TikTok account has over 3.5 million followers. Kylie Jenner once explained: "I built my business on social media; it's where my fans go first to look for what's new from Kylie Cosmetics. I have so much fun creating TikTok videos, and I love sharing posts of my fans using the products. That's why I'm excited for Kylie Cosmetics to be one of the first to let customers shop directly on our TikTok!".
Take advantage of TikTok Influencer Marketing
If Influencer Marketing plays a crucial role in the brand's success on other social platforms, TikTok is no exception. This strategy is primarily used to increase brand awareness, run promotional campaigns, and boost sales. TikTok is a place for creative and engaging short videos, so TikTok users have a special love and interest in creators with their unique style and creativity that attracts users' attention. 
TikTok Influencer Marketing is where business brands and personal brands are closely linked. Thus, some experts advise that in order to successfully implement TikTok Influencer Marketing, businesses should let their partners freely create promotional content as long as it meets ethical and cultural standards. This is because if TikTok videos are too focused on advertising, it will make users or potential customers "turn away". 
Walmart, the American retail chain, recently sponsored a dance challenge called "SavingsShuffle", which required players to show how to save money while shopping at Walmart with their creative fun dance moves, and then post the recorded video on TikTok. Six influencers were chosen to promote this campaign, including Trinity, AdamW, Sam Hurley, Bdash, Kidrl, and Ajani.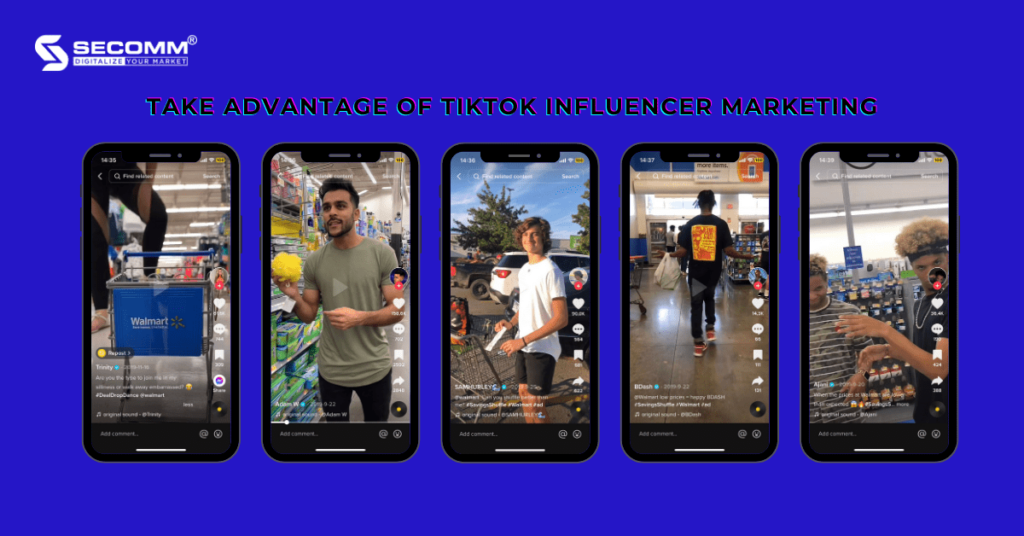 Selling on TikTok VS eCommerce Marketplace
eCommerce marketplace: Brands and merchants have to rely heavily on the policies of eCommerce marketplaces, prices, products must be competitive, storefronts must be high-rated, etc.

TikTok: This is a fair playing field for all brands and merchants. By creating attractive content and cleverly incorporating promotional elements, they can increase sales and their followers. However, participating in the high-level sales race on TikTok requires brands and merchants to invest more in creativity. 
With many years of experience in successfully implementing eCommerce for many customers in many countries, SECOMM understands the difficulties and challenges of implementing eCommerce. Talk to our expert to get free advice on eCommerce implementation.