In the world of eCommerce, customer loyalty plays an important role in the success of businesses amidst fierce competition. There are many ways to build and maintain customer loyalty, but one of the most prominent is to enhance the customer experience through loyalty programs. 
The Importance of Customer Loyalty for eCommerce Businesses
Sometimes businesses focus too much on finding new customers and forget the value of their existing customers. The following statistics show how valuable it is to maintain customer loyalty:
The probability of selling to an existing customer is 60%-70%, whereas, the probability of getting a prospective customer to buy products from you for the first time is only 5% to 20%. 

65% of sales come from existing customers.

Compared to new and prospective customers, existing customers are 50% more likely to try out new products.

80% of future profits will come from just 20% of your existing customers. 

Loyal customers spend an average of 31% more than new customers.

32% of executives worldwide said customer retention is their top priority.

Increasing customer retention by even 2% has the same impact on profitability as cutting costs by 10%.

75% of loyal customers will recommend the brand to friends and family.
Existing customers are the best customers and the most valuable asset of an eCommerce business. These customers contribute greatly to the business profit and help businesses save time and money to acquire new customers.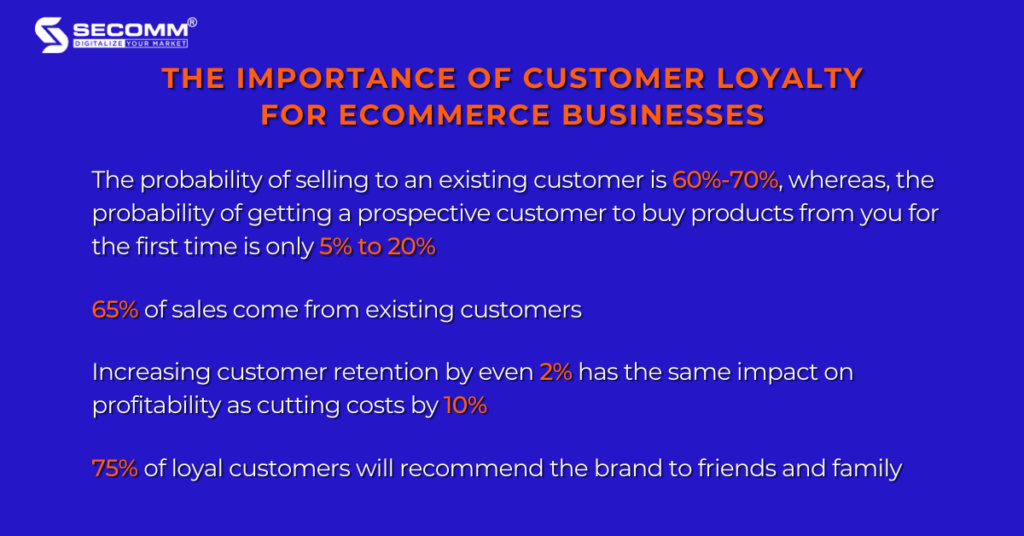 What affects Customer Loyalty?
89% of eCommerce businesses around the world agree that the customer shopping experience affects customer retention. A high customer retention rate indicates that customers are happy and satisfied which leads to increased loyalty and repeated purchases.
Retaining customers plays an important role in eCommerce businesses because the cost of attracting new customers is five times higher than maintaining existing ones. Moreover, increasing customer retention by even 5% can increase business profits by up to 95%. This is because satisfied customers are likely to refer the brand to others.
Therefore, businesses need to focus their time, money, and energy on enriching the customer experience, persuading them to come back to shop more often, and recommending the brand to friends and family.
Among the various strategies for maintaining customer loyalty, Loyalty Program is one of the most effective factors for eCommerce success.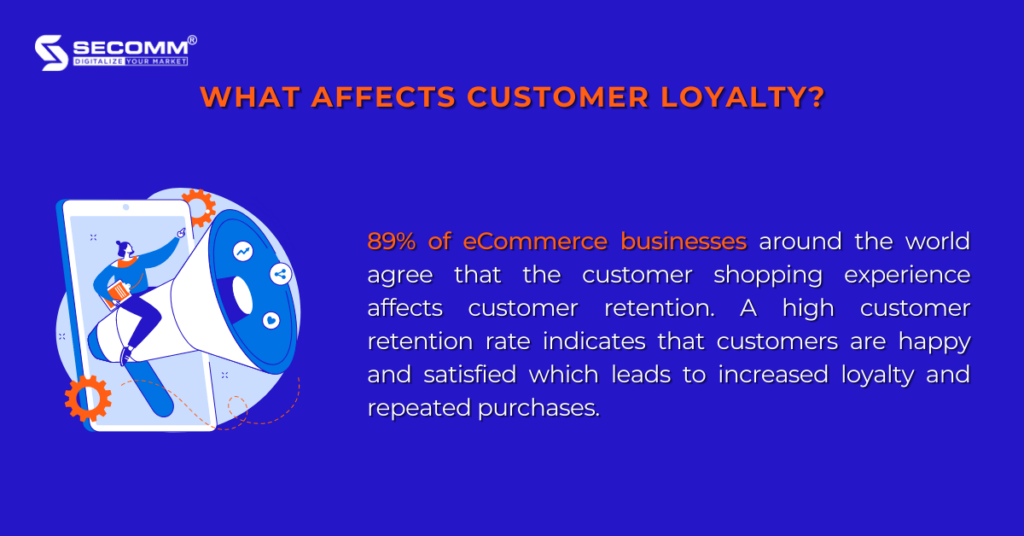 What is an eCommerce Loyalty Program?
A loyalty program is a marketing strategy designed to encourage customers to continue to shop at or use the service of a business associated with the program. Simply put, eCommerce businesses build loyalty programs to reward customers for their purchases and engagement for a long time.
The reward can be any free product, discount code, or special offer to represent the appreciation of the business for its customers, who tend to spend more because of the benefits they receive when participating in loyalty programs.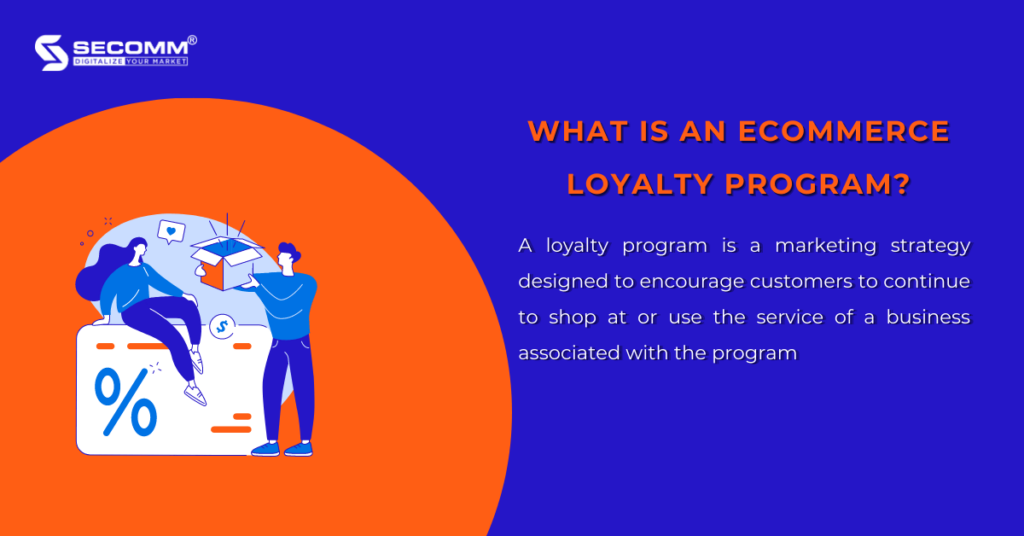 According to Yotpo, nearly 68% of customers said they would be willing to join the loyalty program and special incentives motivates them to buy more products.
Loyalty programs not only enrich the shopping experience and keep customers engaged with the brand but also from a business perspective, the benefits they bring to eCommerce businesses exceed the initial expectation. 
The Benefits of Using eCommerce Loyalty Programs
Increase Customer Retention
The development of eCommerce helps customers shop more conveniently. That means their expectations for the shopping experience are higher. Today's customers make their purchasing decisions not only based on price but also other factors such as service experience or emotional connection with the brand, etc.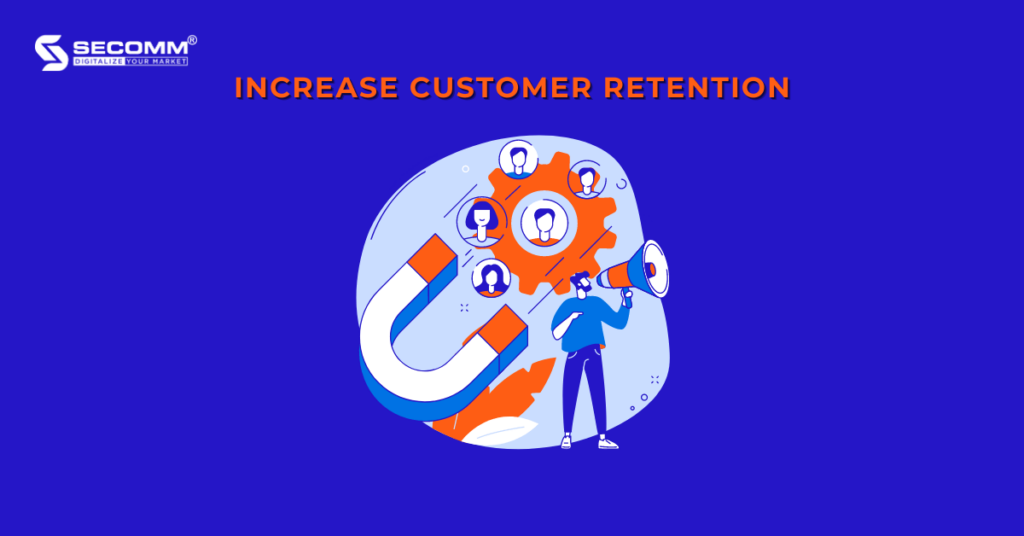 According to HuffPost, 66% of customers tend to switch brands for shopping if the service is not good enough. Loyalty programs help enhance the shopping experience. The more shopping satisfaction, the more customer retention and loyalty. 
Increase Customer Lifetime Value
Customer Lifetime Value or CLV is a key metric that indicates the total revenue an eCommerce business can reasonably expect from a single customer account throughout the business relationship. Most business owners will always find ways to increase the CLV index in order to maximize their profit.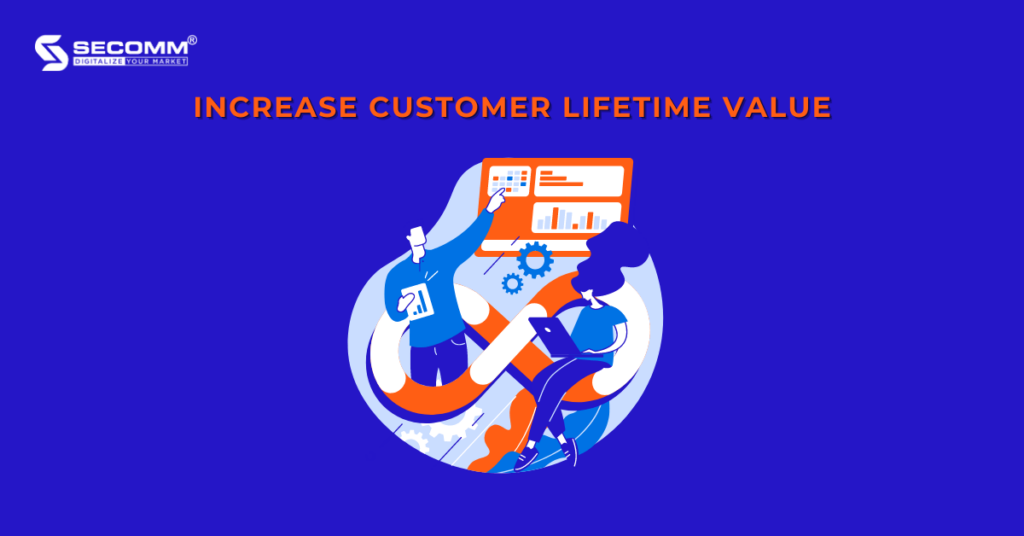 According to Harvard Business Review, the cost of acquiring a new customer is more expensive, ranging from 5 to 25 times, compared to retaining an existing customer. As a result, high lifetime value customers become priceless assets for a business, as their purchases will not require acquisition costs. In other words, a business doesn't have to incur acquisition costs for loyal customers. 
On the other hand, the business has to spend acquisition costs to convince potential customers to buy its products. Thus, even if a new customer spends the same amount on a product as an existing customer, it may not bring in equivalent profits because of acquisition costs. 
Encourage Brand Advocates
In most cases, existing customers are also the most incredible advocates. When customers are satisfied with the shopping experience, they are more likely to share it with their family, friends, or colleagues, and the business will gain more potential customers naturally.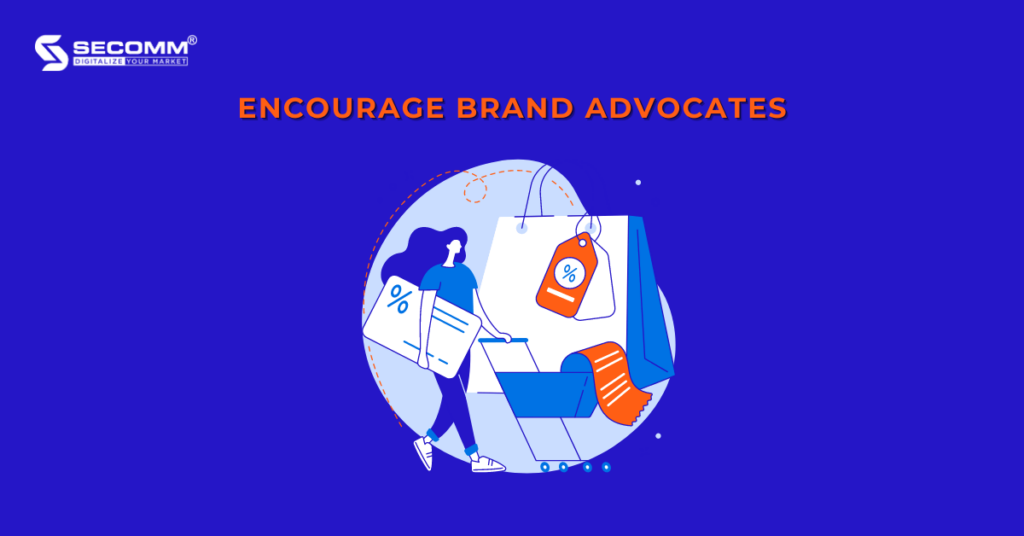 Compared to brand messages, recommendations from existing customers are even more effective. According to Nielsen, 77% of consumers trust recommendations from people they know more than any other source. As a result, before making a purchase, they will seek advice from people they trust. Plus, 64% of marketing experts believe that word-of-mouth marketing is one of the most effective forms of marketing. 
With the development of the Internet and social media platforms, recommendations from existing customers come in various ways, including posts, comments on social media or review videos, etc. This helps reduce acquisition costs so that every eCommerce business needs to focus on enhancing their existing customer shopping experience and new customers will end up rolling in for free. 
Types of eCommerce Loyalty Programs
Point-based Loyalty Programs
This is one of the most popular eCommerce loyalty programs since it is easy to set up and manage. By joining this type of program, customers can earn reward points after each purchase. They can then redeem their accumulated points for rewards such as gifts, discount codes, and other special offers. They also can earn reward points in many other ways besides making purchases, such as sharing product pages on social media, writing product reviews, completing surveys, filling out personal profiles, and so forth. 
Although this type of program is relatively simple to implement, businesses still need to ensure that the points customers earn have enough value to encourage them to continue shopping. Plus,  the time it takes to redeem points for rewards should be short enough because if customers have to wait for several months or even years to redeem points for a valuable reward, the attractiveness of the points-based program will decrease.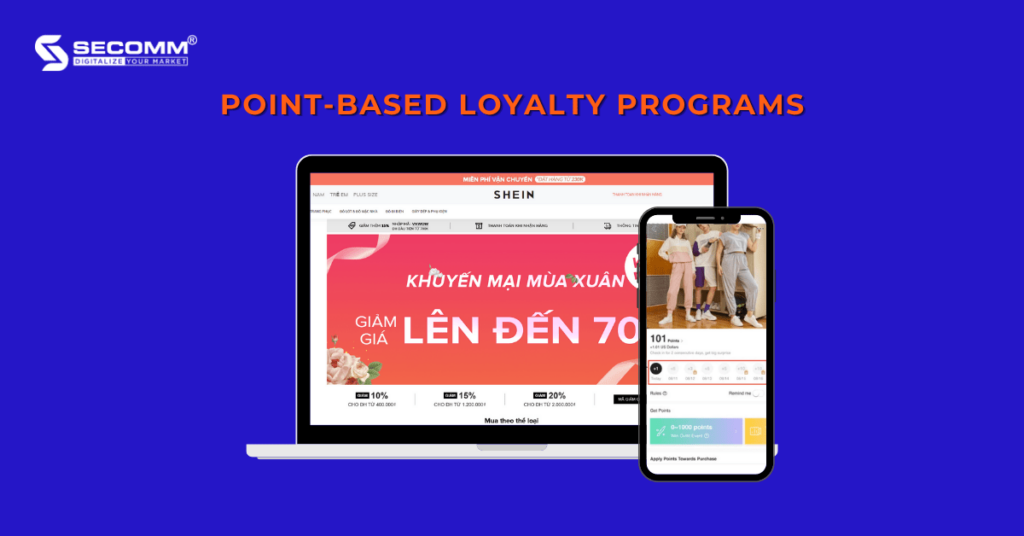 SHEIN, a popular fashion brand founded in 2008, has created a great SHEIN Bonus Point Program reward system on its mobile app. This program allows customers to earn points by registering an account, making purchases, reviewing products, and participating in special online events held by the brand. 
Each activity equals a specific reward point. Then, customers can use their reward points to receive discounts ranging from 15% to 25%, and even up to 70% for their next purchase. Additionally, reward points can also be used to exchange vouchers or other special offers when customers participate in SHEIN events or play games on the mobile app.
Tier-based Loyalty Programs
Another popular loyalty program is the tiered-based one. It encourages customers to strive to move up higher tiers to receive more valuable benefits and rewards. The more customers spend on shopping, the more benefits they receive. 
This program helps to foster customer loyalty to the brand. To maintain or move up in rank, customers have invested a lot of time and money, and they will not easily give up the huge benefits they are receiving to participate in another brand's loyalty program.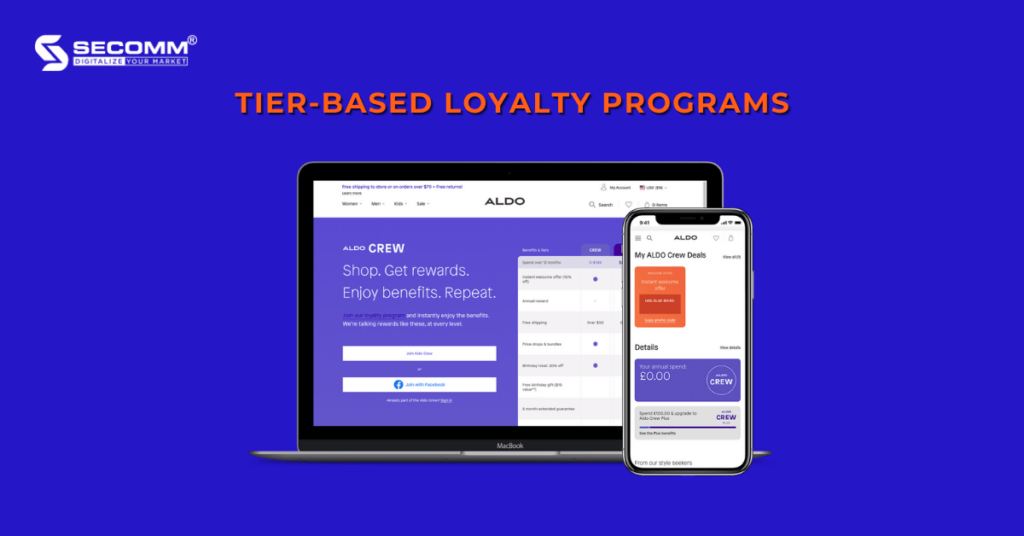 The famous shoe brand Aldo, with over 1,000 stores in 65 countries, focused on 3 main markets – the US, the UK, and Canada – when building their loyalty program. Known as Aldo Crew, the program offers customers three levels of membership: Crew, Plus, and VIP. All customers are initially enrolled as Crew level members. To advance to the Plus or VIP levels, customers must spend between $150-299/month for the Plus level and over $300/month for the VIP level. Depending on the level, each customer receives corresponding rewards, and VIP-level customers receive all the special perks offered by the Aldo Crew program.
Subscription-based Loyalty Programs
eCommerce loyalty programs are very attractive because, from the customer's perspective, they get benefits for free. However, in reality, customers have to make a purchase or perform a specific action to earn those "free" benefits. 
Many world-renowned brands have created incentive programs based on subscriptions to provide incredible services and charge customers for participation. Amazon Prime, eBay Plus, and Walmart+ are some examples.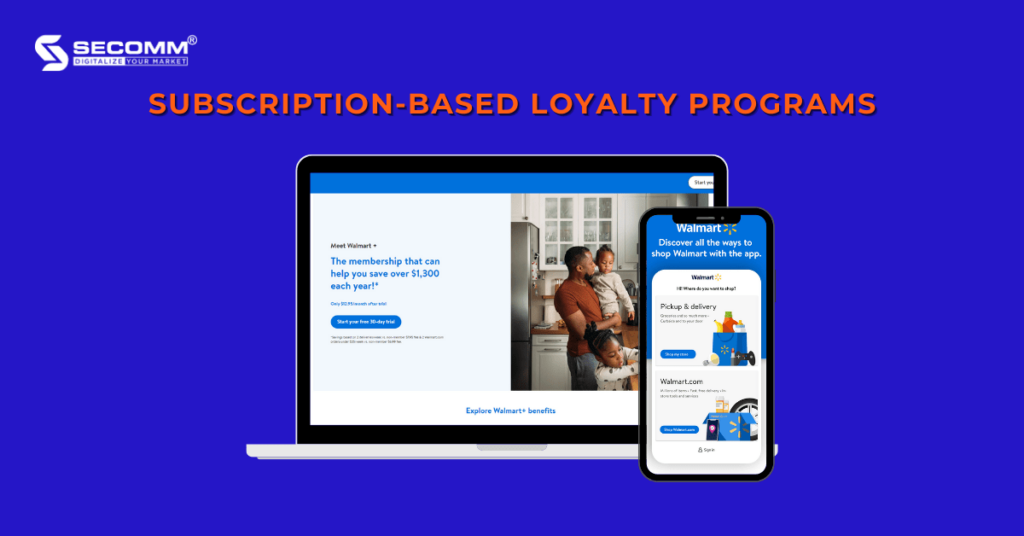 To participate and receive truly valuable benefits, customers are required to pay a fee. Since customers have to pay a fee, their commitment to engaging with the brand is also higher than in other loyalty programs. Also, because businesses charge customers when they register as members, this loyalty program type usually has a trial period for businesses to convince customers that the benefits they receive are worth the money they spend.
In 2020, the famous American retail chain Walmart launched a subscription-based loyalty program called Walmart+. The program is integrated into the Walmart app and offers many special benefits to customers both in-store and online, including:
Free delivery and same-day pickup

Free delivery with no minimum order value

The same prices for products purchased online and in-store

Scheduling delivery options

10-cent discount on gasoline at over 14,000 Walmart branches

Scan-and-go checkout option

Special member-only deals and promotions during holidays and events, etc.
To join the program and enjoy these benefits, customers have to sign up and pay a specific membership fee of $12.95/month or $98/year. Customers can try the program for 30 days before committing to a membership. 
The loyalty program strategy plays an important role in customer experience which leads to their loyalty to the brand. The success of SHEIN, Aldo, and Walmart has become an inspiration for other eCommerce businesses to jump into the game. 
To learn more and develop the best loyalty program strategy, contact SECOMM now for a free consultation.