ChatGPT is a new popular AI-powered tool. With the ability to generate human-like text, ChatGPT has a variety of applications in healthcare, education, entertainment, and even in the eCommerce world.
In this article, we will share the top 5 use cases of ChatGPT that business owners can leverage to accelerate their eCommerce.
What is ChatGPT?
ChatGPT (Chat Generative Pre-training Transformer) is a large-scale language generation model developed by an AI company called Open AI, which was formed in 2015. ChatGPT is regarded as one of the most advanced language models available today since it can produce human-like text. It can be used for a variety of tasks, including answering questions, creating essays, emails, poems, and even programming.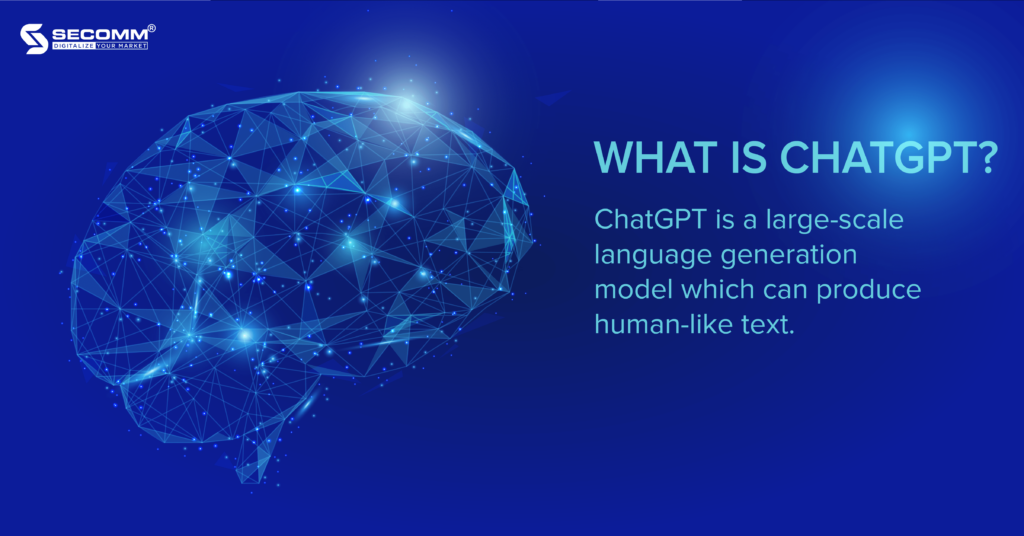 You can simply use ChatGPT by visiting OpenAI's website to create an account. Once you've logged into your OpenAI account, on the ChatGPT side of the website, you need to read through and accept ChatGPT terms. Then, you can start your conversation with it by asking questions. 
Because it is still in the research and feedback-collection stage, it is free to use. But as of February 1, 2023, the OpenAI company launched a new version of ChatGPT Plus in the US for $20/month, while keeping the free version.
How does ChatGPT work?
ChatGPT runs in a language modeling architecture called Generative Pre-training Transformer (GPT), specifically GPT-3. This type of AI model is trained on vast amounts of information from the Internet, including websites, books, articles, and so forth.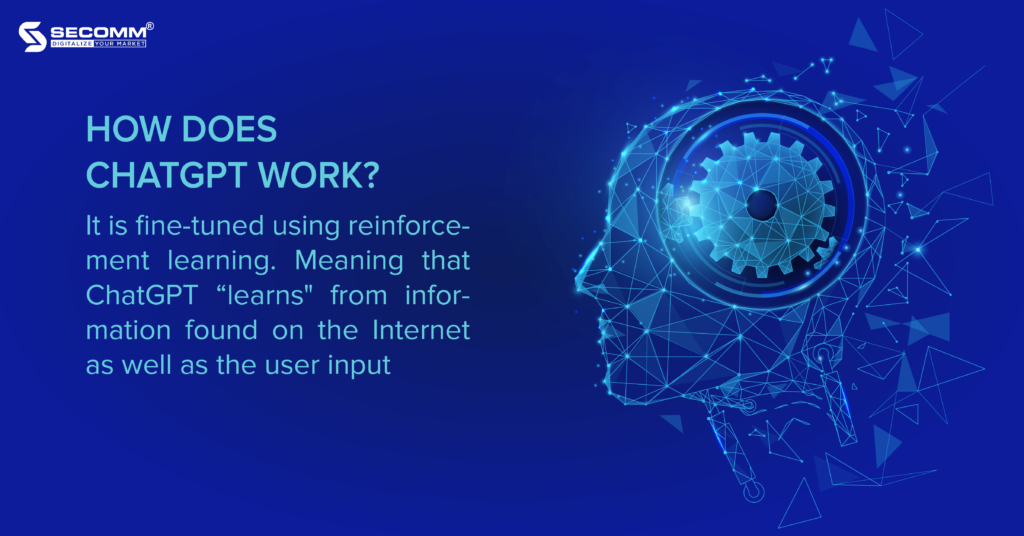 It is fine-tuned using reinforcement learning. Meaning that ChatGPT "learns" from information found on the Internet as well as the user input. Due to Reinforcement Learning from Human Feedback (RLHF), ChatGPT is unique. 
RLHF enables human AI trainers to build conversation models in which humans act as both users and AI assistants, according to OpenAI. That helps ChatGPT learn new information rapidly and grow more intelligent. 
The key differences between ChatGPT and Search Engines
ChatGPT is a language model to generate conversation with the end users, whereas Search Engines index web pages on the Internet to help users find what they desire. ChatGPT can understand and respond to input information quickly. But, it does not search on the Internet for the information, instead, it uses the training data to generate a response. 
Another difference is that ChatGPT's information update speed is still slower than that of search engines. Some search engines like Google can access the latest information but ChatGPT can only access data up to September 2021. Thus if you ask ChatGPT who is Miss Vietnam 2022, it would not be able to answer while Google could give you an immediate answer in just 0.6 seconds.
5 ways for using ChatGPT in eCommerce
Using ChatGPT helps increase revenue and enhance eCommerce business operational effectiveness. Here are 5 great ways to use ChatGPT in eCommerce.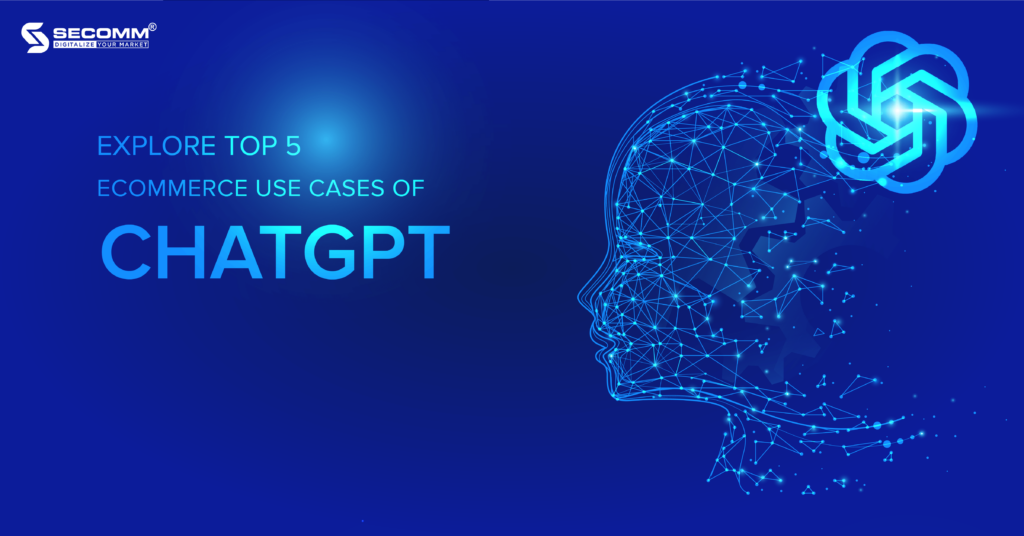 Create product description
Because an eCommerce website has different product categories, writing a unique description for each product takes a lot of time and resources. ChatGPT can be used to automatically generate compelling product descriptions. This can save time and effort for business owners while still providing customers with high-quality information about the products. Moreover, this language model can create SEO-optimized descriptions that improve product visuality. 
For example, a fashion retail brand has launched a new sportswear collection. ChatGPT will generate descriptions focused on moisture-wicking, comfortable fit, and the full range of motion and flexibility. It not only informs customers about the technical aspect of the product but also encourages them to shop with compelling and persuasive words.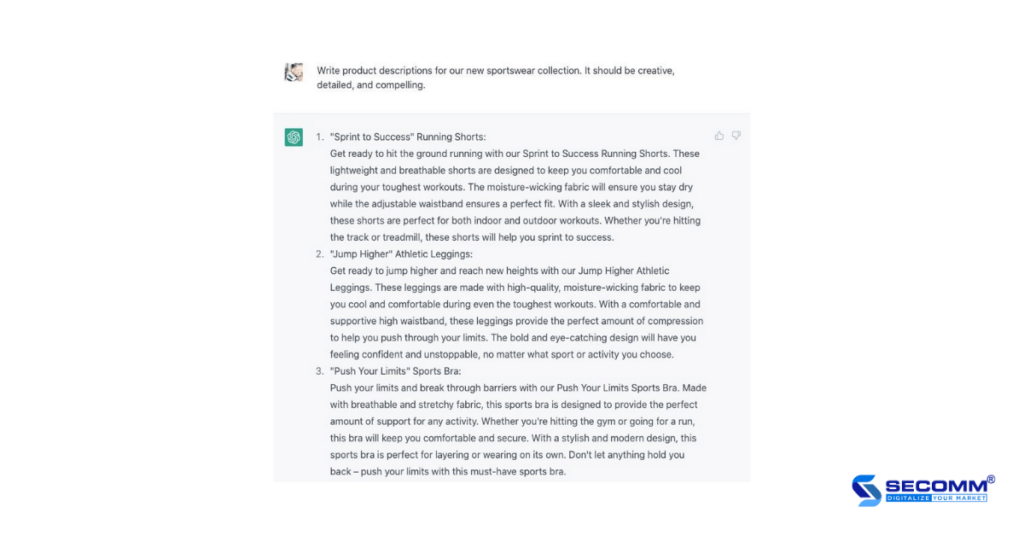 Create product recommendations
ChatGPT còn được các doanh nghiệp thương mại điện tử sử dụng trong việc đưa ra đề xuất cá nhân hoá sản phẩm. Bằng cách sử dụng dữ liệu khách hàng và lịch sử duyệt web, ChatGPT có thể đưa ra các đề xuất sản phẩm phù hợp cho từng khách hàng cụ thể. 
Ví dụ: Gần đây có một khách hàng tên Mỹ đã mua một chiếc áo thun thể thao tại cửa hàng, doanh nghiệp có thể sử dụng ChatGPT để đưa ra đề xuất sản phẩm tương tự mà khách hàng này có thể quan tâm. Từ việc gợi ý sản phẩm phù hợp và cá nhân hoá có thể giúp tăng mức độ tương tác và doanh số bán hàng.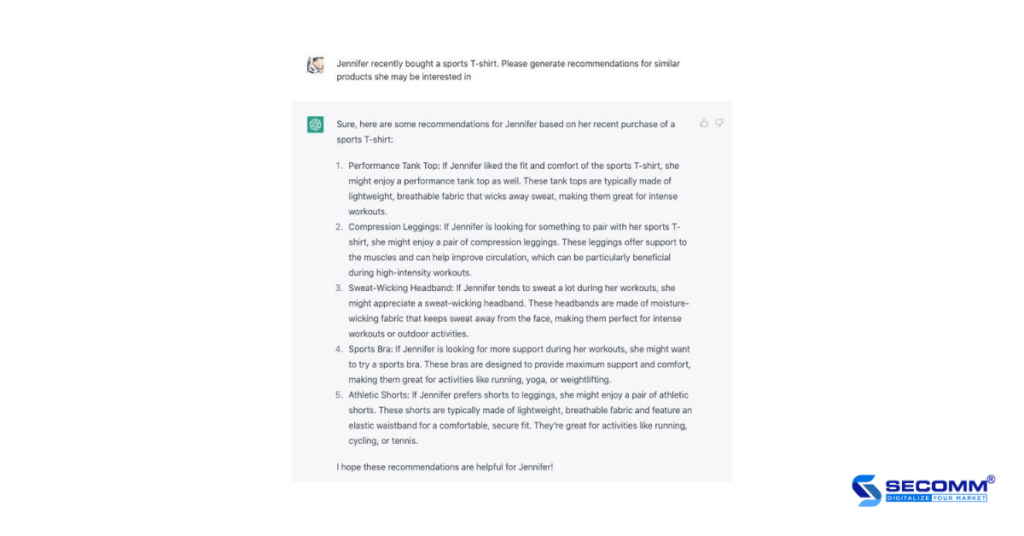 Generate social media content
Another way to use ChatGPT is to generate engaging social media content. 
For example, a company can use ChatGPT to generate promotional posts on social media platforms to introduce features and benefits of products engagingly and excitingly. Posts can include a caption, image, or video to highlight the advantages of that product. By leveraging the power of ChatGPT, businesses can promote their products and reach new customers on social networking sites effectively.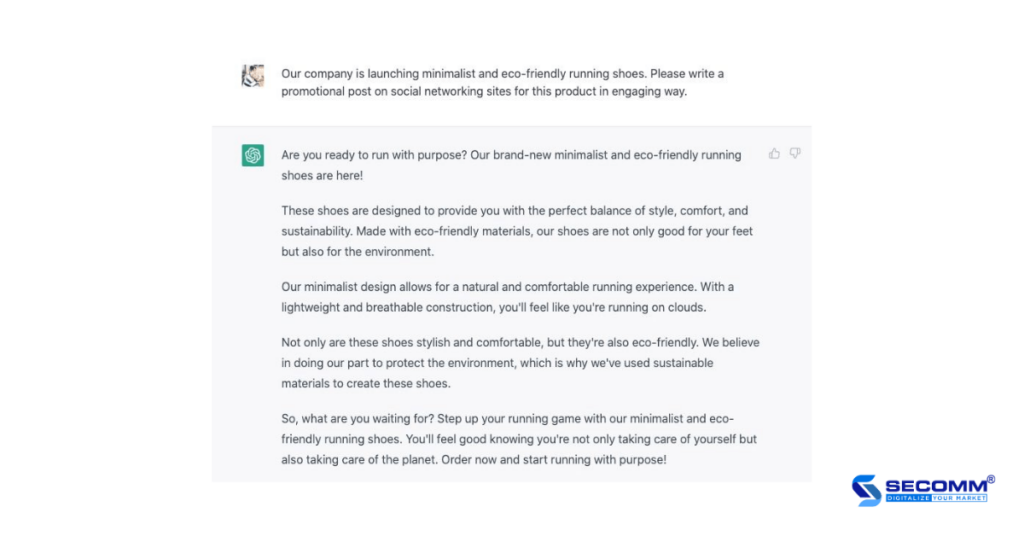 Generate email marketing campaigns
Running email marketing campaigns enables eCommerce businesses to build relationships with their customers, advertise their products and boost sales. By sending personalized ideal emails to customers and prospective customers, businesses can earn customer loyalty and encourage repeat purchases. 
ChatGPT can be used in your email marketing campaigns targeting specific customer segments to achieve the desired results.
Example: Jennifer is a regular customer of a sports fashion company. Now the company launches eco-friendly sneakers with a minimalist design. The company uses ChatGPT to compose content for email marketing campaigns to introduce Jennifer to new products and ideal incentives for loyal customers.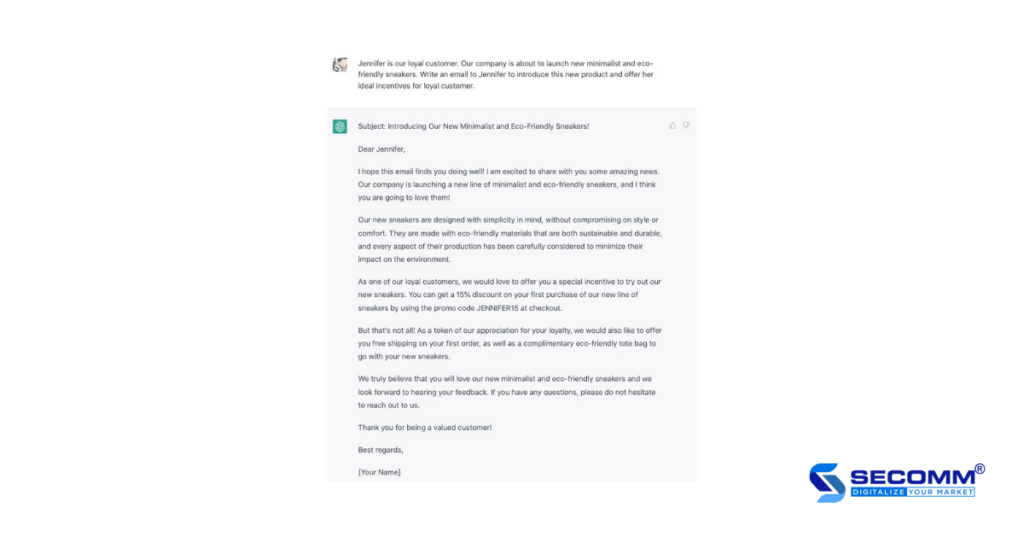 Enhance customer service
eCommerce business owners can use ChatGPT to handle customer requests in a personalized way. It could be responding to inquiries about order status, product availability, shipping fee, or return concerns. By providing ChatGPT demographic information such as age, gender, and interest, it will immediately generate text for a specific customer in a specific case. That helps increase customer engagement and conversion rate. Businesses will free up time and workload for the team to focus on more important tasks. 
For example, if a customer named Jennifer asks for a return process, ChatGPT can generate a response with detailed information including requirements and time for return.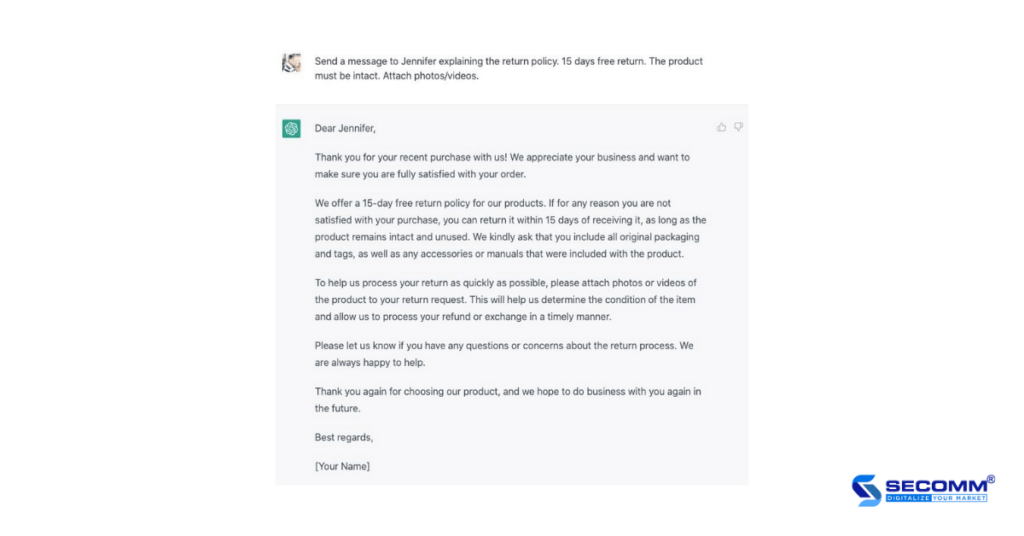 The downsides of using ChatGPTin eCommerce
Like every AI-powered tool, ChatGPT has its downsides when used in eCommerce. 
Firstly, although ChatGPT helps generate content for marketing campaigns quickly and automatically, it still can't compete with the original writing by humans. If people depend too much on ChatGPT, their writing will become robotic and clunky which might affect their marketing campaigns the most. 
In addition, as mentioned above, ChatGPT is trained by reinforced learning. This leaves room for issues since the information ChatGPT "learned" might not be accurate, hence generating wrong answers for users.
Last but not least, businesses should use ChatGPT with caution. They might want to clarify the information given by ChatGPT carefully before using or publishing their content, which could harm the businesses' reputation when incorrect or misleading information is used. 
Every business owner today can use the five most effective ways to use ChatGPT in eCommerce to stand out from the crowd. Yet, it's not easy to use it properly and make it an important factor of eCommerce business without being dependent. 
Talk to SECOMM now to get started.