Fashion eCommerce has shown excellent development potential in recent years, with a worldwide market worth USD 759.5 billion in 2021 and predicted to reach USD 1 trillion by 2025. Clothing (+12.7%), Footwear (+11.6%), and Bags and accessories (+8.5%) are expected to increase the fastest in 2023.
Furthermore, fashion is one of the "four pillars" of Vietnam's e-commerce economy, accounting for 43% of all online purchases, trailing only the eGrocery industry. According to the e-Conomy SEA Report 2021, 47% of Vietnamese respondents think that fashion eCommerce has become a consumer purchasing habit.
Despite the numerous prospects, this industry has multiple problems, including numerous rivals, continually changing consumer preferences, pushing firms to diversify models, Omnichannel sales to create more customer touchpoints, and so on.
As a result, to properly deploy fashion eCommerce, company managers must examine various elements, including the fundamental factor of developing a website. Among eCommerce platforms such as Shopify, BigCommerce, and WooCommerce, Magento is renowned as a platform used by many famous brands to establish eCommerce, including Canifa, Hoang Phuc International, OnOff, and others. So, why have these companies selected Magento?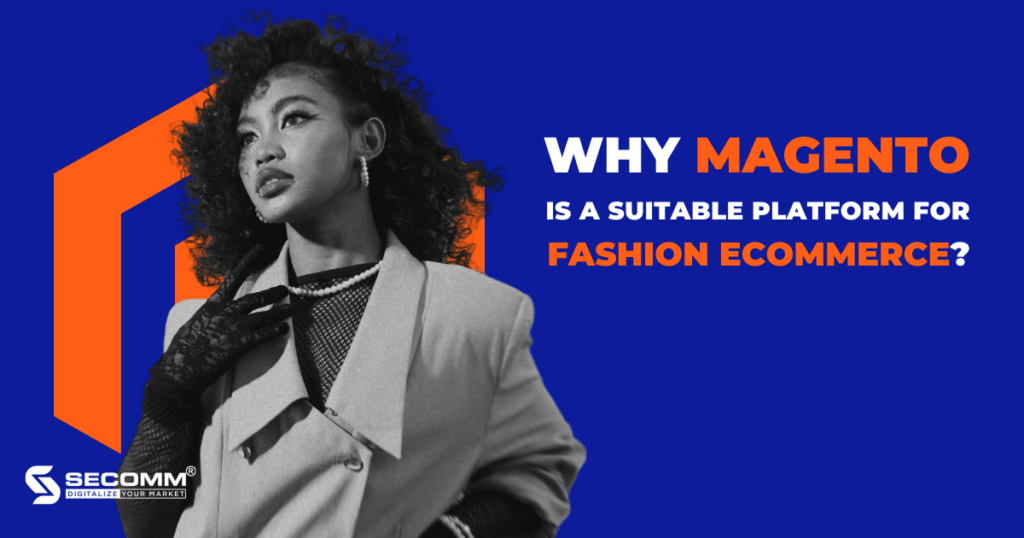 Fashion eCommerce requirements
Website interface
The demanding consumer base with excellent aesthetic sensibility is a common element of the fashion sector. This necessitates that fashion firms concentrate on the design of the eCommerce website interface, particularly the homepage, which must be professional and eye-catching.
The disadvantage of online fashion purchasing is that you cannot "See it with your own eyes, touch it with your own hands." Therefore, the more detailed and colourful the image/video, the more authentic and trustworthy it will appear to buyers.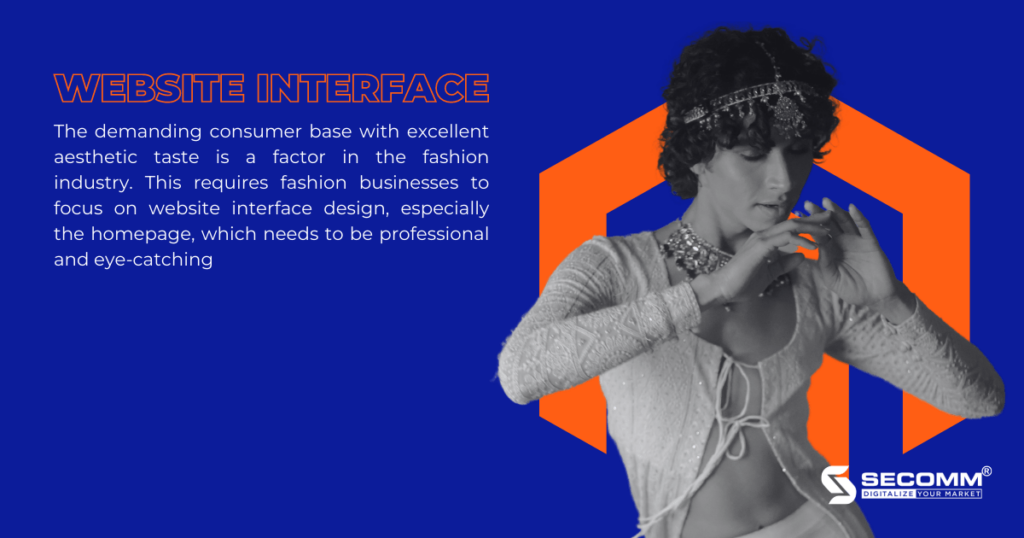 In terms of the UI (User Interface), visualisation affects the capacity of customers to engage with the website, helping to answer the question: "Has the user being able to navigate clearly from one page to another in a convenient way? "
Another website interface design is user experience (UX), from consistency in call to action button (CTA) or illustration locations, everything should be more convenient to create the most consistent experience for all website users.
Functional system
Many functionalities are required for an online fashion business website to satisfy industry requirements.
The fashion sector is distinguished by multichannel sales and numerous client touchpoints. For instance, on e-commerce platforms (Shopee, Lazada, Tiki, Sendo), social networking channels (Facebook, Tiktok, Zalo, Instagram), and e-commerce websites and applications. When implementing eCommerce for fashion companies, administrators must employ an Omnichannel approach.
Usually, the fashion industry will have a lot of product categories and collections, from clothes, and shoes, to bags and accessories, so consumers' need to search for products on the website and e-commerce app is very high. From there, businesses should build multi-layer menus and advanced product search functions by keywords or filters to serve the needs of searching and navigating customers.
Furthermore, because fashion is a highly competitive market, the more influential the communication strategies, the more orders the brand will obtain. Loyalty Programs, Livestream, Shoppertainment, Affiliate Marketing, and other fashion-related communication strategies on websites and mobile apps.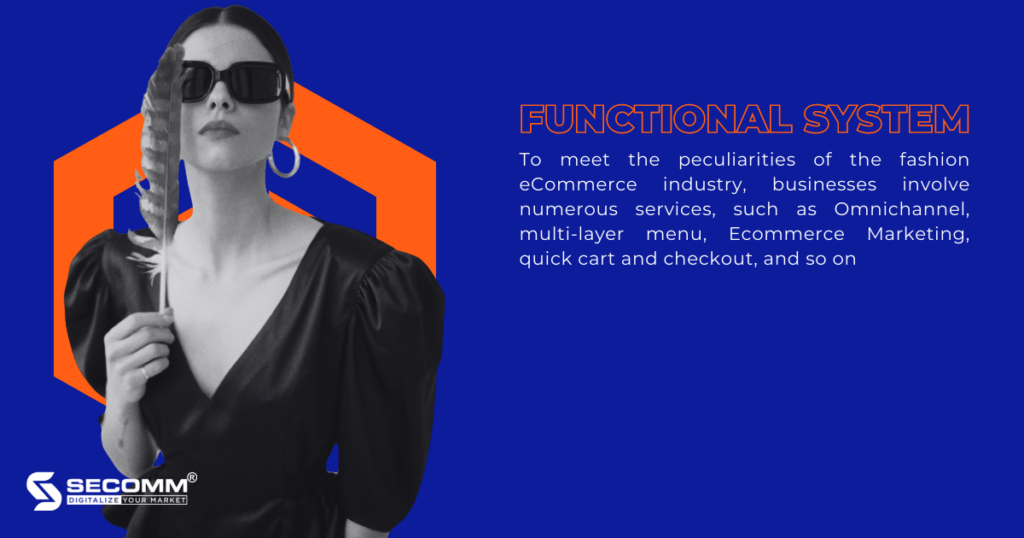 Clothing, bags, shoes, and fashion accessories are frequently low-involvement goods, thus creating a rapid shopping cart function would assist consumers to speed up the purchase process, increasing online sales for businesses.
Businesses should construct a feature to help categorise consumers to take care of and tailor the experience for each type of client in the fashion sector, which frequently has several customer groups, such as new, old, and VIP. From there, organisations will gradually use the understanding of each sort of consumer to develop better business solutions in the future.
After all, fashion eCommerce systems must frequently manage high traffic levels during peak seasons.
Integration
Businesses require a highly integrated website construction platform to properly execute fashion eCommerce, including Omni-channel, management system, payment, shipping, analytics, and reporting.
Because the fashion industry is distinct, it needs considerable coverage across all sales channels to reach many potential customers. Therefore, while implementing eCommerce, businesses have to use an Omnichannel strategy. However, to synchronise all data from front-end to back-end when deploying Omnichannel, companies require a highly linked system across all sales channels.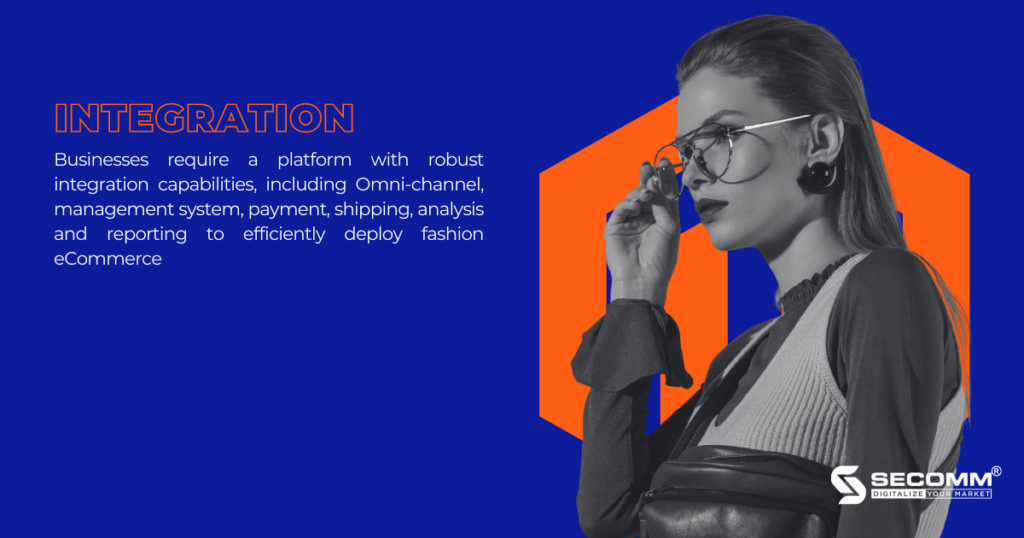 Simultaneously, fashion firms frequently utilise several third-party management systems such as POS, CRM, ERP, and BI, so businesses must find an eCommerce platform that can combine and manage all data information on" a single screen"
Furthermore, companies must vary payment and delivery methods so that clients have more options when buying fashion goods.
Finally, organisations must integrate analytics and reporting tools to provide real-time measurements with the most user-friendly reporting table. From there, firms could provide more practical guidance in the future.
Scalability
Fashion businesses will have many different sizes, from startups, SMEs (small and medium enterprises), and new entrants to large corporations. Moreover, each business will have a different operating model, such as B2C, B2B2C, and so on.
All sizes and operating models will have unique requirements for each stage of brand development, so businesses need a platform to accompany them throughout the journey, preventing the circumstance of switching platforms consumes time and money when firms install eCommerce.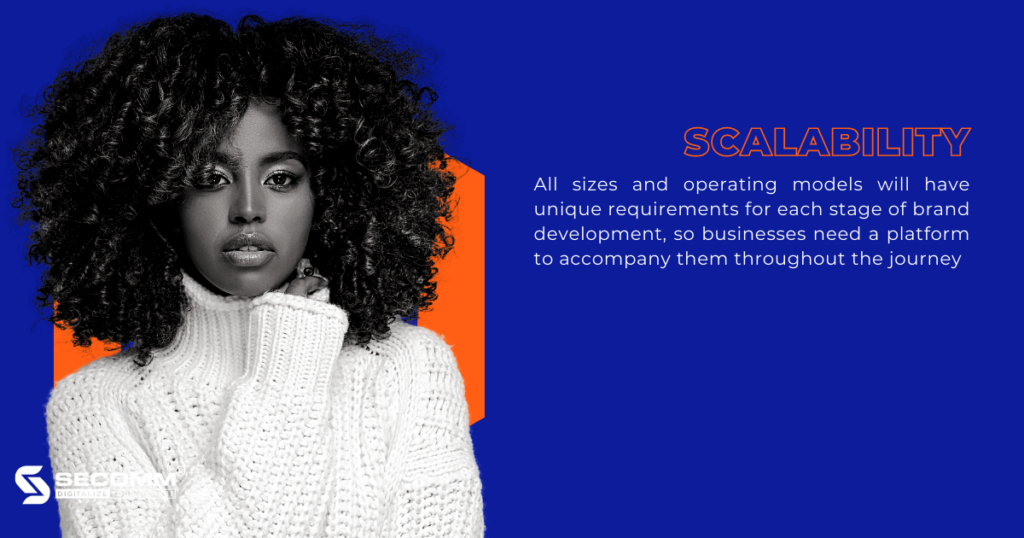 In summary, companies require a comprehensive platform to efficiently implement fashion eCommerce for the long run, including website interface, functional system, integration, and scalability.
How does Magento solve the eCommerce problem for the fashion industry?
Website interface
When designing a fashionable eCommerce website interface on the Magento platform, businesses have many choices, including using existing themes, customising themes, and designing their own interface.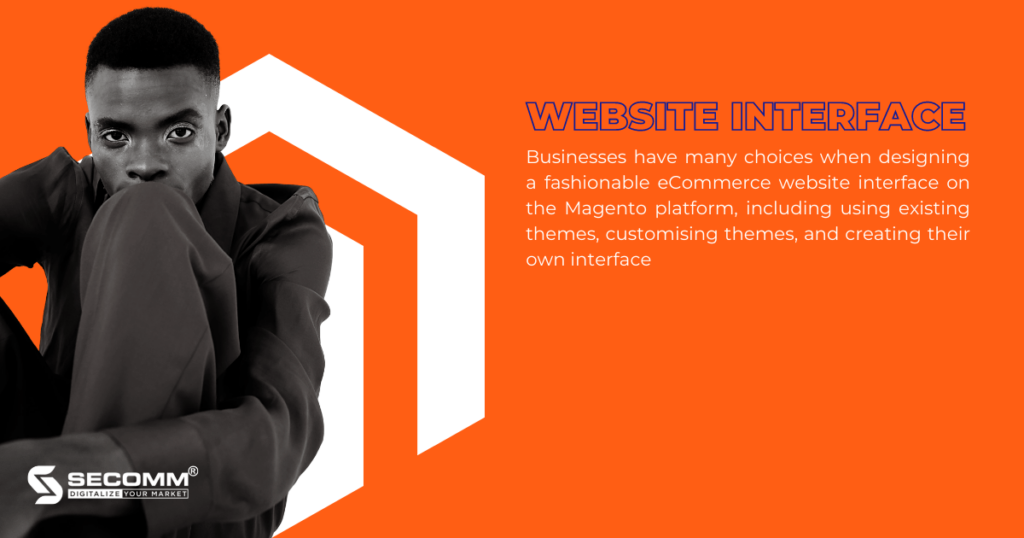 For using existing themes, companies may find these in the marketplace, developer community, or partner for Magento-specific themes in the fashion industry. This helps businesses reduce the expense of interface design, but it limits firms' brand positioning because the interface is easily imitated by other websites.
For customising themes, businesses can save money and add brand identification aspects like colours, fonts, layout and so on. However, to efficiently set up and customise the website interface, businesses require a team with significant knowledge and experience.
For designing their own interface, businesses will have a "tailored" website for their fashion brand. However, this will necessitate a more significant investment in development expenditures and a more competent workforce.
When using Magento to develop an eCommerce website, most fashion businesses often choose a customised theme or design their own interface to support a centralised eCommerce business.
Functional system
The Magento platform has all the capabilities needed to create a comprehensive eCommerce website, from essential to complex. At the same time, this platform permits the development of custom functions to tackle unique difficulties in the fashion business.
Basic features that assist businesses in running an efficient and seamless fashion eCommerce website, such as:
Catalog Management: Manage all data, processes, categories, attributes, prices, inventory quantities, and images/videos to operate and optimise the efficiency

Store Management: Manage product inventory and each branch's business activities and personnel

Cart and Checkout: Manage the shopping cart and customers' information when they check out

Customer Management: Manage customer information to increase marketing efficiency, purchase experience, and customer satisfaction

Marketing Management: Optimize SEO and implement marketing strategies with tools to increase business sales

Sales Management: Create and manage sales, order, payment, and shipping processes

Content Management: Create and optimise all content elements for CMS pages, image storage, customise themes, and design websites

System Management: Delegate administrators to review the best methods for website security and maintenance

Analysis and Report: Support tracking and measuring eCommerce system performance and developing future strategies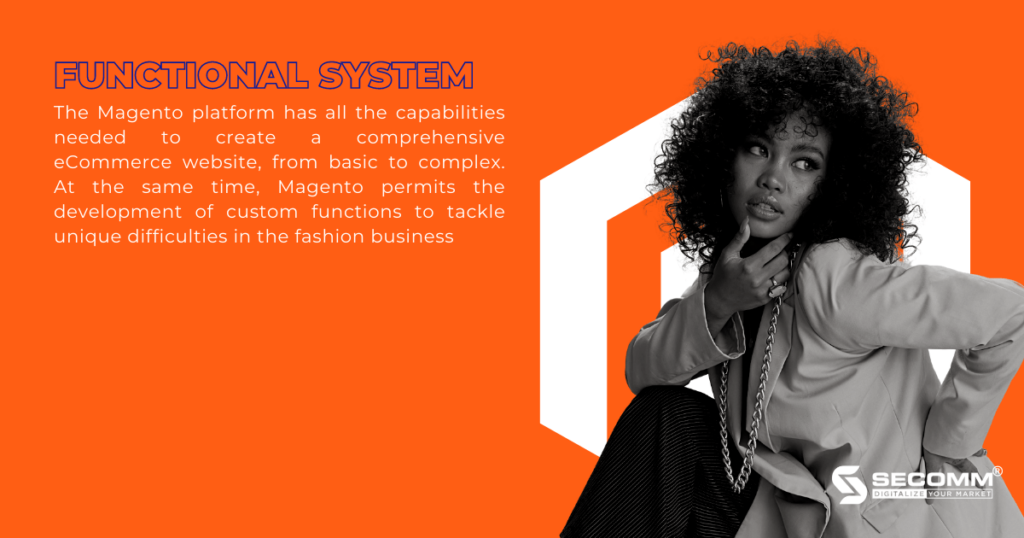 Advanced functionality that enhances the online shopping experience for consumers, such as:
Advanced features that improve the online buying experience for customers, such as:

Advanced search (Elasticsearch, live-search) to improve the website's ability to locate items.

PWA (Progressive Web Apps) allows the website to have the same mobile functionalities and interactions as a native app.

Advanced SEO to examine indexed web pages, assess the SEO quality of each page and make recommendations to improve website ranks.

MSI (Multi Source Inventory) aids in the administration of items across several stores, significantly increasing inventory management.
Specific functions are those that assist businesses in dealing with fashion industry issues, such as:
The multi-layer menu aids in displaying the range of fashion products

Advanced search to help consumers find the product they're looking for

View 360 to see fashion product details

AR/VR to replace the real shopping experience
In general, Magento can create any sophisticated functional system, with infrastructural development before and after depending on the demands of each organisation.
Integration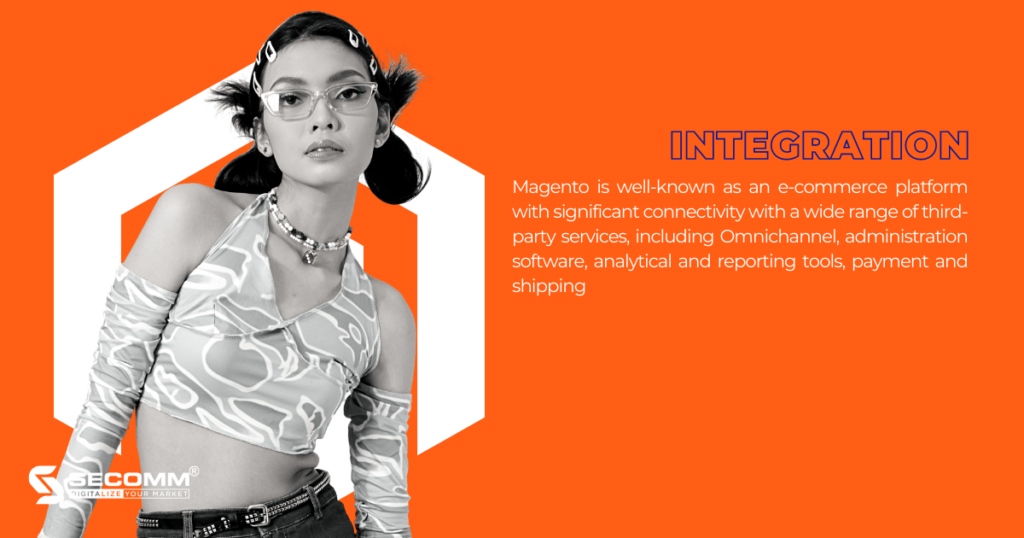 Magento is well-known as an e-commerce platform with significant connectivity with a wide range of third-party services, including Omnichannel, administration software, analytical and reporting tools, payment and shipping.
Payment: Easily link the Magento system with current popular payment methods such as card payment (VISA, Mastercard), e-wallet (MOMO, Zalopay), payment gateway (OnePay, VNPay, PayPal) or COD to help diversify payment methods

Shipping: Easily integrate shipping providers like Giao Hang Nhanh, Giao Hang Tiet Kiem, Ninja Van, Viettel Post and shipping tracking applications to optimise delivery processes

Administration software: Integrating with back-office management and operation software (ERP, CRM, POS) like SAP, Salesforce, Ocracle to help operate all processes and resources in the organisation

Business Intelligence tools: Link with business analysis tools like Power BI, Tableau, and Looker to offer database-driven analysis and reporting

Omnichannel: Combine all sales channels on the same system to control data and operations from offline to online business
Scalability
Magento allows organisations to extend from one website to many distinct websites on the same system to satisfy the requirements of company-scale development. This implies that organisations can access and manage data from a single central Magento system.
With Magento's language-switching functionality, businesses can create an attractive eCommerce website with customer-friendly content and languages. Furthermore, the Magento system enables businesses to effortlessly exchange currencies, allowing them to grow into new markets in a variety of nations.
From then, Magento can help businesses scale and function effectively without switching to another eCommerce platform from the beginning of business through the period of expansion.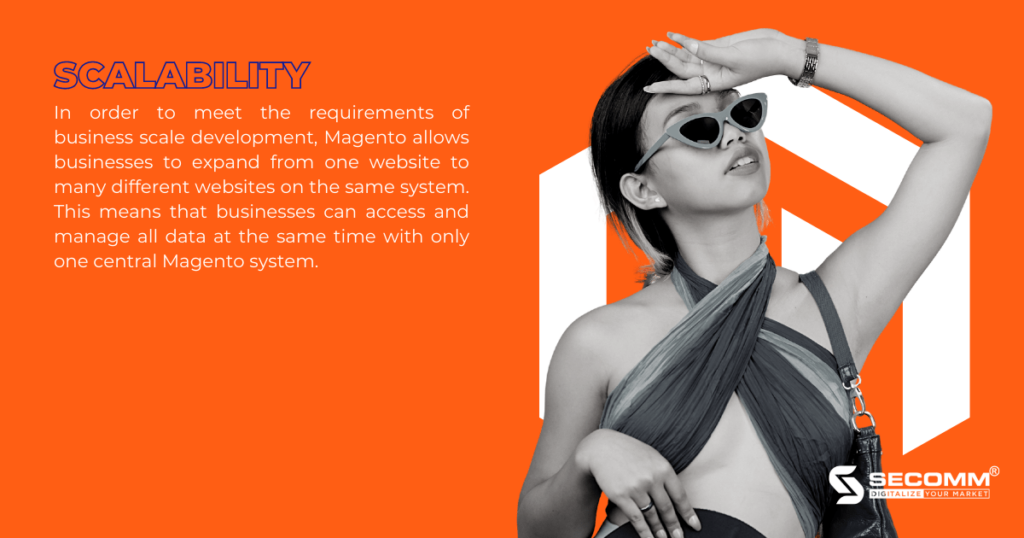 In a nutshell, Magento is an e-commerce platform that caters for the demands of all types and sizes of fashion businesses, from website interface design and functional system development to integration and scalability. However, there are numerous challenges that firms must overcome when implementing fashion eCommerce with Magento, such as high installation costs, long construction times, and the requirement for highly skilled employees.
Recognising the aforementioned business difficulties, SECOMM provides free consultation services on technology and resource solutions for each company. 
Contact SECOMM now for more details!