According to the latest data compiled by Statista, as of January 2023, the number of global smartphone users is 6.92B people, increasing by 4.2% annually. In Vietnam alone, this number is around 69 million users, whereas, in the US, Pew Research Center estimates that about three-fourths of Americans own a smartphone. These data demonstrate that smartphones have become common devices, and the demand for owning and using smartphones is significantly increasing. 
In addition, the Internet has long ceased to be a high-end infrastructure for countries. Therefore, people today tend to prioritize using mobile devices like smartphones to browse the web. 
Typically, Brands tend to establish a strong presence in areas with a wide pool of potential customers, so the emergence of Mobile Commerce quickly gained acceptance and became one of the key business strategies of many enterprises. 
Moreover, the appearance of the Covid-19 pandemic in 2020 became a great boost for eCommerce in general and Mobile Commerce, in particular, to explode strongly.
During that period, the smartphone became the shopping companion of users as 79% of users used their smartphones or other mobile devices to shop online, as reported by OuterBox. Despite the eventual end of the pandemic, the Mobile Commerce growth trend is projected to continue as mCommerce retail sales hit $415 billion in 2022, and are predicted to reach $710 billion by 2025.
What is Mobile Commerce?
Mobile Commerce or Mobile eCommerce, abbreviated as m-commerce or mCommerce, is also known as Thương Mại Di Động in Vietnamese. This term was first coined and used by Kevin Duffey at the Global Mobile Commerce Forum in 1997, which means "providing direct eCommerce capabilities to consumers, anywhere, through wireless technology". 
Simply put, it is a business model in which all online monetary transactions are conducted on mobile devices such as shopping, banking, eWallet transactions, ride-hailing, food delivery, hotel reservations, etc.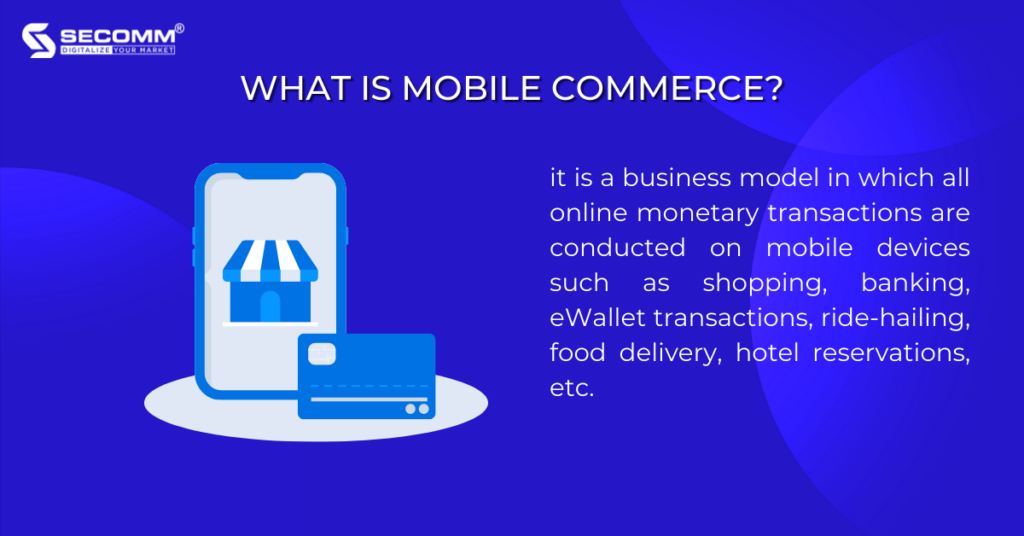 mCommerce vs eCommerce 
eCommerce or electronic commerce is a relatively broad concept that refers to the buying and selling of goods and services over the Internet. Meanwhile, Mobile Commerce is a branch of eCommerce or the mobile version of eCommerce, specifically referring to electronic commerce transactions carried out on mobile devices.
Furthermore, the eCommerce shopping experience depends heavily on desktops and websites, making it less mobile-friendly and inconvenient for customers. On the other hand, with Mobile Commerce, customers can easily bring their devices with them anywhere, allowing businesses to provide personalized shopping experiences that help customers make quick purchasing decisions.
Top Mobile Commerce Trends Are On The Rise
Thanks to the popularity of smartphones in every consumer's life, related trends are on the rise such as mobile shopping, mobile payment, and social commerce.
Mobile Shopping Apps
Mobile shopping apps are becoming more and more popular and are the most prominent trend in mobile commerce. Many retail brands across various industries are investing in building and developing their own eCommerce apps such as the fashion industry, the cosmetic industry, and so forth. This not only helps businesses increase their conversion rates and sales but also makes the shopping experience easier and more convenient for customers, as they will be able to search for products and complete purchases right on the app.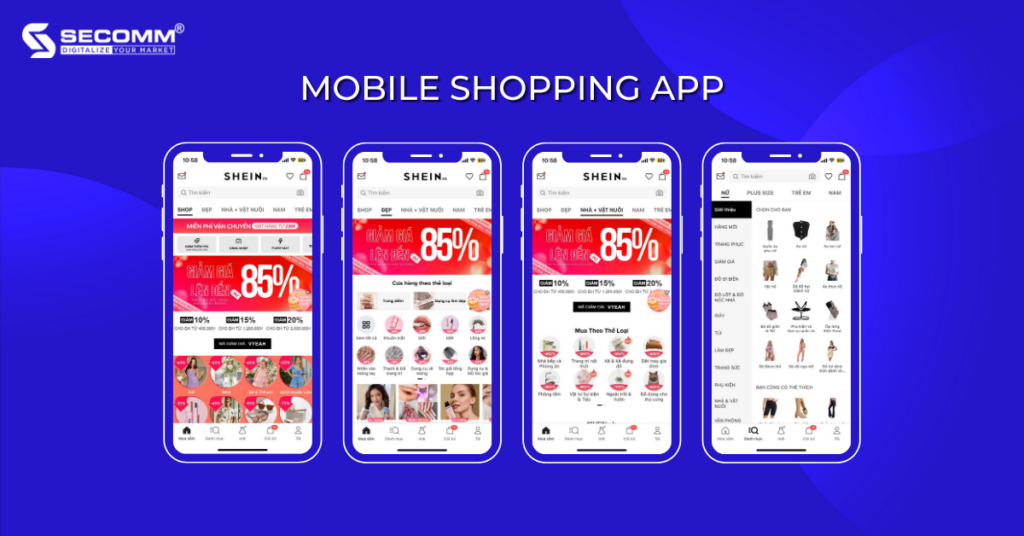 In addition, the outbreak of the Covid pandemic and the establishment of social distancing measures in 2020 marked the beginning of the boom of shopping apps. As stated by the Mobile Shopping Report 2021, global usage of shopping apps increased by 40% in Q1 2021. 
In the effort to develop sustainably amidst the pandemic crisis, the SHEIN app with nearly 15.5 million global users played a significant role in contributing to the company revenue of $9.81 billion in 2020.
As of 2021, SHEIN's mobile app reached 43.7 million users and became the second most downloaded app in the world after Shopee. In 2022, SHEIN's user base grew to 74.7 million and officially became the most downloaded mobile app globally in the shopping category with over 229 million downloads and installations from the App Store and Google Play
Mobile Payment Apps
The usefulness of smartphones not only lies in online shopping but also makes transactions and payments more convenient and easy during the peak period of the pandemic. In addition to Mobile Banking applications, users have a special preference for mobile wallet or eWallet applications.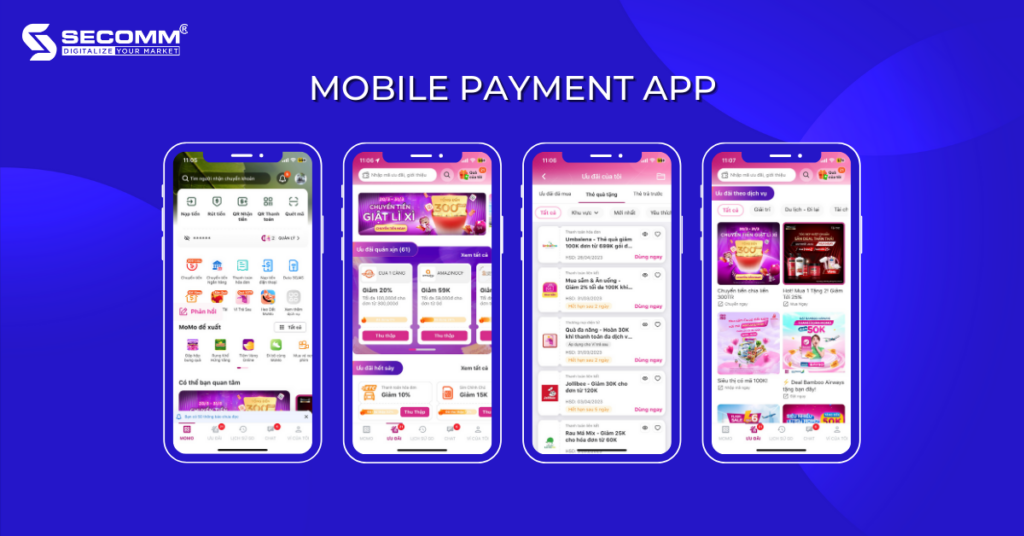 In the Vietnamese market, when it comes to eWallets, people immediately think of MoMo. However, MoMo is not only known as a typical eWallet but also an incredible super application.
To date, MoMo has built a platform that provides about 400 different types of services in many fields such as consumer finance, insurance, money transfer, payment, entertainment, shopping, dining services, and charity donations, etc. The number of MoMo users has increased significantly in recent years, from 10 million users in 2019 to about 31 million users in 2022, and the company's next target is at least 50 million users.
Social Commerce
In addition to making their mobile shopping apps, selling on social media platforms is also one of the widely applied strategies. The popularity and large user base of social media are a solid foundation for the development of Social Commerce and a playground for merchants of all sizes. Social Commerce is a form of online selling through social media platforms like Instagram, Facebook, and TikTok.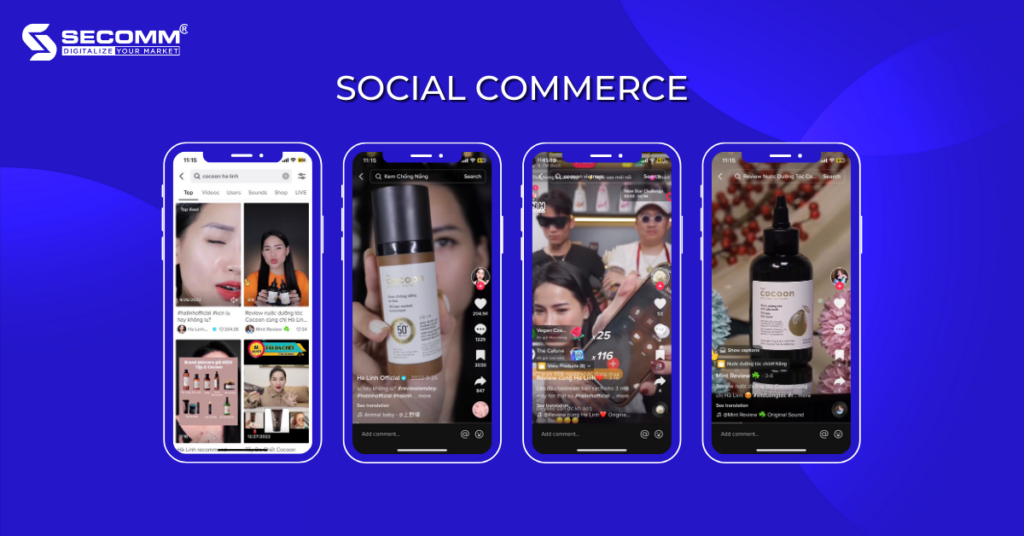 Selling on social media will help brands reach the existing large user base and utilize influencers for their marketing campaigns. 
For example, the vegan cosmetics brand Cocoon does this through TikTok Shop. Cocoon is known for its environmentally friendly and animal-testing-free products, and they opened a store on TikTok and collaborated with famous beauty vlogger Ha Linh, which brought them a lot of success. It not only boosted their sales but also reached nature-loving, animal-loving, and young customers on TikTok.
Benefits of Using Mobile Commerce
Convenience and Accessibility
As mentioned, the global number of smartphone users is estimated to reach around 6.9 billion by 2023, which is a driving force for the development of Mobile Commerce. Anyone who owns a smartphone has the potential to become a customer. As a result, implementing Mobile Commerce will help businesses reach this enormous user base, nurture and generate conversions. 
In addition, with the mobility of Mobile Commerce, smartphone users with internet access can shop anytime, anywhere, even on the go without being dependent on a fixed location. Especially when visiting a store to shop, instead of paying in cash or by card, customers can now pay through eWallets such as MoMo or VNPay, etc.
Offer Personalized Experience
Currently, businesses are very focused on personalized customer experience, which is particularly important in the Mobile Commerce world. A smartphone is a personal item that each person carries out personal activities throughout the day. Moreover, in the online shopping trend, customers highly value brands that provide them with a personalized experience because it demonstrates the brand's concern for its customers. As a result, the more businesses focus on details and personalization in their messages and promotional programs, the better. 
For Mobile Commerce, push notifications are an effective solution. Mobile Commerce apps help businesses track and collect user data including personal information, social media accounts, interests, current location, purchase history, viewed products, etc. After that, they can combine and analyze the data to send appropriate messages to the right target audience through push notifications.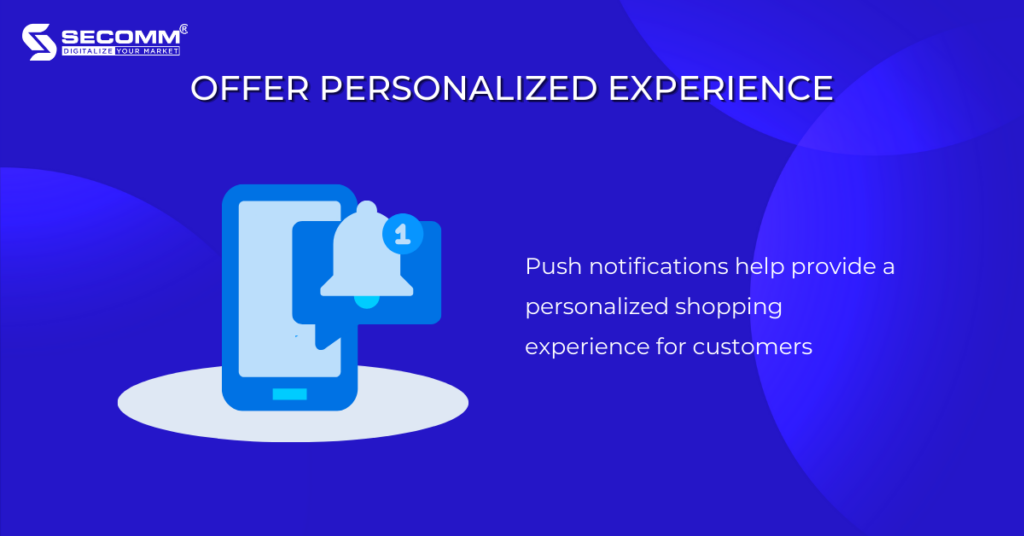 Recent studies have shown the effectiveness of push notifications in connecting with customers and notifying them about new products and special incentives. 
The open rate of push notifications is 90%.

This open rate is 50% higher than email marketing.

Up to 55%-60% of mobile app users agree to receive push notifications.

70% of them find push notifications useful.

52% of users search for related information and promotional programs after receiving and reading push notifications.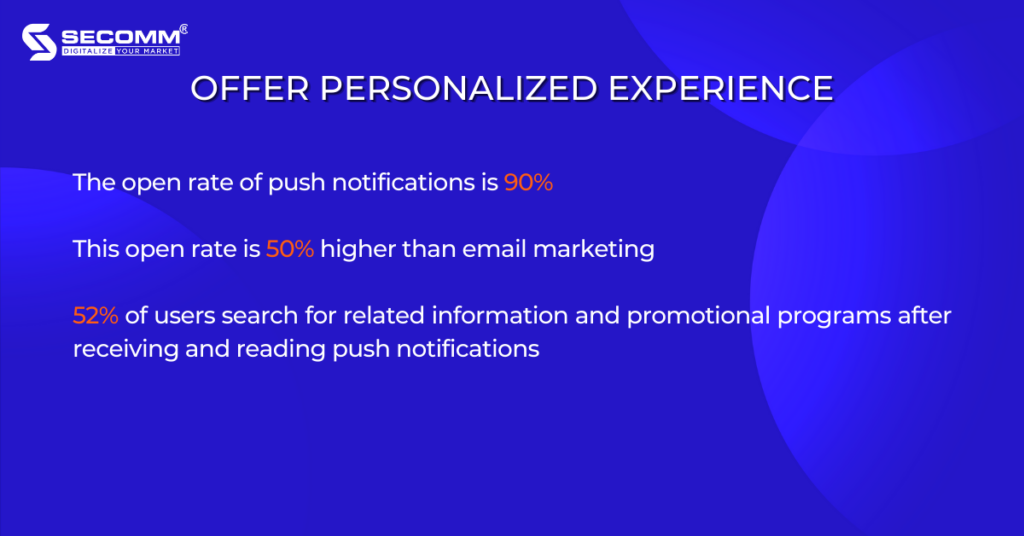 Push notifications are one of the strategies implemented to provide personalized shopping experiences and bring satisfaction to customers. The more satisfied customers are with their shopping experiences, the higher the likelihood that businesses will increase customer retention rates and maintain their loyalty. 
Provide Omnichannel Shopping Experience
The demand for a personalized shopping experience is increasing among customers, as well as the need for a consistent shopping experience across multiple channels, from online to offline stores. According to a study by MasterCard, customers who have a multi-channel shopping experience with a specific retailer tend to spend 250% more than the average. The fashion brand Macy's has stated that the value of multi-channel shoppers is 8 times higher than that of those who only shop on a single channel.
Moreover, smartphone users tend to use their devices while shopping in offline stores for various purposes, as Retail Dive's survey has listed in detail: 
58% search for product information;

54% compare prices;

40% collect vouchers or coupons;

33% access the mobile app of the business;

22% scan QR codes.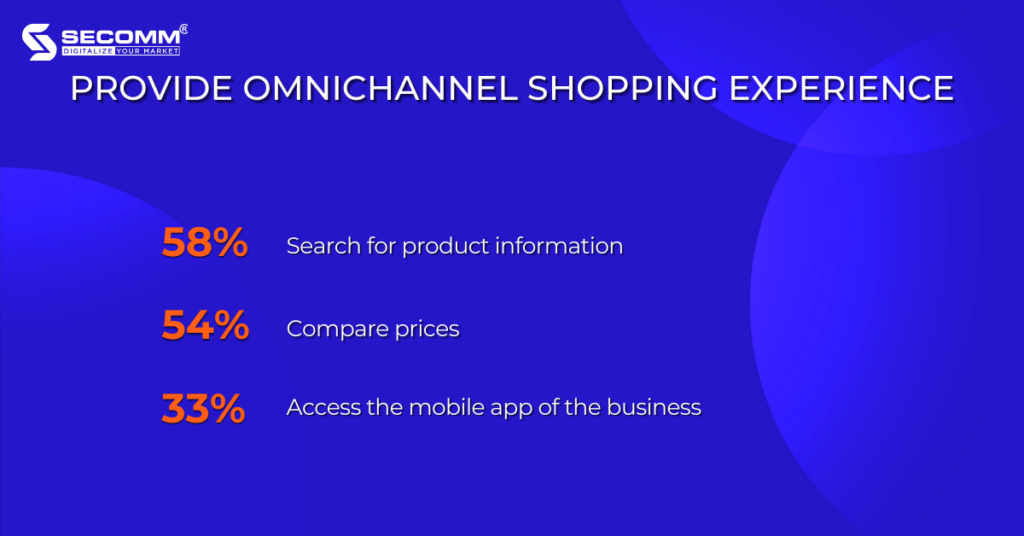 Therefore, by implementing Mobile Commerce, businesses can provide customers with a multi-channel shopping experience.
Mobile Commerce is exploding thanks to the boost from the Covid pandemic. Even though the pandemic has passed, the impact of Mobile Commerce on the development of eCommerce businesses is still significant. If businesses plan to approach Mobile Commerce in 2023, it is a wise decision.
Contact SECOMM today to learn more about Mobile Commerce and the best solutions to get started.