Retails has miraculously recovered from the global pandemic and is expected to make a breakthrough in the years ahead. One of the ways to embrace eCommerce is the O2O model, which combines online and offline operations. 
The benefits of implementing O2O Commerce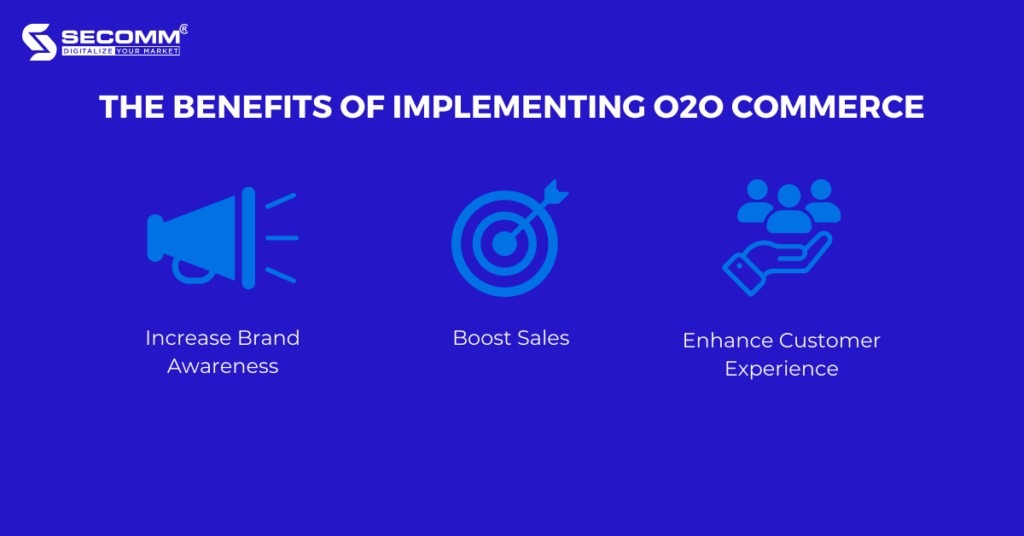 Increase Brand Awareness
One of the big challenges of physical stores is how to raise brand awareness among potential customers who are far from the store location. Using online-to-offline marketing strategies can increase the public's awareness of a business's brand. That way, businesses will be able to reach an influx of customers and boost their awareness of the brand and its products which then lead to higher sales volume and massive revenue.
Boost Sales
Despite the rapid development of eCommerce, brick-and-mortar stores still maintain stable sales because many customers still prioritize visiting stores to shop. A recent study indicates 46% of responders said they preferred shopping at a brick-and-mortar store because they want to touch, feel and try the products physically before making purchases. Another interesting fact is customers are likely to spend more money while in the store.
For example, a man comes to a bookstore to buy a notebook, then he looks around and decides to buy some more pens. In case he buys the notebook online, he may only buy it. Thus, the O2O Commerce model is a good choice as businesses can not only use online channels to raise brand awareness but also overcome the limitations of offline channels to earn massive revenue.
Enhance Customer Experience
The incredible combination of online and offline channels makes the customer shopping experience more seamless and interesting. Online platforms enable consumers to contact brands easily and immediately. When they want to ask for a product's details, they can send a message through Facebook Messenger or a chatbot on an eCommerce website and the supporting team will answer their questions instantly.
Based on the customer's data, businesses can offer product recommendations via online channels or the next time customers visit physical stores. In another case, if businesses run ad campaigns, they can notify their customers via online channels, which will help them to reach a larger audience with their online ad campaigns instead of just informing customers when they walk into the store.
Common strategies in O2O Commerce
BOPIS (Buy Online Pick-Up In-Store)
BOPIS is not a brand-new way to shop but has been around for a while. Merchants that provide this service can attract online shoppers to visit their brick-and-mortar stores. This way, customers will browse the eCommerce website to search for products, buy them and get notifications when the products are ready to pick up in the physical store. It's convenient for customers to select a specific time to come to check and get their orders at the store. Merchants gain benefits too with amazing cross-sell and up-sell opportunities.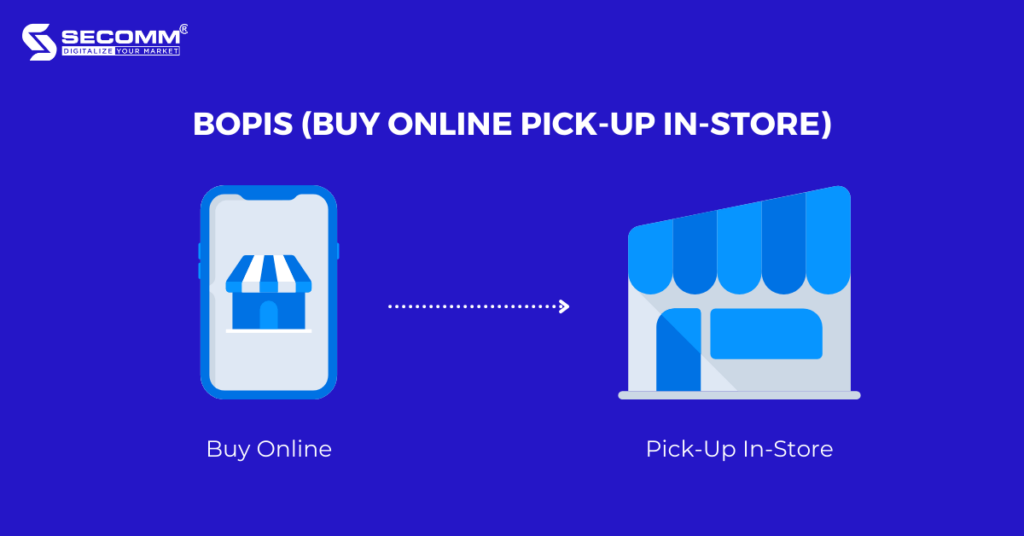 Home Delivery
Although BOPIS is great, it may not be every customer's choice as not everyone likes to go to the store to pick up the products, instead people prefer home delivery rather than the in-store pick-up option. Sometimes, shopping at the store also causes many inconveniences, for example, finding a parking lot to go to the store in a densely populated area, picking up the goods, and returning to the car, seems time-consuming and annoying for busy people.
To solve this problem, merchants can self-deliver if the store location is close enough and convenient for the delivery process to be fast and efficient. Otherwise, collaborating with delivery companies like Giao Hang Nhanh, Giao Hang Tiet Kiem, and so forth, is a good choice when the business resources need to be increased.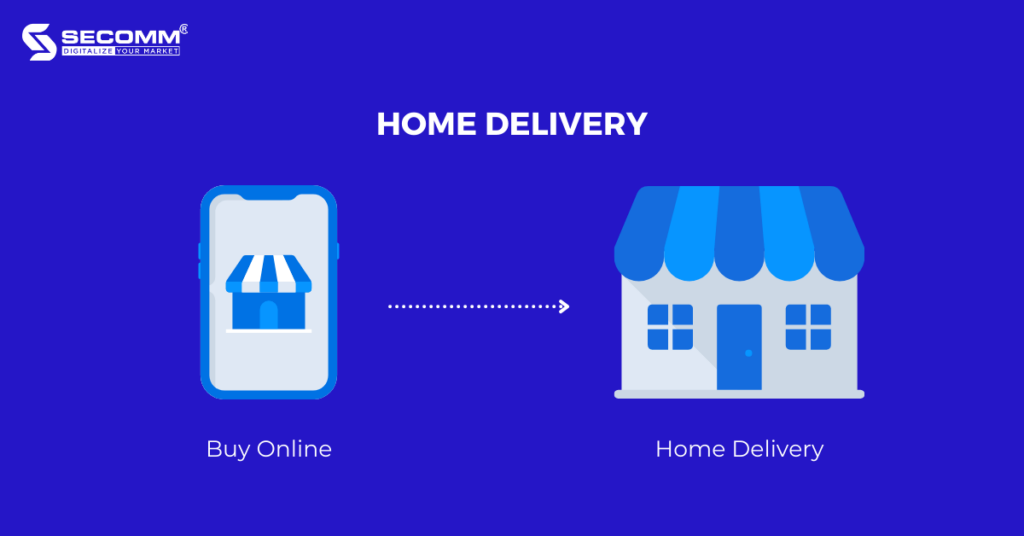 In-store Returns
Suppose a customer bought a product online but when receiving it, he realized it didn't fit his demand. There was a store nearby, so he decided to return the product he bought there. But when he arrived, the staff there didn't accept his return request because they had no clues of that purchase in the store's system.
Therefore, he had to return his order to the carrier and wait a long time before receiving his refund. That will make consumers wonder whether they should keep shopping with that merchant next time. Thus, in-store return has become a fantastic offerable solution for customers to avoid the hassle of returning goods. This method simplifies the return process for shoppers and merchants because returns and refunds are processed simultaneously, which means better customer service and a much faster return to stock.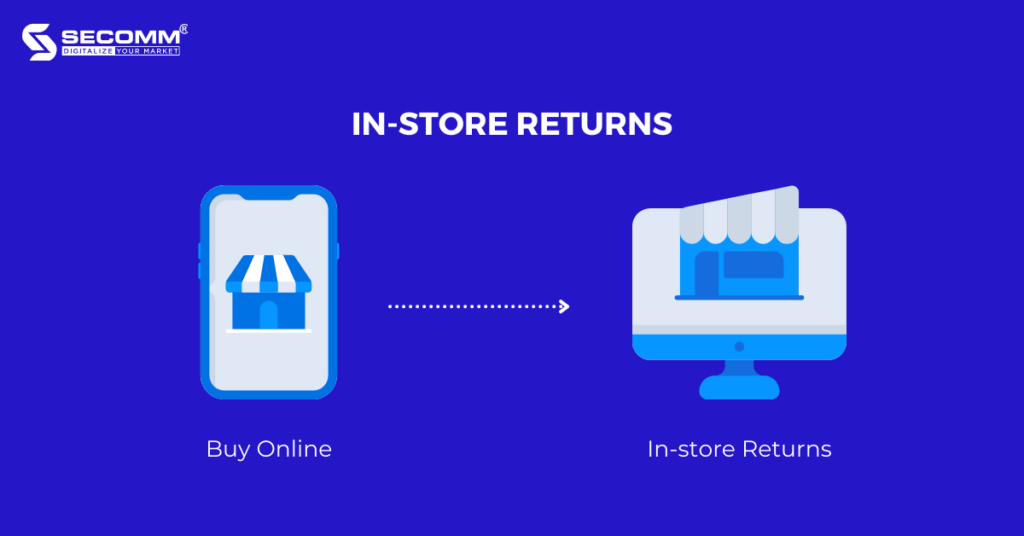 Loyalty Program
Loyalty Program is another great way to encourage customers to engage with the O2O shopping experience.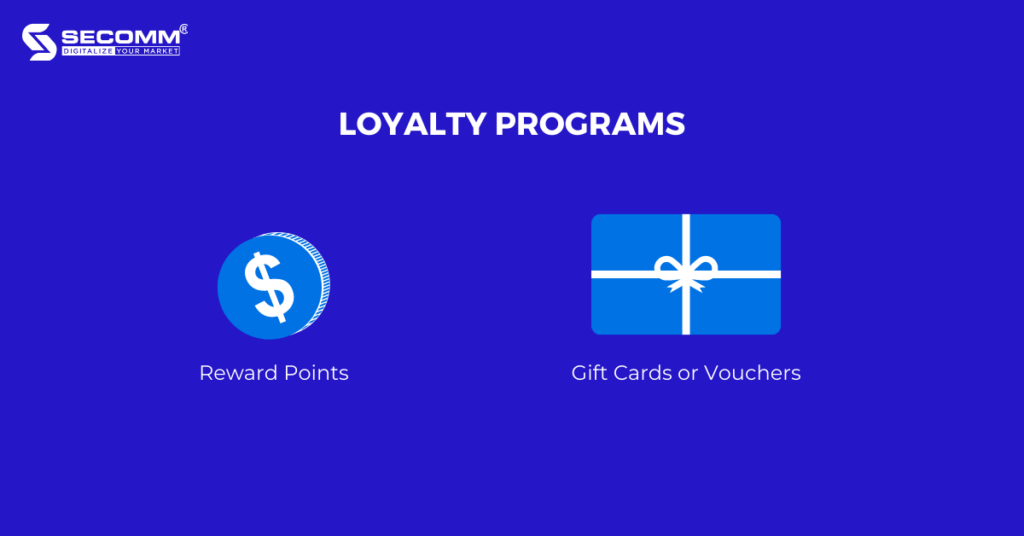 Reward Points
This is one of the popular types of loyalty programs. Every business can assign points to any items or user activities. While purchasing or joining any engaging program, customers will easily earn points afterward for later exchanging gift cards, vouchers, and even actual money which then encourages them to go back to spend more in order to get benefits from the gifts. As a result, reward points will boost sales and increase brand loyalty. 
Gift Cards/Gift Voucher
Gift cards can be used not just as gifting options but also as a powerful tool to get customers to spend in their outlet. Customers can use gift cards immediately or save for later purchases, or even give it to relatives and friends. As a result, relatives and friends are likely to become potential customers of the brand soon.
How to implement O2O Commerce in business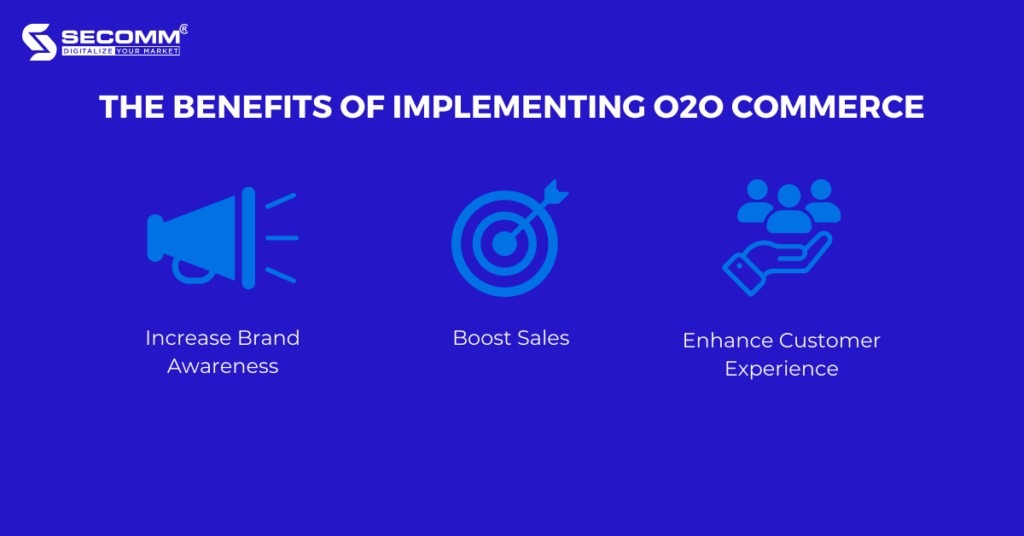 Identify Objectives
The first thing to do is identify the main objectives. If businesses haven't built their online presence, they should do it immediately due to the rise of online shopping. If businesses already have their online presence (eCommerce website, mobile app, marketplace), it's important to adjust their O2O Commerce strategy to increase sales online, offline, or both. They should also consider using some measurable metrics to ensure these objectives are appropriate and achievable.
Brainstorm Strategies
Next is working with a team to raise ideas for the O2O Commerce strategy. Here are a few suggestions:
Use performance analysis software to find out customer challenges in the purchasing process.

Use social media to connect the brand's eCommerce store to its physical store.

Implement the BOPIS process.

Provide home delivery for some or all items for both online and in-store purchases.
Then use these data to decide which strategies to try.
Measure Outcomes
Once deciding on strategies to deploy O2O Commerce, businesses will use collected data to measure the success of those strategies and make the next business decisions. Looking back on the initial objectives when evaluating and adjusting the O2O marketing and business strategy, then considering the additional objectives if the original ones have been achieved.
O2O Commerce solution at SECOMM
Founded in 2014, SECOMM is specialized in providing O2O Commerce solutions. Over the years, SECOMM owns a massive fortune of O2O commercial projects with major domestic and international customers such as, Annam Gourmet, Trentham Estate, etc.
In particular, SECOMM provides a variety of services to support businesses to improve their competitiveness and dominate the retail market in the digital age including Solution Consulting, Core-team Building, and O2O System Development, including: 
Business System
eCommerce system: websites, mobile apps

POS system
Administration System
Enterprise Resource Planning (ERP)

Customer Relationship Management (CRM)

Product Information Management (PIM)
Customer Experience Management System
Mobile Apps

Loyalty Program

Omnichannel Commerce
Data system
Analyzing and Tracking business data 

Business Intelligence 
Want to learn more about O2O Commerce as well as the best solutions to win the retail industry? Contact SECOMM now for a free consultation.