OpenCart and Magento have consistently been pitted against each other as open-source platforms for businesses in need of building specialized eCommerce websites, particularly for enterprises and corporations. 
So, which of these open-source eCommerce platforms, OpenCart or Magento, is the right fit for your business?
OpenCart vs Magento: Overview
What is OpenCart?
OpenCart is a freely developed open-source eCommerce platform designed in PHP. It's favored for its user-friendliness and simplicity, boasting an easy-to-navigate admin dashboard that allows product management, promotions, order processing, and reporting without requiring technical expertise.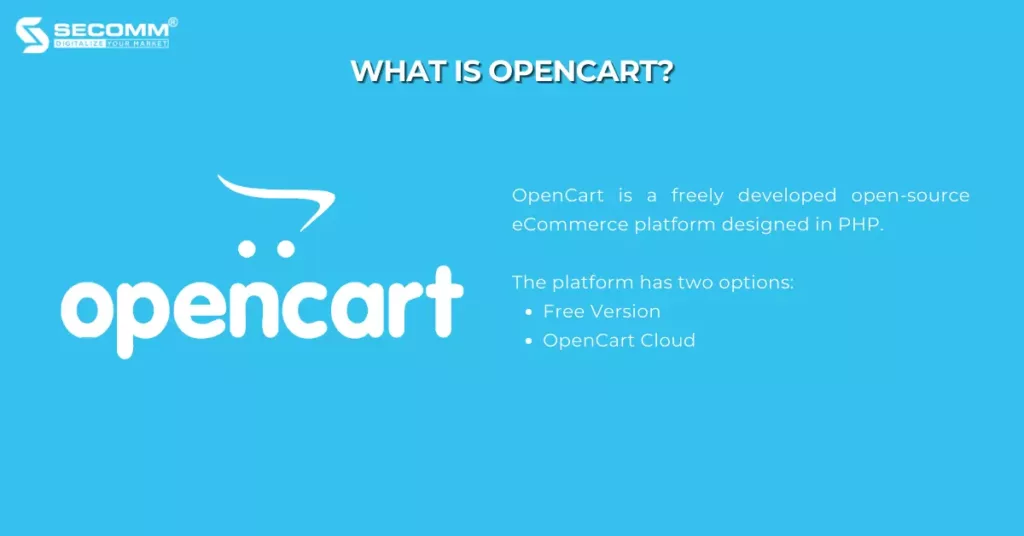 OpenCart offers two options for businesses:
Free Version: Ideal for businesses looking to build their website using OpenCart's pre-existing framework.

OpenCart Cloud: Suited for businesses seeking the expertise of OpenCart's professional team for website development.
As per Build With data, OpenCart has been adopted by over 400,000 websites, primarily by small to medium-sized businesses in the United States, Russia, the United Kingdom, Ukraine, and Brazil.
Related Reading: What is OpenCart? Key Pros and Cons of OpenCart
What is Magento?
Magento (Adobe Commerce), much like OpenCart, is an open-source eCommerce platform developed using the PHP programming language. Magento stands as the 'pinnacle' among all open-source eCommerce platforms due to its comprehensive control and high scalability, offering a plethora of specialized features.
At present, Magento provides three primary editions, which are:
Open Source: This free version boasts a wealth of exceptional features, making it suitable for businesses just starting with open-source platforms.

Adobe Commerce (on-premise): This self-hosted version is ideal for businesses seeking the readily available features of Adobe Commerce while maintaining hosting independence.

Adobe Commerce Cloud: This cloud-hosted version caters to businesses in need of hosting services and features offered by Adobe.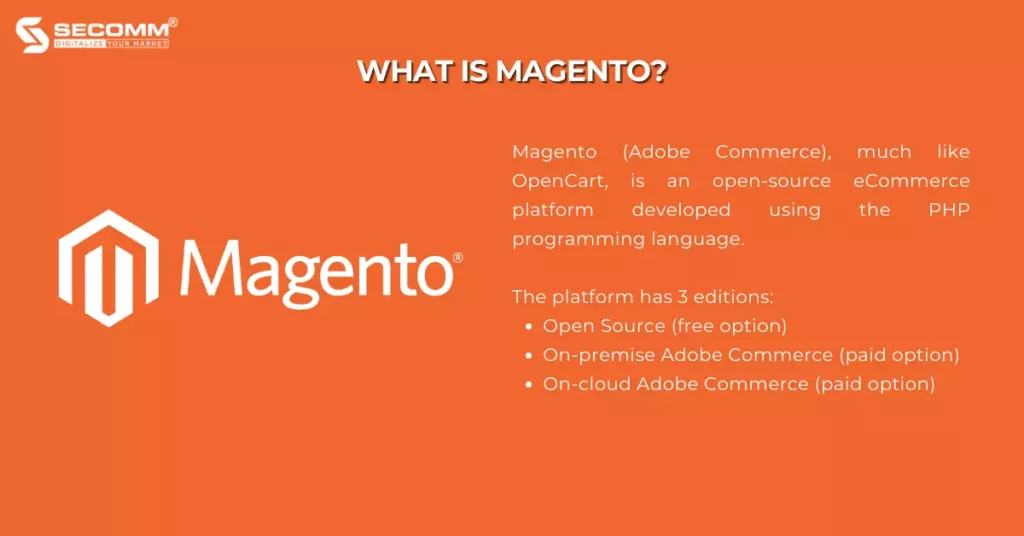 According to BuildWith, Magento supports over 160,000 websites, with significant popularity among large businesses in the United States, the United Kingdom, the Netherlands, and Germany.
Given the differences in service offerings between the paid versions of OpenCart and Magento, this SECOMM article will focus on comparing the two free versions.
Related Reading: What is Magento? Key Pros and Cons of Magento
OpenCart vs Magento: Key Similarities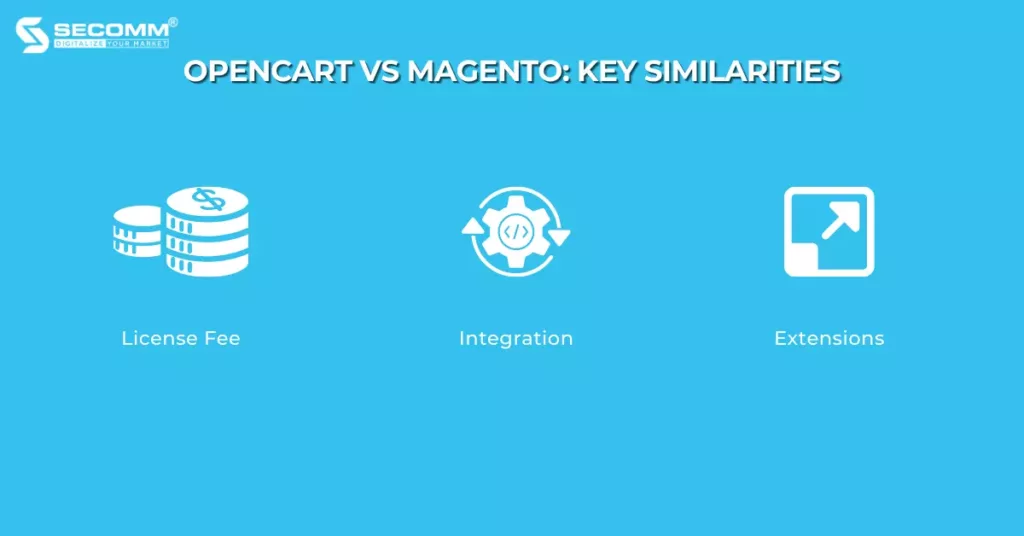 License Fee
Overall, OpenCart and Magento are both open-source platforms developed using PHP. They are both robust eCommerce platforms with powerful features and a multitude of additional utilities.
The usage costs of OpenCart and Magento are quite alike, as both offer free enterprise versions that can be downloaded and installed without any charges.
Integration
Since they are open-source platforms, both possess exceptional customization capabilities for integrating third-party add-ons.
This enables businesses to effortlessly install and manage various management systems like POS, ERP, CRM, and others within a single system.
Extensions
OpenCart offers an extensive library of extensions, with approximately 13,000 extensions at your disposal. Likewise, Magento boasts a vast collection of extensions, with over 5,000 to choose from.
Both platforms enable businesses to enhance their eCommerce websites with a plethora of additional features using these extensions, eliminating the need for coding concerns.
OpenCart vs Magento: Major Differences
Admin Dashboard
OpenCart is recognized as being more user-friendly for beginners, primarily due to its intuitive interface and straightforward installation process. However, businesses should still possess a basic level of technical knowledge related to hosting, FTP (File Transfer Protocol), security upgrades, and the like.
Within the admin dashboard, users can effortlessly navigate through sections such as 'Catalog,' "Extensions", "Sales", "System", "Reports", and "Help".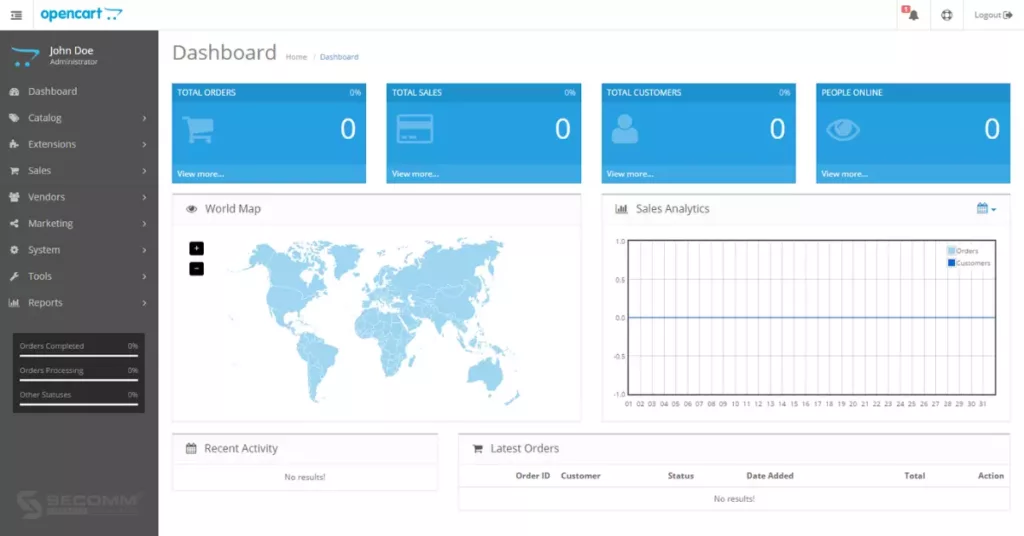 Magento isn't a "playground" suited for beginners due to its intricate installation process, which demands a high level of technical expertise to set up.
While Magento 2 is considered more user-friendly than Magento 1, the admin dashboard still offers a multitude of options that can pose challenges for newcomers, especially when it comes to understanding Magento-specific terminology, resulting in a time-consuming learning curve.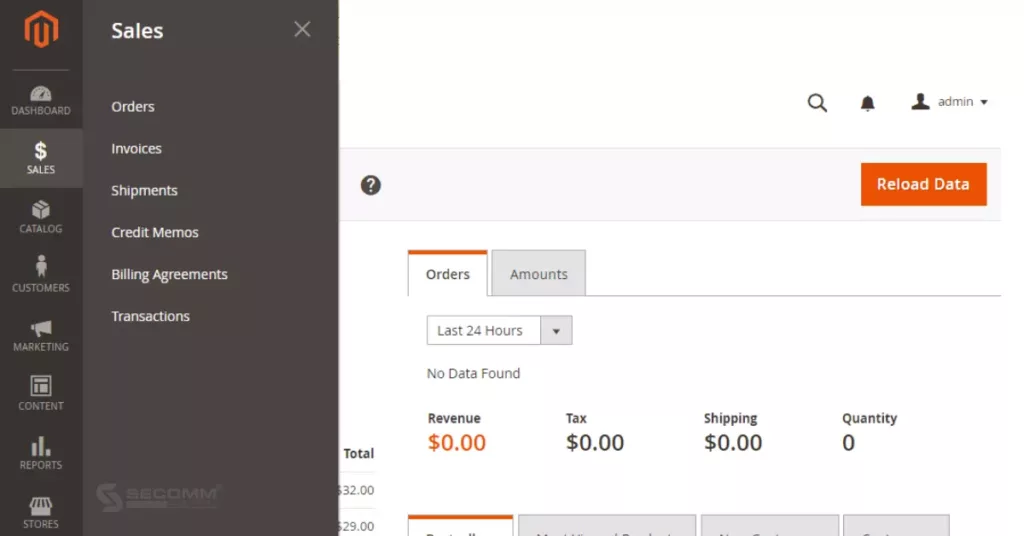 User Interface
OpenCart provides around 500 themes, available in both free and paid options (ranging from $60 to $70), catering to diverse industries. This platform enables businesses to preview their website's appearance with various themes before making a purchase. Subsequently, businesses can customize these themes according to their specific needs.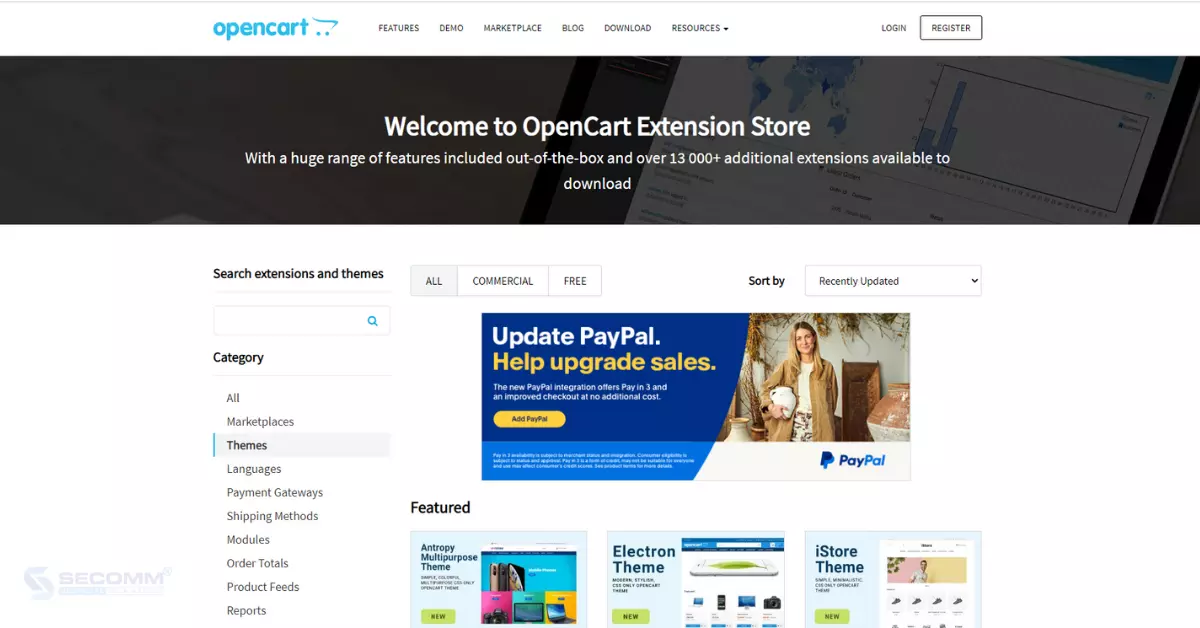 In the case of Magento, businesses have three options for creating user interfaces:
Utilizing pre-built themes from the

Magento Marketplace

(ranging from $0 to $500) or theme-selling platforms like

Themeforest

. This choice provides cost-effective design solutions but may result in a website interface that resembles others.
Tailoring existing themes. This option enables businesses to save costs while maintaining a unique website interface.

Crafting a completely bespoke interface with customized themes. While this option sets a business apart from competitors, it comes with a higher price tag compared to the other two methods.
In summary, both OpenCart and Magento offer a wide selection of budget-friendly themes, but Magento allows for more extensive customization to optimize the eCommerce website's interface.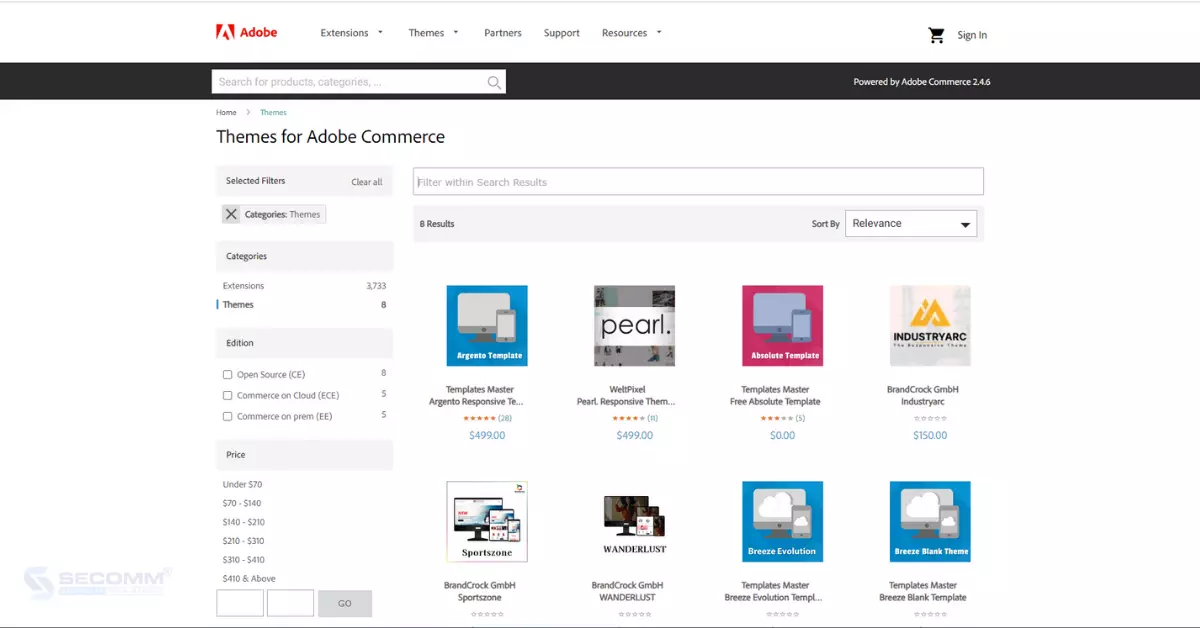 Scalability
In terms of scalability, OpenCart is suitable for small and medium-sized business websites because it can only handle a limited number of products and transactions. On the other hand, Magento is specifically designed to manage large and complex eCommerce websites, capable of handling thousands of products and daily transactions without performance issues.
When it comes to flexibility, OpenCart provides a variety of extensions and add-ons to enhance website functionality. However, its flexibility may be somewhat constrained when dealing with intricate custom requirements. In contrast, Magento offers a higher degree of flexibility, enabling businesses to customize every aspect of their website. It boasts a comprehensive system of modules and better compatibility with third-party integrations, allowing businesses to tailor and expand their website to suit their specific needs.
Overall, Magento surpasses OpenCart in terms of scalability for eCommerce websites.
Support Community
OpenCart offers two types of support to its users:
Community forums that enable global users to share their knowledge and experiences with OpenCart.
Paid support services at a monthly fee of $99.
Magento provides a Help Center, but its support staff primarily focuses on Adobe Commerce, which may not fully address the needs of businesses using Open Source. However, Magento boasts a global developer community of over 13,000 individuals, making it relatively straightforward to find solutions.
Security
OpenCart doesn't assume responsibility for the security of eCommerce websites as it operates on an open-source platform. This means that OpenCart's code and framework are publicly available, rendering websites more susceptible to potential attacks.
In contrast, despite also being an open-source platform, Magento places a strong emphasis on security. Magento has consistently released security patches since 2015 to identify vulnerabilities. This commitment ensures that eCommerce websites built on Magento maintain a high level of security, instilling confidence in online shoppers.
Through the use of third-party tools such as Mage Report and Mage Scan, businesses can assess their security status. Additionally, Magento employs CSP (Content Security Policy), which offers a structured set of principles for restricting browser content to trusted services only. This allows browsers to determine which web tools to block and which ones to trust.
Development Cost
Even though both OpenCart and Magento are provided with free licenses, there is a significant difference in the development costs for eCommerce websites.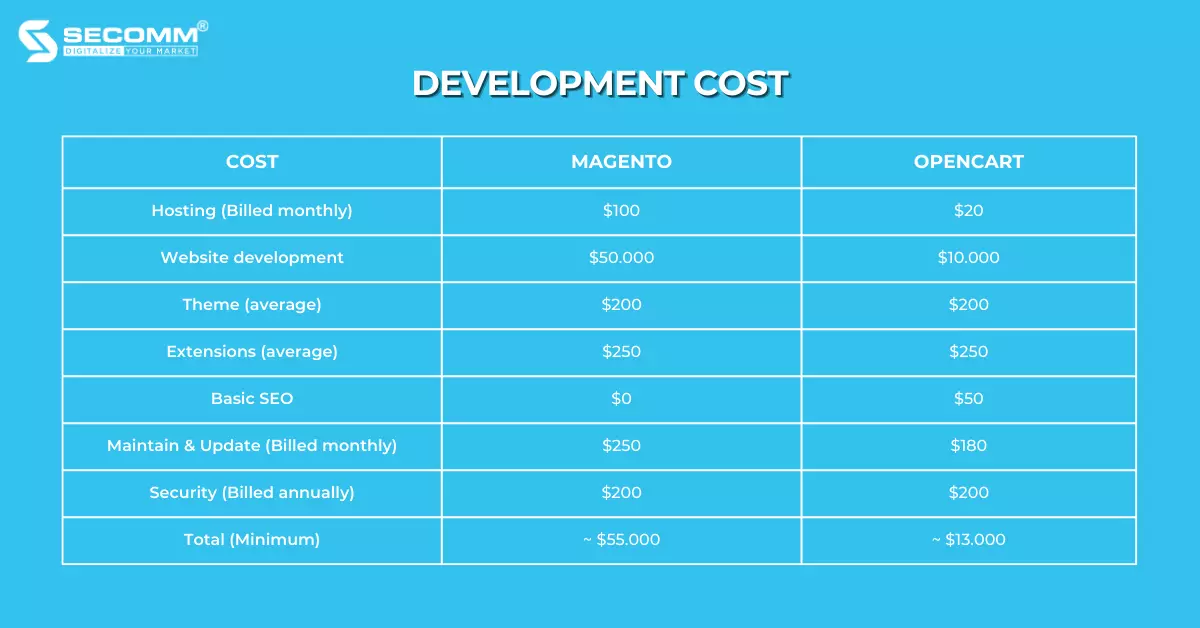 While Magento comes with a higher implementation cost than OpenCart, it offers a plethora of features for eCommerce websites. These include advanced search capabilities with Elasticsearch and OpenSearch, content editing tools that don't require coding, support for categorizing a wider range of product types, and advanced shipping configuration, among others. In contrast, adding these features to OpenCart would necessitate the use of numerous extensions and increased storage resources to ensure efficient operation.
Considering the evaluations presented earlier, OpenCart proves to be a suitable choice for small and medium-sized enterprises (SMEs) seeking to establish their eCommerce websites. In contrast, Magento is an excellent fit for both SMEs and large corporations with specific and highly customizable eCommerce system requirements. Magento allows businesses to own a tailor-made system by either starting with a basic eCommerce website and gradually enhancing it or by creating a comprehensive system from the ground up.
With our extensive experience in implementing eCommerce solutions for clients across diverse countries, SECOMM comprehends the challenges and complexities that businesses encounter when selecting the ideal platform for constructing a professional eCommerce system.
Contact SECOMM today or call our Hotline at (02871089908) for a complimentary consultation.