Seconds Deals: The Online Marketplace Powered By Magento 2
Client: Seconds Deals
Industry: Dropshipping
Location: Australia
View Website
The fast-paced world of eCommerce is characterized by the ever-changing rules for selling and buying. To navigate this dynamic landscape, eCommerce businesses must adapt to seize opportunities and overcome challenges.
In this context, Seconds Deals, an Australian startup, swiftly recognized the common difficulties that sellers face when dealing with new products that may have minor aesthetic imperfections. While these products maintain their functionality, they present difficulties for sellers who must meet the exacting quality standards demanded by Australian consumers. Moreover,  when hindered in finding ways to consume these flawed products, sellers encounter inventory management and cash flow issues, as well as diminishing product value over time.
To address these challenges, Seconds Deals partnered with SECOMM, a trusted technology partner specializing in eCommerce solutions. Together, they embarked on the journey to create an online marketplace using Magento 2. The Seconds Deals platform acts as a central hub for sellers seeking consumers interested in purchasing new products with minor aesthetic imperfections and for buyers in search of quality products at competitive prices. This collaboration between SECOMM and Seconds Deals not only brings numerous advantages to both sellers and buyers but also plays a vital role in promoting the sustainable growth of eCommerce.
Developing an online marketplace for selling new products with minor aesthetic flaws
Seconds Deals is implementing a dropshipping business model for their eCommerce marketplace. In this approach, Seconds Deals does not invest in purchasing and stockpiling inventory. Instead, sellers maintain their products within their own storage facilities.  When a successful purchase transaction takes place on the marketplace, the customer's payment undergoes processing through the Seconds Deals system. Subsequently, the funds are directed to the seller's account following the deduction of commissions and associated fees. 
SECOMM's primary mission, in this regard, is to propose the most effective technological solutions for building the eCommerce marketplace. This marketplace is designed to offer not only an intuitive interface, ensuring an excellent shopping experience for customers but also to assist vendors in efficiently managing their business operations on the marketplace. Furthermore, most of the sellers already own and operate their eCommerce websites. The crucial question is how to facilitate the seamless synchronization of products from their eCommerce websites to the Seconds Deals system, achieving the utmost efficiency and time savings.
Create a user-friendly UI/UX design for Seconds Deals
In pursuit of an optimal user experience, SECOMM employs UI/UX design based on the concepts proposed by Seconds Deals. This ensures all essential elements of simple, intuitive, and user-friendly UI/UX design are fully expressed by SECOMM:
UI Structure: Information is logically organized and easy to comprehend. The navigation menu is thoughtfully crafted for accessibility and user-friendliness.
Color and Layout Design: Simple and harmonious color schemes are used. White space is employed between website sections to provide visual comfort for users and emphasize important content.
Typography: Simple and readable fonts are used for website text. Font sizes and line spacing are adjusted appropriately to enhance the readability and understanding of the content.
Image and Icon Design: High-quality and vibrant images are used to create a positive impression. Icons are utilized to assist users in navigating and making purchases.
Testing and Optimization: After completing the design phase, SECOMM and Seconds Deals will perform User Acceptance Testing (UAT). Following UAT, SECOMM will further enhance the design based on customer feedback.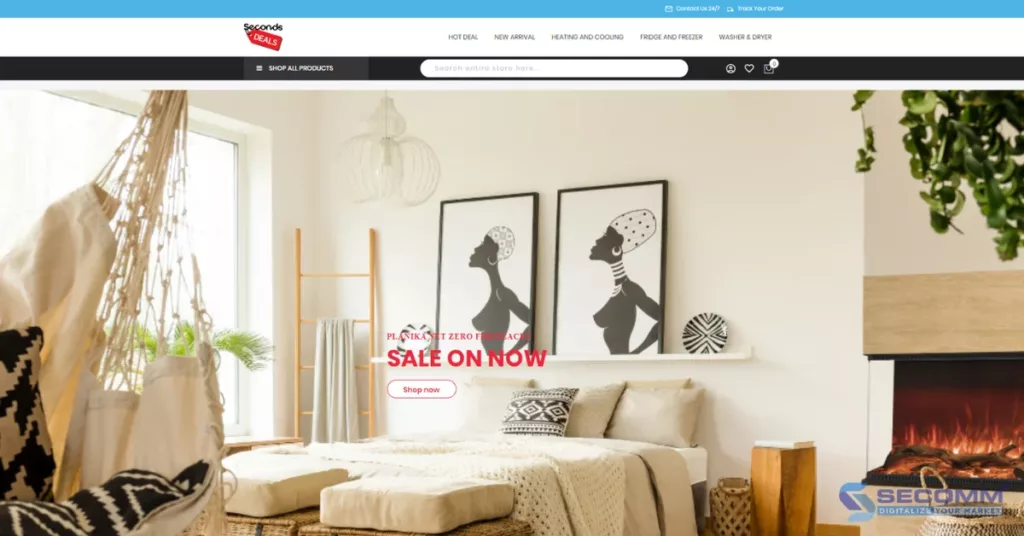 Build a Magento 2-powered marketplace
In response to the given task, SECOMM recommends Seconds Deals to build their online marketplace using Magento 2. This choice is the result of a thorough evaluation of the platform's advantageous features and performance capabilities, aligned with the client's budget considerations. Moreover, SECOMM has seamlessly integrated various third-party extensions, enriching the process of building the eCommerce marketplace on Magento 2. These extensions introduce enhanced functionalities that significantly contribute to the development of the Seller Portal and the Admin Portal within Seconds Deals. 
Build the Seller Portal
Even the Seller Portal, skillfully designed by SECOMM, ensures user-friendliness, simplicity, and an intuitive interface, allowing sellers to easily manage their business activities on the marketplace. 
To sell on Seconds Deals, sellers must register a seller account. Upon successful registration, sellers gain access to the Seller Dashboard and are seamlessly redirected to the Seller Portal, where they can: 
Manage Products: Add, remove, or modify products while keeping track of products approved or disapproved by Seconds Deals' admin.
Manage Profile: Edit basic information, including store name, contact details, and sales policies, enabling customers to gain insights about the seller's store.
Manage Orders: Review comprehensive order details such as customer information, shipping and billing addresses, and payment methods. Sellers can also update shipping information, including shipping ID, carrier name, delivery notes, and even cancel orders.
Manage Shipping Methods: Configure preferred shipping methods, with Table Rate and StarTrack as the default options.
Request Withdrawals: Create and track withdrawal requests submitted to the Seconds Deals system.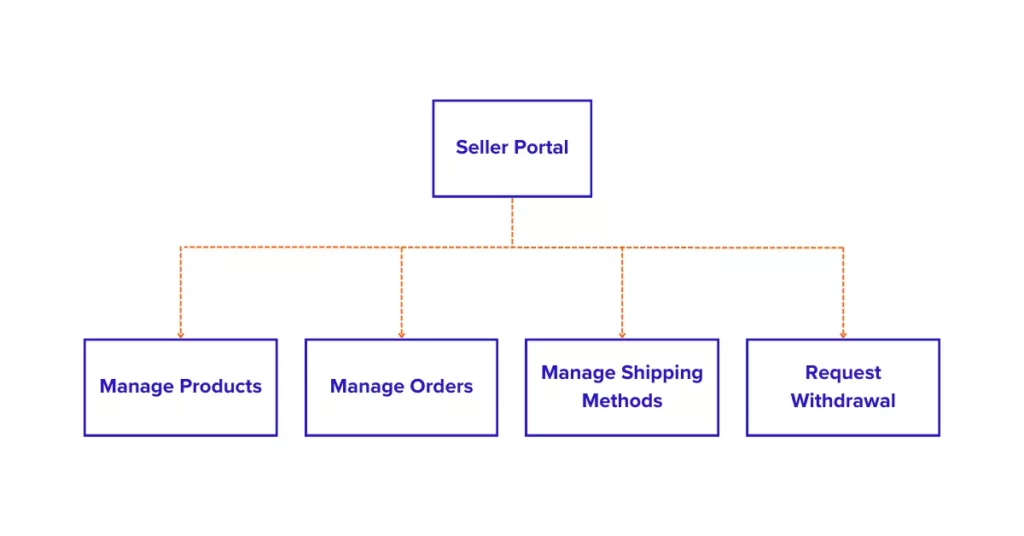 Build the Admin Portal
By integrating extensions into the Magento 2 backend system, the Seconds Deals admin can perform various operations, including:
Manage Sellers: Approve or disapprove seller account registration requests, as well as view and edit the information of individual sellers.
Manage Seller's Products:  Approve or disapprove the products of sellers, while monitoring and managing all the products from the sellers on the Seconds Deals system.
Manage Seller's Orders: Track and manage orders from all sellers within the Seconds Deals system.
Manage Withdrawals Request: Oversee withdrawal requests from sellers, and update the request processing status (Complete/Reject), allowing sellers to stay informed about the status of their withdrawal requests.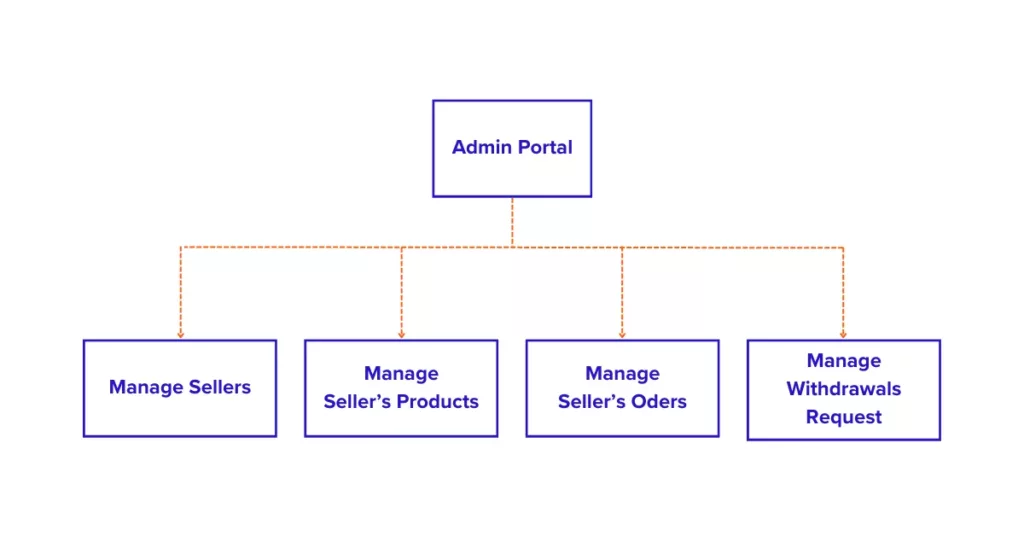 Build a function to synchronize products from sellers' eCommerce websites to the online marketplace
SECOMM has developed an import/export module and a connector module to assist sellers in synchronizing their products from their eCommerce websites to the Seconds Deals eCommerce marketplace. 
Sellers' eCommerce websites can be deployed on various platforms. However, as of now, the Seconds Deals system prioritizes providing support for synchronizing products from websites operating on the Shopify platform.
Import/export module
This approach enables sellers to export their product data from their Shopify eCommerce website in Excel/CSV format and subsequently import it into the Seconds Deals marketplace. Sellers can select specific data fields for export, such as SKU, product name, descriptions, images, and prices. The generated Excel/CSV file is structured to house this data in a specific format (columns and rows). 
SECOMM opted to develop the import/export module due to its widespread usage in synchronizing product data from eCommerce websites to the Seconds Deals system. This method offers several prominent advantages:
Easy deployment: This method is relatively easy to implement and does not require advanced technical knowledge. Sellers can create and manage data files themselves.
High Control: Sellers have complete control over the data import and export process from their website to the Seconds Deals marketplace.
Nevertheless, this approach retains several disadvantages. Manual tasks can be time-consuming, particularly for sellers with extensive product inventories, potentially resulting in inaccuracies.
To avoid these unwanted risks and facilitate time-saving product data synchronization for sellers, SECOMM has developed a connector module as a faster, more user-friendly, and highly effective alternative.
Connector module
The connector directly links the seller's eCommerce website with the Seconds Deals system. This connection allows for the automatic and seamless synchronization of product data, enabling sellers to efficiently manage their products on both platforms.
The connector module offers several distinct advantages, including:
Real-time synchronization: It ensures that product data is synchronized in real-time between the seller's website and the Seconds Deals platform, ensuring that data remains updated without manual intervention.
Resource efficiency: Since data is automatically imported into the Seconds Deals system, businesses with extensive product catalogs save significant time and effort, reducing the risk of unintended errors throughout the synchronization process.
Offering both synchronization methods concurrently has created flexibility that allows sellers to choose the approach that best aligns with their preferences and requirements. Sellers with smaller product inventories may find the manual synchronization method through import/export to be a suitable choice. Meanwhile, those with extensive product listings who wish to streamline the data synchronization process can opt for the connector module developed by SECOMM. In the upcoming development phase, SECOMM plans to broaden the functionality of the connector module to extend support to sellers on various eCommerce platforms, beyond just Shopify. This enhancement aims to attract brands from diverse industries, regardless of their scale or technology platform, to register to sell on this eCommerce marketplace. 
Seconds Deals is truly a visionary startup that knows how to seize its opportunities in the competitive Australian eCommerce market. With its unique idea and the development of an online marketplace based on the dropshipping model, Seconds Deals has helped sellers market new products that may have minor aesthetic flaws, addressing a long-standing issue in the business world.
Moreover, the brand name 'Seconds Deals' reflects the startup's significant commitment to the sellers collaborating with them. Separating the words 'Seconds' and 'Deals' signifies successful product transactions happening within seconds on this online marketplace. Also, Seconds Deals is also the place where buyers can find high-quality products at very reasonable prices.
By building an online marketplace on Magento 2 and integrating third-party extensions, along with the development of import/export and a connector module, SECOMM has made a significant contribution to realizing Seconds Deals' vision of a robust and reliable eCommerce system. This provides favorable conditions for sellers to offer their products and ensures an optimal shopping experience for buyers. 
The synergy between Seconds Deals' innovative concept and the technical support and development offered by SECOMM has led to the successful introduction of Seconds Deals in the Australian market. Looking ahead, Seconds Deals holds immense potential to revolutionize the way Australians engage in eCommerce and consumerism.