A SaaS (Software as a Service) eCommerce platform is a software-based delivery mechanism for e-commerce business purposes. In short, the supplier develops software to aid in developing an eCommerce system, and the firm must pay a fee to use this service.
Many firms have selected SaaS eCommerce platforms to create e-commerce enterprises for brands because of their essential qualities, which can rapidly install eCommerce at a low cost.
Haravan 
In Vietnam, Haravan is the most popular eCommerce platform that allows multi-channel sales. This platform was officially launched in 2014, aims to assist companies in developing professional e-commerce websites at an affordable cost.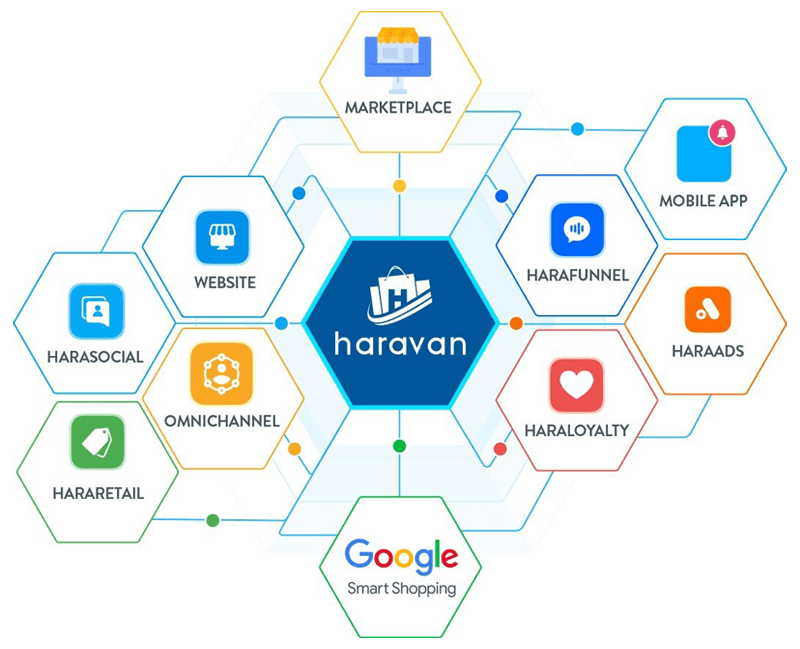 Themes
Haravan provides many UI/UX themes so that firms may select a design that suits the brand's image. At the same time, many organizations regard the admin interface to be easy to use. However, companies must pay additional fees to raise the number of admin accounts.
Features 
Haravan has an extensive feature store that supports multi-channel sales for enterprises, including POS (Point of Sales), social commerce (Facebook, Instagram, TikTok, etc.), eCommerce marketplace (Tiki, Shopee, Lazada, Sendo), and company websites.
Furthermore, Haravan incorporates various utilities to enhance the user's experience, such as cart management, payment services (Momo, Moca, VnPay, Visa, etc), and transportation (Giao Hang Nhanh, Giao Hang Tiet Kiem, Ninja Van, DHL, etc).
Haravan's essential features, on the other hand, are just enough for businesses to run their web operations successfully but not ideal sufficient for long-term development. In addition, because Haravan is a SaaS platform, organizations find it difficult to customize or expand functionality outside of its ecosystem.
Deployment time
Haravan's drag-and-drop manipulation allows companies to create an eCommerce website with all the critical functionality for business online in around 30 minutes.
Deployment costs
Businesses must pay a monthly charge ranging from 200,000 VND to 3,000,000 VND based on their demands:
Standard (200,000 VND/month): Appropriate for independent sellers
Pro (600,000 VND/month): For organizations who wish to implement Omnichannel
Grow (1,500,000 VND/month): For firms need automating processes to take care of and resell current customers
Scale (3,000,000 VND/month): Help establish loyal customers
Haravan is now gaining popularity in the Vietnamese eCommerce business, particularly in the B2C model or low-involvement product business, due to its ability to deploy with affordable charges swiftly. Vinamilk, Juno, and L'Oréal are some companies that use Haravan.
Shopify
Shopify is a software-as-a-service platform for online retailers and point-of-sale systems. Shopify is popular among the eCommerce community due to its simplicity, quick development timelines, and low setup expenses.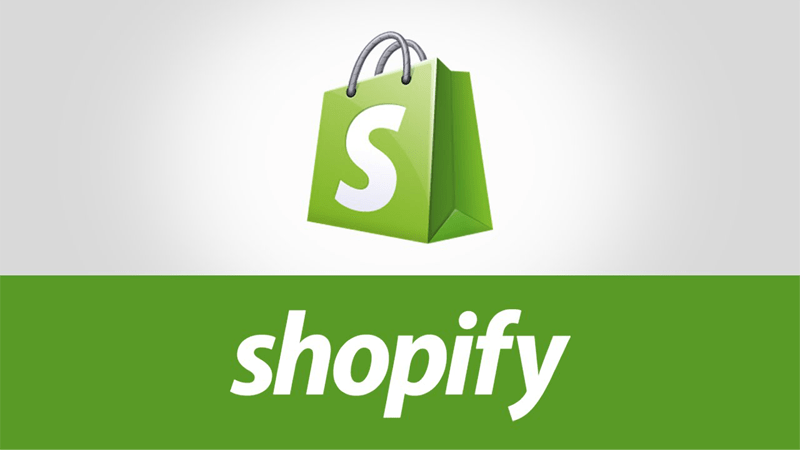 Themes
Shopify provides many attractive themes that are device-agnostic and ideal for a broad array of industries. Shopify's admin dashboard is simple to use, and it offers a Vietnamese version for Vietnamese firms. Like Haravan, firms must upgrade their service packs to expand the number of admin accounts.
Features 
Shopify provides more tools and add-ons than Haravan, ranging from order administration to product research and company planning and marketing for SMEs.
However, as Shopify cannot be modified or expandable like an open source eCommerce platform, businesses will have to pay extra fees for some particular functionalities.
Deployment time
Depending on the system's complexity, each business will need some time to get used to Shopify. Still, in general, it will not take long for companies to establish a website, taking between 1 and 2 days on average.
Deployment costs
Shopify has created a variety of packs for companies to choose from:
Basic Shopify ($29/month): Suitable for new businesses with small sales.
Shopify ($79/month): Appropriate for growing online enterprises
Advanced Shopify ($299/month): Ideal for firms that need to expand and want advanced reporting capabilities.
Shopify also creates different service bundles to meet a range of organizations:
Shopify Lite ($9/month): Ideal for businesses to integrate sales buttons and payment services into an existing website or blog.
Shopify Plus ($2000/month): Offer a sophisticated eCommerce solution for large enterprises that need to process high-volume orders.
Shopify is constantly developing and enhancing its offerings to meet a wide range of customer requests rapidly and effectively, making it perfect for B2C enterprises. However, the monthly cost is a significant impediment because firms must pay significantly more to use extra functions. Sony Vietnam, Vsmart, and DHC Vietnam are some Vietnamese companies that use Shopify.
BigCommerce
BigCommerce is a SaaS platform that launched in 2009 and has made a significant impact on the eCommerce developer community. Despite being founded later than other platforms, BigCommerce does not fall behind in terms of a functional system, theme store, and so all.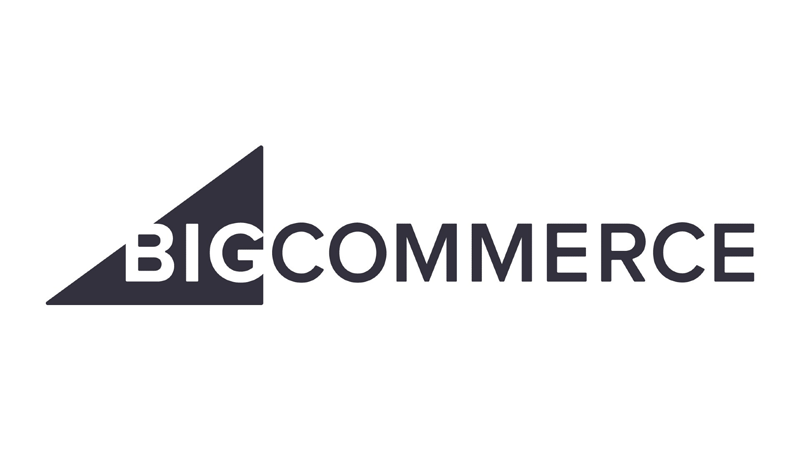 Themes
BigCommerce provides a wide range of visually appealing themes and adapts to customer behavior, including 12 free versions and over 160 professional ones.  BigCommerce's admin dashboard is easy to use, and it supports businesses in rapidly setting up eCommerce websites. However, since BigCommerce does not offer a Vietnamese version, firms must hire and train English-qualified employees to manage the site.
Features 
BigCommerce' packages are jam-packed with features and add-ons to help businesses achieve solid internet business. However, BigCommerce's capacity to customize and expand functionalities remains limited, restricting firms from adapting to their needs to deal with industry-specific difficulties.
Deployment time
Thanks to its drag-and-drop page builder feature, the time it takes to establish a website on BigCommerce is shortish. BigCommerce construction process takes about 1-2 days on average.
Deployment costs
BigCommerce now supports three package options and one on-demand solution:
Standard: $29.95/month for businesses with more than $50,000 in revenue
Plus: $79.95/month for enterprises with more than $180,000 in revenue
Pro: $299.95/month for companies with more than $400.000 in revenue
Enterprise: For firms with high sales volumes, costs will be calculated depending on the brand's online sales
Moreover, BigCommerce will charge you additional fees based on your online sales.
Overall, BigCommerce is not inferior to Haravan or Shopify in every way; nevertheless, the central issue right now is that this platform does not support Vietnamese enterprises.
Which SaaS eCommerce platform is best for your company?
Inheriting the advantages of a SaaS eCommerce platform, all three platforms are easy to use, with various themes and functions for quick construction at a reasonable cost.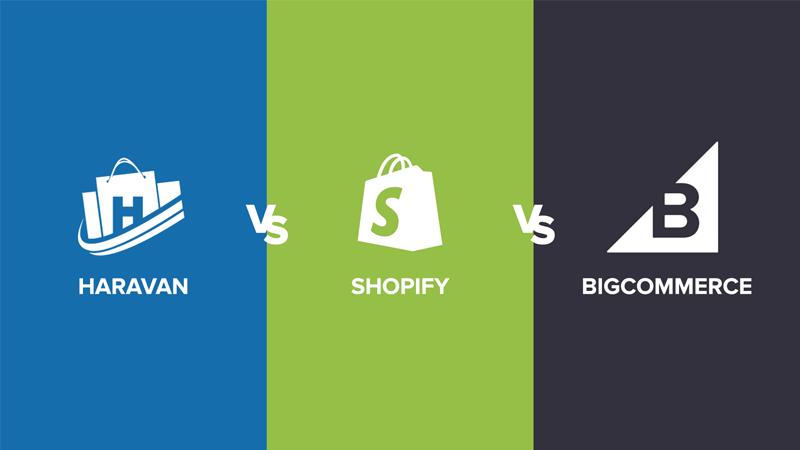 Businesses that solely conduct business in Vietnam may choose to use Haravan to take advantage of cost-competitive benefits and functionalities tailored to suit Vietnamese shopping habits. Shopify and BigCommerce are options to explore if you want to develop your business worldwide. Simultaneously, Shopify is ranked higher for providing great 24/7 live chat support, which will aid companies in addressing difficulties as quickly as possible. As a consequence, Shopify will be ideal for large-scale and high-volume enterprises. BigCommerce, on the other hand, compresses functionality into more affordable solutions and is not restricted to the number of administrators like Shopify, making it suitable for small or medium-sized businesses.
However, using SaaS eCommerce platforms like Haravan, Shopify, and BigCommerce in the long term would result in the following deficiencies:
Duplicate design ideas: Using the given interface will easily be similar to other websites, making it hard to show the brand's distinctive qualities.

Difficult to customize functionality: Because these platforms are not as flexible as Open Source eCommerce platforms, firms may only select from existing options and customize to the extent permitted. In the future, it will be essential to change to build advanced and specialized functions based on the features of products and industries to meet the demands of customers and the expansion of companies through time. Switching to an Open Source eCommerce platform such as Magento, OpenCart, WooCommerce, etc will take a significant amount of time and money.

A lot of fees: Because of the monthly charge, the longer you use it, the more expensive it is to use the website. Furthermore, Shopify and BigCommerce impose extra fees based on online revenue.
Do not own the source code: If the contract with these platforms is canceled, the company will no longer utilize the source code of the website and will have to rebuild it from scratch on the new platform. Switching platforms is not only time-consuming and expensive, but it may also result in data loss or misalignment.
SECOMM has significant experience developing complicated eCommerce websites in different countries, and we know the challenges that businesses face when selecting and implementing an e-commerce platform.
Contact SECOMM for a free consultation on eCommerce website development!