The technological infrastructure is regarded as the core value for the whole eCommerce system, and selecting an appropriate platform will assist firms in growing sustainably and developing extensively in the market.
Businesses must first grasp the benefits and drawbacks of each type of platform before making a decision. Ecommerce platforms are classified into two groups based on their implementation characteristics: SaaS (Software as a Service) Platforms and Open Source Platforms.
SaaS eCommerce Platform
A SaaS eCommerce Platform is a service delivery paradigm for developing a software-based website system. Data is kept on the provider's server system under this approach, and that platform is in charge of dealing with technical concerns for the business.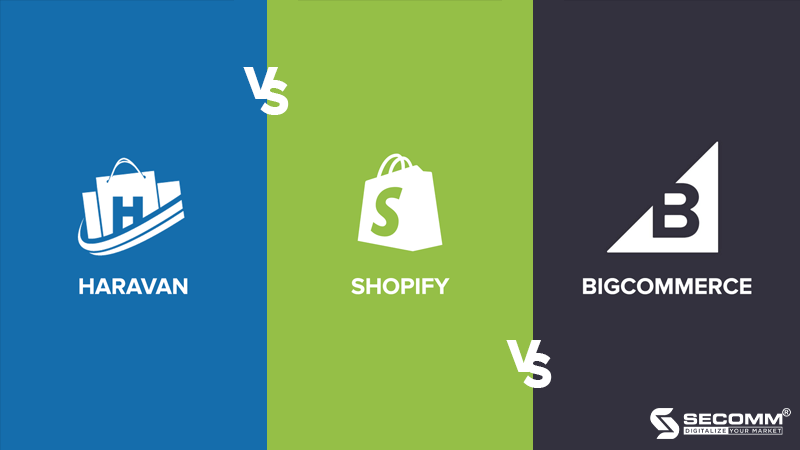 Advantages of SaaS eCommerce Platform
Available eCommerce system
The provider pre-designs the SaaS platform for the full system, from hosting, interface, and features to technological infrastructure maintenance. As a result, organizations can quickly create and manage a website system without worrying about technological concerns.
Furthermore, the platform developer offers firms 24/7 assistance through live chat, desk help, or a hotline while the platform is in operation.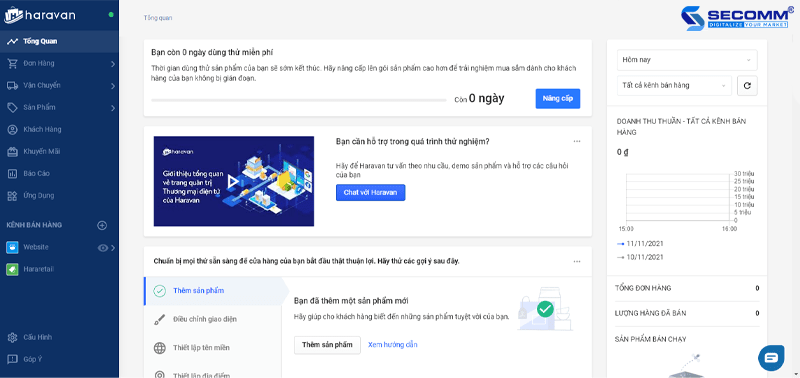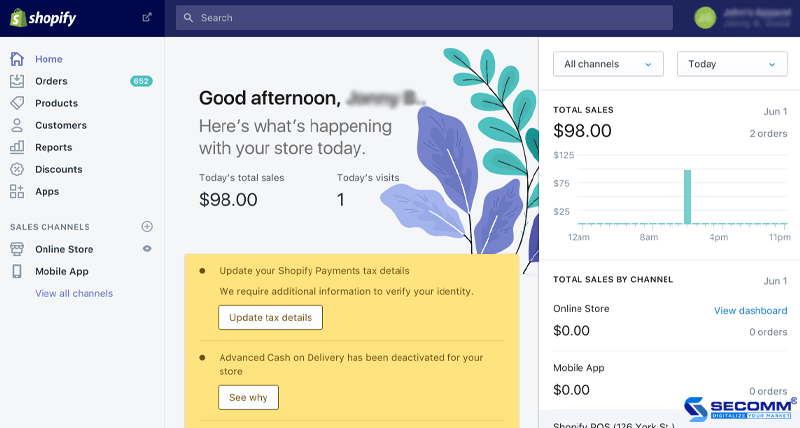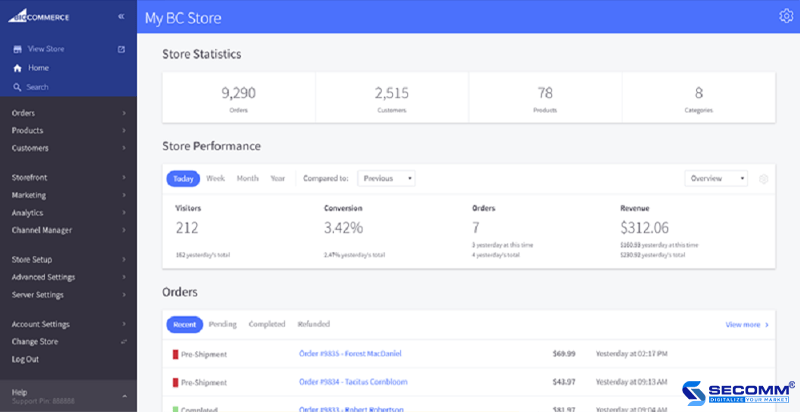 Various

interfaces 

and 

functionalities
The SaaS eCommerce Platform includes a multitude of functionality and appealing UX/UI interfaces, making it suitable for a variety of businesses.
Furthermore, these platforms include a wide range of essential eCommerce functions, including product administration, order management, customer management, marketing, business analysis, and reporting to let firms quickly develop an e-commerce website. Moreover, extensions such as Omni-channel, Affiliate Marketing, E-Payment, E-Logistic, and so on are constantly added to these platforms to strengthen the e-commerce system.
Quick implementation
The time it takes to establish a website on a SaaS eCommerce Platform is quite fast, ranging from 1 to 7 days on average, depending on the website's setup.
Affordable investment budget
The initial building cost is pretty cheap because firms would pay monthly or yearly use fees (subscription-based) to establish a website using SaaS eCommerce Platforms, such as:
Haravan: 

Standard (200,000 VND/month): Appropriate for independent sellers
Pro (600,000 VND/month): For organizations who wish to implement Omnichannel
Grow (1,500,000 VND/month): For firms need automating processes to take care of and resell current customers
Scale (3,000,000 VND/month): Help establish loyal customers

Shopify:

Basic Shopify ($29/month): Suitable for new businesses with small sales.
Shopify ($79/month): Appropriate for growing online enterprises
Advanced Shopify ($299/month): Ideal for firms that need to expand and want advanced reporting capabilities.

BigCommerce:

Standard: $29.95/month for businesses with more than $50,000 in revenue
Plus: $79.95/month for enterprises with more than $180,000 in revenue
Pro: $299.95/month for companies with more than $400.000 in revenue
Enterprise: For firms with high sales volumes, costs will be calculated depending on the brand's online sales
Aside from the monthly/yearly licensing charge, businesses must pay extra expenditures such as interface fees, new features, expanding the number of backend users, and POS (Point of Sale) to grow the eCommerce system.
Disadvantages of SaaS eCommerce Platform
Having no control over the source code and data
Because the enterprise's whole website system is housed on the provider's server, ownership and control of the website source code will belong to that platform, not the firm.  Businesses who transfer platforms can no longer utilize the previous site source code and must rebuild from scratch on the new platform. Moreover, data loss or misalignment is usually unavoidable.
The enterprise's data, like the source code, is likewise kept on the provider's server, thus ownership and control over the data remains constrained. There are many difficulties for not owning and controlling data, such as linking data between departments, customizing users, and so on.
Poor scalability and flexibility
Because the website system depends on the SaaS platform, customization and expansion are currently limited. When it comes to upgrading existing features, developing new functions for the company's development, in line with the particular requirements of the product and industry, and optimizing the user experience, SaaS platforms are frequently unable to adapt. As a result, switching platforms after a period of usage is unavoidable, and of course, this change will take significant time and money for the company.
Usage costs increase over time
Because you must pay monthly or yearly license fees, the longer you use the higher the overall cost of use. Furthermore, the SaaS eCommerce Platform charges on the revenue online sales.
For example, various Shopify apps, such as DCart (Create Discount Codes on Cart), OctaneAI (Similar Product Suggestions), Ali Reviews (Product Reviews), and others, would charge a monthly fee, average $10 /month/features. The more applications that are installed, the more the monthly or yearly expenses will be.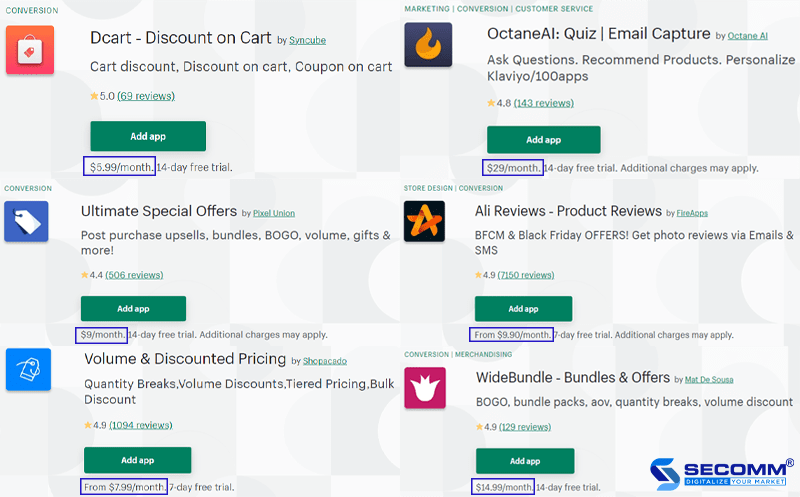 Businesses can use the SaaS platform if they wish to enter the e-commerce industry rapidly, have minimal need for customization, and do not need to enhance the system. As a result, SaaS systems are frequently selected by startups, SMEs (small and medium enterprises), and businesses just getting started in the e-commerce industry.
Open Source eCommerce Platform
Open Source is software whose source code is publicly available and freely used by anyone.
Because the data and source code will be housed on a separate server system, Open Source eCommerce Platforms have the opposite aspects of SaaS platforms. Businesses that use open source platforms must collaborate with professional website developers or build a highly specialized in-house team for the website system to achieve maximum efficiency.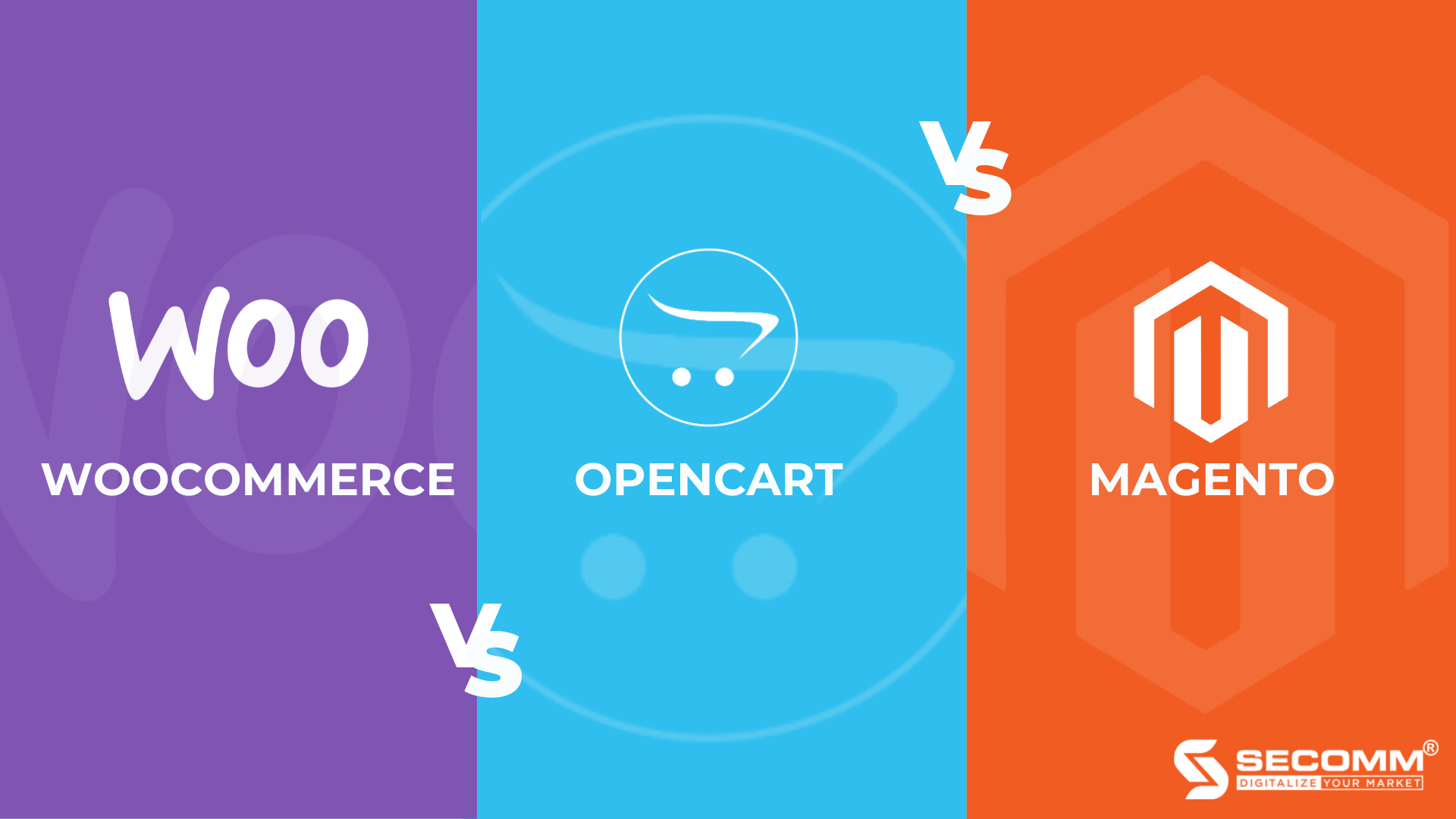 Advantages of Open Source eCommerce Platform
Control the data and own the source code.
Businesses have complete ownership and control over the source code and data on the system due to the characteristic of being housed on a separate server system. As a consequence, while deploying an eCommerce website, companies only need to pay development expenses in order to utilize the source code, rather than monthly/yearly license fees just like SaaS platforms. At this point, you could reuse the previous source code if you change developers or platforms. Furthermore, security is improved, reducing hacker attacks, server failures, and technical faults from staff and consumers.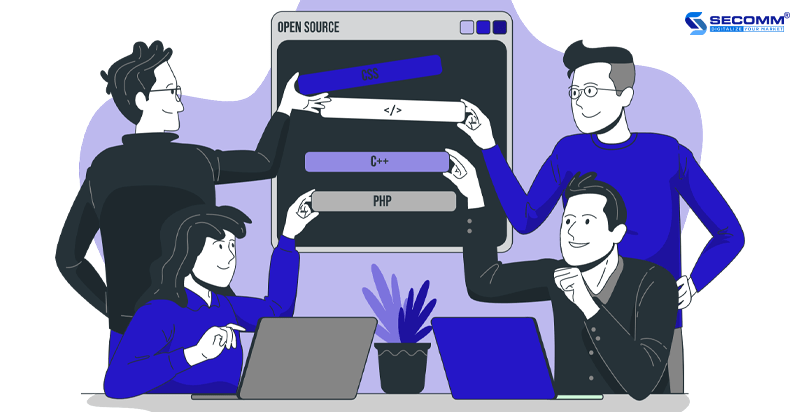 Customize the interface to meet your requirements.

Businesses have more choices in developing their website's interface to boost brand image and maximize revenue since they use Open Source eCommerce Platforms.
Currently, there are three methods for designing interfaces:
Use pre-existing themes: Like SaaS platforms, organizations can select and use pre-existing themes from the market, development community, or cooperation unit. This method will help businesses save the most money since a standard UX/UI theme costs between $50 and $200 on average.

Customize the interface based on an existing theme: Similar to the preceding method, but instead of purchasing and using the same theme, firms may design their own traits by rewriting the website's code at the front-end. Since then, organizations have cut expenses while also expressing their own distinct characteristics.

Create your own user interface: To effectively position the brand on the website, the interface should be created individually. This is typically more expensive than utilizing a theme, but it addresses the most particular and specific requirements of the company.
Full of features and add-ons
In terms of website system features, Open Source eCommerce Platforms are quite superior to SaaS platforms. Not only have basic functions, but Open Source eCommerce Platforms also have many advanced features such as quick search, similar product suggestions, abandoned cart notifications, real-time products, and so on.
In addition, the Open Source eCommerce Platforms also has many add-ons that are improved, provided, and shared by the developer community.
Great flexibility
Because organizations control their own source code, they can simply update the functional system, build new features, or expand the system to suit business demands and meet consumer needs. At the same time, the open-source code's flexibility allows businesses to easily link with third-party utilities in order to run the system.
Disadvantages of Open Source eCommerce Platform
Require a professional team or experienced developer
It is hard to build "tailor-made" systems for each firm with a system of various e-commerce features ranging from basic to complex, therefore systems developed on open source e-commerce platforms frequently have high accuracy.  As a result, in order to build and function efficiently, a specialized team or development organization must have strong knowledge and several years of experience.
Prolonged setup time
Deployment times for open source e-commerce platforms are frequently lengthier than those for SaaS platforms. Depending on the complexity of the functional system, the average amount of time for the IT team to build a website varies from 3 months to 1 year.
Expensive development
Using an open-source platform is basically free, but having a full e-commerce system from website to mobile app needs a significant commitment of your own labor. The in-house IT team will design interfaces and functions. As a result, the initial cost of developing an e-commerce website using an open-source platform is pretty expensive, an average of $10,000 per project.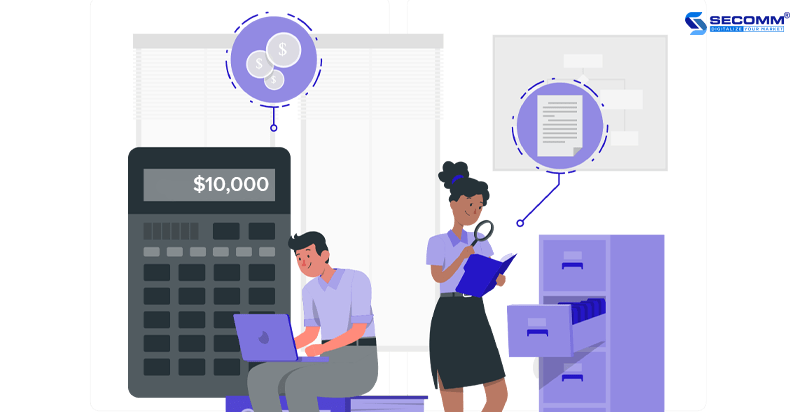 The Open Source eCommerce Platform is suited for all sorts of enterprises due to its numerous features. However, budget and implementation time restrictions have kept many small and medium-sized businesses from utilizing it. Large firms frequently engage in these platforms to construct specialized and specialized eCommerce systems.
In general, the decision of which eCommerce platform to select will be determined by each firm's business plan, budget, and time of eCommerce development.
In the early stages, firms who are new to eCommerce or have a restricted budget would often use a SaaS platform to develop a simple eCommerce website. Following that, companies will switch to an Open Source eCommerce Platform to develop a comprehensive eCommerce website. However, due to budget constraints and the prolonged time required to move platforms, firms must exercise caution while selecting these platforms. Nowadays, some organizations have decided to begin an eCommerce business with an Open Source eCommerce Platform and then progressively enhance their websites over time in order to gain the lead in the market and avoid switching platforms.
SECOMM has spent over 7 years implementing complicated e-commerce systems in a variety of nations, we know the challenges that businesses face.
Contact SECOMM now for a free consultation on how to select a long-term eCommerce platform!