Shopify Plus and Adobe Commerce are platforms that mid to large-sized companies consider when it comes to eCommerce development due to the customizability and scalability of the two. 
Still, there are some major differences between Shopify Plus and Adobe Commerce that business owners should be aware of before making a start.
Overview
What is Adobe Commerce?
Adobe Commerce (formerly Magento Commerce) is an open-source eCommerce platform for medium, large, and enterprise-level businesses with high growth rates and customization demand. Adobe Commerce offers two versions:
Adobe Commerce on-premise: a self-hosted version

Adobe Commerce on-cloud: a hosted version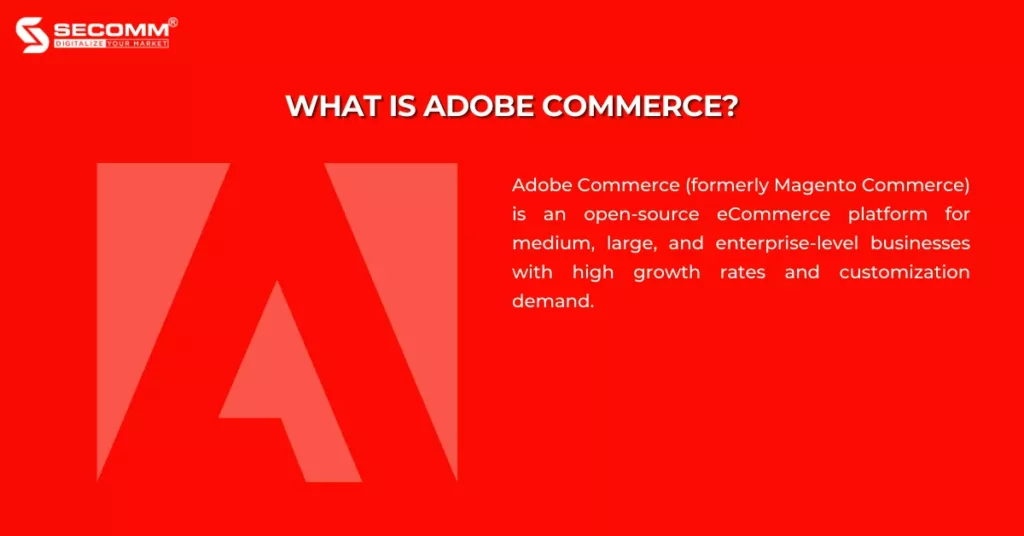 Both are paid-for versions, which provide unlimited website development and customization opportunities. The difference is the on-premise version doesn't provide hosting, while the on-cloud does. In addition, the on-cloud version provides a certain level of automatic updates, so the cost is higher compared to Adobe Commerce on-premise. Therefore, you can decide based on your specific needs. 
Beyond this, there's a free version offered, Magento Open Source, which comes with many essential features.
What is Shopify Plus?
This is considered an upgraded version of the standard Shopify plans specifically for mid to large-scale businesses with rapid growth. Due to its nature as a SaaS platform, Shopify Plus is designed to be easy to use, allowing businesses to quickly implement it without the technical skills required.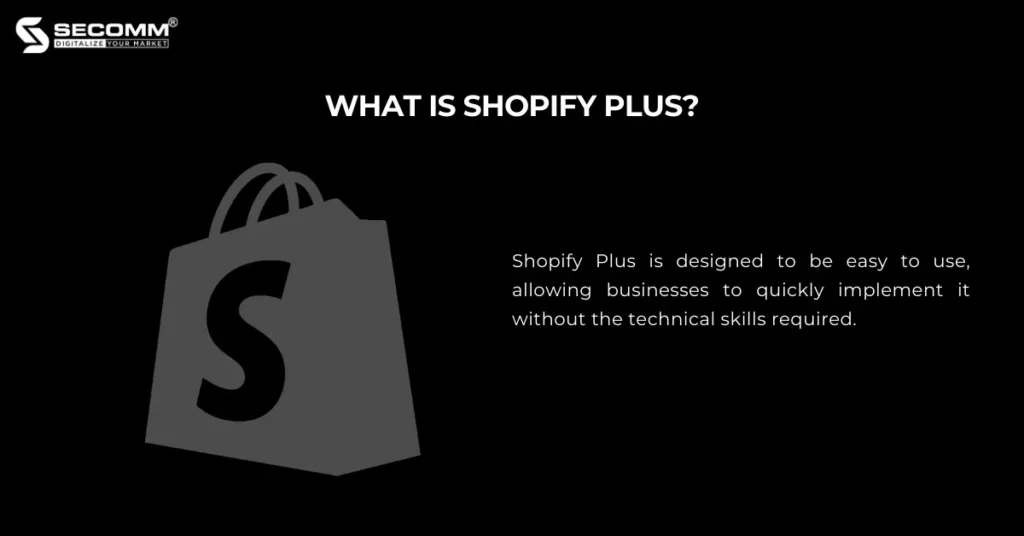 Relating Article: The Pros and Cons of Shopify Plus
KKey differences between Shopify Plus and Adobe Commerce
Pricing
Shopify Plu

s:

 

License fee

:

Start at $2,000/month

and the charge will turn into a revenue-based model after you reach $800,000/month in sales. This means you have to pay Shopify Plus

0,25% of your monthly revenue

. However, this percentage will not cross $40,000/month or $480,000/year. 

Transaction fee

:

Credit card processing fee

will range between

1,5% to 2,5%/transaction

.

Third-party payment processing fee

like PayPal, 2Checkout, and Skrill is

0,15% on every transaction

but if your business uses the Shopify Payment service, this fee is waived.

Hosting fee

: the platform fee you pay to Shopify Plus includes a hosting fee, so you don't have to pay any extra fee for hosting, maintenance, updates, or security as it is Shopify's responsibility. 

Development fee

: Typically, you can use Shopify's built-in themes to build your eCommerce website ranging in price from $0 to $180. In reality, you need to seek solutions that maximize the customization and scalability of Shopify Plus. So, the costs, based on your specific requirements, will range

from $10,000 to $250,000

. To streamline your development cost, you should consider your needs and wants for the eCommerce website.

Adobe Commerce

:
Platform fee

: For the on-premise version, the fee will range from $22,000 to $125,000 per year. For the on-cloud version, the fee is from $40,000 to $190,000 per year. 

Transaction fee

: It depends on the payment service providers you intend to use, ranging from

around 2,9% per transaction

. However, you should contact Adobe for more details.  

Hosting fee

: For the on-premise version, you have to find a hosting provider yourself and the fee depends on your provider. For the on-cloud version, the hosting will be provided to you at prices ranging

from $500 to $10,000 per month

and the fee will vary based on your business scale and customization demand. 
Development fee: Building a website on open-source platforms typically incurs higher costs compared to SaaS platforms. Therefore, the development costs with Adobe Commerce are higher than Shopify Plus, ranging from $100,000 to $500,000 per project, but it offers more scalability and custom features.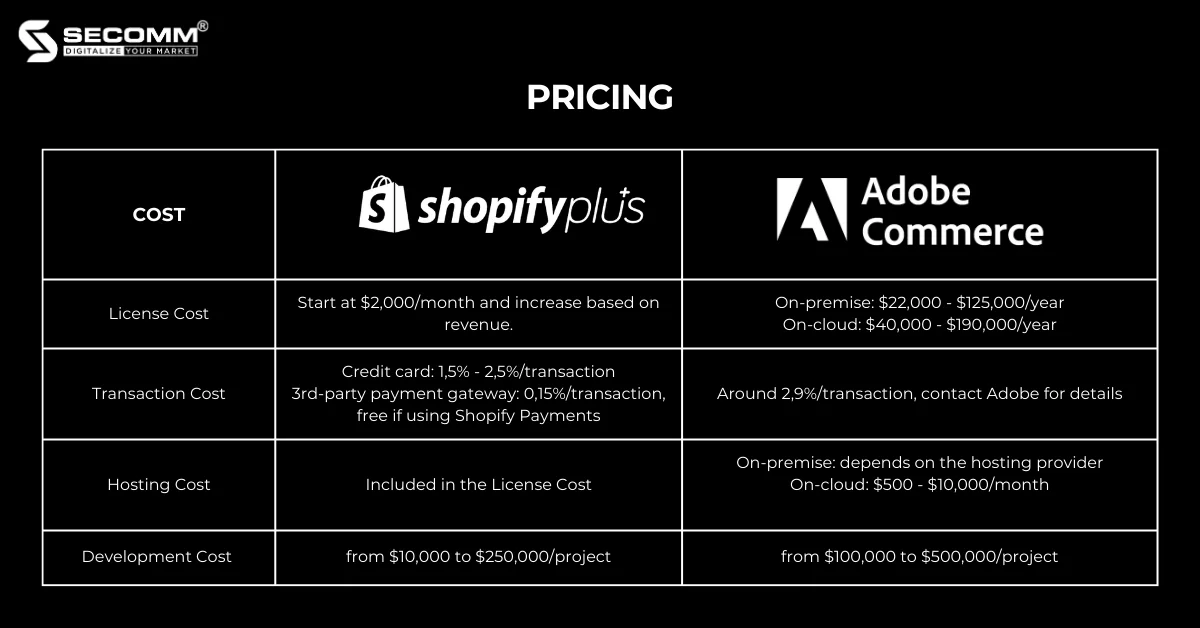 Customization & Scalability
Adobe Commerce is an open-source platform, meaning developers can access the source code and easily customize it. This allows you to create specific features and custom integrations to meet your needs.
Shopify Plus also offers high customization with a wide range of available themes, plugins, and apps. However, as a SaaS platform, Shopify Plus doesn't have the same level of customization as Adobe Commerce. 
Both platforms have scalability and can handle huge traffic and transaction volumes. However, Adobe Commerce has higher scalability than Shopify Plus, especially for businesses with large, complex product catalogs or extensive inventory management needs. 
The robust Adobe Commerce platform enables businesses to scale easily, handle increased website traffic and achieve high sales volumes. Moreover, Adobe Commerce provides you with a lot of advanced features to manage product catalogs, pricing, and promotions. This way, it benefits large-scale businesses. 
In general, Adobe Commerce offers higher customization and scalability compared to Shopify Plus but its development process is complex and requires technical expertise and experience.  On the other hand, Shopify Plus is known for its easy-to-use platform, allowing businesses without strong technical skills to quickly deploy their websites.
Multi-store support
The ability to support multiple stores is a crucial factor for many large-scale eCommerce businesses operating in multiple locations when choosing a platform.
Shopify Plus offers up to 9 additional stores to track inventory and fulfill orders in different locations based on the main store, with a maximum of 20 locations. This means you can manage all stores from a single dashboard that contains all user data, staff accounts, sales analytics, etc.
On the contrary, Adobe Commerce allows you to manage an unlimited number of stores on a single admin panel. You can synchronize inventory and share product catalogs among the stores. The platform also allows you to freely make changes at different levels as well as set up ranges to manage product attributes at a local or global level. These features make Adobe Commerce a popular choice for multinational corporations and global B2B, B2C retailers.
Therefore, the choice between Shopify Plus and Adobe Commerce for multi-store support depends on the business model, scale, and specific development needs.
Hỗ trợ triển khai Omnichannel
Adobe Commerce offers two main options for implementing Omnichannel:
Order management: This helps you manage orders, shipping, returns, and inventory across numerous channels

Third-party extensions: The platform provides a range of third-party extensions and integrations to implement Omnichannel strategies effectively. 
Shopify Plus also supports businesses to implement Omnichannel. One notable feature of Shopify Plus is its robust point-of-sale (POS) system called Shopify POS, which seamlessly integrates sales points across various channels, from online to offline.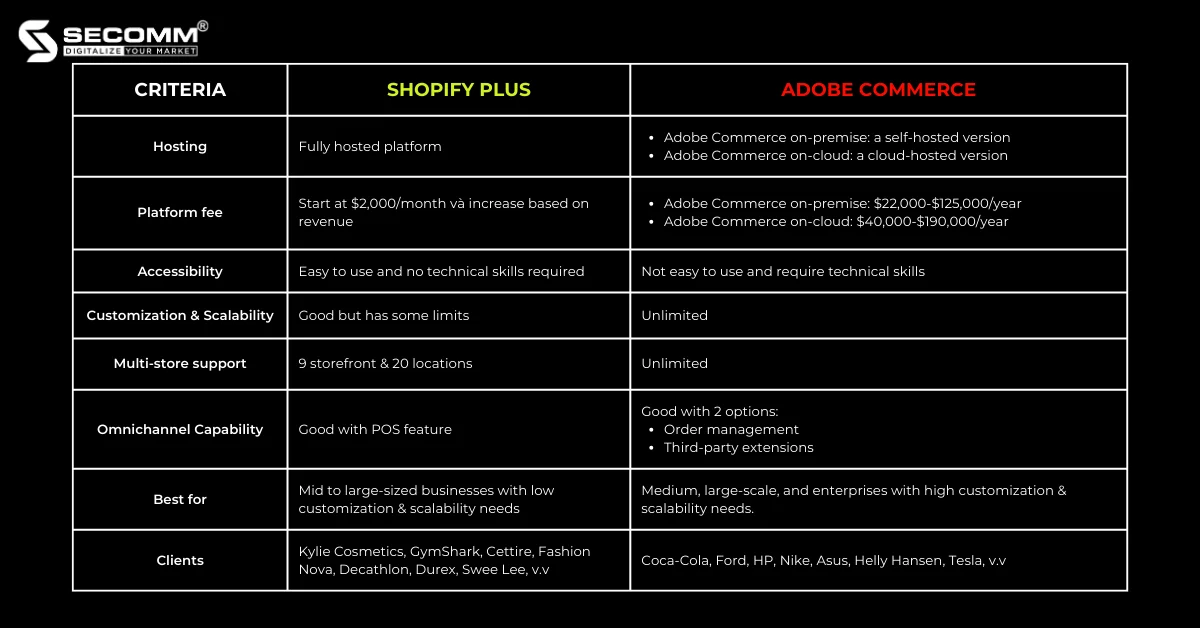 In a nutshell, Shopify Plus is for mid to large-sized businesses with rapid growth and a demand for highly customizable and scalable solutions. However, Adobe Commerce offers even more flexibility, scalability, and customization than Shopify Plus. In fact, the more flexible and customizable platform, the more complex and costly the implementation process becomes. As a result, you should consider your business scale and development needs to make the right decision. 
Contact or call the SECOMM hotline (02871089908) to get a free consultation.