The Covid-19 pandemic not only encourages the tremendous growth of eCommerce but also helps shift consumers' priorities from in-store to online buying. However, instead of just buying, consumers frequently prefer to seek out novel, inspiring experiences.
Therefore, every company should strive to implement the approach of shopping combined with entertainment (Shoppertainment) in order to improve marketing effectiveness and boost sales.
What is Shoppertainment?
Shoppertainment is a combination of two elements "shopper/shopping" and "entertainment".
Shoppertainment is described as "the provision of recreational or leisure facilities within or next to a retail store or shopping center, as part of a marketing strategy, which is designed to attract customers and stimulate purchasing" in the Oxford Dictionary (1990).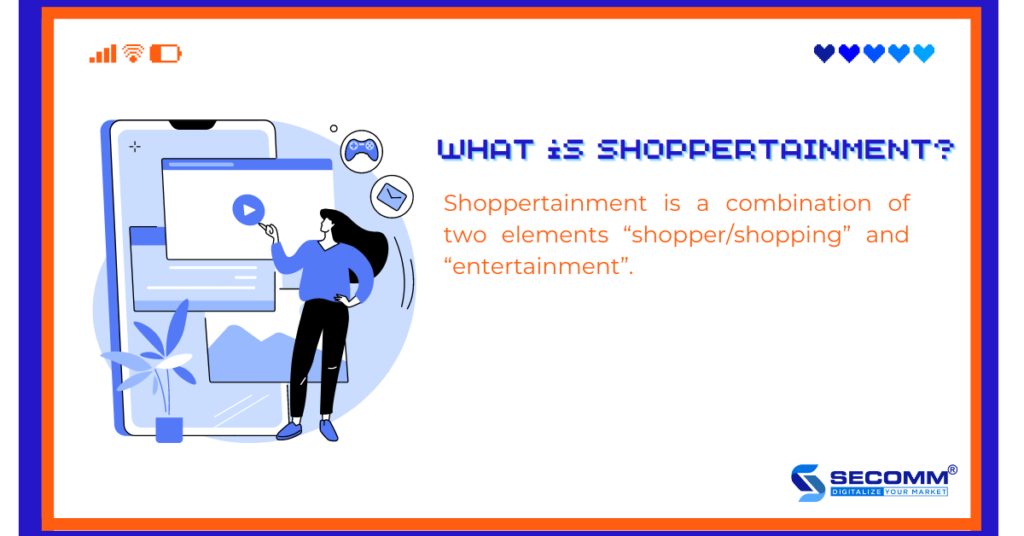 Many companies, notably IKEA, the biggest furniture retailer in the world, have used shoppertainment with success in the past. IKEA launched a campaign in 2019 called "IKEA nightclub – Tonight is to sleep" for 100 lucky individuals.
During this campaign, customers can partake in activities like manicures, massages, snacks, and tea instead of cocktails before spending the night in rooms with IKEA furniture that is soon to be released.
The brand has had remarkable sales success thanks to the campaign's resonance in North America.
The shoppertainment trend, however, is no longer just restricted to stores or other physical locations thanks to the growth of eCommerce and digital marketing but has instead gained popularity and taken over online shopping activities.
In comparison to the prior definition, shoppertainment has been enlarged and changed. Shoppertainment is a trend that combines online shopping with entertainment, allowing buyers to engage with merchants in addition to purchasing products as usual.
In Vietnam and in the Asia-Pacific region, certain forms of entertainment-infused shopping are very common. Examples include live streaming, shoppable videos, and gamification.
What role does shoppertainment play in eCommerce?
According to the Vietnam eCommerce White Paper 2022, the size of the retail eCommerce market in Vietnam will increase from $11.8 billion in 2020 to $13.7 billion in 2021 and is estimated to reach 16.4 billion USD in 2022.
Meanwhile, the percentage of consumers shopping online on eCommerce websites is 78% in 2021, up 4% over the same period last year.
Because of the urgency, lack of options, and social isolation, the effects of the epidemic have actually contributed to a change in consumption tendencies from in-person purchases to online purchases.
Since that time, it has seen the quick decline of the conventional commerce model and the rise of eCommerce. By 2026, Statista projects that eCommerce sales will total $8.1 trillion.
Additionally, it is not surprising that consumers like shoppertainment. Although this combination is not novel, it promises to set the consumption trend in the years to come as eCommerce takes center stage.
The demand for online shopping will be higher there, and expectations for the best shopping experience—including both online shopping and fascinating experiences will also be higher.
Retail businesses around the world have seen a significant rise in sales during the outbreak by combining online shopping with live streams, entertainment videos, and video games to create real-time digital interactions with customers.
For instance, Taobao Live, which Alibaba introduced in 2016, saw a 150% surge in sales in 2020 when the epidemic first appeared in China.
"Shoppertainment is now a basic expectation. You really have to leverage engaging tools so the shopper gets to learn about the product, its superiority, and has fun along the way," notes Alex Vogler, senior director and head of marketing, eBusiness, Procter & Gamble (P&G) Asia, Middle East, and Africa. 
The Covid-19 pandemic has had a significant negative impact on the human psyche, causing issues including depression and anxiety. On the other hand, a portion of the populace said that the social connections they were unable to have prior to the epidemic significantly improved their psychological well-being.
People need to connect with the community and others like them more than just for amusement. Brands have therefore concentrated on improving the consumer experience by transforming personal experiences into shared ones that bring communities together.
As an example, consider the hashtag #TikTokMadeMeBuyIt. Through the TikTok platform, users can easily and amusingly share their shopping experiences, resulting in videos going viral and receiving more than 4.5 billion views.
Shoppertainment will result in emotional and impulsive purchasing decisions since it emphasizes entertainment and connection. According to a recent TikTok research:
In Southeast Asia, 82% of consumers purchase goods from companies they hardly ever use.

55% of consumers have made unplanned purchases.

After watching videos on TikTok, 89% of consumers made unplanned purchases.

Half of TikTok users confess to finding new brands or products while using the app.

One in three customers desires to purchase and is satisfied with it.

One in three customers wants to add fun and entertainment to shopping.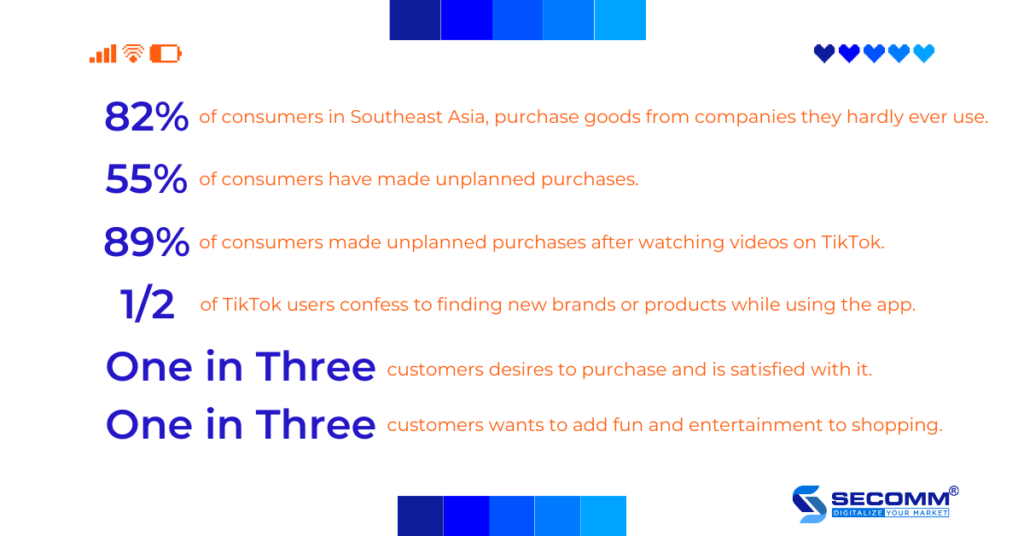 The studies mentioned above demonstrated the enormous influence that social networks and online shopping trends have on consumer decisions.
Because of this, Vietnamese retail companies have prioritized shoppertainment in their marketing plans.
Customers demand a more social and engaging online shopping experience, as well as the ability to connect and converse with one another while buying, which is the reason for any of this.
Best Shoppertainment practices
Live Selling
In recent years, both buyers and sellers in the Asia-Pacific (APAC) area have grown accustomed to live selling. Live selling is less common in the US and Europe than it is in APAC, but businesses there are nonetheless keeping an eye on this trend.
For instance, AliExpress initially introduced the live selling feature in France in May 2020, and since then, more than 3,000 live programs have been launched, with the involvement of more than 100 vendors.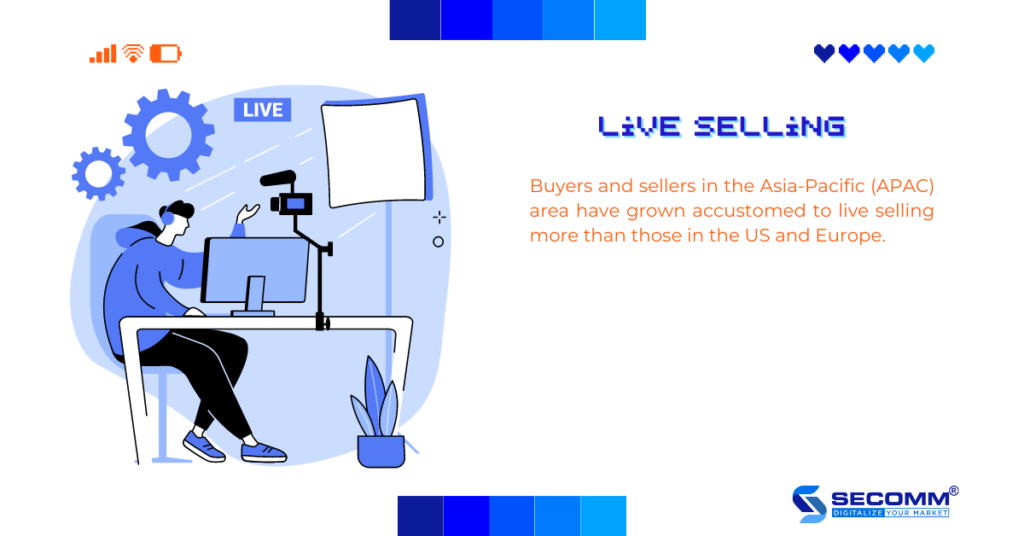 The combination of sales, interaction, and entertainment makes this one of the top social selling strategies. Customers can interact with vendors directly, view actual product photos, and make decisions by pushing their shopping emotions.
Plus, the engaging social interactions that take place throughout live streaming help retailers make an impact on customers, resulting in a high return rate.
Due to the growth of the Shoppertainment trend and the effectiveness of live streaming in generating sales through social networks, eCommerce marketplaces have started to put more of an emphasis on investing in producing engaging entertainment material for users on their apps, particularly through live streaming.
The customer buying experience is improved by several well-known live stream channels, like TaobaoLive, LazLive, Shopee Live, TikiLive, etc.
These companies have the resources to develop this feature for themselves, but lower-budgeted companies can still try the live-selling concept by integrating Facebook or YouTube live stream with an eCommerce website.
Shoppable Video
Live-streaming videos will be effectively replaced by shoppable videos. One of the joys of using this type of video is that companies may produce videos in their own distinctive styles that quickly introduce customers to their products, explain how they operate, and demonstrate how to use them. These videos can be attached to an eCommerce website. Users can always click the product link in this kind of short video to find out extra details or to make a purchase. The short-form video has overtaken popular platforms like TikTok, Instagram Reels, and Youtube Shorts as the go-to method for branding, cultivating customer trust, and influencing purchasing decisions.
83% of people, according to Nielsen study, prefer watching videos of advertisements to GIFs or text. Short-form videos have gained popularity as a result of global digital transformation and consumer preference, and many brands now opt to use those as part of their video marketing strategies due to their useful advantages, which include the following:
Simplify the customer journey

Increase customer engagement

Improve the conversion rates

Get a boost in sales

Create brand loyalty

Build a better customer experience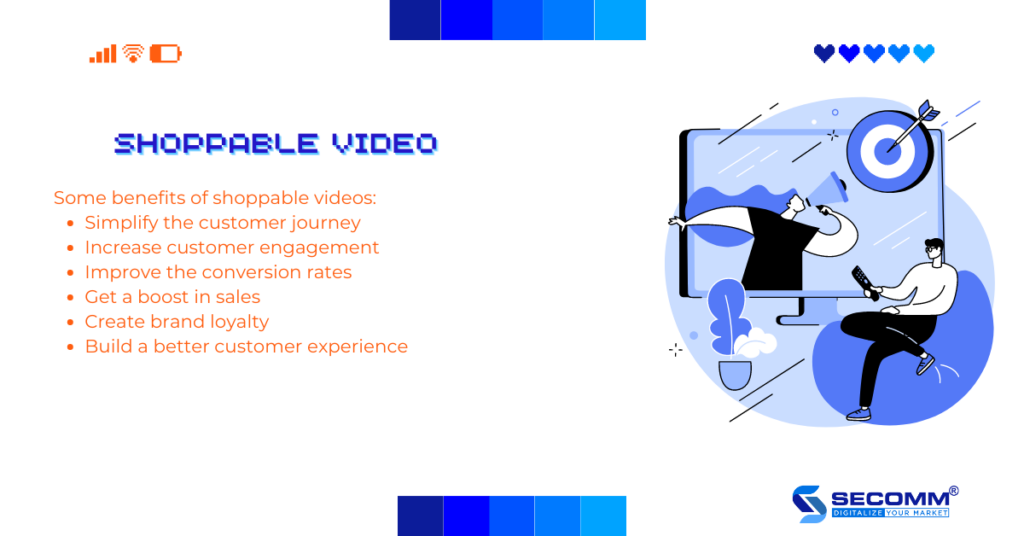 Gamification
Gamification or Gamification  Marketing is the skillful incorporation of a video game's mechanics into promotional operations in a unique and impressive method to meet marketing objectives.
Gamification's primary advantage, similar to live selling, is engagement, which keeps people on the site, drives conversions, and boosts sales.
Users are actually more likely to return for more shopping if a business can convince them that engaging with it is an interesting experience rather than a transaction.
A study by Bazaar Voice demonstrates the impact of gamification on businesses' marketing strategies as follows:
70% of shoppers want gaming elements incorporated into online shopping.

But only 42% of shoppers enjoy gaming in-store.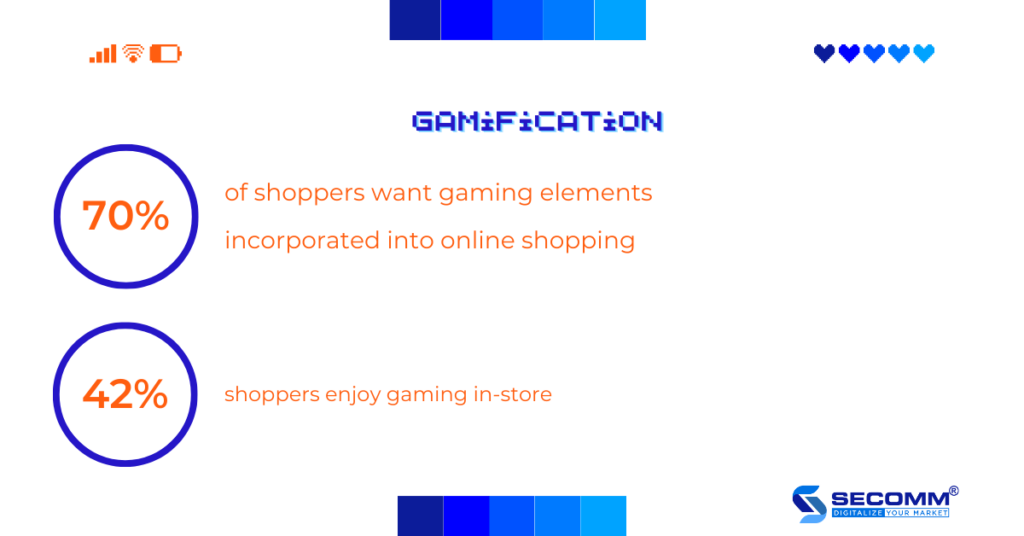 For instance, take Bajaj Finserv's Indian financial company's Gamification Marketing campaign. The game was created by this firm to encourage people to use its travel loan services.
Users will complete tasks and respond to questions about their preferred travel destinations. Customers adored the campaign, and it immediately trended on Twitter with more than 75 million impressions.
Thus demonstrating Bajaj Finserv's efforts to develop engaging experiences and provide them to customers in line with its marketing strategy. Brands attract more potential customers, enjoy the better engagement, and increase conversions as a result of the viral impact.
Shoppertainment has been around for a while, but it wasn't until Covid-19's effect that this trend truly took off. Businesses should take advantage of this trend to improve the online shopping experience for customers and increase sales in the era of eCommerce.
Due to the growing demands of customers for a better shopping experience and the ongoing changes in the market, achieving this goal is difficult and labor-intensive. As a result, companies must work with expert agencies to plan the proper eCommerce deployment from the start.
With many years of experience in successfully implementing eCommerce for many customers in many countries, SECOMM specializes in providing consulting services with comprehensive and professional eCommerce implementation solutions.
Contact SECOMM today for free support and advice.