Loyal customers contribute significantly to the profitability and development of eCommerce businesses. Therefore, as a business, you need to focus on strengthening relationships with customers and encouraging repeat purchases. Among the methods available, building and convincing customers to participate in Loyalty Programs is an effective strategy.
Below is the ultimate guide to successfully build and implement an eCommerce Loyalty Program. 
Related Readings: Everything To Know About eCommerce Loyalty Programs
Set Objectives
The first step of the process is to establish the goals of the eCommerce Loyalty Program, which includes identifying the objectives (e.g. increasing customer retention rates, promoting repeat purchases, attracting new customers, increasing CLV). These objectives should align with the overall development strategy and business goals.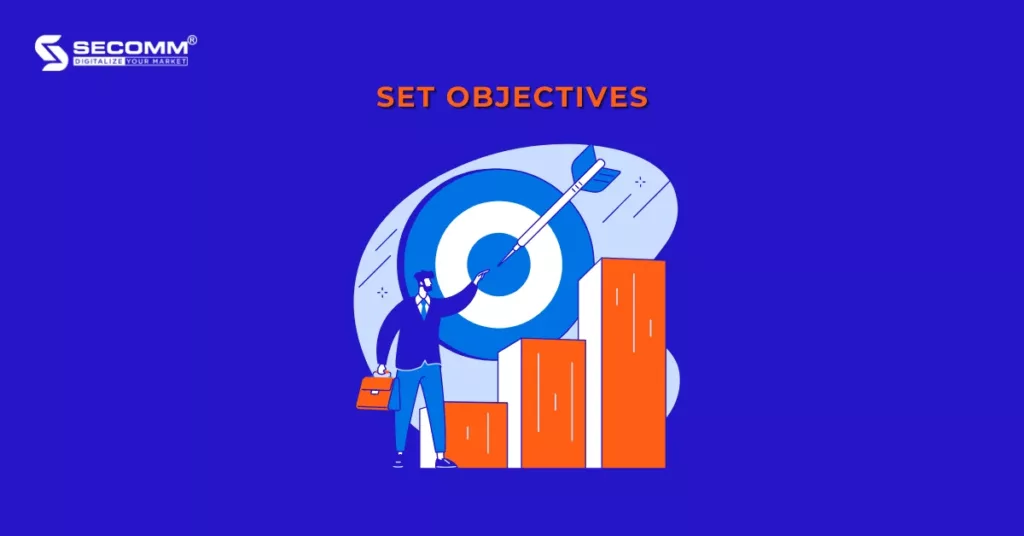 In addition, as a business, you need to clearly define the target audience of the Loyalty Program by analyzing the demographic and psychographic characteristics of those audiences to design a suitable program that meets their expectations. 
You also can research the Loyalty Programs of competitors, analyze their strengths and weaknesses, and then create your own program to differentiate your business and provide unique value to customers. 
Develop eCommerce Loyalty Program
Determine types of Loyalty Program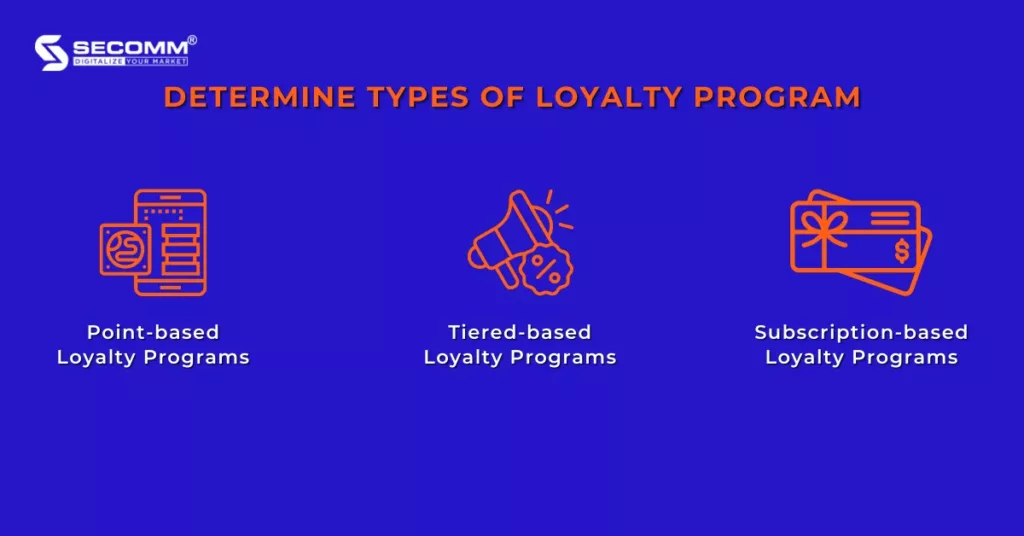 Currently, there are various types of eCommerce Loyalty Programs, but the most popular ones are point-based programs, tiered-based programs, and subscription-based programs. 
Point-based Loyalty Programs
This allows customers to earn points for each purchase or specific action and redeem them for rewards once they have accumulated a certain number of points. You should pay attention to the value of the rewards customers will receive and the reasonable time to redeem them to make the programs attractive. 
Tiered-based Loyalty Programs
This program encourages customers to strive for higher tiers to receive higher-value rewards and benefits. It will require customers to invest their time and money in shopping and engaging with your brand, meaning the more they spend, the more benefits they receive, and the higher their loyalty to your brand.
Subscription-based Loyalty Programs
This Loyalty Program requires customers to register as members and pay a monthly, quarterly, or annual fee, depending on the terms of each program. Because of that, customers are more likely to commit to engaging with the brand, which is higher than other types of programs. Typically, these programs will have a trial period for customers to decide whether or not to join, and this is also an opportunity for you to convince them that the value they will receive is worth every cent. 
The choice of Loyalty Program type depends on the budget, resources, and overall strategy of your business. 
Choose rewards meaningful to customers
After choosing the right type of eCommerce Loyalty Program, you will want to select rewards that are suitable for that program. For point-based Loyalty Programs, common rewards include:
Discounts on the next purchase;

Free shipping;

Free gifts;

Priority support;

The opportunity to join exclusive events 

The latest product updates.
The SHEIN Bonus Point Program is a typical point-based Loyalty Program, where customers will earn 1 point for $1 spent. In addition, customers can also earn reward points by taking specific actions such as verifying their accounts, reviewing products, etc. When reaching the required number of points, customers can redeem them for discounts of up to 70%.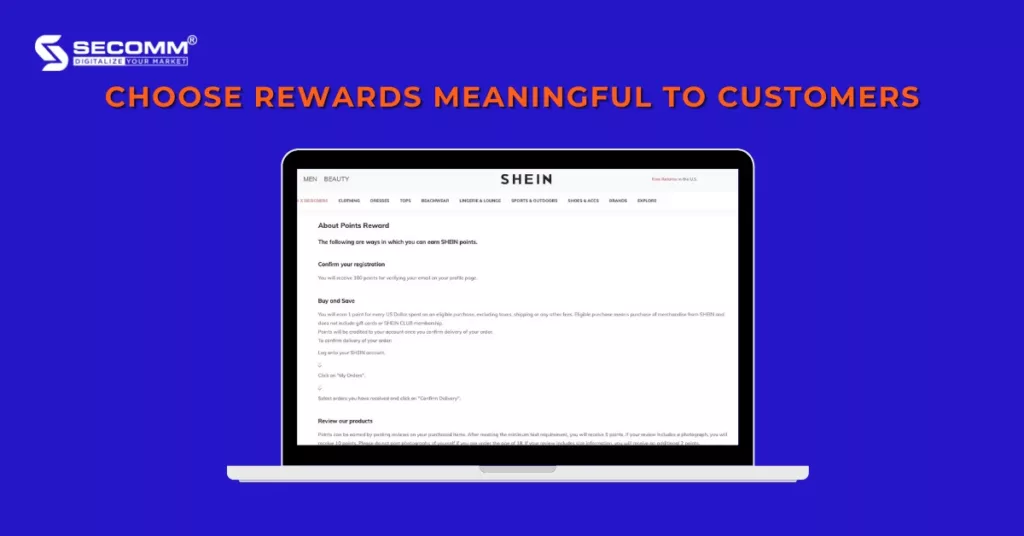 For the type of tiered Loyalty Program, the tiers will determine the equivalent benefits that customers will receive and require effort to maintain or upgrade. Therefore, rewards will be designed to reflect the brand's characteristics and personalized for each customer at each specific tier. This makes the customer's efforts worthwhile. 
For example, Aldo Crew is a tiered Loyalty Program from the famous fashion brand – Aldo, with 3 main tiers: Crew, Plus, and VIP. The program offers customers attractive and personalized benefits such as special pricing, free birthday gifts, birthday discounts, 20% off handbags when purchasing shoes, exclusive privileges and surprises, and account sharing with friends.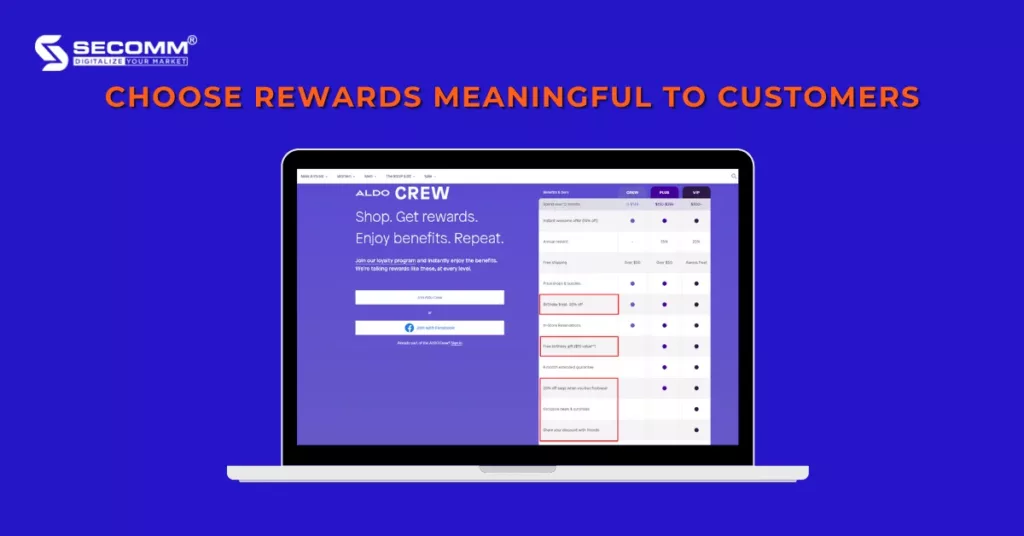 Most membership programs are applied by leading and well-known businesses worldwide due to their credibility, product value, and high-quality service that make customers trust them to spend their money to sign up. The rewards of this type of program tend to be exclusive, only available at the brand and for registered members. 
For example, customers who register for the Walmart+ membership program will receive benefits such as product discounts, shipping policies, gas service, and movie watching with Paramount+ that non-members cannot receive.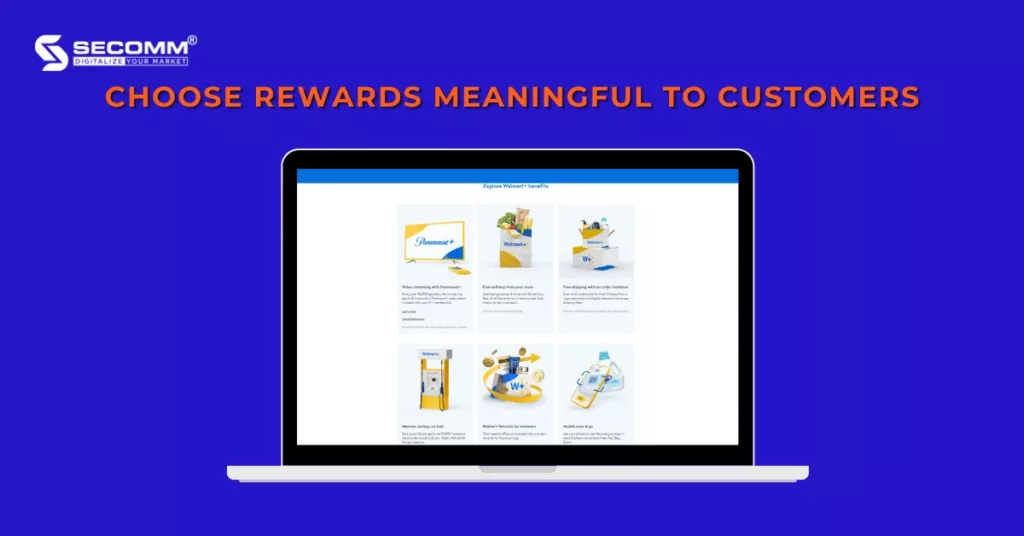 Depending on what Loyalty Program you choose, you will select rewards that are appropriate for both your customers and your business. However, you should consider the cost of each reward as well as the benefits it brings to the business before applying it to the program. Providing valuable rewards can not only increase customer retention and loyalty but also boost sales and increase the CLV. 
Choose Loyalty Program Software
Next, you will need software to develop,  and manage eCommerce Loyalty Programs, track customer activities, and distribute rewards. The choice will be based on some factors such as ease of use, integration with eCommerce websites, and the price of the software. There are some popular Loyalty Program software on the market today, including Smile.io, Loyalty Lion, Yotpo, S Loyalty, and so forth. These softwares can be easily integrated and work effectively with eCommerce platforms such as Magento, Shopify, WooCommerce, etc. 
Design the program rules
The next step is to design the rules of the program. You need to ensure that the rules and conditions for participation are presented clearly, easy to understand, and easy to follow.
For example, the Sephora Beauty Insider program is based on a tiered system where customers earn one point for every dollar they spend, and the conditions for participation and advancement are clearly presented.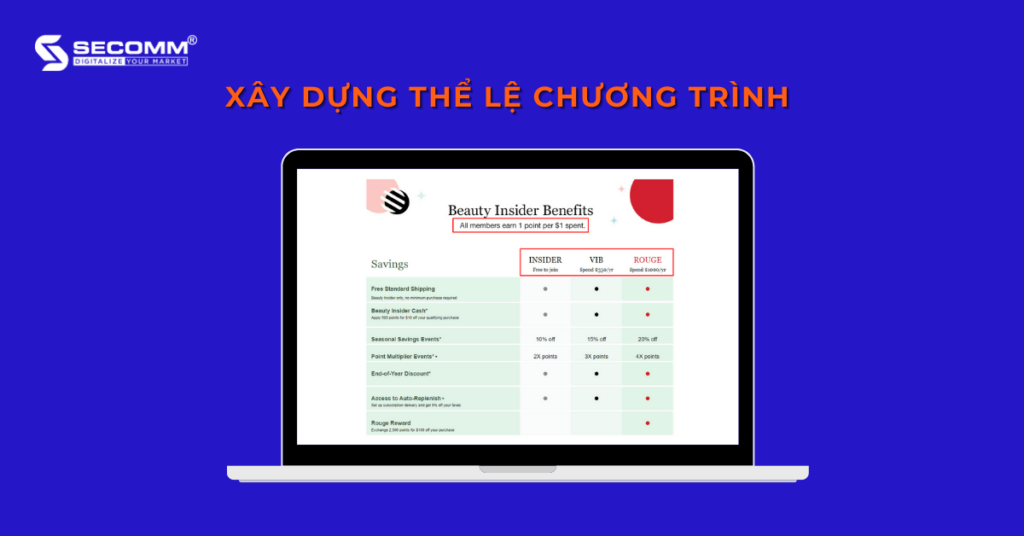 Again, with Walmart+ as an example, customers easily recognize the benefits they will receive for joining the program as a member, and the cost of $12.95/month after a 30-day trial as well.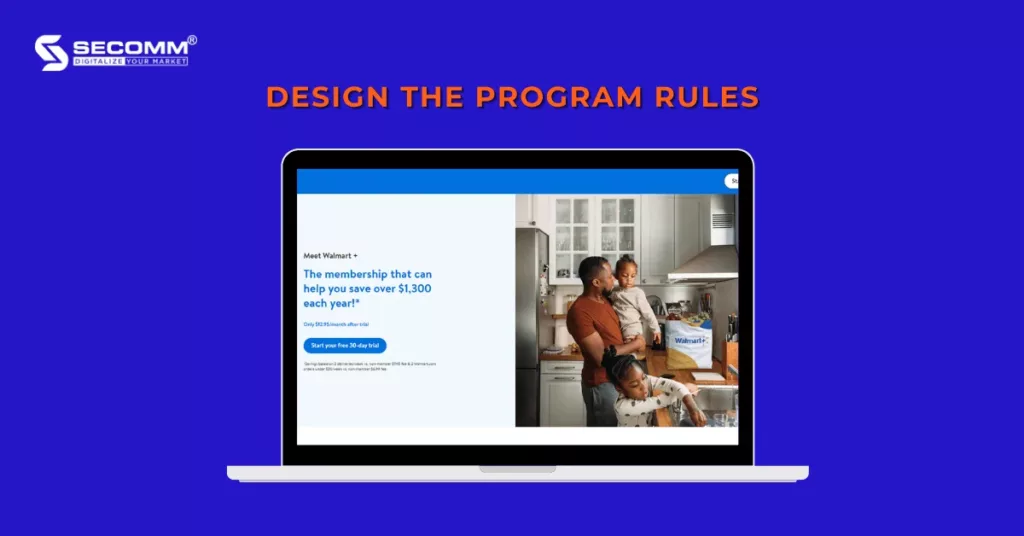 In addition, the registration process should be easy to execute. Typically, brands will require customers to create an account on their website or fill out a registration form, or even simpler, just log in with Facebook to participate. These actions are quick and easy to execute.
For example, in the Sephora Beauty Insider program, customers can click "join now", fill out the form, and join the Insider tier. Or, if they already have an account, they need to log in to see their points balance and tier.
For the Aldo Crew program, customers need to fill out a registration form on the website or log in with their Facebook account to start.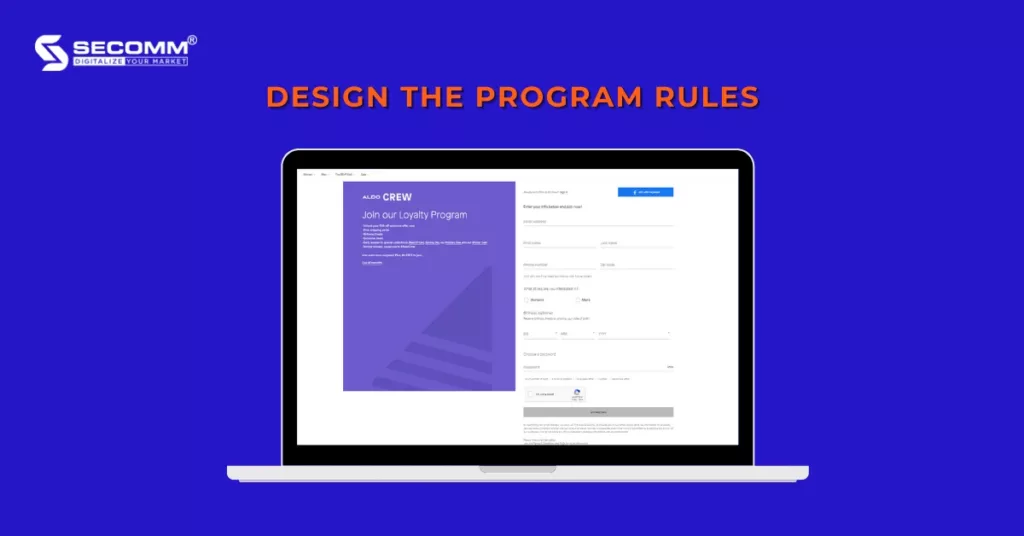 In addition to ensuring the clarity and understandability of the program rules, you also want to ensure that the conditions set are appropriate for customers to quickly earn rewards and maintain the attractiveness of the program, while also bringing profits to the business.
For example, the Amazon Prime membership program offers customers a 30-day free trial and a range of pricing options. The most noteworthy are the monthly payment plan at $14.99/month and the annual payment plan at $139/year. The majority of customers are likely to choose the annual payment plan ($139) to save money, which is also Amazon's intention as the profits they earn will be higher.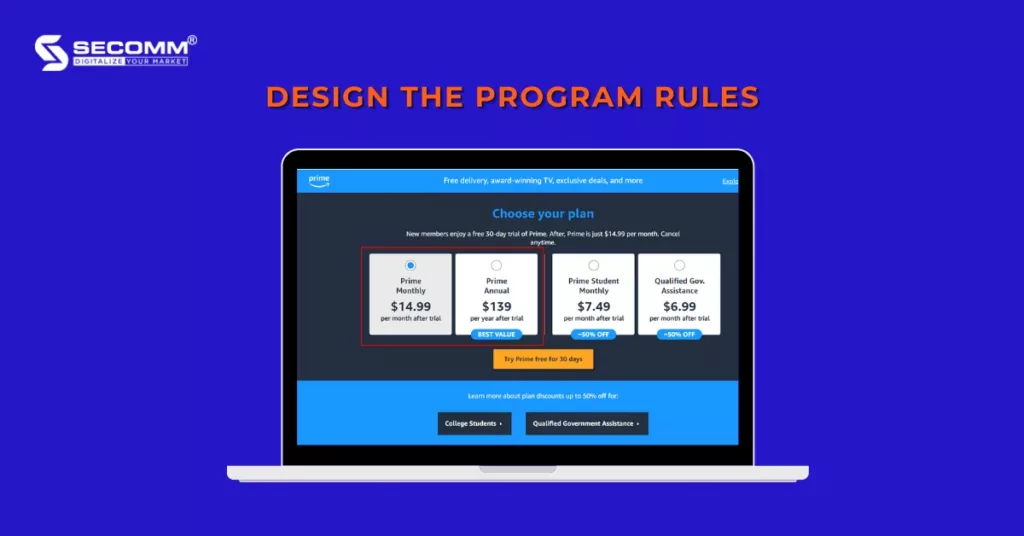 Implement eCommerce loyalty Program
Integrate the program to eCommerce website
To implement a Loyalty Program, you will need to integrate the program into your eCommerce website and display the point balance and rewards on the Shopping cart page.
Taking Sephora as an example again, the Profile page displays the customer's current membership tier and current point balance.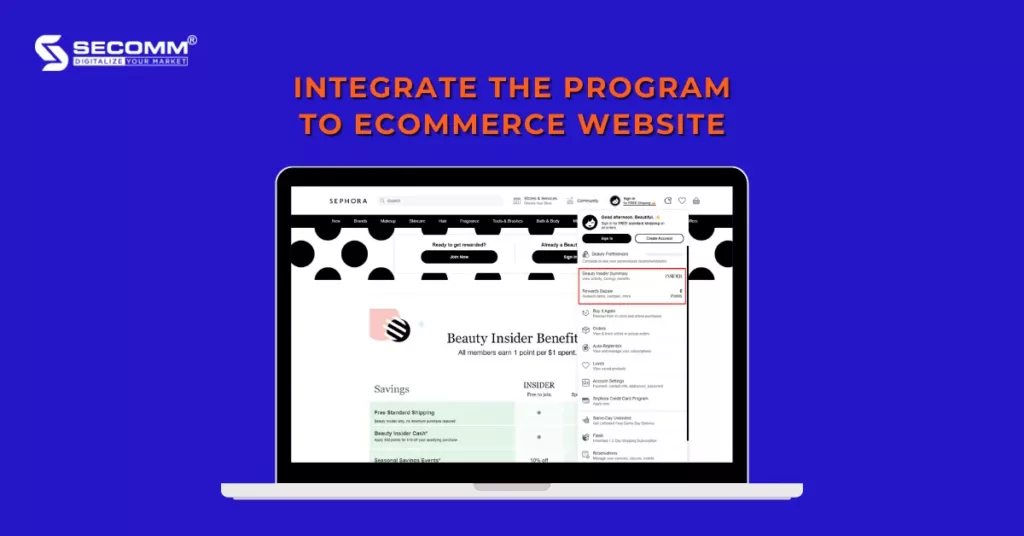 Train the team
For the success of your eCommerce Loyalty Program, you have to educate your team about the program, including participation requirements, point accumulation methods, rewards, and more. 
Moreover, you want to ensure that your team knows how to answer customer questions about the program and handle any arising issues. This activity should be done regularly along with the changing of your Loyalty Program to fit market trends. 
By providing effective training, your team is able to promote and manage the program accordingly. This contributes to the success of your eCommerce Loyalty Program.
Launch & promote the program
When launching your Loyalty Program, you will want to make it popular so promotion is necessary. To do it effectively, you can prominently display the program on the Homepage and Navigation menu of your website. Also, you can promote the program on social media or use eye-catching graphics and compelling content for email marketing. 
An Influencer marketing campaign is an effective way to increase the program's awareness and engagement. Referral Marketing is also a commonly used marketing strategy in Loyalty Programs today, encouraging customers to refer new members to the program to expand the customer base.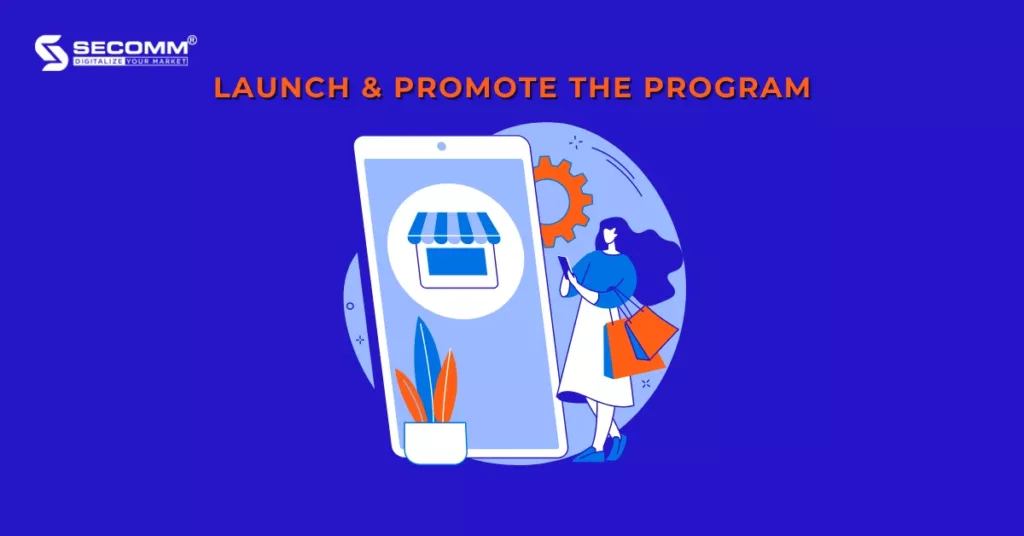 Popular Loyalty Programs such as Sephora Beauty Insider, Amazon Prime, Walmart+, Aldo Crew, and eBay Plus all have referral programs. When someone signs up for the Loyalty Program through a referral link, both the referrer and the referee will receive a small bonus of $1-$10 or a discount on their next purchase. 
Measure outcomes & keep customers engaged
You will need to track and measure the results of the Loyalty Program to ensure the objectives are achieved and make adjustments if necessary. 
You can use KPIs like customer retention rate, repeat purchase rate, or average order value of members compared to non-members. Moreover, you can collect and analyze customer feedback and reviews on their satisfaction with the program to identify what to improve.
You also need to keep your customers engaged by regularly improving, updating, and promoting the program. At the same time, you should provide personalized rewards and experiences based on their interests and behavior to increase customer satisfaction and interaction.
In addition, you can consider building a community of members by providing online and offline events and special offers exclusively for program members. Again, Sephora does this well, they offer exclusive events for all Insider, VIB, and Rouge members in addition to other incredible experiences. This gradually creates a community of loyal Sephora customers who love beauty.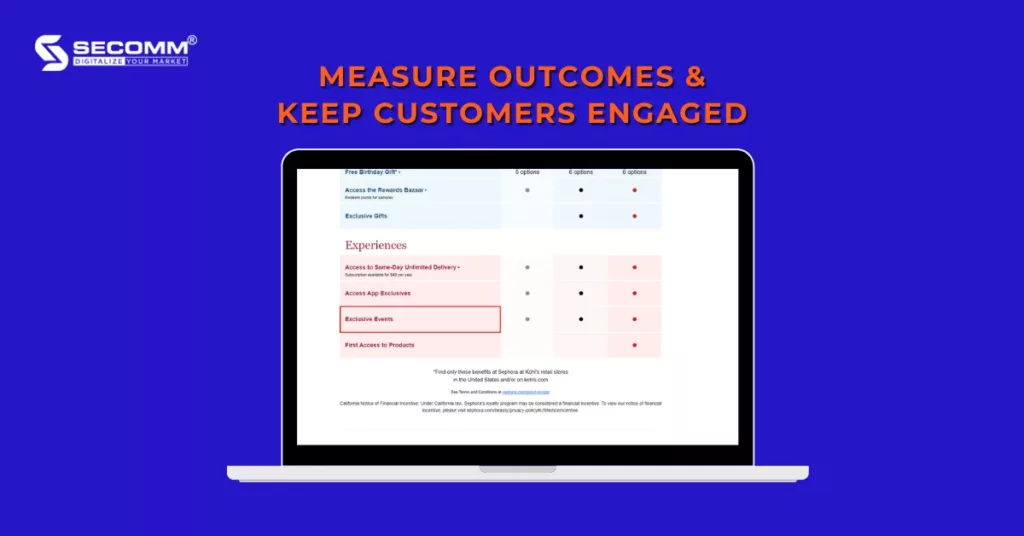 Retention isn't about convincing customers who were going to leave to stick around. Instead, retention is about providing so much value to your existing customers that they never go anywhere else and become your strongest benefit.
Therefore, enhancing your customer experience through attractive Loyalty Programs is an effective way to increase customer retention and loyalty.
Contact SECOMM now for a free consultation on developing a comprehensive eCommerce Loyalty Program.