The eCommerce trend has quickly extended to various sectors of the economy. The explosion of online pharmacies, both domestically and internationally, demonstrates the significant impact this trend is having on the pharmaceutical industry. 
Typically, the first step in the online presence strategy of these pharmacies is the professional establishment of an eCommerce website. 
Here are 10 pharmaceutical brands in Vietnam and on the global stage that have effectively launched eCommerce websites and swiftly captured a significant share of this market.
CVS Health (USA)
CVS Health is a major player in the U.S. healthcare sector and stands as the largest retail pharmacy chain in the country, boasting over 9,900 physical stores. CVS also offers an array of healthcare services, encompassing general health check-ups, diagnostics, and dental care.
The CVS pharmacy eCommerce website is built upon the Oracle Commerce platform, equipped with numerous features to ensure an optimal user experience and scalability for the future. Notably, it includes a prescription management feature that empowers customers to oversee their prescriptions through their CVS accounts, request prescription refills, and receive medication deliveries at their doorstep. Furthermore, the online drugstore allows customers to schedule appointments with two options: in-person clinic visits or remote telehealth consultations via video calls.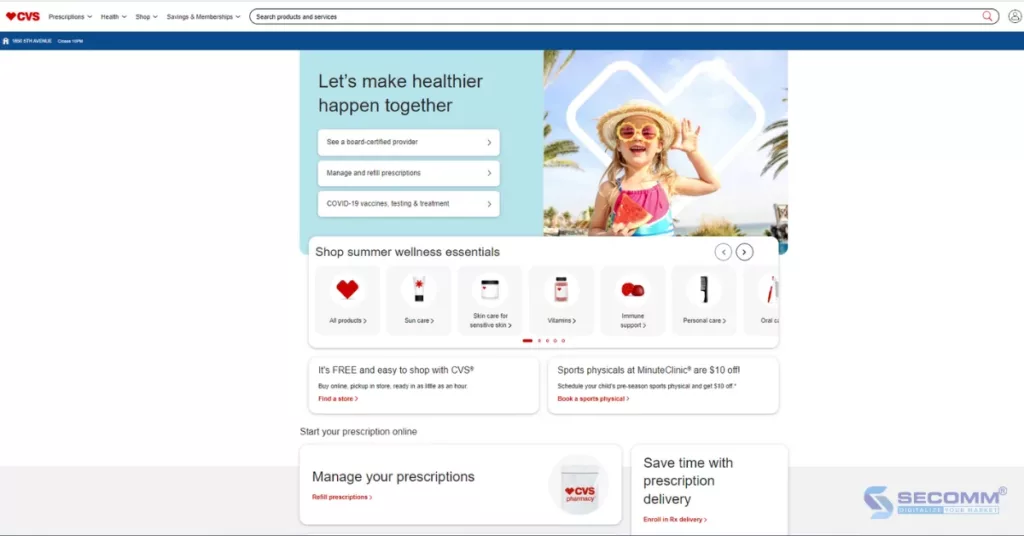 Droga Raia (Brazil)
Established in 1890, Droga Raia has continually grown and, over the years, has become one of the foremost pharmacy chains in Brazil. Despite its long-standing legacy, Droga Raia hasn't lagged in the eCommerce trend.
With an average monthly website traffic of 19.8 million, Droga Raia opted for Magento to facilitate its pharmacy eCommerce website. This choice was well-founded, given the platform's superior flexibility for customization and scalability, ensuring the capability to manage high traffic volumes and cater to future system expansion needs.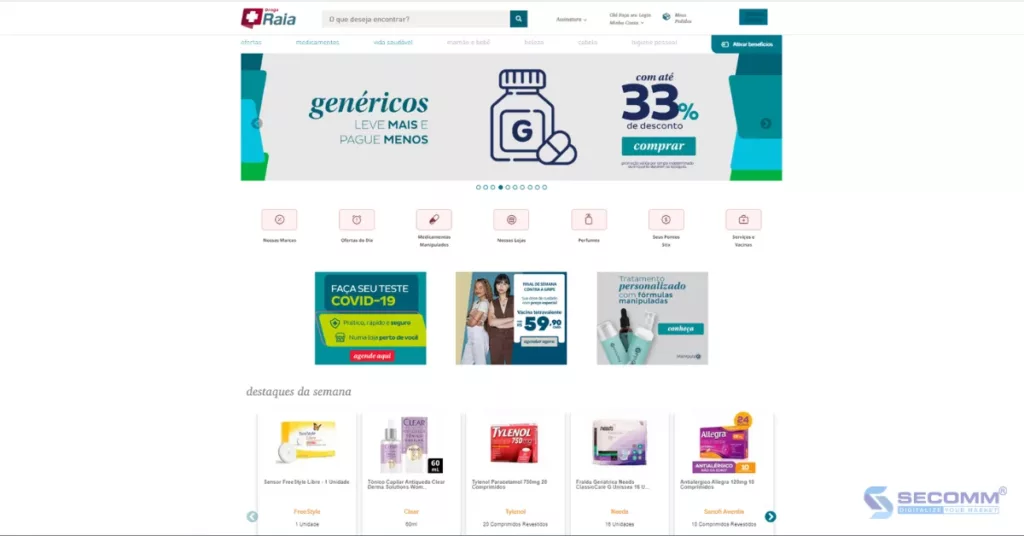 Apollo Pharmacy (India)
Apollo Pharmacy, a well-known retail pharmacy chain in India, operates as a subsidiary of Apollo Hospital. Over the years, Apollo has expanded its chain of stores to thousands, serving cities and towns across India. 
Apollo built its online pharmacy on the Magento platform, equipped to manage a vast product portfolio. In addition to offering both prescription and non-prescription medications, as well as healthcare products, Apollo provides various related services. These services encompass online consultations, health check-up appointment scheduling, vaccination bookings, and insurance sales. Currently, the website garners 12.7 million monthly visits.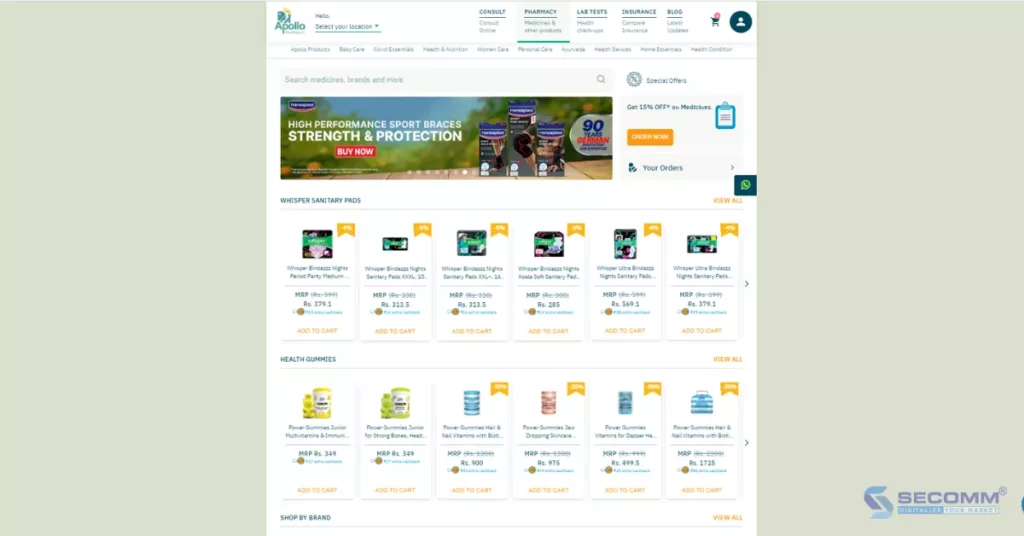 Netmeds (India)
Another well-known online drugstore in India is Netmeds. In addition to prescription and non-prescription drugs, this brand offers a diverse range of healthcare products, including items for maternity and baby care, medical equipment, and dietary supplements for fitness enthusiasts, vegetarians, and those with diabetes. Netmeds also relies on Magento to develop its pharmacy eCommerce website, featuring various capabilities to enhance the user experience. These include product categorization with accompanying images, non-prescription product search recommendations, real-time product availability checks at specific stores, prescription upload options, and home delivery requests. At present, Netmeds' website averages around 10.4 million monthly visits.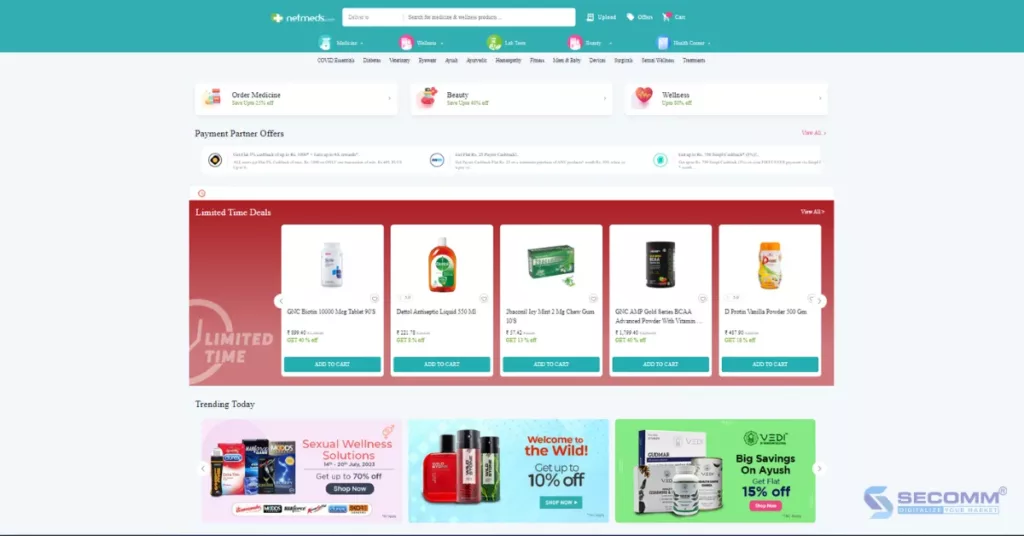 Nahdi Online (Arab Saudi)
Nahdi Online is the leading pharmacy eCommerce website in Saudi Arabia and ranks among the region's largest retail pharmacy chains. This marks the fourth pharmacy on the list utilizing the Magento platform to craft a user-friendly website enriched with advanced features, facilitating product-specific searches, in-depth product descriptions, and price comparisons for customers. Moreover, through Nahdi's online pharmacy, users can access various online consultation and healthcare services or book appointments at the clinic.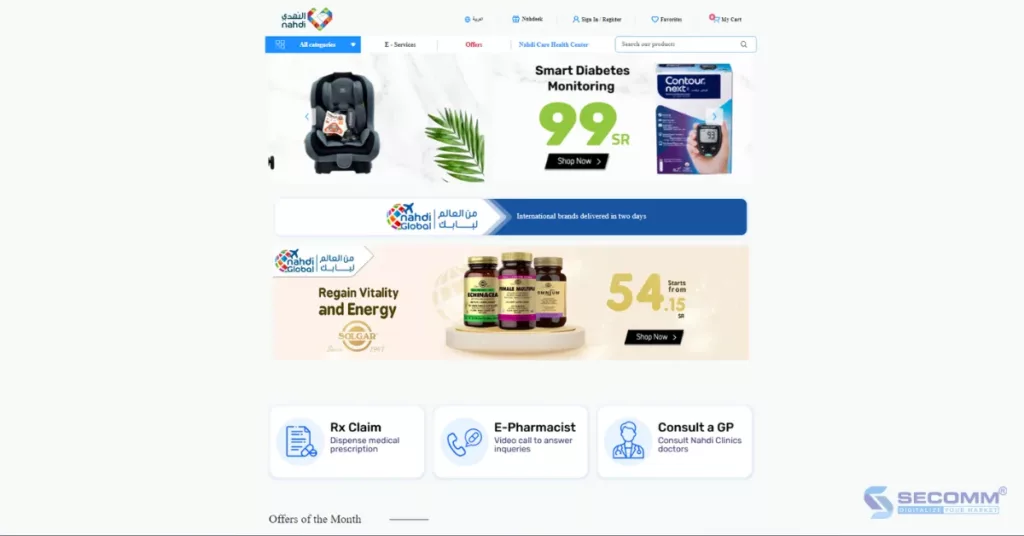 An Khang Pharmacy (Vietnam)
An Khang Pharmacy, one of the most trusted pharmacy chains in Vietnam, was established in 2012 and has since expanded to over 500 pharmacies nationwide. Additionally, the brand has introduced a pharmacy eCommerce website and a mobile app to cater to consumers' online pharmaceutical needs, complete with a variety of enticing offers. 
An Khang provides a wide array of products, including medications, dietary supplements, medical equipment, personal care items, and cosmetics. Moreover, the An Khang website features a dedicated section for disease lookup, allowing customers not only to make purchases but also to access information on various common diseases, including their causes, symptoms, treatment methods, and prevention.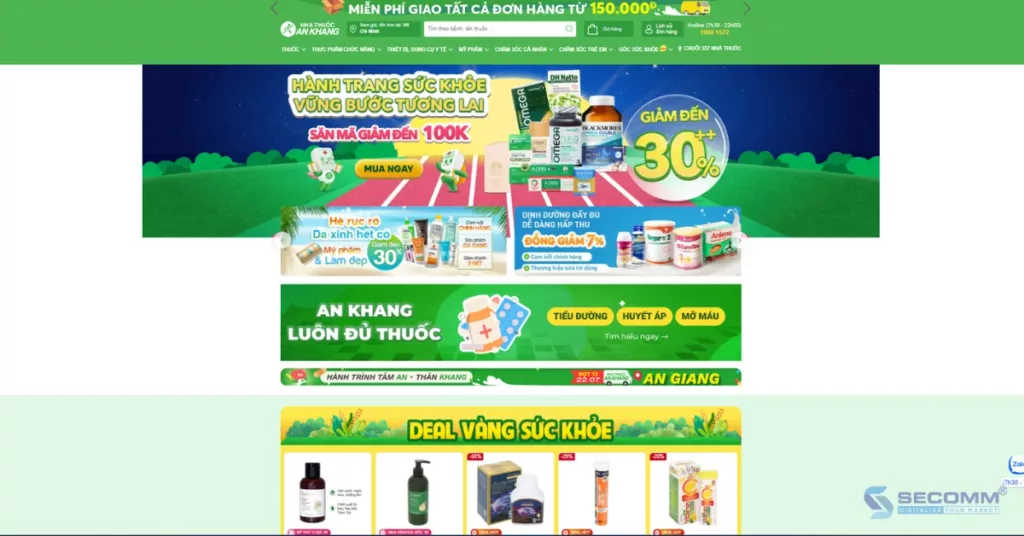 FPT Long Chau (Vietnam)
FPT Long Chau, established in 2015, has a presence in over 1,000 stores across all 63 provinces in Vietnam and is a pioneer in the modern online pharmacy model. Both its pharmacy eCommerce website and app have gained strong favor from consumers for their rich and seamless shopping experience.
Notably, Long Chau leads the way in offering a Buy Now, Pay Later service with 0% interest, helping to ease the financial burden on patients. Furthermore, customers can access guidance from Long Chau's experienced pharmacists through a hotline or chat service. Currently, the Long Chau website attracts approximately 5.2 million monthly visitors.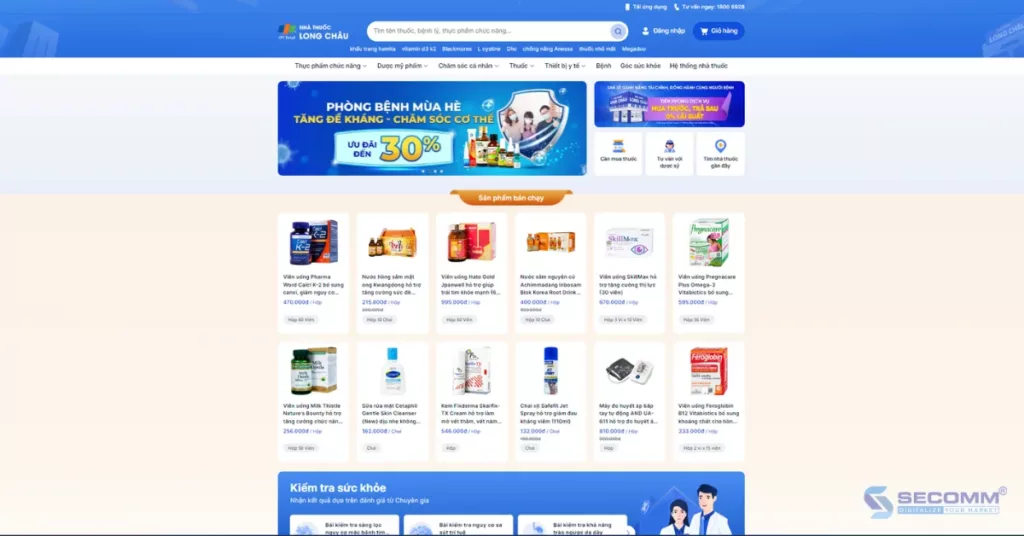 Pharmacity (Vietnam)
In the pharmaceutical market of Vietnam, Pharmacity is the third name mentioned in the fierce "three-horse race" taking place in both the online and offline channels. This company was founded in 2011 and currently has over 1,000 stores nationwide. Similar to An Khang and Long Chau, Pharmacity has also launched an eCommerce website and app with various promotional programs to provide customers and patients with a convenient and quick shopping experience, along with online consultation services from a team of highly professional pharmacists. Currently, the Pharmacity website attracts an average of 2.7 million monthly visitors.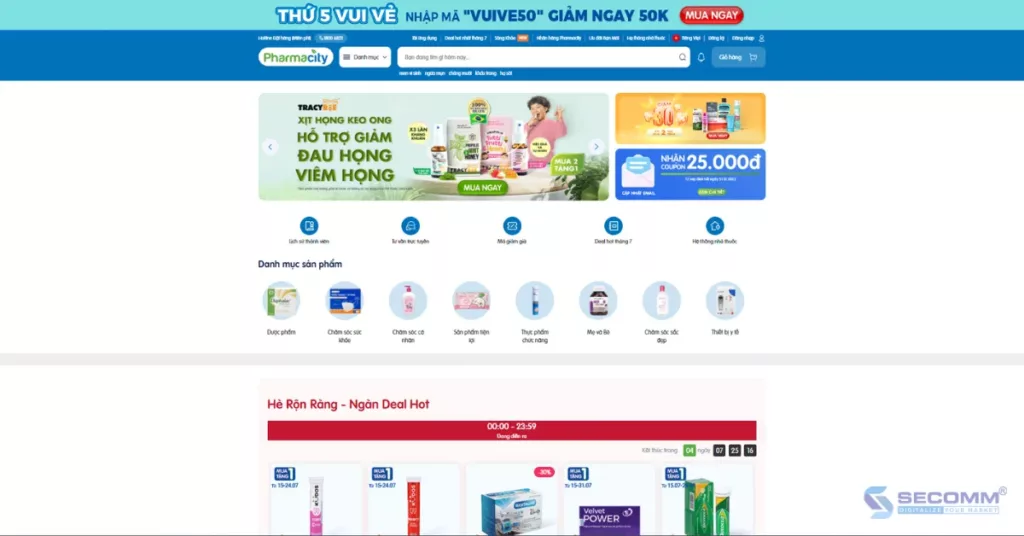 Central Pharmacy (Vietnam)
This is one of the most reputable and high-quality online pharmacy systems in Vietnam. The pharmacy offers a wide range of genuine pharmaceutical products, dietary supplements, health, and beauty care items from major global brands. Central Pharmacy's drugstore provides various features to enhance the shopping experience for customers, such as search suggestions, search filters, and integration of messaging applications (FB Messenger and Zalo) on the website for customer support, prescription uploads, and home delivery requests. To date, the website has attracted more than 587,000 monthly visitors.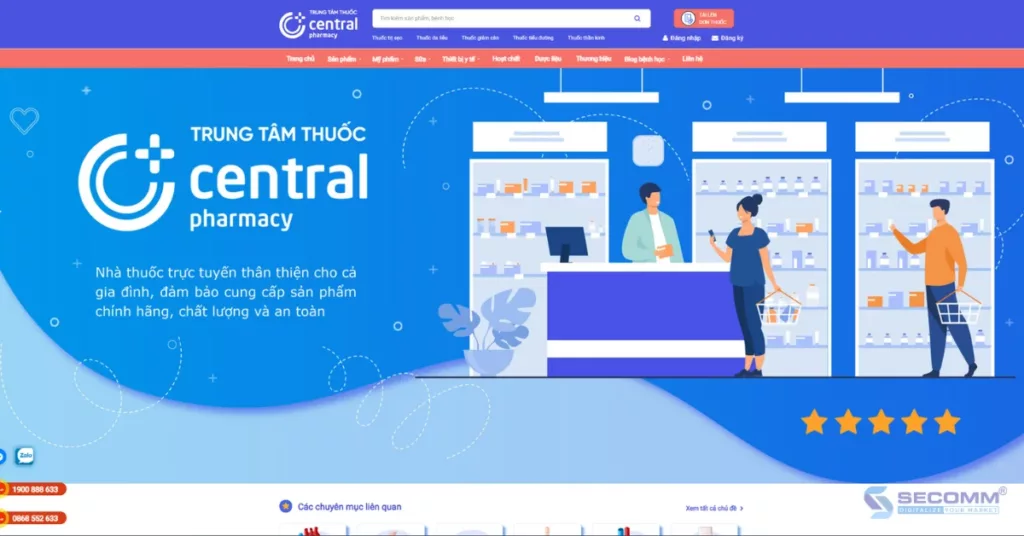 Nha Thuoc Than Thien (Vietnam)
Nha Thuoc Than Thien is a retail chain that meets GPP standards in Vietnam. Specializing in prescription and over-the-counter medications, as well as various healthcare products, this establishment has embraced a hybrid model, combining both offline and online pharmacy services. The primary sales channel is its user-friendly eCommerce website, developed using WooCommerce. The website is intuitively designed, incorporating essential features to facilitate customer product searches, seamless transactions, and order tracking. With around 410 thousand monthly visits, the website continues to serve a significant audience.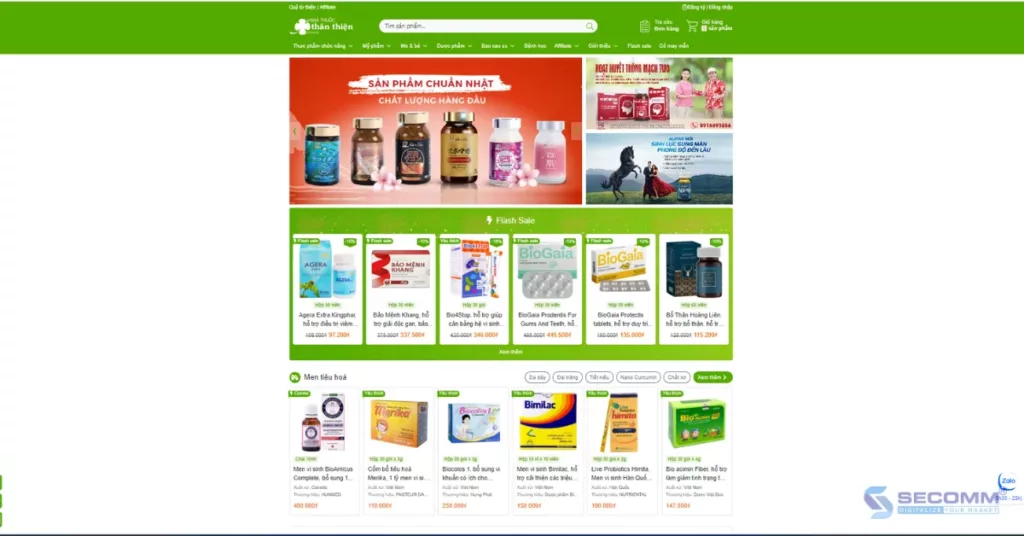 Here are the top 10 eCommerce websites, including leading online pharmacies, in both the Vietnamese and international markets. These brands demonstrate their adaptability to consumer trends and their efforts in developing technological infrastructure to compete in the multibillion-dollar market.
With a wealth of experience in successfully implementing eCommerce solutions for numerous clients across various countries in recent years, SECOMM specializes in providing consulting services with professional eCommerce deployment solutions tailored to the specific needs of each industry.
Feel free to contact or call SECOMM's hotline directly at (02871089908) for a free consultation.