The eCommerce industry has a sizable market share in the Vietnamese economy and has shown impressive growth over the past two years due to the effects of the worldwide pandemic and social isolation.
After a year of society adjusting to the "new normal", customers have started to buy at traditional stores again but the established trend of eCommerce consumption and the push from the wave of global digital transformation have encouraged businesses to change in order to suit the way the digital economy works.
Therefore, recognizing and anticipating the eCommerce trend of 2023 is extremely necessary for businesses' New Year's Marketing strategies to be implemented effectively and successfully.
Below is a list of 10 eCommerce trends that are forecast to "storm" the market in the next year.
Omnichannel
Omnichannel is an omnichannel sales model that helps businesses reach customers through many channels such as eCommerce websites, social networks, eCommerce platforms, chain stores, and distribution agents but operating in just one management system. 
Additionally, there is a second type of sales model called "Multi-channel" that differs from Omnichannel in that it allows for discrete marketing content, unlinked data, and independent channel operation.
When purchasing across numerous channels, continuous and seamless updates result in a heterogeneous and seamless customer experience.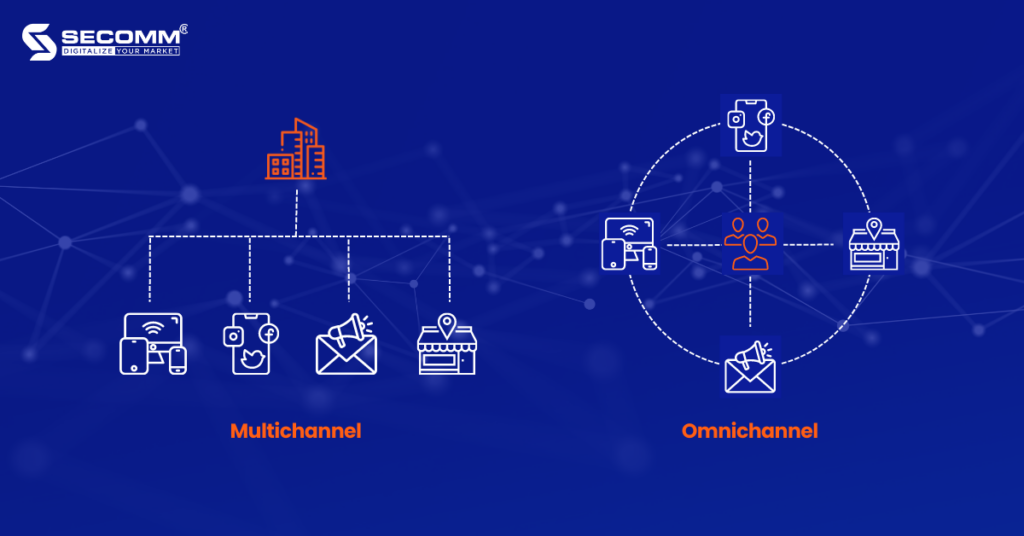 Due to the lifting of social distance restrictions, consumers are beginning to return to in-store buying after two years of online shopping.
However, that doesn't mean that eCommerce's growth momentum is stagnant; on the contrary, it keeps exploding.
Businesses there make use of the current rise in popularity of online shopping to encourage the use of Omnichannel to improve the varied and efficient shopping experience.
As researchers have noted:
An estimated 56% of customers use smartphones to look up products while in a retail store.

Nearly 75% of users use many different channels such as websites, social networks, and physical stores to shop.

Around 73% of eCommerce consumers say they take an Omnichannel approach throughout the experience journey. For example, after shopping at a store, shoppers continue to follow the brand's website, social networking sites, and eCommerce platforms.
As a result, 2023 will still be recognized as a strong year for omnichannel in eCommerce.
Mobile Commerce
Mobile Commerce or mCommerce is a business model that allows companies and individuals to deliver goods and services directly to consumers through handheld wireless devices such as smartphones and tablets.
According to Bankmycell, the number of smartphone users worldwide in 2022 is 6.648 billion, equivalent to 83.07% of the world population owning a smartphone.
Moreover, it is predicted that this number will increase to 7,516 billion by 2026. In addition, the percentage of global users participating in online shopping in 2022 accounts for 58.4%.
In Vietnam alone, interesting figures are listed in the Vietnam eCommerce White Book in 2022:
88% of people's means of accessing the Internet are mobile phones, while this rate will only reach 57% in 2021.

The percentage of Internet users participating in online shopping is 74.8%.

91% of the electronic means commonly used to order online are mobile phones.

Among online shopping channels, 47% of users make purchases through mobile shopping applications.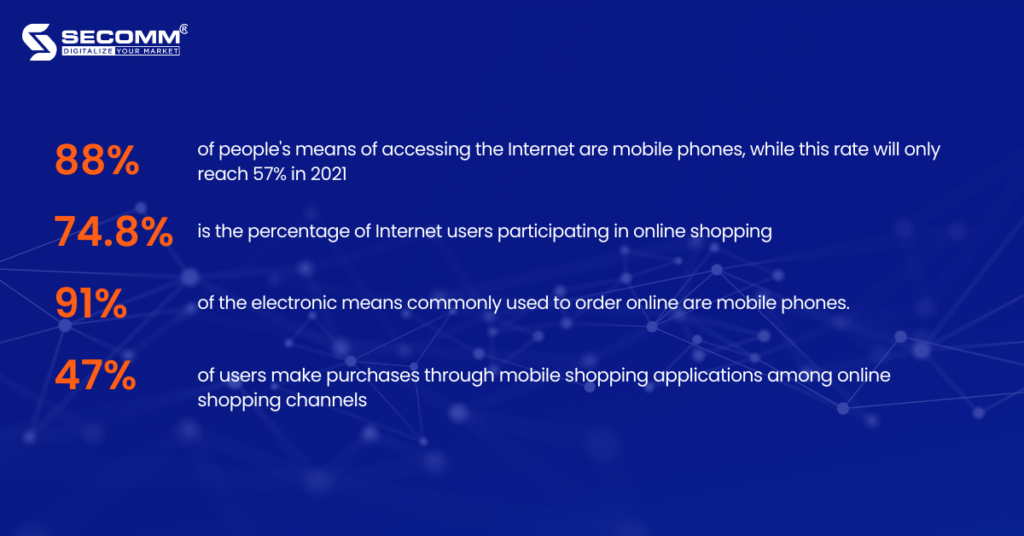 In upcoming years, the percentage of global people and Vietnamese people as well who own mobile devices and use them for online shopping is high and predicted to increase significantly. 
Social Commerce
Social commerce refers to the method through which companies advertise and sell goods and services online using social networking sites like Facebook, Instagram, TikTok, Youtube, Zalo, etc. In other words, this type of business combines eCommerce and social media.
The impact of social networks has grown significantly in recent years. Over 59% of the world's population uses social media, it is not surprising that this percentage will continue to rise. 
While in the past businesses used social media to raise brand awareness and draw in new customers, today eCommerce businesses boost sales by offering goods and services to clients online via social media.
As a result, it's incredibly handy for customers to interact, exchange information, and search and shop online all in one location.
According to Statista, global social commerce sales will reach $992 billion in 2022 and are projected to reach nearly $3 trillion by 2026.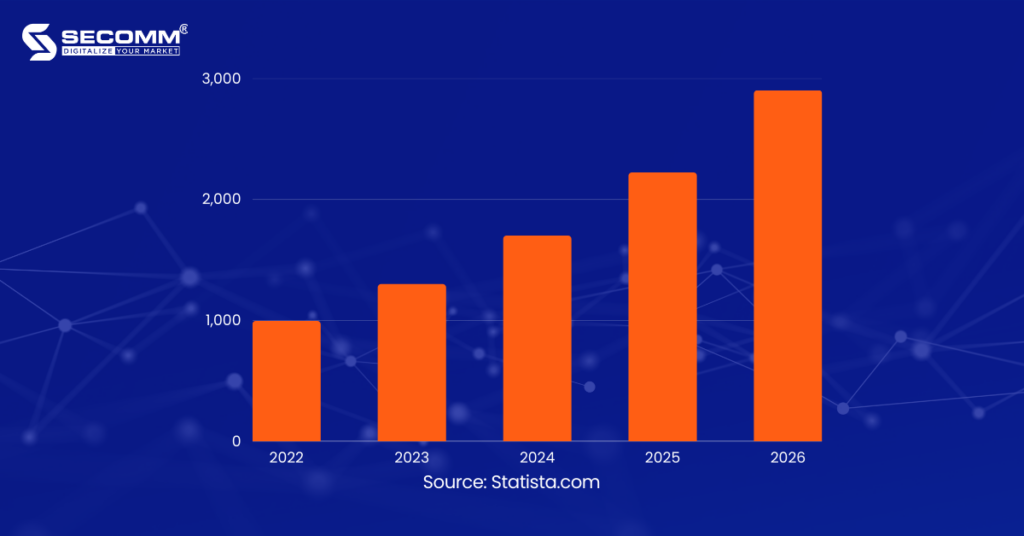 Thanks to the development of social networks, social commerce has had a strong acceleration and has become a magnet for brands to come to approach and analyze a large number of potential customers, and achieve marketing and sales goals.
As a result, failing to prioritize social commerce in enterprises' marketing strategies in 2023 is probably to lead to a significant loss of competitive advantages in the eCommerce market.
Headless Commerce
Today, businesses have a lot of choices to build an eCommerce website, but basically, the structure of a website will include the following main parts:
Frontend: Everything the user sees and interacts with when accessing the website including the interface, content, and functions,… is received from the backend.

Backend: All the active parts of the website or app that are not visible to the user such as the database system, design tools, management tools, and custom functions.
For websites using a traditional structure, the frontend and backend will be operated on the same platform and from there will be closely connected with each other. Therefore, any changes on the website will be edited in two parts at the same time. However, with Headless Commerce, the backend and frontend will be decoupled from each other and operate independently on two separate systems.
The benefits of deploying Headless Commerce:
Increase customization

Increase Scalability

Increase the page load speed

Seamless integration

Multi-channel sales support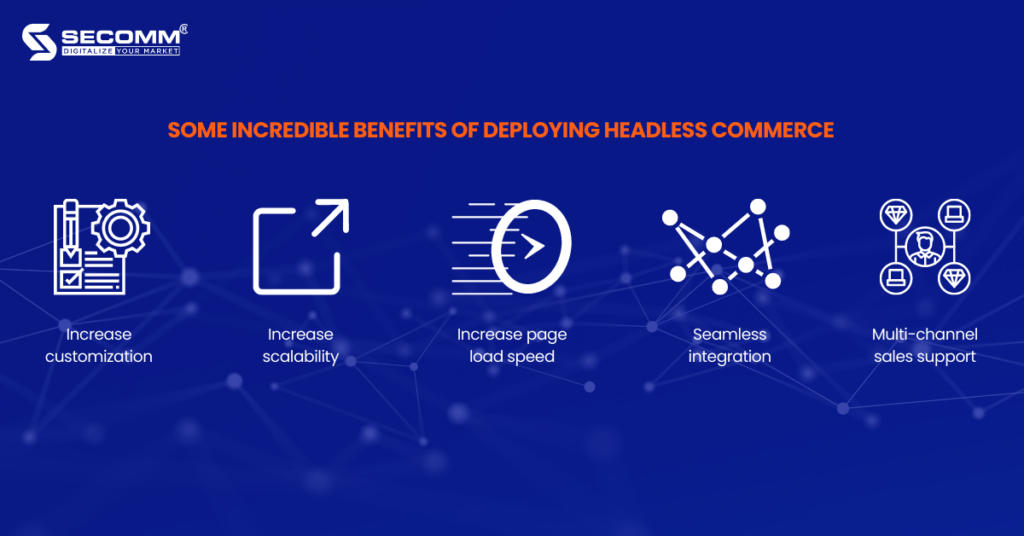 By using the Headless structure, Nike has become a brand with a much larger market share than Adidas – a formidable competitor of Nike.
Moreover, Nike's website recorded more than 60 million pageviews in just 1 month. In addition, the proportion of direct purchases without intermediaries also increased significantly.
From Nike's Case Study, one of the practical alternatives for companies looking to encourage eCommerce sales growth is Headless Commerce.
Shoppertainment
Shoppertainment is a form of shopping combined with entertainment that is used as a marketing strategy to encourage customer engagement with brands and consequently increase shopping demand. Moreover, it is used and takes over most of the online commerce in the era of digital transformation, when eCommerce is positioned at the forefront of contemporary business trends.
Some common practices of Shoppertainment trends:
Live selling

Shoppable video

Gamification
These three practices all focus on entertainment and interaction. Then, the emotional element is aroused, leading to a series of unwise and unplanned shopping decisions. From a business perspective, this is beneficial for brands. TikTok's recent research proves it:
In Southeast Asia, 82% of consumers purchase goods from companies they hardly ever use.

55% of consumers have made unplanned purchases.

After watching videos on TikTok, 89% of consumers made unplanned purchases.

Half of TikTok users confess to finding new brands or products while using the app.

One in three customers desires to purchase and is satisfied with it.

One in three customers wants to add fun and entertainment to shopping.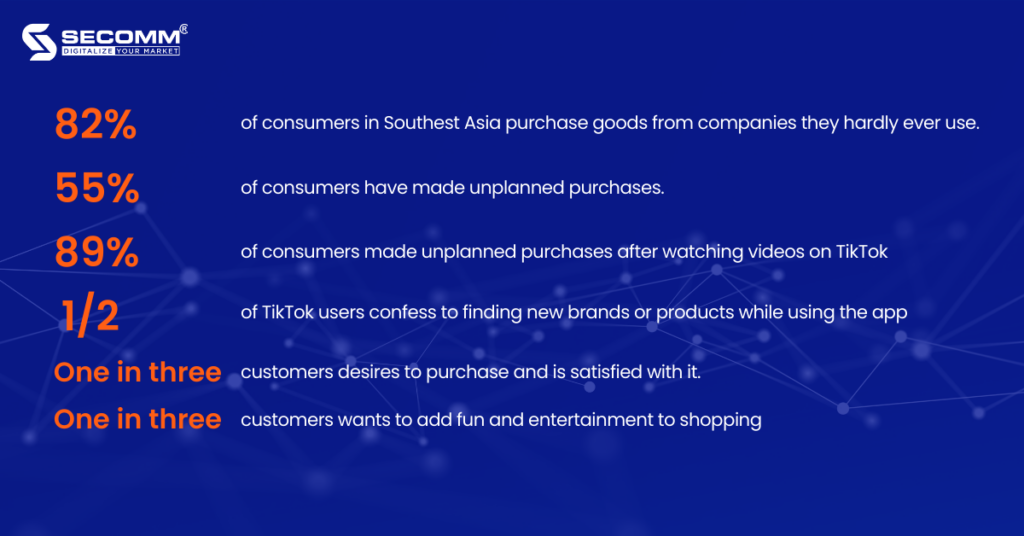 The growth of the Shoppertainment trend in recent years demonstrates the extreme demand for social interaction and connection following the period of Covid's life.
Shoppertainment is the solution that businesses seek. This is a way to make the most of the customer's biggest weakness – emotions.
When feelings of euphoria and joy are elicited during the shopping process, customers engage more, and purchase more unplanned products, conversion rates are higher, and sales follow.
AI Technology
Artificial intelligence now has a significant impact on eCommerce businesses in providing solutions to optimize the online shopping experience of customers. 
The following statistics demonstrate the incredible influence of AI on the eCommerce market and businesses operating in this field:
The AI-powered eCommerce market is estimated to reach 16.8 billion USD by 2030

(InsightAce Analytics)

.

In the retail eCommerce market, the value of AI is predicted to increase from $1.7 million in 2021 to $36.4 million in 2030 (

Precedence Research)

.

78% of brands have used AI for eCommerce websites (

Oracle)

 

Chatbot's market value is predicted to reach 3.99 billion USD by 2030 (Grandview Research).

It is predicted that eCommerce transactions made through Chatbots will reach 112 billion USD in 2023 (Business Solution).

The cost of using AI Chatbots for customer care is 30% lower than hiring personnel to do this (Business Solution).

79% of eCommerce business owners admit that combining AI with marketing and sales helps increase the company's revenue (McKinsey).

54% of businesses in France think that AI is good for analyzing eCommerce data (Statista).

70% of eCommerce business leaders in Europe and North America think that AI technology can help optimize customer experience personalization (Statista).

37% of users who click on an AI-driven eCommerce recommendation on their first visit to a website, return the next day (Investp).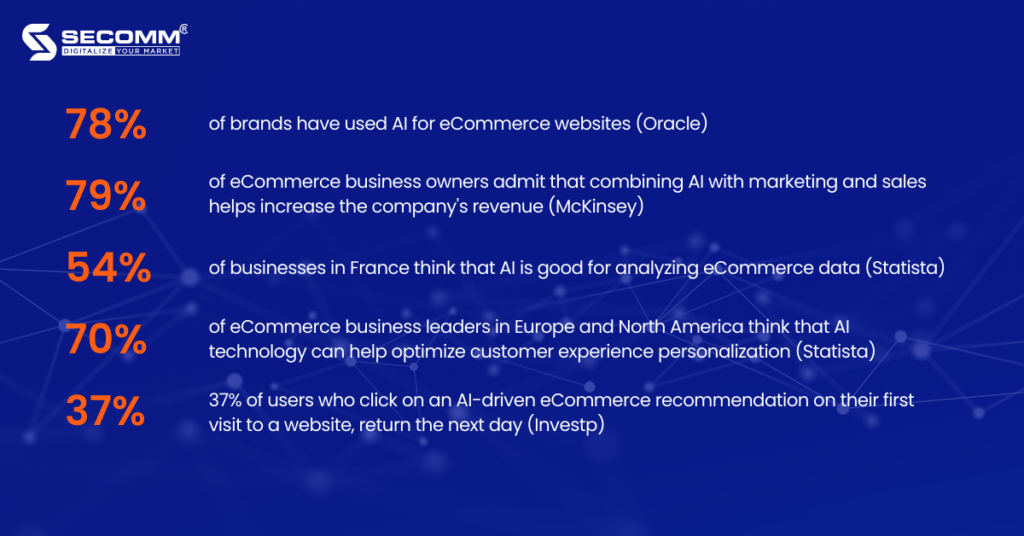 Currently, there are two applications of AI technology that are commonly used in eCommerce:
Chatbots
For eCommerce businesses, Chatbots will be like salespeople who can interact directly with customers 24/7. This helps businesses narrow the distance in terms of geography and time zones, helping the sales and customer services process to take place effectively without interruption.
Personalized Advertising Campaigns
By collecting customer data, AI can create tailored content and recommendations for each specific customer. To improve marketing campaigns and personalize the customer experience, AI can also predict purchasing behavior based on a user's browsing and search history, when the data is legally available.
VR/AR Technology
VR (Virtual Reality) is a modern technology that brings users into a simulated but still very realistic space with only 3D glasses (virtual reality glasses). The virtual world that the user sees is actually set up and controlled by a highly configurable computer system.
AR (Augmented Reality) is a new technology enhanced from VR technology. This technology has the potential to erase the boundary between the real world and the virtual 3D model. That is, users will experience virtual models in real space through smartphones or computers.
With a clear plan and the appropriate approach, Lazada has been in front of the augmented reality trend for a number of years and developed a certain competitive advantage in luring both consumers and sellers.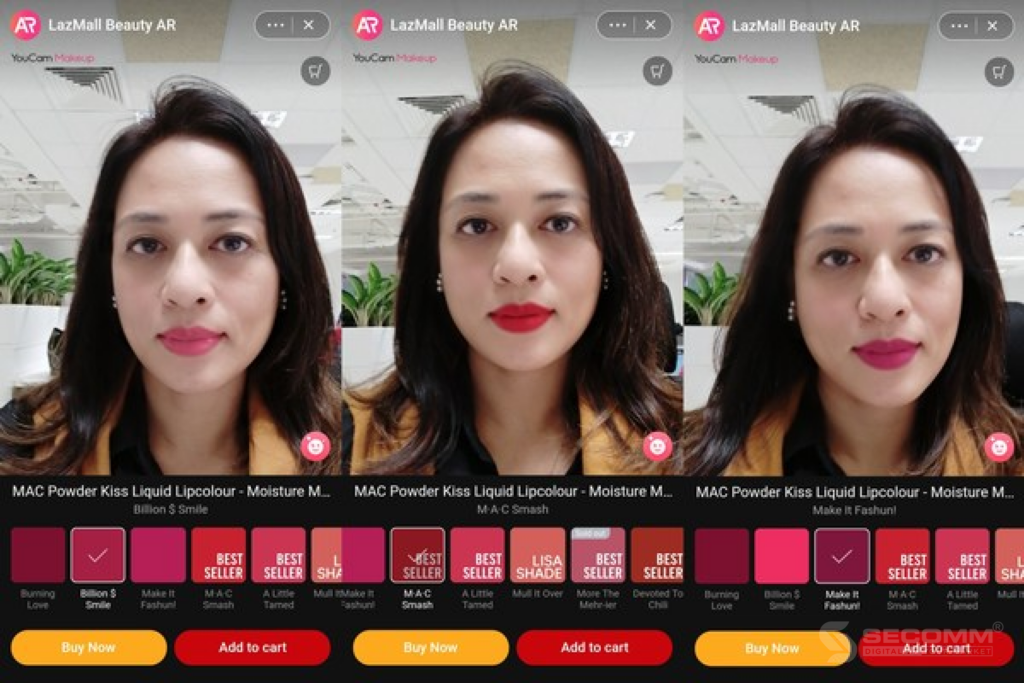 In particular, the VTO (Virtual Try On) function on Lazada includes a wealth of features to assist customers in freely selecting and trying goods like eyeshadow, eyeliner, foundation, and cushions whenever and wherever they like.
Since its launch, LazMall brand partners in the cosmetics sector have experienced tremendous success with the VTO function, which has helped to boost conversion rates by 3.1x and average order values by up to 11%.
KOL/KOC 
The rapid growth of social networks and eCommerce has given marketing efforts a fresh and original breeze thanks to KOL/KOC. Although KOL and KOC have long existed in some form, they have truly taken off in recent years.
KOL – Key opinion leader, also known as an "influencer", is an individual or organization with expert product knowledge and influence in their field or industry.
KOC – Key Opinion Consumers are "the most influential consumers in the market". Their job is to test products and services and make comments and reviews.
KOL will suit mid- to high-end brands, while KOC will suit mid-range brands. If KOL is used to select brand ambassadors, holiday season ambassadors, or product launch campaigns, KOC is used to boost sales in a short time or direct customers to websites or eCommerce platforms.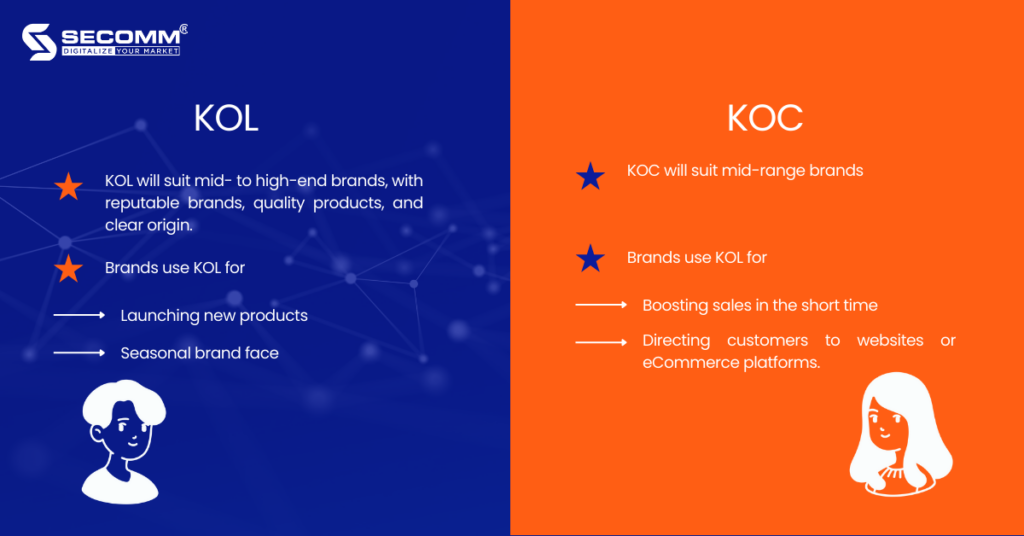 Some famous KOLs in Vietnam: Helly Tong, Giang Oi, Dino Vu, Co em Trendy, Chau Bui, Khanh Vy, Khoai Lang Thang,…
Some famous KOCs in Vietnam: Ha Linh, Call Me Duy, 1m88, Ong Giao Review, Chau Muoi, Hoang Viet, Pu Met 7,…
BOPIS
BOPIS – Buy Online Pick-up In Store is one of the shopping trends that promise to explode in 2023. Customers won't have to be concerned about shipping costs, extended delivery times, or the risk of receiving unexpected goods when using BOPIS.
Businesses all around the world are pushing up their BOPIS implementation to meet customer expectations when merging online buying with in-person pickup. This is the ideal approach to boost store visits and close the gap between the offline and online buying experiences.
According to GlobeNewswire, the global BOPIS market is projected to reach $703 billion by 2027 with an estimated CARG of 19.3% between 2021-2027.
In addition, the following BOPIS trend statistics can help businesses consider implementing in 2023:
In the last 6 months of 2022, 67% of US consumers use BOPIS.

49% of BOPIS consumers admit to buying more products while in store to pick up their items.

65% of customers choose BOPIS to avoid shipping costs.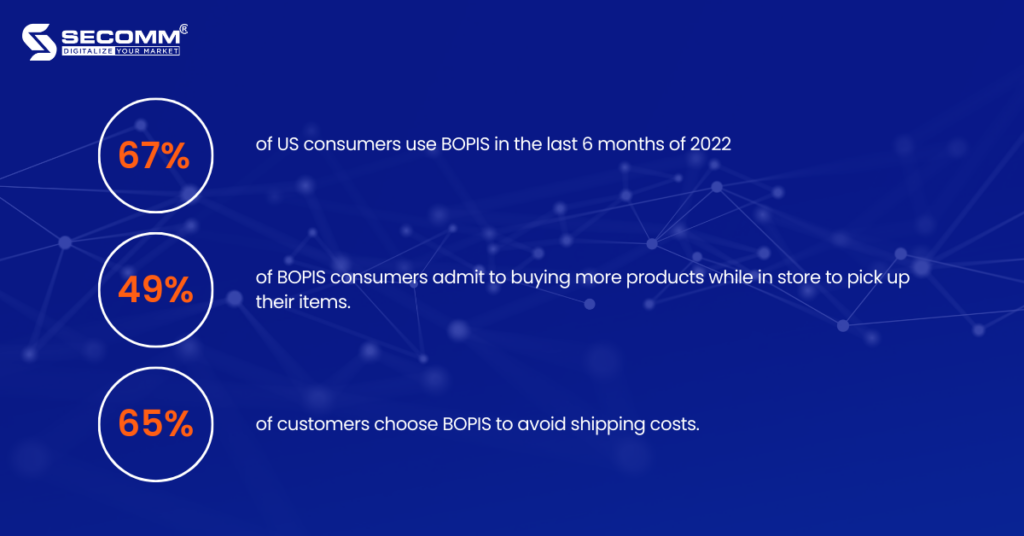 The BOPIS model also aids businesses in cutting expenses, expediting deliveries, boosting demand for retail goods, and lowering the risk of product returns.
UGC
User Generated Content, also known as UGC, includes text, photos, video and reviews. Because people are becoming less and less engaged in the brand's message over the past ten years, UGC has grown in importance.
According to a recent Salesforce survey, 53% of Millennials think user-generated content (UGC) influences their shopping decisions, and 92% of consumers prefer content created by friends and family over that created by brands. The reason for the above numbers is trust.
Therefore, user-generated content (UGC), such as photos, videos, and customer evaluations, is trustworthy social proof and aids in the development of a company's reputation.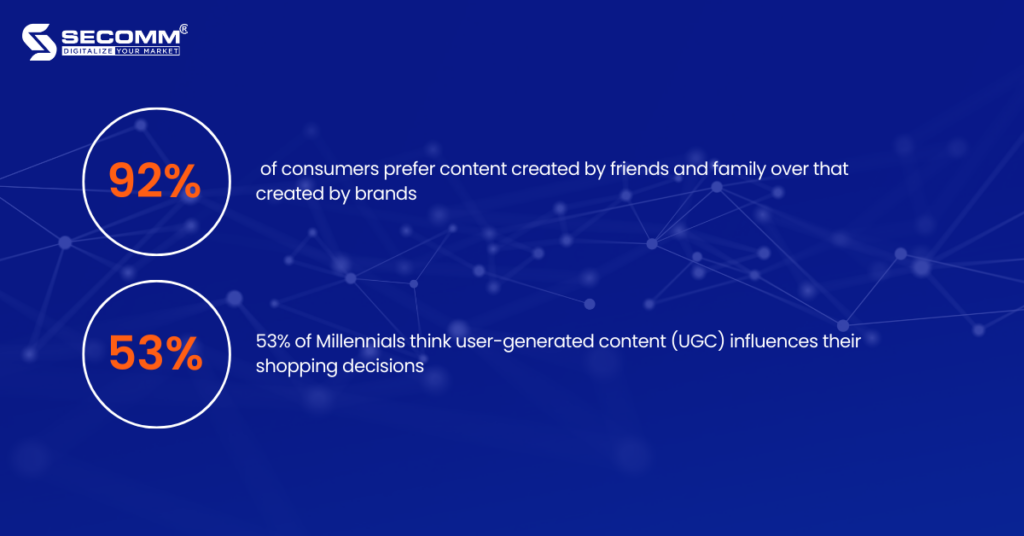 In a nutshell, businesses must quickly adapt to evolving eCommerce and digital technology trends in order to avoid falling behind and being driven out of the market. By reading 10 eCommerce trends that stated and analyzed above, businesses will have an overview to be ready for the new journey.
With many years of experience in successfully implementing eCommerce for many customers in many countries, SECOMM specializes in providing consulting services with comprehensive and professional eCommerce implementation solutions.
Contact SECOMM today for free support and advice.