The Fourth Industrial Revolution has created constant changes in modern life, applying digital technology innovations' core values. In particular, digital transformation (DT) has also gradually attracted more attention from businesses and individuals, although it has crept into the business operational processes since computers became popular in the 1990s. However, DT has marked a spectacular breakthrough when it matures a hot topic globally. This term shows itself a tremendous impact on the future of business. DT's critical elements – data digitization, process, and model digitalization have fully demonstrated the improvement tasks for companies to overtake future opportunities. They are also essential pillars in multilayer DT systems, forming data, technology, and people's seamlessness.
1. Terminology speaking of digital transformation and related perspectives
Digital transformation is a necessary process for traditional business models to keep pace with technologies and times. Implementing DT that is suitable for each of the businesses will increase its competitiveness in the market, thereby increasing revenue while optimizing the operation process, creating values for corporate culture and human resources. A complete DT model is a three-layered design: data, process, and business model.
The data layer is necessary to digitize data sources by using technologies for easy-management. A business will implement transformative strategies for operational processes based on transformed data in the process and model layer. Companies can change their models to suit the prolonged orientation and develop corporate culture more extensively. They can also conduct step-by-step or simultaneously implement all the layers if there is a suitable option with the business requirements and specific transformation strategies in both the short and long-term.
Data digitization
Data digitization is transforming from paper-works to digital formats and then storing the digital database in computerized data management systems. Those systems are made up of the technology-implementation to store data intelligently, making data retrieval more manageable and faster. Therefore, data becomes more proactive and brings substantial value-in-use to the business.
Data digitization will create a more seamless working process while ensuring strictly systematic and complete data sources, building a comprehensive digital infrastructure for businesses. It simultaneously is the digital transformation process's kernel, forming the foundation for all the remaining layers. Up to now, data digitization is an optimal solution ensuring the integrity and security of data systems in the long run, which significantly reduces operating costs.
Additionally, database management systems are the most critical archives that can maximize data access and exploitation efficiency. MySQL is an excellent example among the most popular DMS today, owning multiple useful features based on open source code while ensuring data speed and safety, even large-capacity data systems in the ecommerce field. Accompanying other DMS such as SQL Server, Oracle, PostgreSQL, MySQL can meet most of the data-usage requirements of storage performance, security, and data-safety standards.
These outstanding advantages help MySQL get more appreciation from technological experts by implementing them in many highly-complex technology industries.
Process and business model digitalization (PMD)
Based on the digital data's core, the process and business model digitalization form a more widespread layer covering the core inside. This classification is highly complex and embraces various forms depending on the operations' ways and objectives. PMD refers to the transformation relying on technology infrastructures and digital data frameworks to form a digital platform.
To complete the digitalization is to analyze issues in operating processes and business models. From an in-depth analysis, they can provide the right direction and strategy for transformation decisions. This transformation layer has supported businesses to meet the DT requirements, which fully are:
Customer connection in the business process;
Maintenance, development of the appropriate technological initiatives;
And over-the-time human resources optimization.
At the same time, a business needs to combine digital solutions to create customer values and build operating models.
Currently, businesses have successfully applied CRM platforms or ERP systems to optimize operational processes in terms of time and resources. It is well-known management platforms such as Zoho CRM, Microsoft Dynamics CRM, or Salesforce CRM that almost all businesses implement for stable development. Those names are tremendous supporting tools to create the business departments' continuity of processes and operational processes.
Both CRM or ERP systems effectively help businesses achieve targeted sales and effectively disentangle complex manual processes or issues related to data controllability and preservation.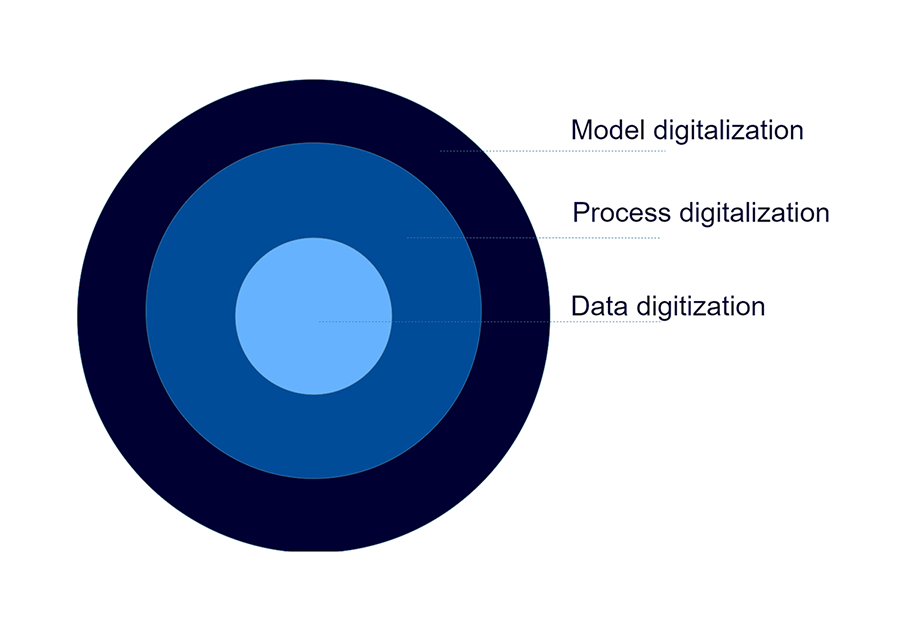 Digital transformation (DT) is the largest category, the complete model to bring businesses closer to the 4.0 digital economy. DT represents the whole process of digitizing data and digitalizing operating processes, business models. DT's ultimate goal is people-orientation, and at the same time, combining the corporate culture with the customer-centric foundation. DT sets macro-objectives of people's direction in building strategies, corporate culture, digital technologies, and adapting to these digital transformations.
Generally, most companies carrying out DT encounter significant barriers. They frequently ignore a complete data digitization plan while only focusing on refining more macro-plans in the process and model digitalization layer, which does not bring the high-volume transformation effect due to the initial preparing step not been done thoroughly.
Also, preliminary estimates of time and the limited budget will present a significant challenge for DT tasks in specific periods. Multiples of businesses are unable to catch the expected results. However, despite the existing challenges that they have confronted recently (the COVID-19 crisis), digital transformation will provide comprehensive support on data systems and digital platforms, exclude all social distances, and connect the world easily anytime.
2. The finishing-point of digital transformation – ecommerce?
The digital transformation process has made both efficiency and sales for numerous B2C and B2B businesses. In detail, ecommerce is the most typical manifestation, having recorded impressive growth since 2017. B2C companies have also strengthened the development of a more powerful ecommerce channel than ever.
Meanwhile, B2B models pay much more attention to transforming chains/systems/processes such as production or goods distribution processes by gradually turning into online methods to adapt to the flexibility and rapidity of the 4.0 supply chain.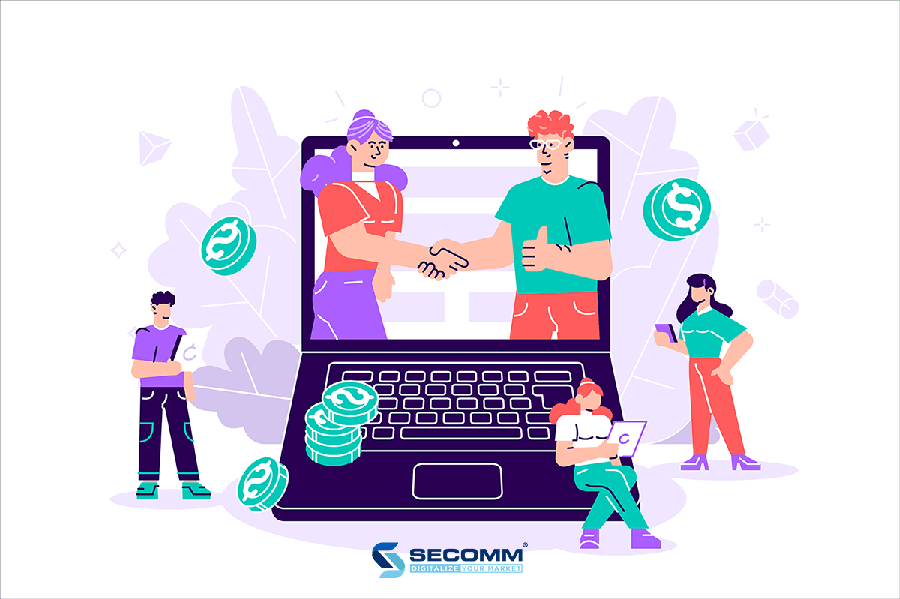 Up to now, ecommerce can be considered as the complete performance of the digital transformation process. Ecommerce channels can update information quickly and continuously while also ensuring UI/UX optimization to provide perfect user experience, excellent customer experience, and as a result, increase sales. These are also the requirements to digitalize the markets and perfect the business' operating system. Depending on the DT objectives, the company will stop at the stage that best suits its business model. Some of the businesses only need to digitize data for more effortless operation.
However, from a much more general perspective, almost all companies convert to an ecommerce system to control their business independently and connect directly with customers, partners and come closer to the DT outcomes. Those objectives are also the straightforward development orientation of most retailers today. They focus abundant resources on developing the ecommerce channel to expand the business scale.
For instance, The Coffee House is a case study of the F&B industry's impressive DT outcomes in Vietnam. The brand has achieved their ordering application for more intensive data resource management and operation. This application was initially built on a requirement to increase the loyalty program's ease and improve customer care service quality.
However, until now, this sales channel has grown more than that and has become a mainstream business channel that seamlessly integrates with the brand's existing offline stores.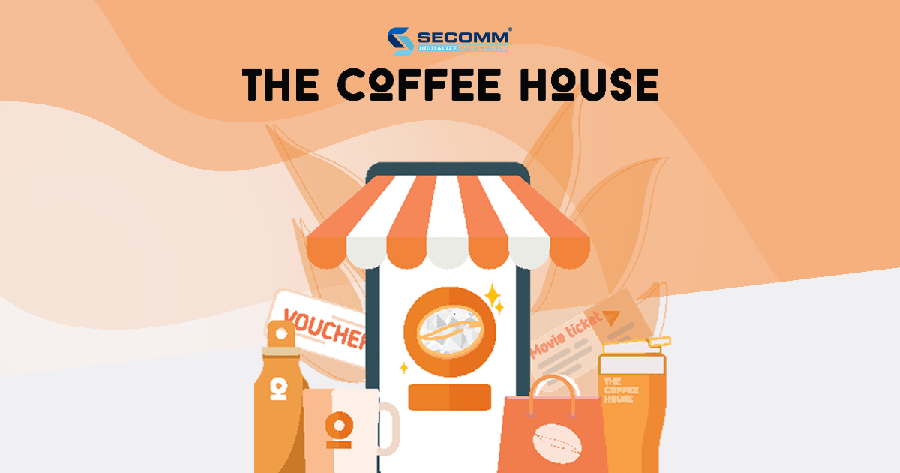 The TCH app aims to connect and interact directly with customers based on the D2C model, allowing app-users to create membership accounts to earn points and order quickly. These features allow brands to access customer data and shopping habits easily. In-depth data analysis will contribute to new product strategies or menu amendments to better suit the customer's taste.
Digital transformation is a long-term journey that needs to be done with a detailed and complete strategy while meeting the time and budget, matching the current business's capabilities. Digitization/digitalization layers also need to fully play their role in digital platforms, transforming entirely and efficiently. A complete ecommerce system considerations are also required for supply chains currently in the marketplace. Ecommerce will be the most agile driver of digital transformation; however, make sure that you can implement a strategy with the right priority in the current situation to give the best effect.