Recent statistics indicate that Vietnam has a population of 24.7 million children and roughly 24.2 million women of childbearing age. Moreover, with an annual birth rate of approximately 1.5 million children, Vietnam stands out as a prospective market for the baby industry. As a result, it comes as no surprise that many baby brands have been progressively establishing and expanding their stores year by year. Additionally, the industry benefits from the momentum created by the pandemic and the evolving trend of transitioning from offline to online shopping.
3 reasons for baby brands to get on board with eCommerce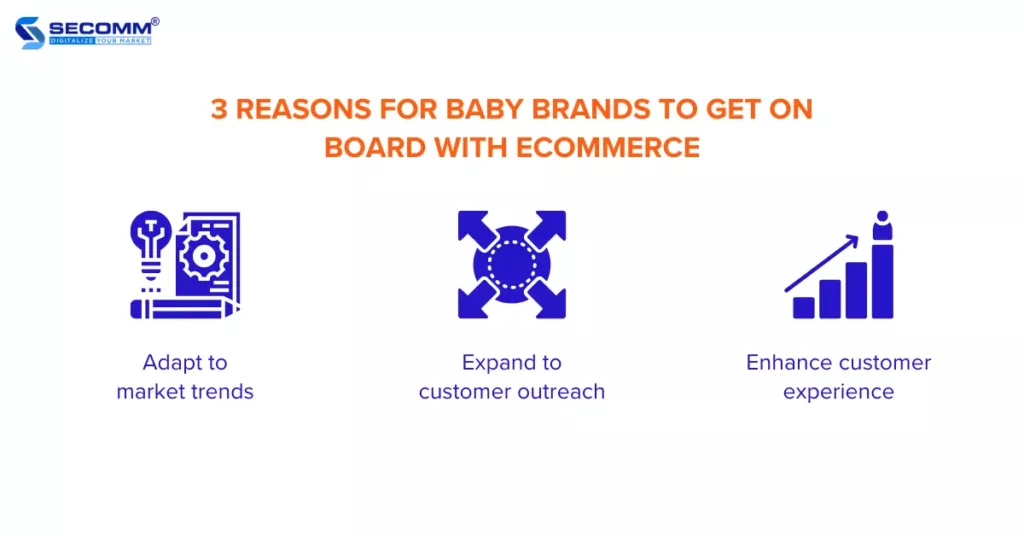 Adapt to market trends
While offline businesses experienced a downturn during the period of social distancing, leading to the contraction of many retail chains, online commerce has been flourishing. Even as society progresses towards a "reopening" phase in the post-pandemic world, the preference for online shopping remains strong. The demand for various products, spanning from timepieces, cosmetics, and groceries, to mom-and-baby essentials, on eCommerce websites and marketplaces continues to steadily surge.
Hence, the solution for Baby enterprises to align with market trends involves the implementation of an O2O (Online to Offline) model. This approach integrates offline sales (leveraging existing physical store networks) with online channels. Among these channels, establishing an eCommerce website is paramount for businesses to promptly deploy sales and marketing strategies, attracting customers and preventing potential loss to competitors.
Expand to customer outreach
When physical stores are constrained by location, staffing, and operating hours, online stores remain open and accessible from anywhere worldwide. This offers Baby businesses the opportunity to extend their reach to a large pool of potential customers on the Internet.
By implementing effective strategies like optimizing SEO, running advertising campaigns, or leveraging social media, Baby businesses can swiftly boost their brand recognition, attract a diverse clientele to their eCommerce website, and facilitate round-the-clock product sales.
Top Vietnamese Baby eCommerce sites
Con Cung 
Launched in 2011, the Con Cung retail chain quickly gained recognition and became the top choice for many Vietnamese families to shop for mom-and-baby products, offering a catalog of over 2000 items. In 2016, with the investments received, Con Cung significantly expanded its store chain from 100 in 2016 to 400 in 2020 (currently at 700 stores).
Recognizing the evolving consumer landscape with a shift from offline to online shopping, the brand proactively intensified its online retail efforts through its eCommerce website and mobile app, enriching the shopping experience for its customers. With this in mind, Con Cung has set an ambitious target of reaching 1 billion USD in revenue by 2023 and aims to capture a 30% market share, envisioning a 2 billion USD in revenue by 2025, with at least 30% coming from eCommerce.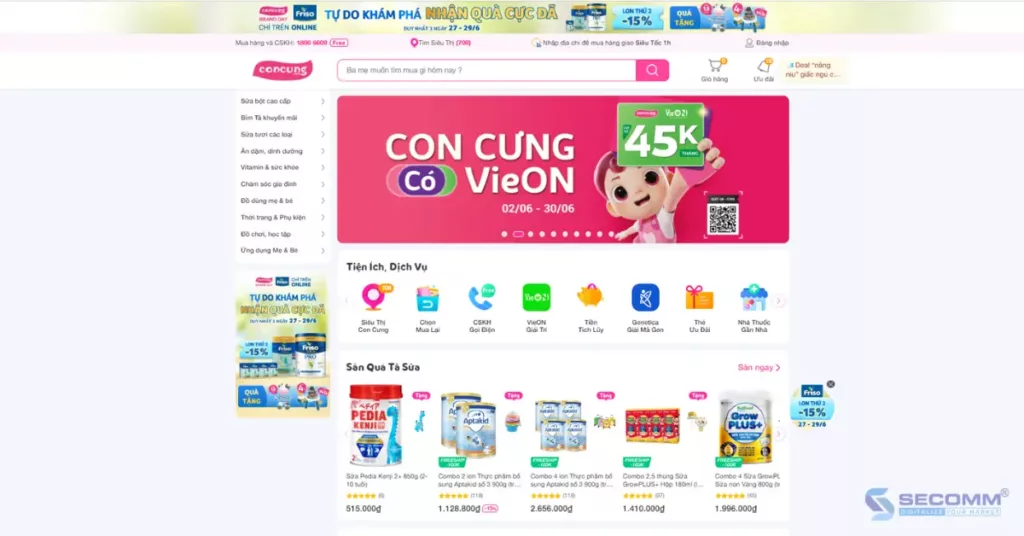 Therefore, in recent times, Con Cung has made an effort to attract customers to its eCommerce website. They consistently promote various enticing programs, including "Monday Freeship Day" and the "Stuffed Animal Fiesta for 99K."
Additionally, Con Cung has kept pace with the Mobile Commerce trend by introducing the 'Con Cung' mobile app, available on both App Store and Google Play. This app has garnered highly positive user feedback and currently ranks 24th in the Shopping category.
Particularly, this retailer's delivery service has earned high praise from customers. With a network of over 700 stores across the country. Con Cung offers lighting-fast 1-hour delivery through its "Pink Warrior" delivery team. Beyond partnering with third-party delivery providers such as Grab Expres, Giao Hang Nhanh, Giao Hang Tiet Kiem, the brand also maintains a dedicated team of delivery warriors who cater to customer's specific time preferences. 
Kids Plaza
Established in 2009, Kids Plaza offers more than 10,000 mom-and-baby products, certified safe for babies from top-notch brands in Vietnam and around the world. In the competitive race, Kids Plaza has consistently fortified its position by embracing the O2O business model.
This strategy involves harmoniously blending traditional in-store retail with a variety of online channels, including a dedicated website, eCommerce platforms, Zalo stores, mobile applications, and more. Kids Plaza has rolled out enticing customer loyalty programs such as Kicoin, the convenient Freeship policy covering a 7km radius for all purchasing channels, and exclusive discounts for expectant mothers when shopping in brick-and-mortar stores.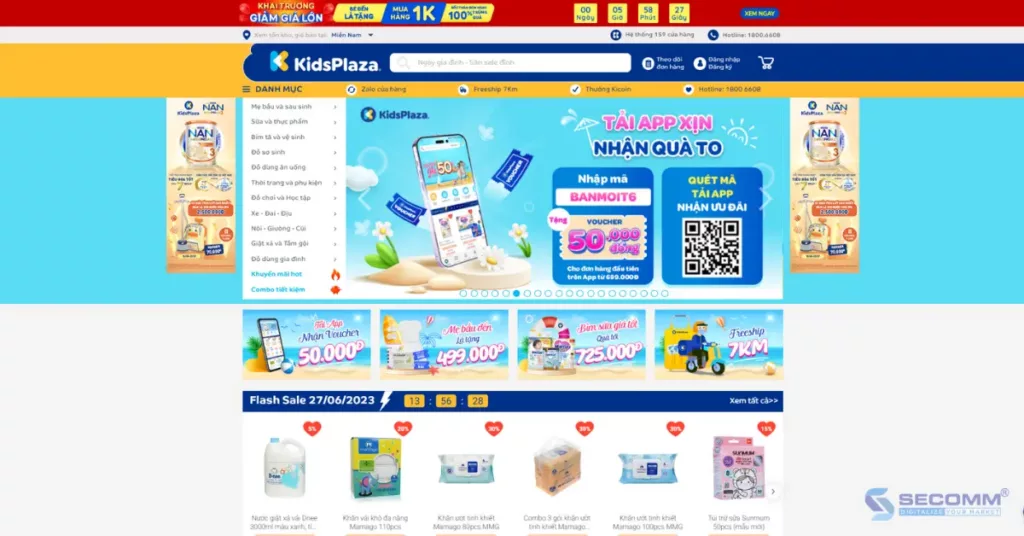 Customers aren't only satisfied by the seamless shopping experience, affordable prices, and appealing promotional offers but also by exceptional product quality. All products undergo strict quality control before being officially offered for sale to provide the best experience and service, ensuring customers' peace of mind while shopping. 
Kids Plaza also demonstrates its care for expectant moms and babies through programs like the free antenatal classes, which have been conducted for over a decade and have successfully aided numerous mothers during their childbirth journeys. Moreover, the brand hosts annual community events and maintains an insightful knowledge-sharing blog to help elevate health awareness among both mothers and children.
Bibo Mart
The mom-and-baby retail chain, Bibo Mart, was established in 2006 and specializes in offering a wide range of products for mothers and babies, including maternity clothing, diapers, formula, and strollers. Similar to Con Cung and Kids Plaza, Bibo Mart hasn't lagged behind in the eCommerce race. After years of operation and growth, Bibo Mart has identified a new vision for investing in an eCommerce system to meet the online shopping needs of its customers.
Currently, online sales at Bibo Mart account for 14.5% of the total revenue and are expected to increase to over 30% in the next five years. Beyond frequently offering attractive incentives to encourage customers to shop on their website and app, Bibo Mart has introduced a loyalty program with four tiers: Loyal, Silver, Gold, and Diamond. Customers are assigned membership ranks based on their specified spending levels and earn BiXu points for continued exclusive benefits.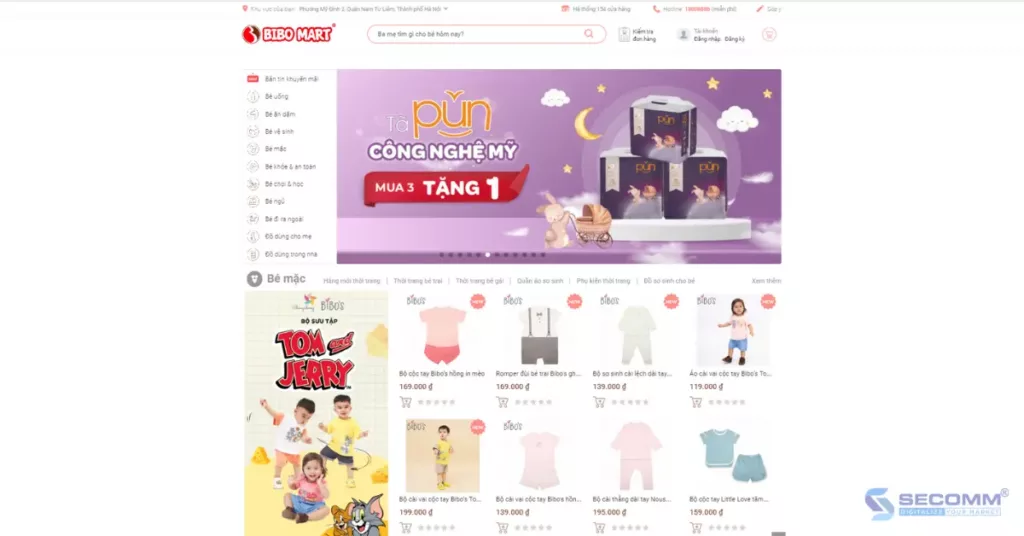 Notably, customers can use a QR code on the app to scan for product info or accumulate points when shopping in physical stores. Bibo Mart also demonstrates its commitment to its customers by providing maternal and childcare knowledge through blogs and free online seminars and classes for mothers as well as those caring for their health during pregnancy and postpartum. 
The potential of the Baby eCommerce market in Vietnam is enormous, and the success of major players like Con Cung, Kids Plaza, and Bibo Mart has encouraged the participation of other businesses. However, for a Baby eCommerce business to succeed, it's important to build a comprehensive and feasible strategy, both short-term and long-term. Particularly, eCommerce websites and mobile apps are the two crucial keys that determine the success or failure of a business in the eCommerce race.
Having partnered with many businesses in implementing eCommerce websites and apps over the years, SECOMM has accumulated practical experience to assist businesses in swift and effective deployment.
Feel free to contact us or call SECOMM's hotline at (02871089908) for a free consultation.