​​​​​​According to CommonThread, the global cosmetics eCommerce market size is valued at 483 billion USD in 2020 and grew to 511 billion USD in 2021 at a compound annual growth rate (CAGR) of 4.75%. The market size is anticipated to surpass 716 billion USD by 2025 and reach 784.6 billion USD by 2027.
The amazing growth rate of the online cosmetics sector demonstrates both the industry's enormous potential to grow and its significant contribution to the global economy. Cosmetic companies must encourage the development of eCommerce websites to enter the market rapidly and take control of it in order to keep up with the economic trend as a whole.
It takes time to develop an online store for cosmetics, and SECOMM has detailed and analyzed the two key stages of the process.
Stage 1: Basic cosmetics eCommerce website development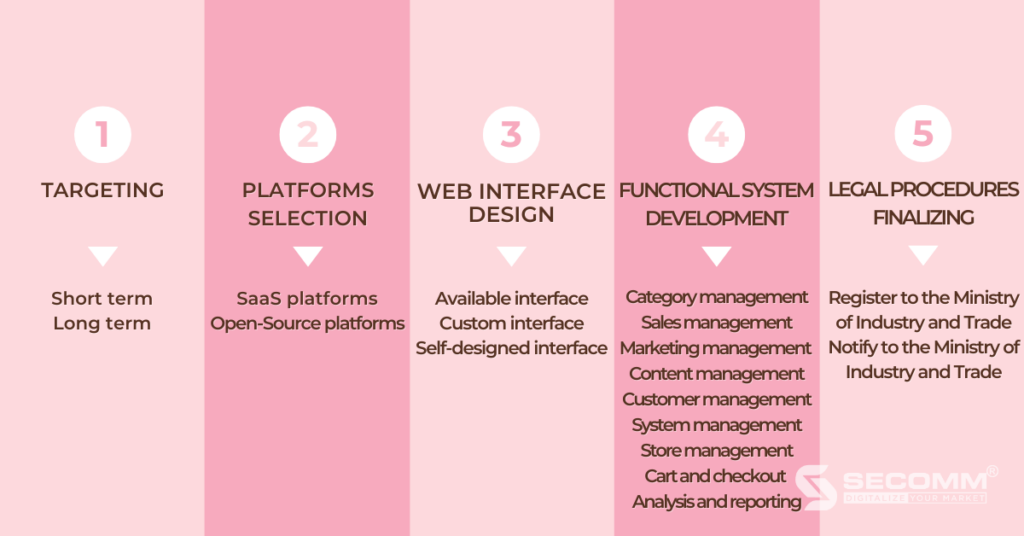 Targeting
The first important thing a cosmetic business needs to do is to set goals and prioritize those goals in the short and long term. 
In the short term, promotional activities, monitoring, analyzing, and measuring the effectiveness of marketing campaigns, especially user experience should be the top goals that need to be promoted.
In the long term, cosmetics eCommerce businesses should focus on increasing brand recognition and online business capabilities of their products.
At this stage, businesses do not have much data to analyze and evaluate for the whole process, so they can listen to a lot of advice from specialized eCommerce implementation consulting units with a lot of experience in long-term consulting to get the right list and priority of goals for both this period and beyond.
Platforms selection
In today's market, there are two types of platforms that are dedicated to building eCommerce websites, including SaaS platforms and Open Source platforms.
SaaS platforms
Service as a Software (SaaS) is a service-based software application distribution model for eCommerce business purposes.
In other words, the provider creates and maintains software to help build an eCommerce website and the business will pay a certain cost to use this service.
With SaaS, the entire website system is hosted on the provider's server, so ownership and control of the source code and data will belong to the provider.
This means the SaaS service provider will be responsible for handling and fixing technical problems arising during the cosmetic eCommerce implementation. 
Pros: Easy to use, fast deployment time, good security, 24/7 customer service.

Cons: The cost of building an eCommerce website increases over time, businesses cannot own the source code and data, and the functions and capabilities of customization and expansion are limited.
Some of the popular SaaS platforms today are: Shopify, BigCommerce, Salesforce Commerce Cloud, etc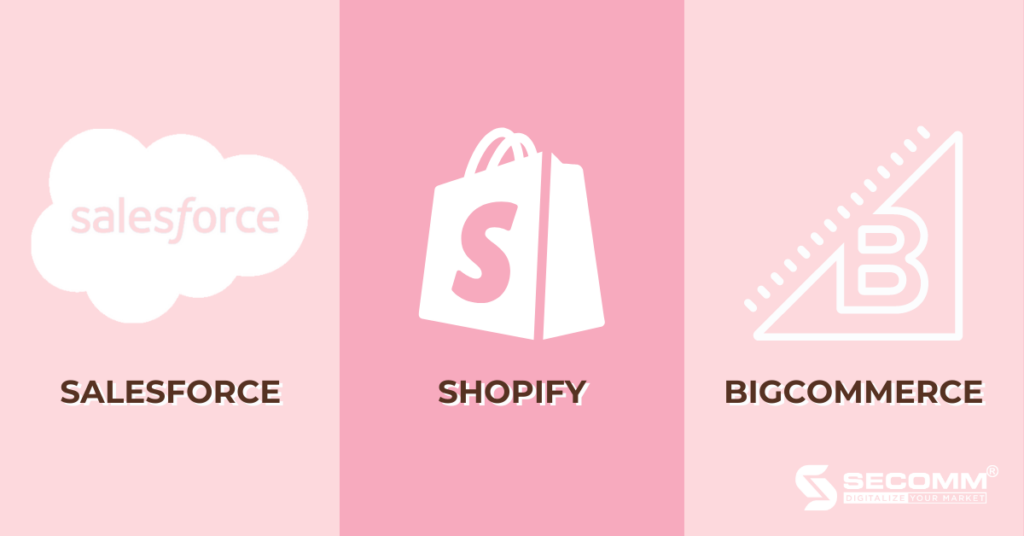 Open-Source platforms
An Open Source platform or an open source platform is software with a widely released source code that allows users to download, modify and upgrade necessary features for eCommerce business purposes.
The platform is often developed by a community of developers rather than a single company.
Moreover, this will be the ideal platform for implementing complex eCommerce website systems, specific to many fields including cosmetics thanks to in-depth customization functions.
This means that businesses need to cooperate with professional eCommerce website builders or develop a team of highly qualified internal staff to operate the website effectively.
Pros: Customizability, flexible extension, diverse features, and add-ons, businesses own the source code and website data. 

Cons: The cost of building an eCommerce website is high, the implementation time is long and it is not easy to use.
The most prominent Open Source platforms on the market today: Magento, OpenCart, WooCommerce (WordPress Plugin), etc.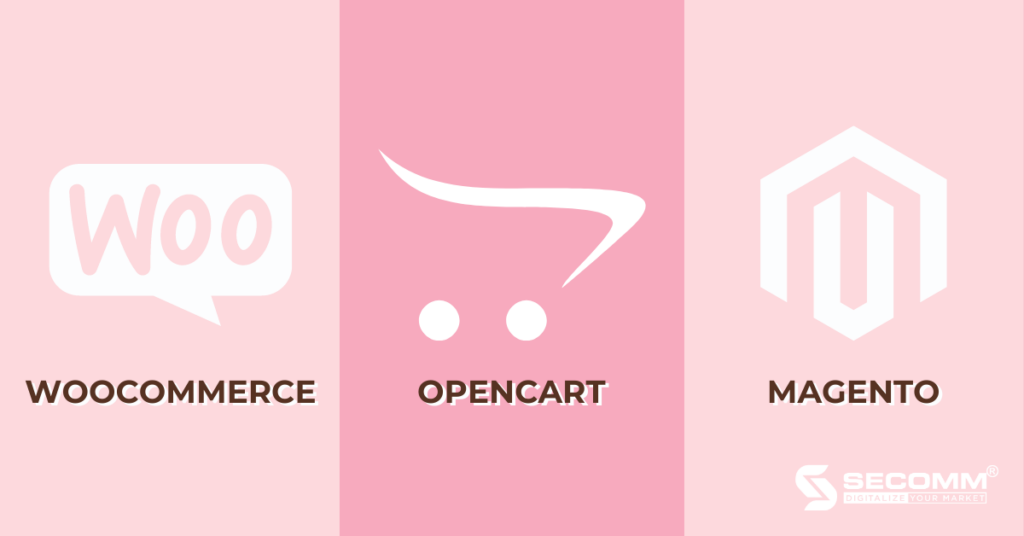 At this stage, businesses should choose a SaaS platform to start with to familiarize themselves with the eCommerce business as well as save budget for more important investments such as marketing,…
Then, when entering the second stage, the business scale has now grown and expanded, and switching to the Open Source platform is now necessary and reasonable to achieve the goal of eCommerce growth.
Web interface design
After choosing a platform to build a cosmetic eCommerce website, the business will design the website interface so that the standards of UI/UX are met in order to optimize the website, showing the characteristics of the brand and cosmetics industry.
​​So, businesses can choose one of the following three ways to design an eCommerce website interface:
Using the available interface: This way helps businesses save interface costs compared to the other two ways. Both SaaS and Open Source platforms provide a variety of UI/UX interfaces with prices ranging from $300 to $500.

Customizing based on the available interface: Almost the same as the first way, but businesses will customize the interface to suit the needs of brand development.

​​Using a self-designed interface: Companies can start thinking about designing their own website interface right immediately to develop a brand image that is unique and more creative than rivals. Even while this is more expensive for businesses than adopting an already-existing interface, the "tailor-made" design interface will match the industry-specific requirements and expectations of the company during the eCommerce deployment phase
Usually, in stage 1, businesses should only use the available interface or customize based on the available interface because the basic functionality system needed, most of the interfaces provided are already there.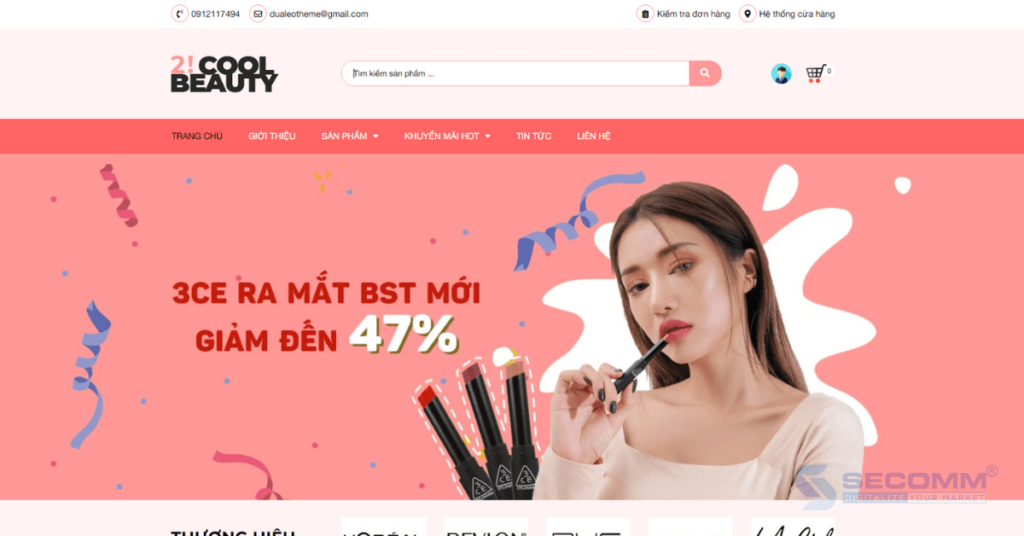 Functional system development
In the first stage, businesses should prioritize developing the basic functional system needed for a complete cosmetic eCommerce website, specifically including: 
Category management: Manage product categories, functions, prices, images/videos to optimize business operations.

Sales management: Manage order information, understand and analyze customers' shopping behavior effectively.

Marketing management: Integrating features such as URLs, meta tags, and internal links to optimize SEO, combined with effective marketing campaigns to achieve sales goals.

Content management: Build and optimize content for the CMS system from text, images, banners, widgets, and templates to brand content, blogs, etc.

Customer management: Store, manage and analyze customer information and customer groups, thereby improving marketing effectiveness to optimize the online shopping experience.

System management: Manage and decentralize administrators to operate, secure and maintain the eCommerce website system.

Store management: Use inventory management tools at branches, stores, and warehouses to ensure a continuous and efficient supply process.

Cart and checkout management: Manage customer shopping cart and payment information.

Analysis and reporting: Analyze and measure the performance of the eCommerce website system, thereby giving the next business strategy.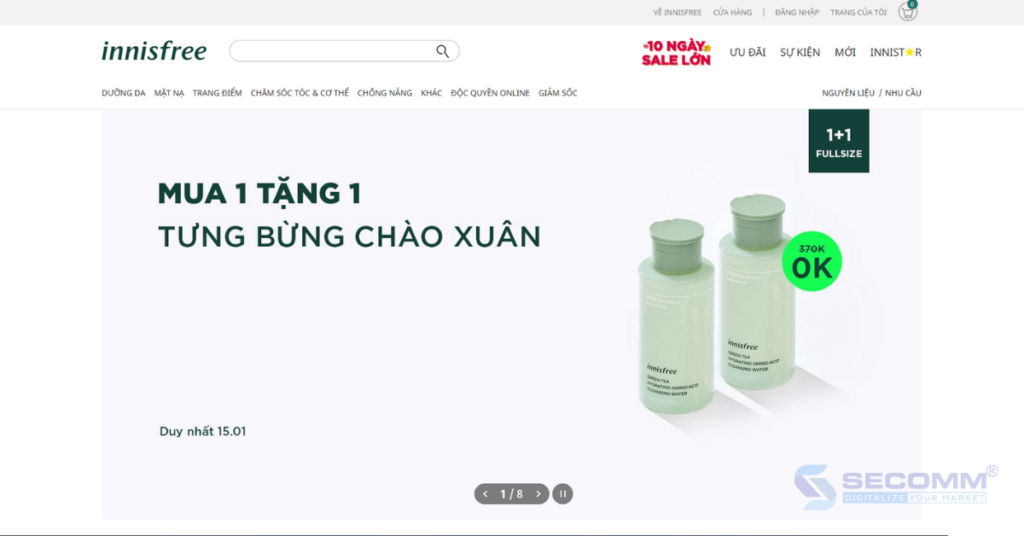 Functional system development
Legal procedures finalizing
The final step of building a basic eCommerce website is completing the necessary legal procedures for the website to be allowed to operate legally.
Businesses can follow the simple registration steps as instructed at the eCommerce Management Portal.
This is a mandatory requirement of the Ministry of Industry and Trade for every individual or organization that owns an eCommerce website to sell goods and to perform the registration/notification obligation on time.
Stage 2: Advanced cosmetics eCommerce website development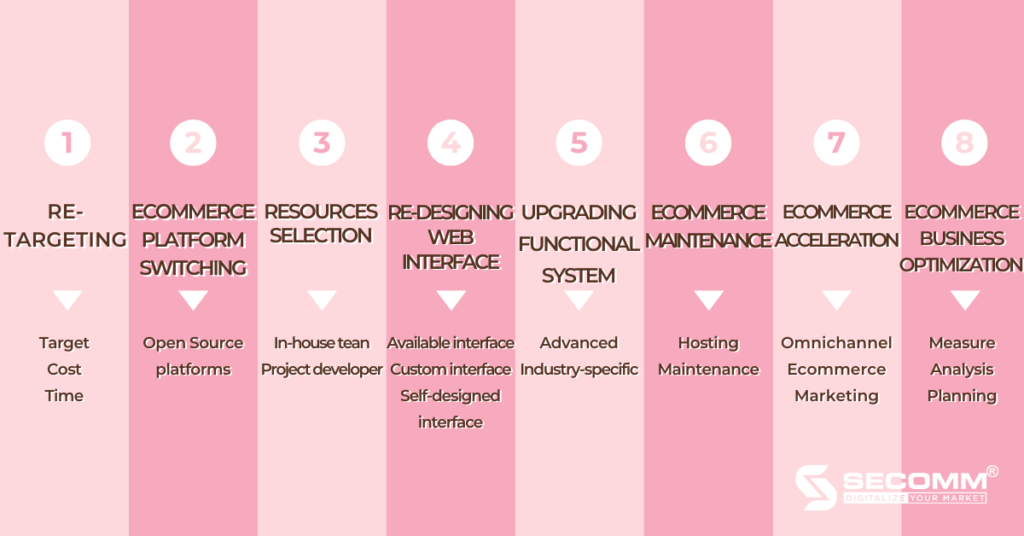 Re-targeting
Along the business development journey that comes with the constant change of consumer behavior, business goals, and strategies need to be adjusted and re-established to match the current context of the eCommerce market. In addition, at this stage, businesses also have problems, data, and insights about online users, so setting goals will be easy.
In the short term, businesses can prioritize finding and attracting potential customers and growing online sales with effective marketing.
In the long term, a cosmetic business can consider the goal of expanding the market segment by identifying the target market segment and making a marketing strategy in accordance with the product characteristics and the direction of the business in the second stage. 
In addition to short-term and long-term goals, businesses need to focus on considering the time and cost of investing in the cosmetic eCommerce website system because, at this stage, the cost and investment budget will often be large. much more than the basic construction phase above.
eCommerce platform switching
In the beginning, cosmetics businesses are advised to develop their initial eCommerce websites using SaaS platforms. However, the restricted capability and customizability of SaaS won't be able to satisfy that expectation given the second phase's objectives of growth and scalability.
To create more specialized cosmetic eCommerce websites at this moment, companies can think about moving to Open Source platforms with respected names like Magento, WooCommerce, etc.
Some suggested criteria to consider when choosing an Open Source platform:
​​Support to design eCommerce website interface based on UI/UX standards.

Provide functional systems from basic to advanced and specific to the cosmetic industry.

Flexible customization, high extensibility, integration with third-party services, and a variety of add-ons.

High security.
Besides that, businesses should be aware of the costs associated with switching from a SaaS platform to an Open Source platform, the time required for staff to learn on the new platform, the danger of data loss, and any issues that may occur.
Resources selection
Unlike the basic eCommerce website building stage, in the second stage of the implementation process, businesses need to choose resources for development. Businesses can build an internal team or seek support from a specialized developer.
The business will hire and train skilled and specialized IT people on the chosen platform for internal team growth. In this case, it will require a lot of time and money from the company, but it will aid in better resource management, control, and active adjustment to develop the eCommerce website system in accordance with the original aim.
Businesses frequently work with a variety of firms to find "true love" in their collaboration with eCommerce website developers. As a result, businesses will receive the eCommerce websites they need as expected, the collaboration process will go smoothly, and businesses will gain more expert knowledge and website development experience from a partner, which will point them in the right direction in terms of the cosmetic eCommerce industry's development trends.
These are the criteria that businesses should consider when choosing: In-depth knowledge and experience in eCommerce and the cosmetics industry; professional working team; clear and detailed working process; ability to quickly handle problems that arise during website development.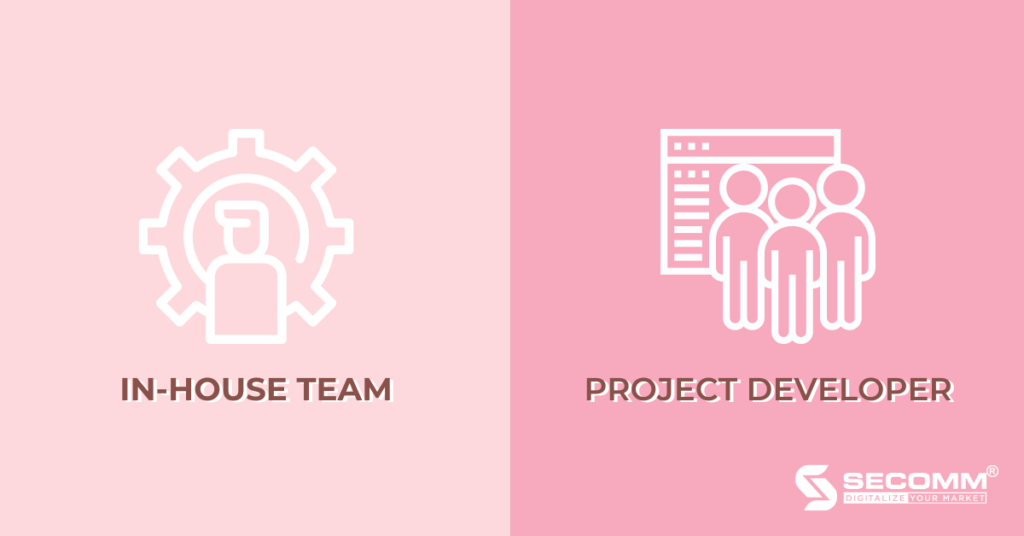 Web interface re-design
Businesses are not required to update the website interface while switching platforms. Redesigning the website interface to work with the Open Source platform, however, is today recognized as a wise company development approach that was introduced simultaneously with the deployment of advanced eCommerce websites.
Similar to the previous period, businesses have three options for designing e-commerce website interfaces, including using the available themes, customizing based on the available themes, and designing their own interface.
Usually, at this step, businesses should choose method 2 or 3 to design the interface to ensure the uniqueness of the brand and the specificity of the cosmetic eCommerce industry.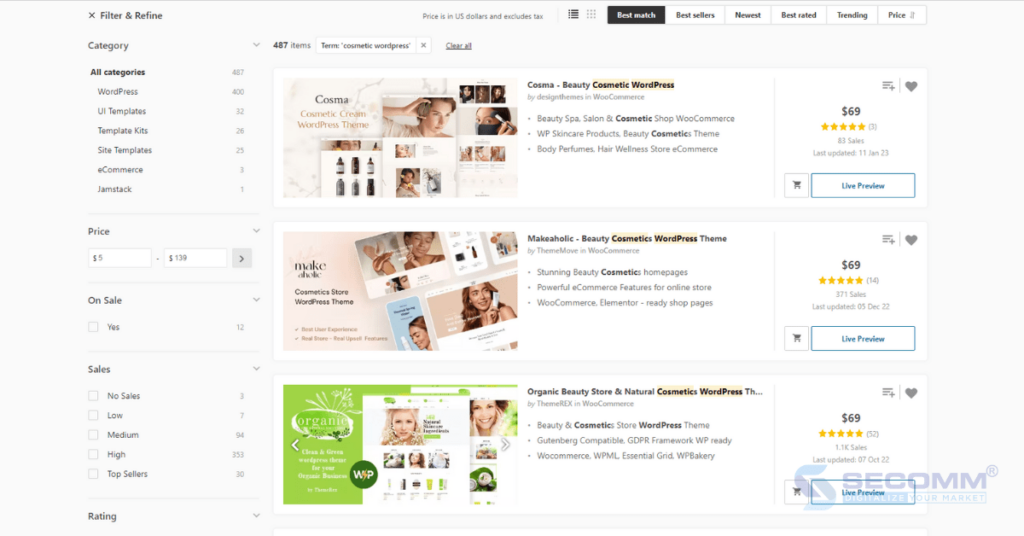 Upgrade the system with advanced and industry-specific functions
In addition to the basic functions that have been built for the eCommerce website system in stage 1, businesses should concentrate on developing a system of advanced and specific functions for the cosmetic industry in the later stages. 
Today, several well-known cosmetic brands embrace AR (Augmented Reality) technology to improve the customer experience. Customers can now download the AR software, activate the camera, and sample the goods online rather than going physically trying it on in the store to see whether it will fit their face.
The Kylie Virtual World application, for instance, offers users an engaging product experience. Users of the newly released Kylie Cosmetics items, such as eye cream, foundation, and lipstick, can sample the product out in 360 degrees by using their phones to scan the QR code.
eCommerce website system maintenance
A sophisticated eCommerce website system demands a great deal of experience and effort to operate and maintain. This is the procedure of continuously maintaining, updating, and upgrading the entire system to aid firms in foreseeing and resolving problems (for example, sudden increase in traffic from the promotions that stimulate shopping).
That supports sustained and persistent online sales growth, which is important for eCommerce businesses in general and furniture eCommerce in particular as they compete for a market share of this "pie," which is "delicious" but can be challenging to consume.
eCommerce acceleration
Furniture eCommerce enterprises readily accomplish growth above and beyond expectations by putting into practice efficient business and marketing strategies.
Therefore, the entire process—from planning through implementation—must be structured with effective, practical solutions that have been demonstrated to work. Implementing Omnichannel, eCommerce Marketing, and SEO optimization are some suggested methods for eCommerce enterprises to accelerate growth.
eCommerce business optimization
​​The journey of developing an eCommerce website ends with measuring, analyzing, and optimizing eCommerce business activities.
Businesses can use analytics tools such as Google Analytics, Google Tag Manager, Facebook Pixel, etc., to track, update and measure website performance metrics as well as the effectiveness of marketing campaigns.
From there, the eCommerce business strategy for the next stage of development will be carefully and methodically planned thanks to clear and detailed reports & analysis.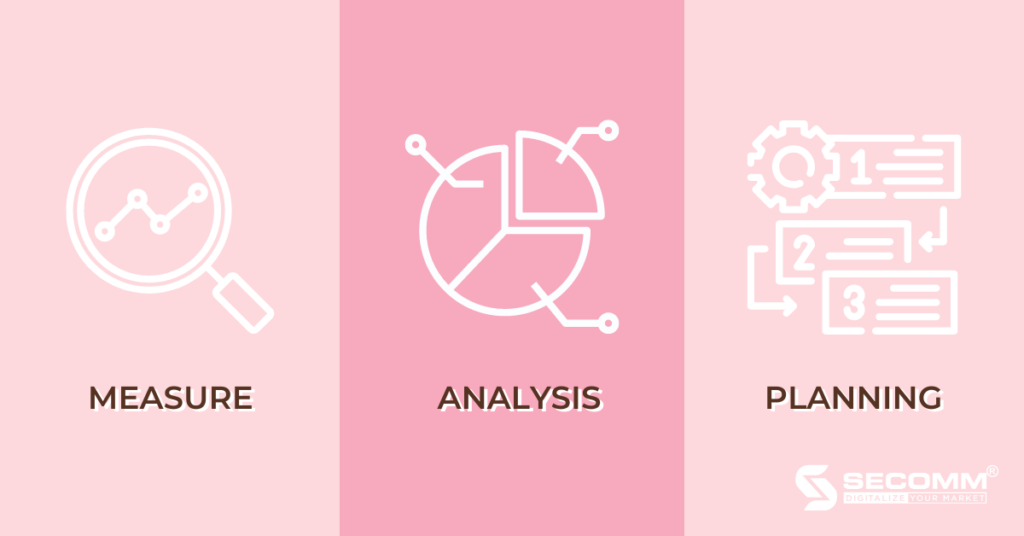 The journey of building a cosmetic eCommerce website with two stages from basic to advanced has been outlined in detail with meticulously analyzed implementation steps. Businesses in the industry can refer to it to draw their own development journey in this potential field.
With many years of experience in successfully implementing eCommerce for many customers in many countries in recent years, SECOMM understands the difficulties and challenges in the process of implementing an interior eCommerce website.
Contact SECOMM today for free support and advice.