In the context of the Covid-19 pandemic, which is seen as an "obstacle" to the business activities of most businesses, eCommerce is emerging as an efficient way to enable Vietnamese furniture businesses to participate in the typical "playground" of global digital transformation.
At the same time, it is a pressing solution for furniture products to be consumed easily and accessible to many potential customers.
Therefore, the first wise step furniture brands have been hurrying to do in order to fast access the market is developing an eCommerce website. However, this difficult path calls for a significant investment of time and energy.
With years of expertise supporting several companies, SECOMM has developed a thorough process for developing a successful eCommerce website exclusively for the furniture sector.
Overview
A brief overview of the eCommerce market
The Covid-19 pandemic's convoluted dynamics made travel challenging, which led to a necessity and urgency that resulted in the explosion of global eCommerce. At that point, internet buying and selling, which is more practical, takes the place of on-the-spot buying and selling.
Global eCommerce sales will rise from 15% in 2019 to 21% in 2021 and then continue to rise to 22% in 2022, according to Morgan Stanley. eCommerce will likely continue to have a large surplus. The market is established, and its growth rate might rise from its current level of 3.3 trillion USD to 5.6 trillion USD in 2026 as a result of significant company penetration in all industries worldwide.
In Vietnam alone, many service sectors had negative growth as a result of the Covid-19 outbreak, although the eCommerce market continued to grow steadily. In particular, the sector for wholesale and retail fell by 0.21%, transportation and warehousing fell by 5.02%, and that for lodging and food services fell by 20.81% in comparison to 2020.
In contrast to that doom, eCommerce has consistently grown at a pace of 16%, with retail sales reaching $13.7 billion USD in 2021. Additionally, the proportion of eCommerce retail sales in all retail consumer goods and services nationally reached 7%, up 27% from the same period in 2020. (Vietnam eCommerce White Paper in 2022).
Because of this, even if the epidemic is now under control and customers are beginning to purchase again in stores, expectations about the potential and rapid growth of the post-Covid eCommerce business are well-founded. The furniture business will not be the only one promoted to extraordinary growth from that point on.
Significance of eCommerce in the Furniture industry
According to Forbes, furniture and building materials have experienced the biggest growth in eCommerce sales during the past two years of the epidemic, with a cumulative growth rate of more than 200% over the year prior to the pandemic, 2019. The category of furniture and home appliances likewise experienced a remarkable cumulative gain of more than 66% compared to the same time in 2019.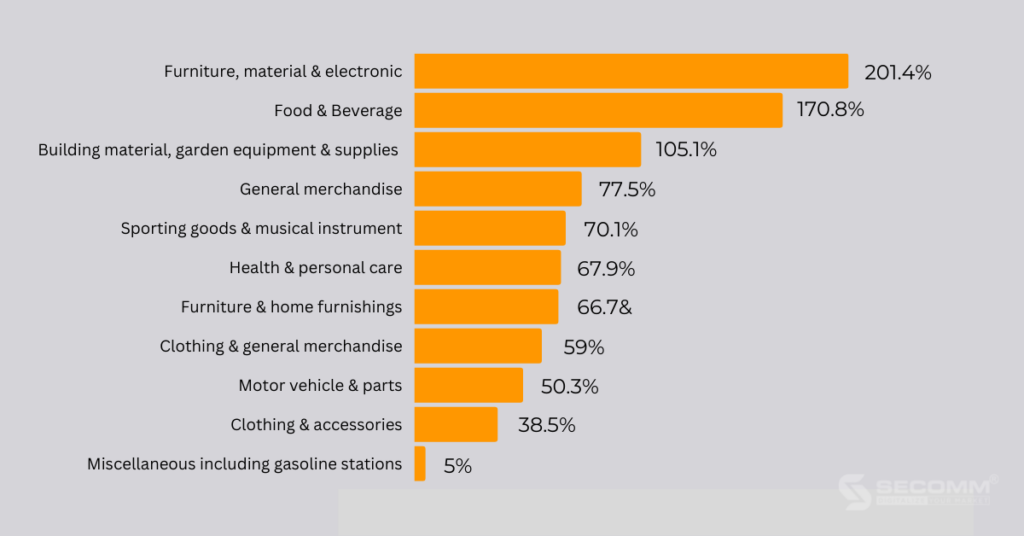 Recent findings made by Maddyness include the following intriguing details:
The value of the worldwide furniture eCommerce market exceeds $200 billion.

Online sales account for more than 90% of the growth of the furniture industry.

According to estimates, 8 out of every 10 consumers who purchase furniture have made an internet purchase at least once.

One in three consumers prefers to buy furniture online.

16% of sales of furniture and home goods are made online.

Customers anticipate purchasing sofas online in 53% of cases and mattresses in 80% of cases.
Stage 1: Basic furniture eCommerce website development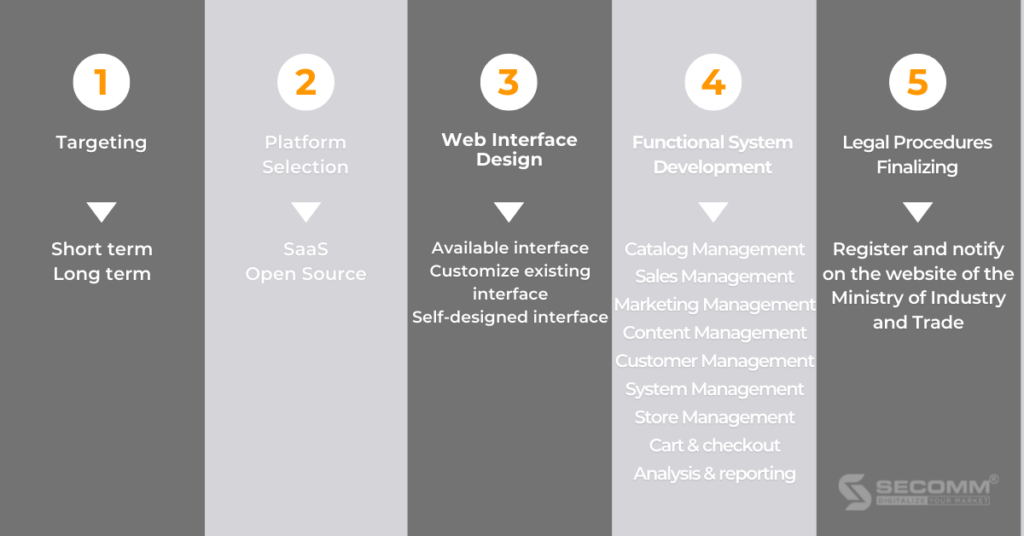 Targeting
The very first thing that furniture businesses need to do is to determine their short-term and long-term goals and priorities before starting to develop an eCommerce website.
To accomplish the anticipated revenue increase in the short term, firms should place a priority on promoting marketing activities, tracking and analyzing customer behaviour, and assessing the efficacy of marketing initiatives. Furthermore, user experience is a crucial consideration that furniture companies must have in mind while advertising eCommerce.
Long-term objectives for firms could include raising brand awareness and coverage as well as evaluating the viability of individual items on online marketplaces. Effective marketing campaigns are also one of the long-term objectives that firms should take into consideration if they want to increase their online consumer base.
Businesses can take a lot of advice from specialized eCommerce implementation consulting units with a lot of experience in consulting a long-term roadmap to get the right list and priority of goals for both this period and beyond since they currently have little data to analyze and evaluate for the entire process.
Platform selection
There are currently two categories of platforms available on the market that enable the development of expert eCommerce websites and are highly well-liked, namely SaaS platforms and Open-source platforms. When used to create eCommerce for the furniture sector, these two types of platforms will each have the following advantages and disadvantages:
SaaS Platform
A service-based software application distribution mechanism for eCommerce commercial purposes is the simplest definition of a SaaS platform. To put it another way, the service provider develops and maintains software to aid in the creation of an eCommerce website, and the firm pays a set fee to use this service.
With SaaS platforms, the provider will own and manage the source code and data because the complete enterprise website system is hosted on the provider's server. This means that the service provider will be in charge of handling and resolving technical issues that arise during the implementation of eCommerce by businesses.
Popular SaaS platforms are especially favored by businesses today, such as Haravan, Shopify, BigCommerce, etc.
Some of the advantages of the SaaS platform include:
Fast eCommerce site deployment: Typically, it only takes a few minutes or days for businesses to possess an eCommerce site with all the features they need for the furniture sector at a fair initial building cost.

Ease of use: The SaaS platform is built with user-friendliness in mind, making it possible for companies without IT advantages or technical expertise to swiftly develop and manage an eCommerce website.

Good security: SaaS providers are in charge of the security aspect since they give and maintain the platform for building eCommerce websites. As a result, eCommerce companies in general, and furniture eCommerce companies in particular, won't need to worry too much about PCI compliance, SSL, or the possibility of websites being hacked.

Excellent customer service: Due to the supplier's 24/7 assistance, businesses may easily contact them by email, hotline, or live chat if their eCommerce website experiences any issues during implementation.
The leading furniture enterprises in Vietnam using the SaaS platforms to build eCommerce websites include
Noi That Hoa Phat: The Vietnamese furniture giant has implemented eCommerce with the BigCommerce platform to maintain its position in the market.

Noi That Moho: A rooky of the furniture village uses the Haravan platform to build a website as the first step on the journey to conquer eCommerce.

Noi That Cozy: The European furniture import and distribution tycoon has chosen Shopify as a companion to design a website to expand sales channels in the online environment.
However, there are still several drawbacks to the SaaS platform that should be taken into account:
Expenses rise over time: Instead of paying once and owning the platform for a long time, businesses will have to pay for interfaces, applications, extensions, marketing, and SEO, among other fees, steadily and continuously. This is in addition to having to pay for the cost of using the platform month by month and year by year. Too many expenses are incurred each month, which makes it challenging to monitor cash flow.

Can not own the source code and data: As mentioned earlier, the business will not own and control the source code and data of the website that this right belongs to the supplier. Therefore, when you want to switch platforms, businesses will not be able to keep and bring all the source code and data to the new platform because of the Lock-in feature of SaaS.

Limited functionality and customization: Businesses employing SaaS platforms will have fewer options for functionalities and customization in accordance with the particular requirements of each eCommerce website. To enhance clients' online shopping experiences, the website system must be modified to reflect the company model's growth as well as industry and product features. SaaS's constraint, however, makes it challenging to adapt to corporate demands.
Open-Source Platform
Open Source Platform is software with generally available source code that enables customers to obtain, upgrade, and modify additional features required for eCommerce company needs. Instead of being produced by a single corporation, open-source platforms are frequently created by a community of developers.
In addition, because it offers extensive customization options, this platform will be perfect for creating sophisticated eCommerce website systems tailored to a variety of industries, including the furniture industry.
This means that in order to efficiently administer the website and handle technological issues, firms either need to work with expert eCommerce website builders or develop a team of highly qualified internal workers.
In Vietnam, the most popular Open Source platforms to mention are Magento, OpenCart, WooCommerce (WordPress Plugin), etc.
The outstanding advantages of the Open-Source platform:
Ownership of source code and data: Unlike a SaaS platform, the enterprise is the sole owner of the system's source code and data. Businesses can thus bring all the data and reuse the existing source code when switching to a new platform. 

Flexible customization: Companies using the Open Source platform can quickly alter or expand the functional system and create new features to keep up with the rapidly shifting market. From there, companies may quickly link with systems and services provided by other parties to help run eCommerce websites more effectively. Moreover, the Open Source platform's flexible customization capabilities enable businesses to choose between three popular options for customizing the interface design of their eCommerce website: using an existing theme, customization based on an existing interface and designing its own interface tailored to the particular requirements of the industry.

Numerous features and add-ons: The Open Source platform includes a wide range of advanced capabilities, like advanced search, product suggestions, abandon cart, etc., in addition to the fundamental functions that facilitate eCommerce implementation. Since the Open Source platform is so well-liked, there is a sizable global developer and expert community from which add-ons are explored and shared. These add-ons are more varied and better than the SaaS platform's utilities.
The following well-known Vietnamese furniture companies are developing their online stores using the Open Source platform:
Sieu Thi Noi That va Trang Tri Baya: A reputable furniture retailer that serves many Vietnamese families, has created a professional eCommerce website using the Magento platform for the purpose of immediately dominating the market.

Noi That Nha Xinh: Manufacturer and supplier of Asian-style furniture products, using the WooCommerce platform for easy and effective eCommerce website deployment.
The disadvantages worth noting when implementing eCommerce with the Open Source platform:
Long implementation period: In comparison to SaaS systems, an open-source platform typically takes 3 months to 1 year to create an eCommerce website, depending on the complexity of the functional system.

High building expenses: Even though companies are free to utilize the platform, it costs quite a bit of money to own a complete eCommerce website with all of its features, usually between $10,000 and $50,000 per project.

Not easy to use: Building an eCommerce system is more difficult than building on SaaS platforms since the system of open source eCommerce features is so diverse and is made to be fine-tuned for each business model. When IT is not a strong suit for a company, this presents a significant challenge, necessitating the assistance of a highly skilled unit.
Web interface design
Businesses should focus on making sure that the website interface conforms to UI/UX standards, clearly displays the brand's distinctive characteristics and those of the furniture industry, and is synchronous in terms of product presentation and layout when designing the interface of an eCommerce website.
So, businesses can select one of the three methods listed below to create the website interface:
Using the available interface: In comparison to the other two payment options, this is the most affordable way for businesses to pay for the interface. With pricing ranging from $300 to $500, both SaaS and Open Source platforms offer a selection of common UI/UX interfaces.

Customizing based on the available interface: Like the previous method, businesses will use the current interface but will modify it to suit their brand's requirements. As a result, companies cut expenses while also expressing their brand's distinctive qualities in part.

Using a self-designed interface: Companies can start thinking about designing their own website interface right immediately to develop a brand image that is unique and more creative than rivals. Even while this is more expensive for businesses than adopting an already-existing interface, the "tailor-made" design interface will match the industry-specific requirements and expectations of the company during the eCommerce deployment phase.
​​​​Firms should typically only use methods 1 or 2 at this point because the functional system is still in its early phases and easily found in the available interface.
Functional system development
In phase 1, businesses can prioritize the development of a system of basic functions needed for a complete furniture eCommerce website, specifically as follows:
Catalog management: Manage and control categories, product functions, as well as prices and images/videos for each product to optimize the operation and achieve high efficiency when doing furniture eCommerce business.

Sales management: Manage all order information, including order status and order fulfillment process, thereby helping businesses understand and analyze customers' shopping behavior and set up and control payment and delivery processes efficiently.

Marketing management: Integrating basic SEO optimization support features such as URLs, meta tags, internal links, etc., and deploying effective marketing campaigns to drive sales.

Content management: Build and optimize content for CMS pages from text, images, pagination, blocks, banners, widgets, and templates to all kinds of branded content, blogs, etc.

Customer management: Manage and control all customer information and customer groups to improve the effectiveness of marketing campaigns, thereby providing a better shopping experience for customers.

System management: Manage and decentralize administrators to control and operate, secure and maintain the eCommerce website system.

Store management: Using tools to support inventory management at branches, stores, and different warehouses to ensure the continuous supply of goods for the whole system.

Cart and checkout management: Manage and control customers' shopping carts and payment information.

Analysis and reporting: Support to analyze and measure the performance of the eCommerce website system, thereby offering the next effective business strategies in the future.
Legal procedures finalizing
The final step of building a basic eCommerce website is completing the necessary legal procedures for the website to be allowed to operate legally. Businesses can follow the simple registration steps as instructed at the eCommerce Management Portal.
This is a mandatory requirement of the Ministry of Industry and Trade for every individual or organization that owns an eCommerce website to sell goods and to perform the registration/notification obligation on time.
Stage 2: In-depth furniture eCommerce website development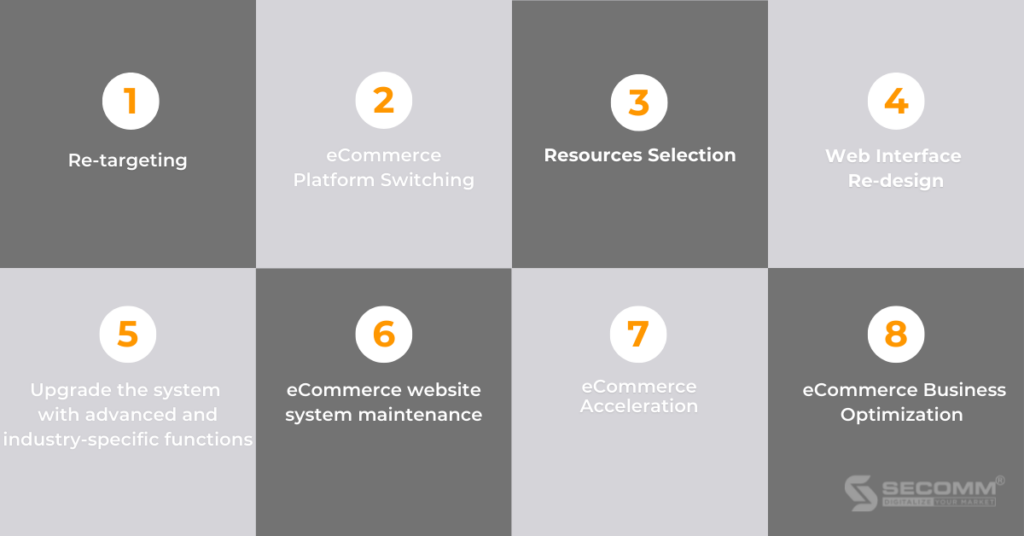 Re-targeting
Along the journey of business development that comes with ever-changing consumer needs, business goals and strategies need to be adjusted and reconfigured to fit the current business landscape In addition, at this stage, businesses also have problems, data, and insights about their online users, so setting goals will be easy.
In the short term, companies can use efficient marketing techniques to locate and connect with a wider pool of new potential clients online and boost online sales.
In the long run, market sector expansion and building a loyal customer base might be objectives for furniture eCommerce firms. In the second step of the trip to create a successful eCommerce website, businesses will simply develop and implement marketing strategies in accordance with the product features and individual directions of each business by identifying the target market segment.
Businesses must prioritize thinking about the time and cost of investing in a furniture eCommerce website system in addition to short- and long-term objectives because at this stage, the cost and investment budget will frequently be substantial and much higher than the above basic building phase.
eCommerce platform switching
If a company decides to use the SaaS platform to create an internal eCommerce website in the first stage, it will not be able to satisfy the expectations for development and expansion in the second stage due to its restricted customization and capability. Businesses should now convert to an open-source platform with well-known names worth considering, such as Magento, WooCommerce, Ziel Commerce, etc., in order to create an advanced furniture eCommerce website.
Following are some criteria for furniture companies to take into account when selecting an Open Source platform:
Support to design standard UI / UX website interface with beautiful and high-quality images and videos, showing the unique characteristics of the brand and the furniture eCommerce industry.

Provide a functional system from basic to advanced in the furniture industry

High levels of scalability and customization enable the creation of specialized features as well as the integration of several add-ons, third-party services, and administrative support that extends from a single website to numerous websites, multiple language support, multiple currencies, etc.

High levels of security assist businesses in reducing the dangers from illegal access to the data system and, when necessary, aid in data recovery for the eCommerce website system.
Businesses should focus on the costs associated with switching from a SaaS platform to an Open Source platform, the time required for staff to adapt to the new platform, the risk of data loss, and any errors that may occur during the changeover.
Resources selection
Resource selection for the deployment of an advanced system must be made with considerable thought, in contrast to the basic system development phase. Businesses have the option of creating an internal team or hiring a professional website developer to assist them.
The business will hire and train skilled and specialized IT people on the selected platform for internal team building which requires a lot of time and money, but it will improve resource management and control and actively adapt the development of the eCommerce website system in line with the original objective.
Businesses frequently consult several eCommerce website developers before choosing the finest one for their collaboration. The needs of the businesses for an eCommerce website will thus be satisfied as anticipated, the collaboration process will go smoothly, and the businesses will gain more expertise and experience in website development from that partner, which will provide them with directions consistent with the development trend of the furniture eCommerce industry.
These are the criteria that businesses should consider when choosing: In-depth knowledge and experience in eCommerce and the furniture industry; professional working team; clear and detailed working process; ability to quickly handle problems that arise during website construction.
Web interface re-design
Businesses are not required to update the website interface while switching platforms. However, the redesign of the website interface to fit the Open Source platform is now turning out to be a beneficial piece of advice given the new company development plan introduced concurrently with the implementation of eCommerce websites at a more advanced level.
Similar to the preceding period, companies have three alternatives for designing the user interfaces of their eCommerce websites: they can use the existing interface, customize it based on the existing interface, or create their own interface. To ensure the distinctiveness of the brand and the particularity of the furniture eCommerce industry, businesses should typically use methods 2 or 3 to develop the interface at this stage.
Upgrade the system with advanced and industry-specific functions
Businesses should concentrate on establishing a system of advanced and specific features of the furniture eCommerce industry to suit the new development phase, in addition to the basic functions that have been established for the eCommerce website system in the early stages.
Businesses may better grasp the challenges of implementing intense furniture eCommerce and provide solutions to address those challenges and fulfil the market's rising expectations thanks to advanced and distinctive functions.
As a result, companies use AR technology to improve the consumer experience. While augmented reality (AR) technology is built on virtual reality (VR) technology, it focuses on fusing the actual environment and digital data to give users the ability to view digital data in the physical world. The furniture eCommerce sector makes extensive use of this technology.
Customers now only need to download the company's AR program, turn on the camera, and evaluate the product's fit with the area of the house rather than physically going to the store to see the things and try them on to see whether they fit.
Customers' buying experiences are improved and made more unique by augmented reality (AR) applications, which convert traditional marketing into interactive marketing. IKEA Place App, the furniture buying an app from "big man" IKEA, is a wonderful example because it offers clients a novel and engaging shopping experience.
Customers can use their smartphones to place and try out the more than 2,000 tables, chairs, sofas, shelves, and other household appliances in a real room, change the viewing angle, and zoom in and out. Also, the software will scale items to their true size with 98% accuracy.
The eCommerce website system maintenance
A sophisticated eCommerce website system demands a great deal of experience and effort to operate and maintain. This is the procedure of continuously maintaining, updating, and upgrading the entire system to aid firms in foreseeing and resolving problems (for example, sudden increase in traffic from the promotions that stimulate shopping).
That supports sustained and persistent online sales growth, which is important for eCommerce businesses in general and furniture eCommerce in particular as they compete for a market share of this "pie," which is "delicious" but can be challenging to consume.
eCommerce acceleration
Furniture eCommerce enterprises readily accomplish growth above and beyond expectations by putting into practice efficient business and marketing strategies.
Therefore, the entire process—from planning through implementation—must be structured with effective, practical solutions that have been demonstrated to work. Implementing Omnichannel, eCommerce Marketing, and SEO optimization are some suggested methods for eCommerce enterprises to accelerate growth.
eCommerce business optimization
The journey of developing an eCommerce website ends with measuring, analyzing, and optimizing eCommerce business activities.
Businesses can use analytics tools such as Google Analytics, Google Tag Manager, Facebook Pixel, etc., to track, update and measure website performance metrics as well as the effectiveness of marketing campaigns.
From there, the eCommerce business strategy for the next stage of development will be carefully and methodically planned thanks to clear and detailed reports & analysis.
Some special notes for furniture eCommerce website development
The journey of developing an eCommerce website for the furniture sector is divided into two phases with clear step-by-step instructions. Businesses will, however, be able to go in one of two strategies, each with its own advantages and drawbacks, depending on the platform they decide to use for the first phase.
Strategy no.1: Initially use an eCommerce SaaS platform before switching to an Open Source platform later on.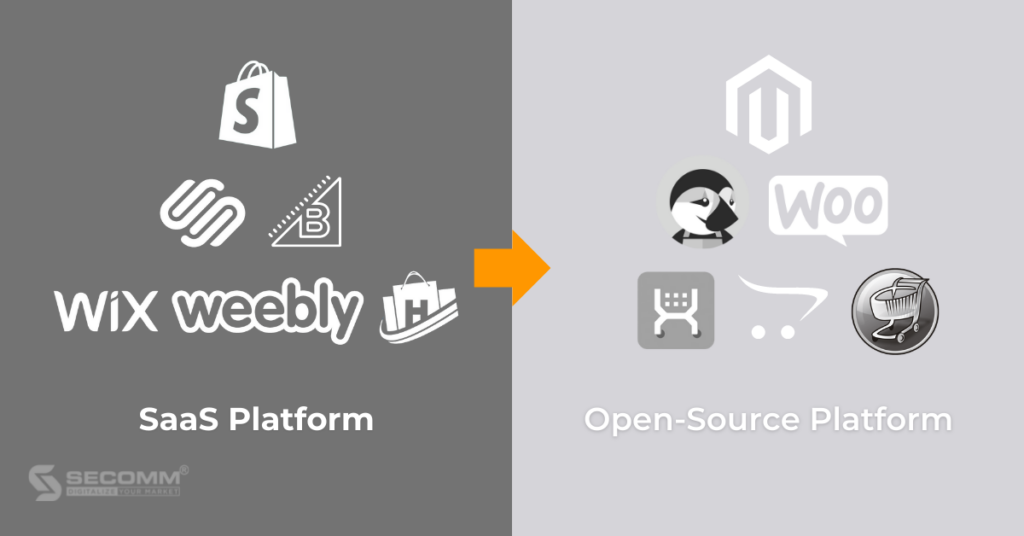 Pros
The quick deployment time of a SaaS platform is one of its benefits. In order to swiftly enter the market and create a simple website system, enterprises can pick SaaS at an early stage. Businesses will evaluate the furniture items' suitability for the eCommerce market's demands as well as their influence on upcoming consumer trends there.
The switch to an open-source platform will make it more reasonable to extend and develop a specialized website system in order to raise brand awareness and increase online sales over a period of time long enough for businesses to become accustomed to and adapt to the ever-changing market.
Businesses will save a lot of money by implementing eCommerce utilizing the SaaS platform early on as opposed to developing a website using the Open Source platform. Businesses can use that capital to invest in other activities, such as marketing strategy, which is one of the crucial components for the success of any company, not only furniture companies, because the initial cost of a SaaS platform is typically not too expensive.
The ability to conduct business while gaining knowledge and expertise in technology and how to efficiently implement eCommerce is another advantage of this approach to developing an eCommerce website. In general, running a business is challenging, and operating an eCommerce firm is even more challenging in today's continuously shifting market and technologically complicated and varied trends.
As a result, acquiring knowledge and real-world experience is both a necessary and a sufficient condition for businesses to achieve extraordinary success. Because a SaaS platform is simple to use and doesn't require a lot of technical knowledge, choosing one to deploy in the early stages can help businesses become comfortable with eCommerce terminology, concepts, and how to build a website at a basic level.
Due to the complex requirements of an extensive eCommerce website system, businesses will need support from a strong IT team during the second stage of switching to the Open Source platform. The collaborators and partners will then complement each other's knowledge and experience at that point.
Cons
As was stated in the introduction to the platform, the fundamental functional system of SaaS platforms will not be sufficient to meet the needs of the eCommerce business at the growth and scalability stage.
Therefore, whether you like it or not at this moment, you must switch to the Open Source platform in order for the eCommerce system's expansion and scalability goals to continue to be successfully implemented.
When adopting this approach for the process of developing and perfecting the website system, eCommerce firms in general, and furniture enterprises, in particular, should pay close attention to this first drawback.
Businesses will significantly reduce the initial cost of the working process by using this strategy. The initial benefit, though, later turns into a detriment in the long run. In addition to the ongoing platform usage fees that companies must pay for the SaaS platform, additional service costs are also significant enough to complicate and make cash flow management challenging to manage.
Because of the characteristic of the SaaS platform, customers are not permitted to keep the source code and data when switching platforms, thus enterprises must once again pay the initial development costs after the stage of moving to the Open Source platform. Additionally, the cost of development using an Open Source platform is rather costly, ranging between $30,000 and $50,000 on average.
Additionally, firms will "headache" from the sunk costs associated with switching platforms. The cost of staff training is seen as an additional expense rather than a true investment if you are accustomed to the new system, especially at a time when the economy is anticipated to rebound following COVID-19.
Furthermore, it is easy to make mistakes during the platform shift that result in the loss of crucial firm data, such as data that is closely tied to financial matters. With all the hazards mentioned, managing cash flow and maintaining balance is still a challenging issue that obviously affects furniture companies' eCommerce business strategies.
Strategy no. 1 will be appropriate for startups or SMEs learning about eCommerce and entering the market safely based on the pros and disadvantages highlighted.
Strategy no.2: Implement an open-source eCommerce platform from the first phase on and use it throughout the second phase.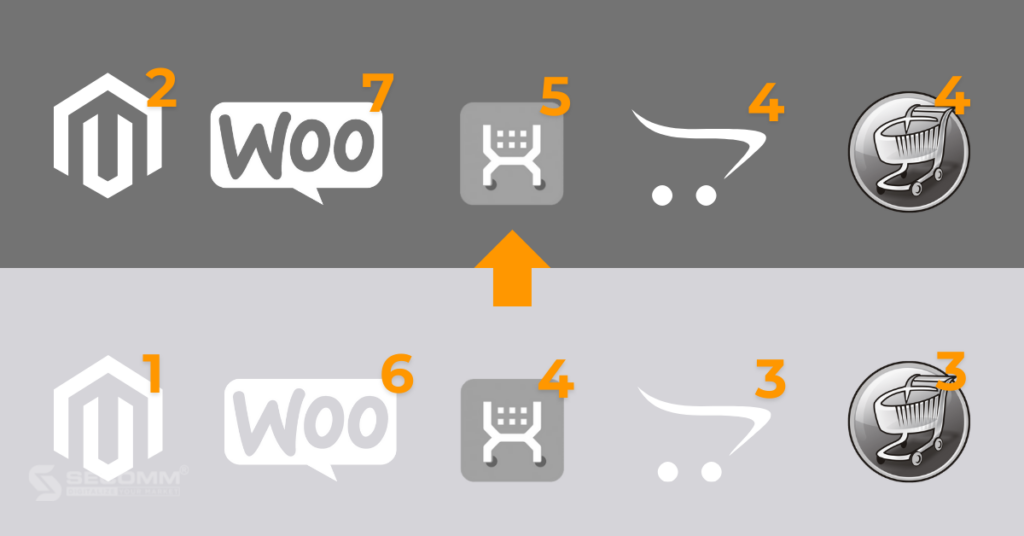 Pros
With the second strategy, companies develop eCommerce websites on the Open Source platform from the very beginning. Due to the smooth website development process, businesses merely need to gradually improve their functional systems in line with their growth and scale rather than switching platforms.
Long-term cost savings for enterprises are made possible by this seamlessness. In which, addition to saving money by avoiding the cost of starting over when switching platforms as a first strategy, firms also minimize the danger of data loss and spend less time and money training staff to use the brand-new platform.
The second approach, on the other hand, aids firms in laying a strong foundation right away with a professionally designed and smooth eCommerce website system and a team of essential technical personnel who are knowledgeable and well-trained from the start.
Cons
Similar to the first strategy, despite its notable benefits, the second one still has some drawbacks that companies should take into account before implementing furniture eCommerce. The market penetration will be slowed down if Open Source is chosen for the first phase of the deployment process.
All of the website's features will be designed from the ground up because it will be built on an open-source platform. It takes the team a lot of effort, time, and brainpower to accomplish the entire process, which often takes between three months and a year.
Therefore, the lengthy implementation period is a drawback that slows down market entry, increasing the risk of falling behind in the competitive eCommerce race. Correspondingly, firms will have to pay a considerably larger upfront development fee than they would for a SaaS platform.
When companies must invest a significant sum of money in a platform upfront yet are unsure of its viability and effectiveness for adopting eCommerce, there is a risk involved.
From a business perspective, this drawback is viewed as an opportunity cost, meaning that while this strategy offers firms enormous long-term rewards, it also comes with trade-offs that present difficulties in the short term.
To meet growth and scalability objectives as well as avoid potential risks from switching platforms mentioned in advance, or to make the process of eCommerce implementation simple and efficient.
Therefore, it is incredibly appropriate to invest time and money in starting from scratch with Open Source.
The second approach can be appropriate for firms with a variety of business models, including B2B, B2C, and B2B2C, when the advantages and downsides are carefully thought.
​​With the high growth rate of Vietnam's economy, eCommerce makes a significant contribution to promoting the flow of goods and services, supporting small and medium enterprises, especially those in the furniture sector, to seek effective business opportunities in the context of deep integration and the spread of the 4th Industrial Revolution.
Moreover, a qualified eCommerce website serves as a "bridge" for furniture companies to achieve that integration objective. However, building a comprehensive, modern, and professional eCommerce website is never simple and necessitates a significant financial investment.
The journey to develop an eCommerce website is described above in great detail by SECOMM with a few extra tips that furniture businesses can refer to shorten your own planning.
With many years of experience in successfully implementing eCommerce for many customers in many countries in recent years, SECOMM understands the difficulties and challenges in the process of implementing an interior eCommerce website.
Contact SECOMM today for free support and advice.