Shopify Plus is one of the most popular eCommerce platforms tailored for large-scale enterprises experiencing rapid growth. Currently, there are more than 27000 live webstores based on this platform. 
Below, we highlight 10 brands that have achieved remarkable success in captivating customers through their online shopping experience by deploying eCommerce websites using Shopify Plus.
Kylie Cosmetics
The success of the Kylie Cosmetics brand lies on the fame and influence of Kylie Jenner on social media along with the smart business strategy that focuses on leveraging the power of eCommerce.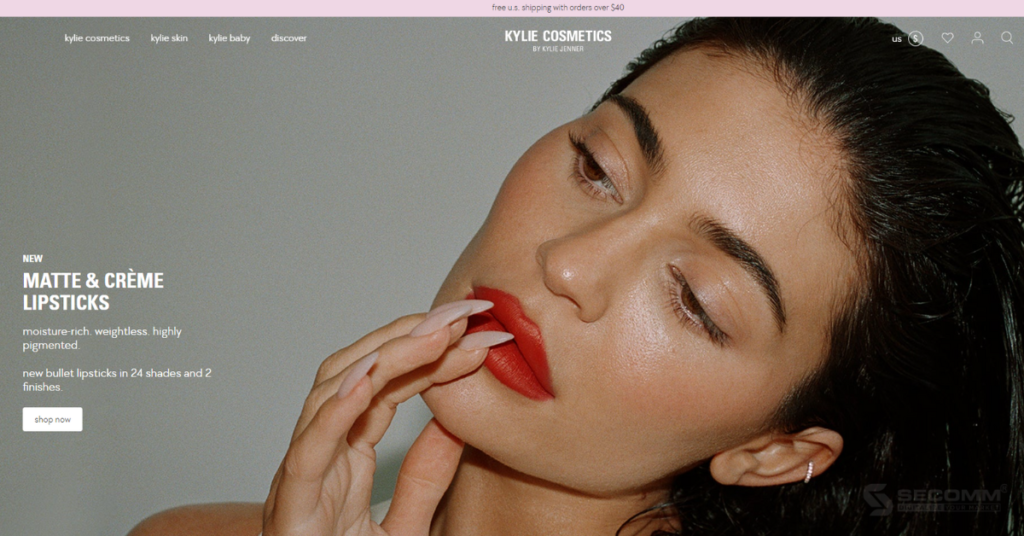 The brand chose to build their eCommerce website on Shopify Plus platform with a design that emphasizes simplicity, using pink and white as the main color tones. In addition, their website only displays products from the collection that they are currently promoting. This is also their core business strategy – they limit the quantity of products sold to target the customers' FOMO mentality.
GymShark
Another famous brand that deploys their Shopify Plus eCommerce website is GymShark. Established in 2012, the brand specializes in providing accessories and sportswear, with an initial value was around 1 million USA. Over the years, GymShark ultimately becomes a billion-dollar brand and makes their presence known in over 131 markets.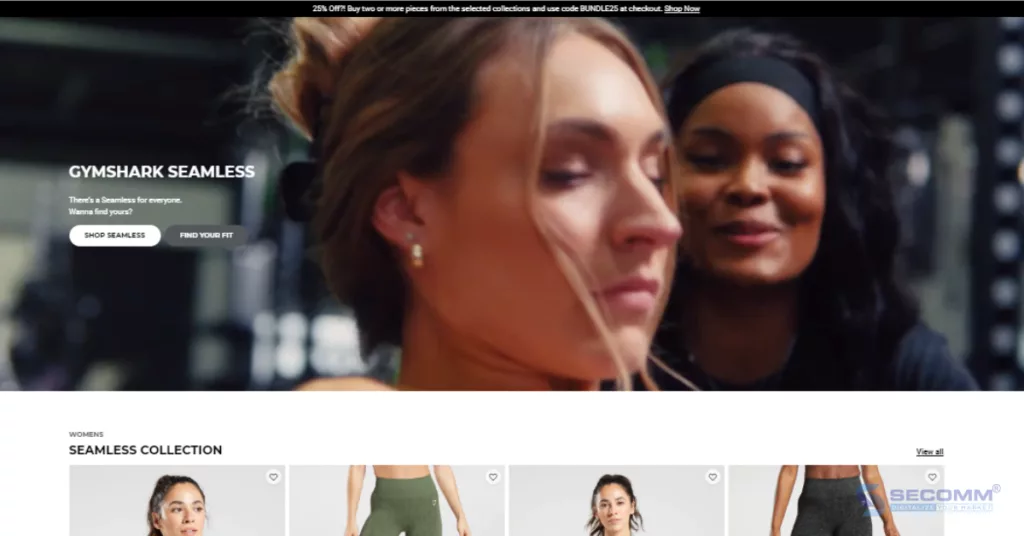 The GymShark website showcases an extensive product catalog for men, women, and children, offering a wide range of styles and sizes. Moreover, the brand integrates Instagram into their website to reach and engage with the growing users of this social media platform. Also, GymShark leverages their Instagram account to create outfit mix-and-match inspiration, using their own products, thereby encouraging purchases.
Fashion Nova
Fashion Nova is a well-known fashion brand in North America and Europe, offering a wide range of fashion products and accessories for men, women, and children, with diverse styles, colors, and sizes that conform to the US-UK. fashion standard. In 2018, Fashion Nova topped the list of the most searched fashion brands on the internet.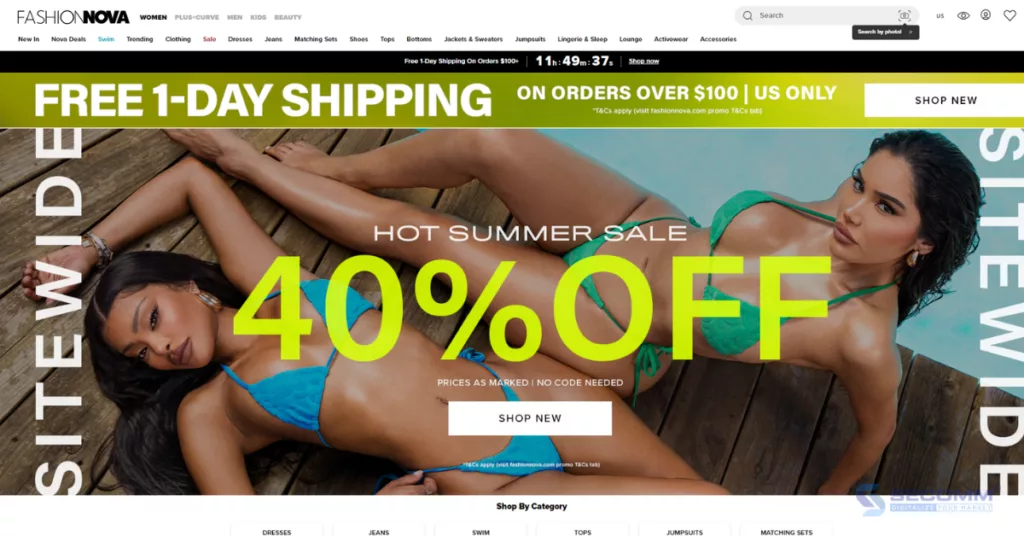 Their eCommerce website is based on the Shopify Plus platform, enabling it to handle a massive amount of traffic, approximately 25.5 million visitors per month. The website features all the necessary functionalities with a distinct design specific to the fashion industry. Furthermore, Fashion Nova regularly releases new seasonal collections accompanied by enticing promotions to attract customers to shop on their website.
Cettire
Cettire is one of the leading online retailers of luxury fashion in Australia. The brand specializes in providing clothing, footwear, and accessories from over 1300 renowned luxury brands worldwide, such as Saint Laurent, Prada, Balenciaga, Gucci, and more. In 2020, Cettire was listed on the Australian Securities Exchange (ASX), with a total revenue of 124 million AUD for the fiscal year 2021.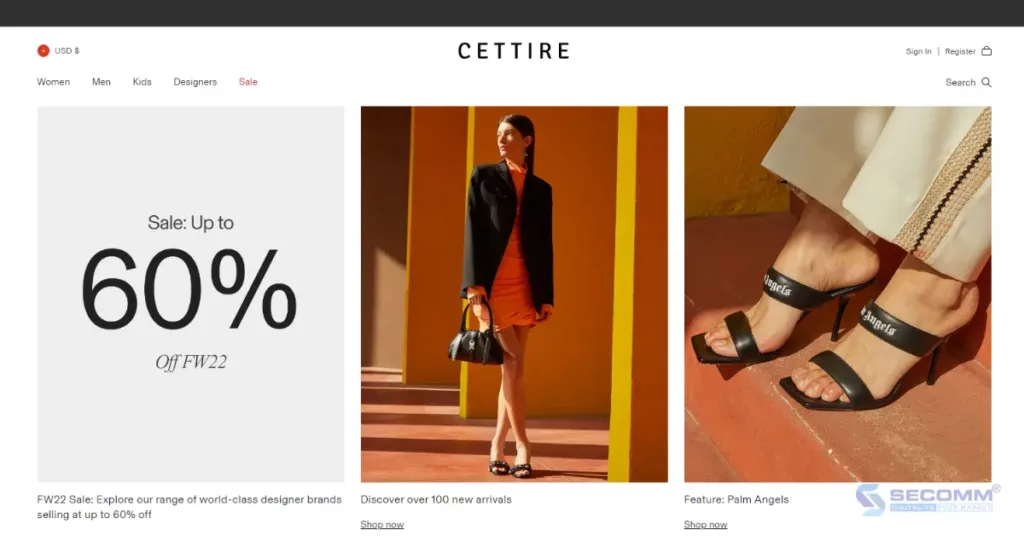 The brand built their eCommerce website with the Shopify Plus platform. This helps the website attract the attention of fashion enthusiasts everywhere, not only because it is a destination for online shopping of luxury fashion brands but also because of its minimalist yet modern design with captivating videos and graphics.
Decathlon Viet Nam
Decathlon has a vast product catalog that can meet every need for sports training, ranging from gym clothes, running shoes, swimming goggles, and camping tents, to hiking backpacks. Therefore, it's not surprising that Decathlon chose Shopify Plus to develop its eCommerce website to leverage the platform's flexible customization and high scalability.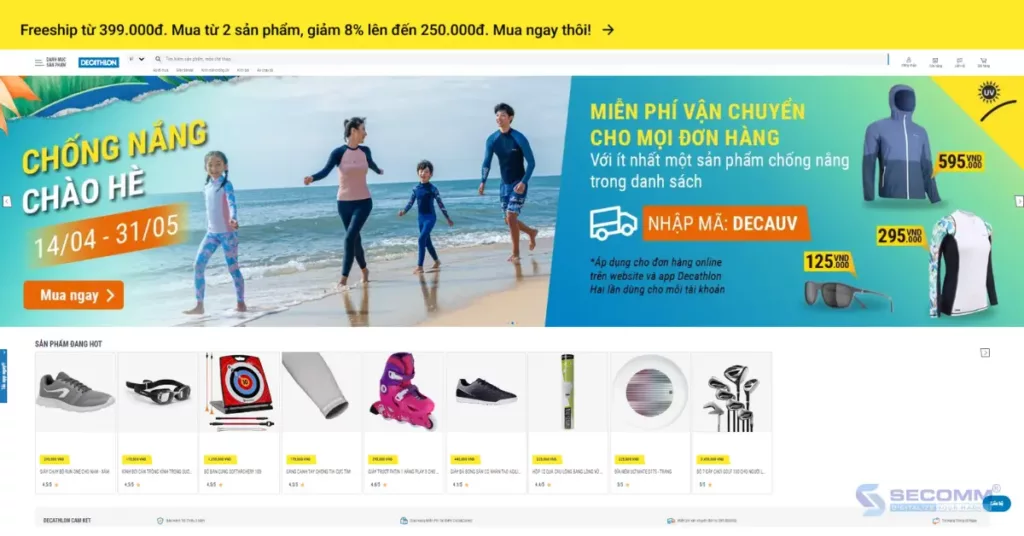 To keep up with the digital transformation trend, Decathlon places special emphasis on two sales channels: the website and the app, offering attractive promotional programs exclusively for customers who make purchases through these channels. Additionally, Decathlon integrates multiple payment methods and utilizes SSL encryption to ensure a safe and efficient online shopping experience.
Supersports
Supersports is the next sportswear and accessories brand on the list that uses Shopify Plus for its eCommerce website. It is a reliable shopping destination for genuine fashion items from major brands such as Puma, Under Armour, Fila, Crocs, Adidas, Nike, and more.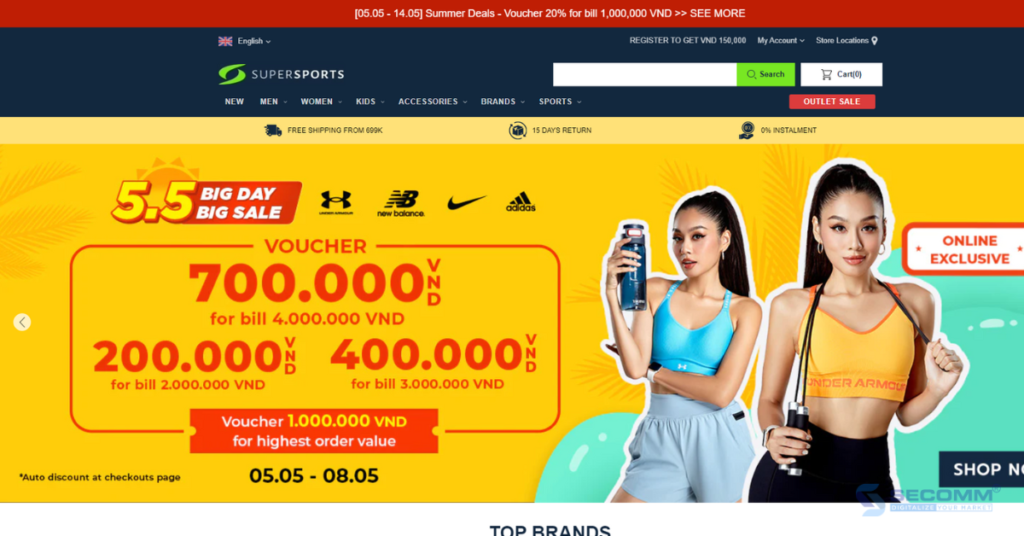 The brand regularly offers attractive promotional programs for customers shopping on their website. Also, Supersports dedicates a page on their website for customers to easily check ongoing promotional activities at their outlets. To ensure customers don't miss out on any shopping deals, the company implements an exit popup that encourages customers to sign up and receive information about new products, special offers, and vouchers via their email.
Durex Viet Nam
No one is unfamiliar with Durex. In addition to focusing on enhancing their presence on social media platforms, Durex has also invested in developing their eCommerce website meticulously on the Shopify Plus platform to enrich the online shopping experience for their customers.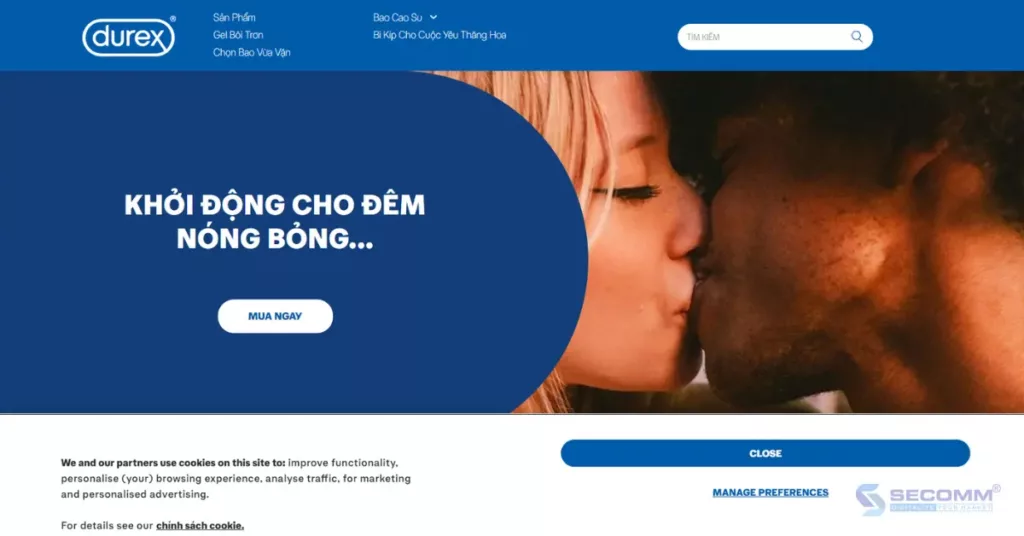 Swee Lee Viet Nam
Swee Lee is one of the leading music instrument brands in Vietnam. The company's eCommerce website is built on Shopify Plus, equipped with all the core features to operate and provide customers with the best shopping experience.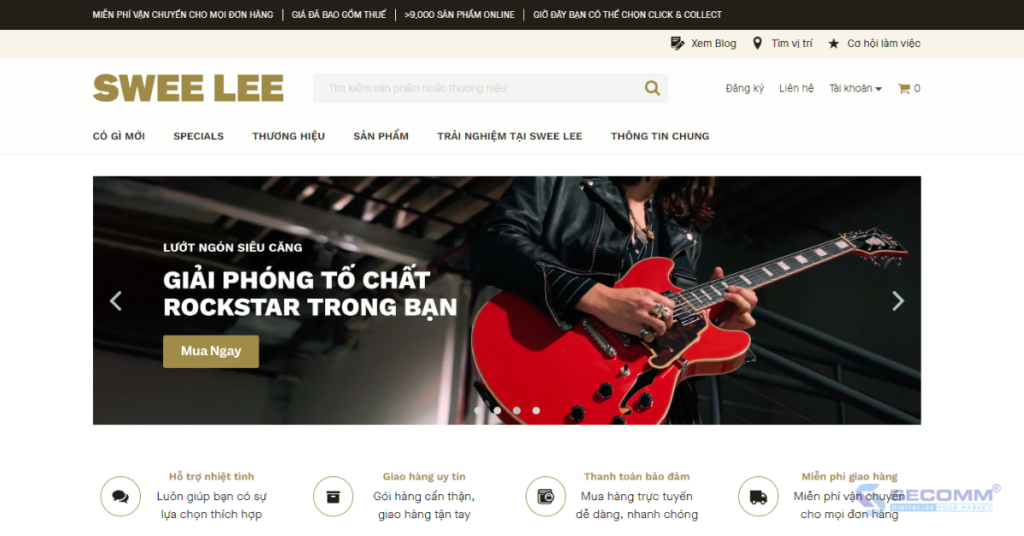 Swee Lee implements an exit popup to collect user emails for email marketing campaigns. The products available on the Swee Lee website are diverse, ranging from guitars, ukuleles, to pianos, with various attributes (e.g. models, prices, and brands).
Skechers Viet Nam
The renowned American shoe brand, Skechers, also leverages Shopify Plus to build its eCommerce website. Skechers develops high-quality and comfortable product lines that align with current fashion trends. In addition to footwear for men, women, and children, the brand is also expanding its range to include clothing and accessories.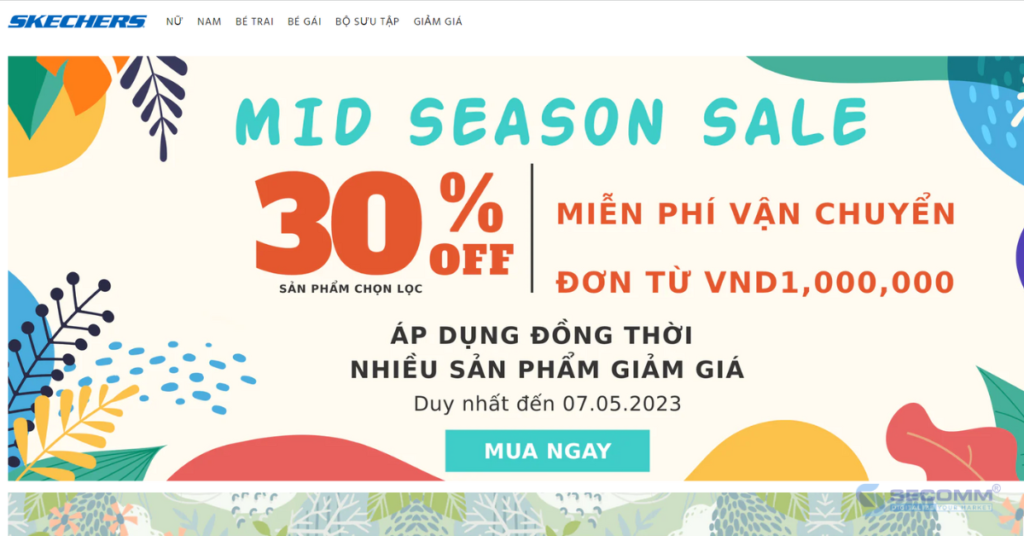 To encourage customers to shop more on the website, Skechers Vietnam consistently launches attractive promotional programs along with various gifts and vouchers.
Trollbeads Viet Nam
The website of Trollbeads, a renowned jewelry brand, is using the Shopify Plus eCommerce platform. As a pioneer in the world of exquisite gemstone jewelry, Trollbeads offers their customers luxurious and intricately crafted high-end jewelry pieces. Both men and women can customize their jewelry, including bracelets, rings, necklaces, and earrings, to suit their preferences, personalities, and individual stories.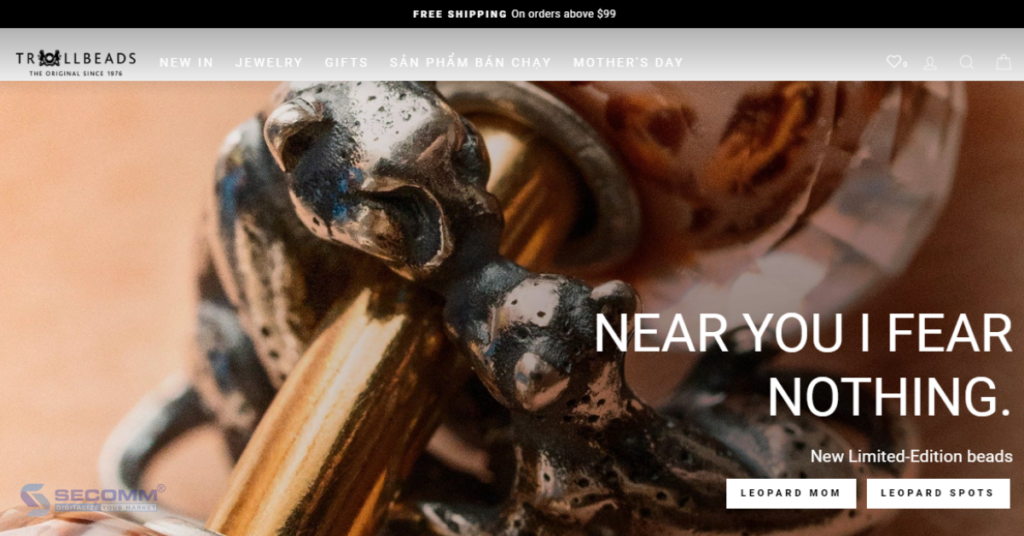 Furthermore, on special occasions, Trollbeads showcases appropriate products on the website to facilitate easy selection for customers. Clear product images presented from multiple angles allow customers to observe the intricate design details and exquisite patterns of each jewelry item. Furthermore, the website has a dedicated section sharing the craftsmanship of artisanal handicrafts, the stories behind the gemstones, and jewelry care.
SECOMM has listed out  10 successful eCommerce websites using the Shopify Plus platform, which have conquered customers and become leaders in their respective fields.
Related article: Shopify Plus vs Adobe Commerce: Key differences 2023
With years of experience successfully implementing eCommerce solutions for clients in multiple countries, SECOMM specializes in providing consulting services with comprehensive eCommerce deployment solutions.
Contact SECOMM or call our hotline (+842871089908) today to receive free support and consultation.