According to the VISA's data in 2021 – the world's leading electronic payment technology company, up to 87% of Vietnamese consumers surveyed are currently using home delivery services, of which 82% said that the first time they used this service was since the Covid-19 outbreak occurred.
That further confirms that social distancing and work-from-home models have led to significant consumer shopping behavior changes. In particular, the transition from the direct shopping experience to e-commerce has taken place rapidly in just a few months. One of the industries that have benefited the most from the boom in the e-commerce market is eGrocery.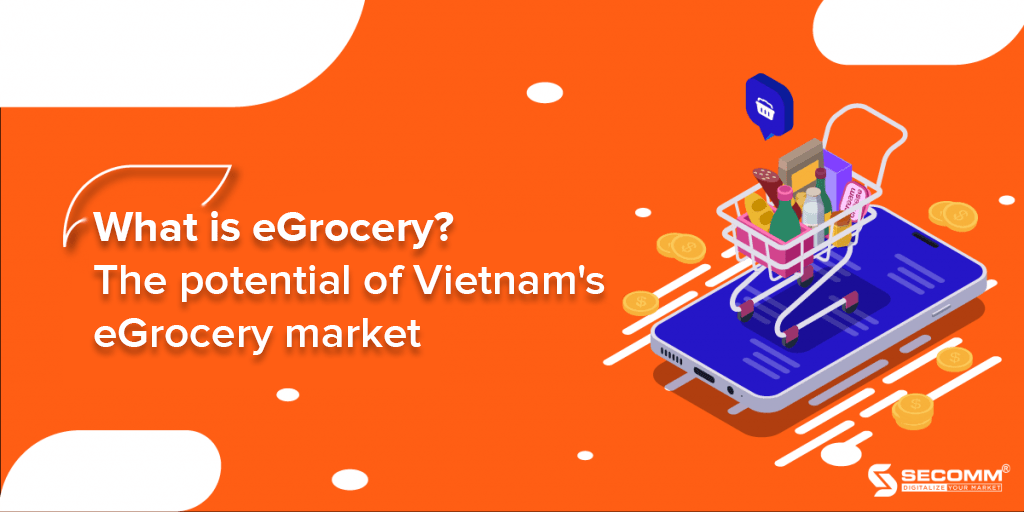 So, what is eGrocery?
eGrocery (or Grocery Ecommerce) includes online business activities of grocery products such as food (both fresh and prepackaged), household products, healthcare, personal care, etc. Product display, ordering to pay, and shipping are all done on the website of eGrocery businesses.
Some successful eGrocery businesses in the Vietnamese market are Bach Hoa Xanh, An Nam Gourmet, Organica, Farmer's Market, etc.
The potential of Vietnam's eGrocery market
Covid-19 is a powerful catalyst, one of the impulses to boost the grocery industry's demand for shopping for essential products. According to a report from iPrice, websites specializing in the grocery business grew by 45% in traffic when people started staying at home to prevent the epidemic. After the social distancing eases, this trend remains stable, increasing by 10% by the end of 2021. eGrocery is the only industry that has maintained solid growth throughout the pandemic since the beginning of the pandemic, with search demand still increasing steadily.
Additionally, with revenue coming from the U.S, the worldwide eGrocery market is also highly active. The grocery e-commerce business is anticipated to surpass $20 billion in 2021 and $24 billion in 2023 (Statista). According to Redseer's report, India's eGrocery market is estimated to reach $10.5 billion by 2023.
Seeing the vast potential that the eGrocery market may bring, now there are many "big guys" not from the traditional grocery industry who also jump in to fight for this lucrative "piece of cake" like Con Cung, Kids Plaza, etc.
Case Study
BigBasket – The giant in the eGrocery market in India
BigBasket was founded in 2011 by V.S. Sudhakar, Hari Menon, V.S. Ramesh, Vipul Parekh, and Abhinay Choudhari. In May 2021, Tata Group's acquisition of 64% of BigBasket shares helped push BigBasket's valuation to $1.85 billion.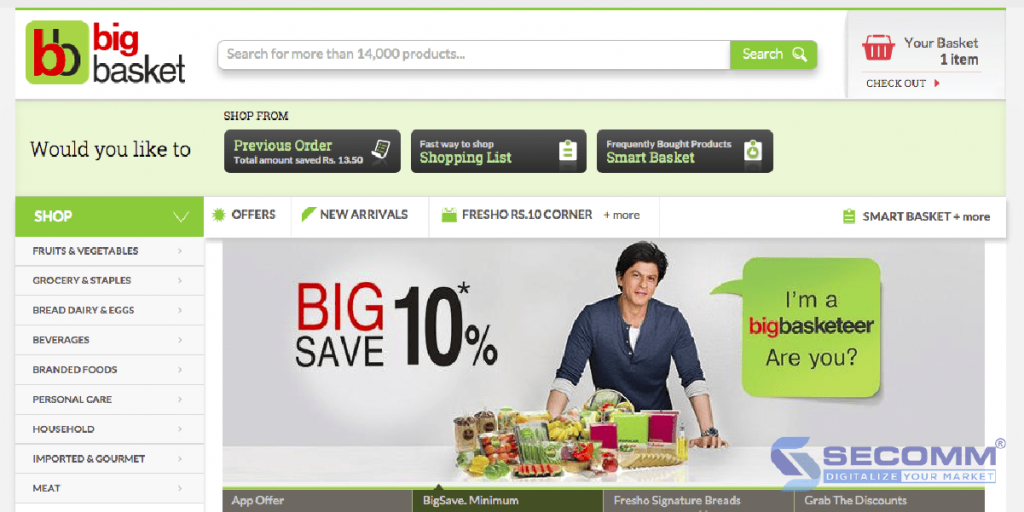 By promoting the research and development of transportation services and expanding the logistics function system in the enterprise's e-commerce website, in 2016, BigBasket made fast deliveries within 60 minutes. In the same year, BigBasket also built a B2B delivery service to serve the food needs of restaurants and customers in major Indian cities. This business strategy has been a solid stepping stone for the BigBasket brand in the Indian online department since 2017
Blinkit (Formerly Grofers) – Fastest Delivery Business in India
Grofers is India's 3rd largest grocery e-commerce platform, with about 13% of the market share, behind only BigBasket (37%) and Amazon (15%). Founded in 2013 by two technology engineers, Albinder Dhindsa and Saurabh Kumar, after the two founders noticed a massive gap in the local logistics services.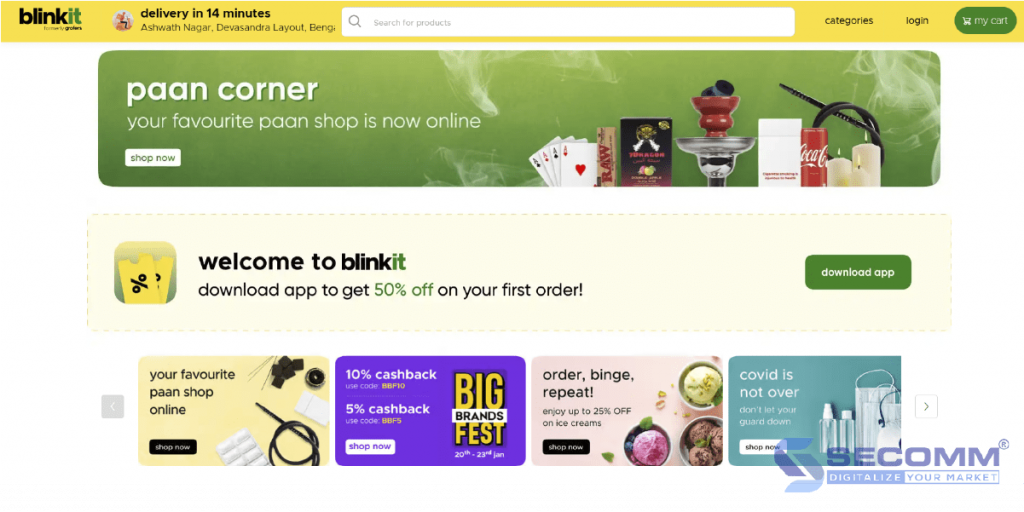 Initially, Grofers only specialized in supplying grocery products such as packaged food, bakery products, mother and baby care, pets, etc., to local grocery stores, medical, restaurants, or supermarkets. But thanks to the advancements in technology successfully applied in the e-commerce strategy, Blinkit has rapidly expanded its business successfully in 28 Indian cities.
On December 13, 2021, Grofers officially changed its brand name to Blinkit to deliver within 10 minutes. Like BigBasket, Blinkit also focuses on developing its logistics system and expanding its network of partner brands on its e-commerce website. Blinkit has more than 60 partners in New Delhi, more than 30 partners in Gurgaon, and many in Mumbai, Kolkata, Bengaluru, etc.
Bach Hoa Xanh – MWG's strategic card in the eGrocery market
Bach Hoa Xanh is a mini supermarket chain selling fresh food and necessities under the Mobile World Joint Stock Company (MWG). Bach Hoa Xanh has nearly 2,000 stores across the South, East, and South Central provinces. According to iPrice, this website is in the top 5 most visited e-commerce websites in Vietnam, just behind four e-commerce platforms (Shopee, Lazada, Tiki, and Sendo).\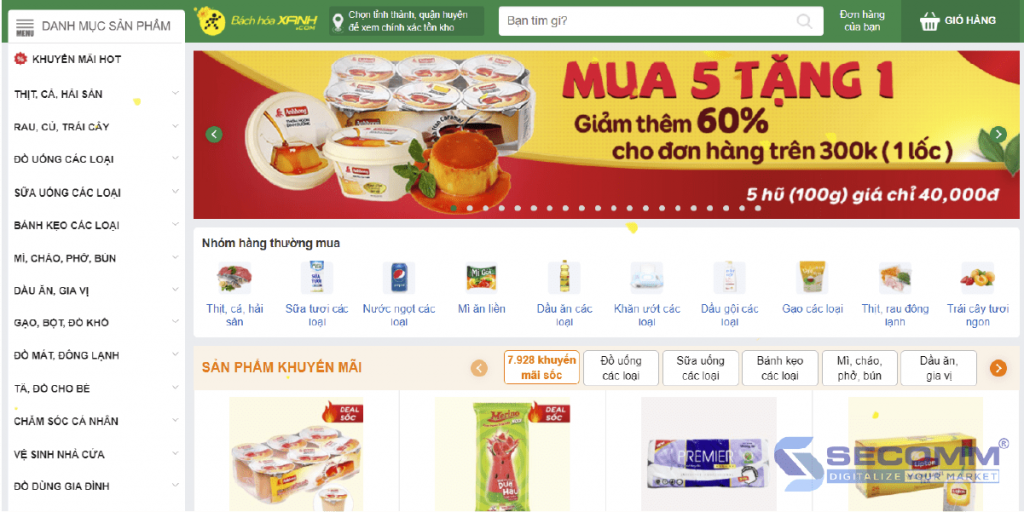 Since its establishment in 2015, Bach Hoa Xanh has advocated two key campaigns, competing with traditional markets and developing e-commerce websites. At first, Bach Hoa Xanh set up branches at selling points near the market, but in suburban areas and provinces, the space rental cost is much more affordable than in the central area. At the same time, the company creates a website system to boost online sales channels and draw in customers who enjoy making purchases online, particularly young people.
These days, the company has officially entered the Vietnamese retail "triad association" with Saigon Coop and WinMart (formerly VinMart), achieving a record of 26,300 billion VND in revenue in 2021 – an increase of 38% compared to the first 11 months of 2020.
Besides Bach Hoa Xanh, some other successful businesses have been applying grocery e-commerce, such as An Nam Market (specializing in serving foreign customers or former international students in Vietnam); Organica (focusing on offering customers from around the world ecologically friendly items), etc.
eGrocery is still in development and has not yet formally taken off. Thus the market's growth potential is still tremendous despite the existence of several major companies. To confidently enter this lucrative market, grocery stores in Vietnam can use the lessons learned from their forebears and select a platform to construct a website system that fits the e-commerce business model.
Our company – SECOMM has been partnering with many big enterprises such as An Nam Group (Vietnam), Jasnor (Australia), and Changi Airport Group (Singapore). We are aware of the challenges and worries faced by firms while developing an e-commerce website system.
Get in touch with us now for FREE ecommerce consultancy and solutions in eGrocery businesses.