According to the latest of Ministry of Industry and Trade of the Socialist Republic of Vietnam in 2022, the eCommerce industry's revenue is estimated at 13.7 billion USD, increase 16% compared to 2020 and accounting for 6.5% of the total retail revenue of Vietnam. Due to e-Commerce SEA, Vietnam's eCommerce will grow by an average of 25% per year from 2022 – 2025, possibly reaching 35 billion USD in 2025. 
The impact of the Covid-19 epidemic and social distancing orders, as well as changes in consumer behaviour, are driving the growth of this industry.
Thanks to super apps, such as Shopee, Lazada, Tiki, MoMo, and Zalo, it's easier to deploy mini apps, creating a premise for inexperienced brands to build eCommerce systems to enter this billion-dollar market.
Shopee
Shopee is the most popular eCommerce market in Southeast Asia and Taiwan. Shopee was founded in 2015 to provide people with an easy, safe, and quick online buying experience.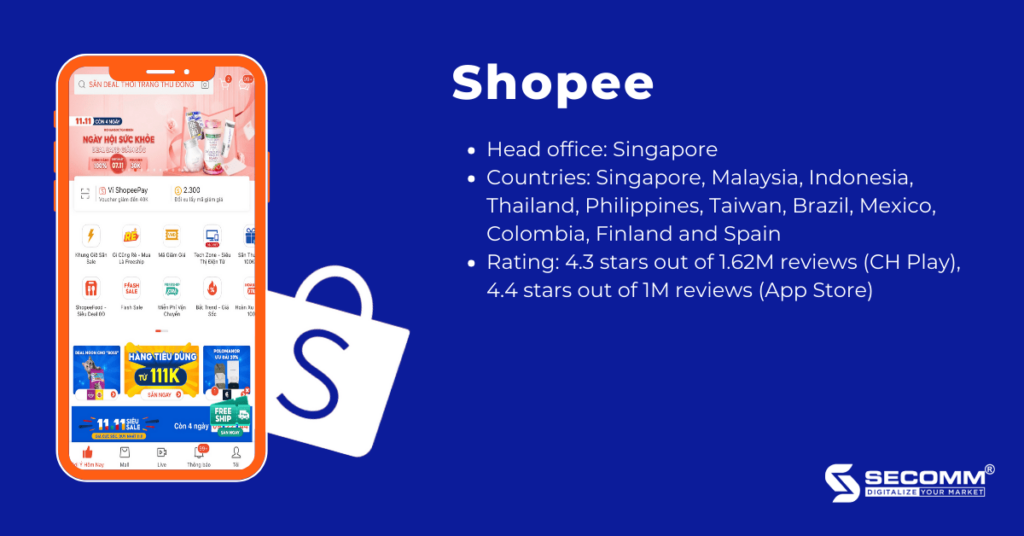 Shopee is gradually becoming an eCommerce super app, not only offering online shopping services but also owning various mini-apps such as Shopee Food, Shopee Mart, Shopee Wallet, insurance services from banks, booking flights, hotels and so on.
Head office: Singapore

Countries: Singapore, Malaysia, Indonesia, Thailand, Philippines, Taiwan, Brazil, Mexico, Colombia, Finland and Spain

Rating: 4.3 stars out of 1.62M reviews (CH Play), 4.4 stars out of 1M reviews (App Store)
Lazada
Lazada, founded in 2012, is one of Southeast Asia's biggest eCommerce marketplaces. This brand has always been a pioneer in fostering regional development via commerce and technology, intending to service 300 million consumers across Southeast Asia by 2030.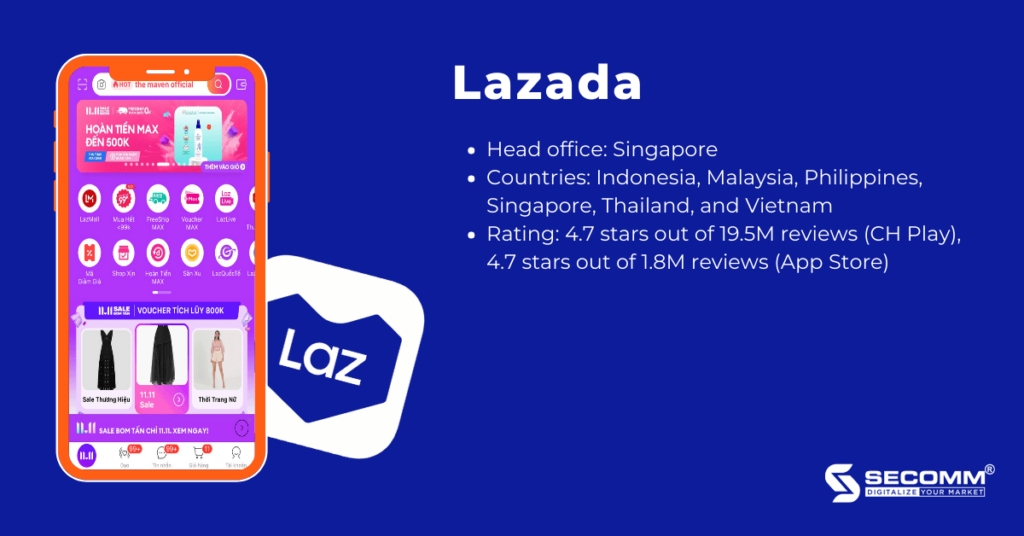 Like Shopee, Lazada has many mini apps and utilities for its own e-commerce business strategies, such as eM wallet, card and eVoucher recharge, online shopping, etc.
Head office: Singapore

Countries: Indonesia, Malaysia, Philippines, Singapore, Thailand, and Vietnam

Rating: 4.7 stars out of 19.5M reviews (CH Play), 4.7 stars out of 1.8M reviews (App Store)
Tiki
Tiki is one of Vietnam's most successful eCommerce marketplaces. Tiki was founded in March 2010 as an online English book-selling site. Since then, Tiki has evolved into an eCommerce super app, focusing on delivering hundreds of thousands of goods from a variety of product categories.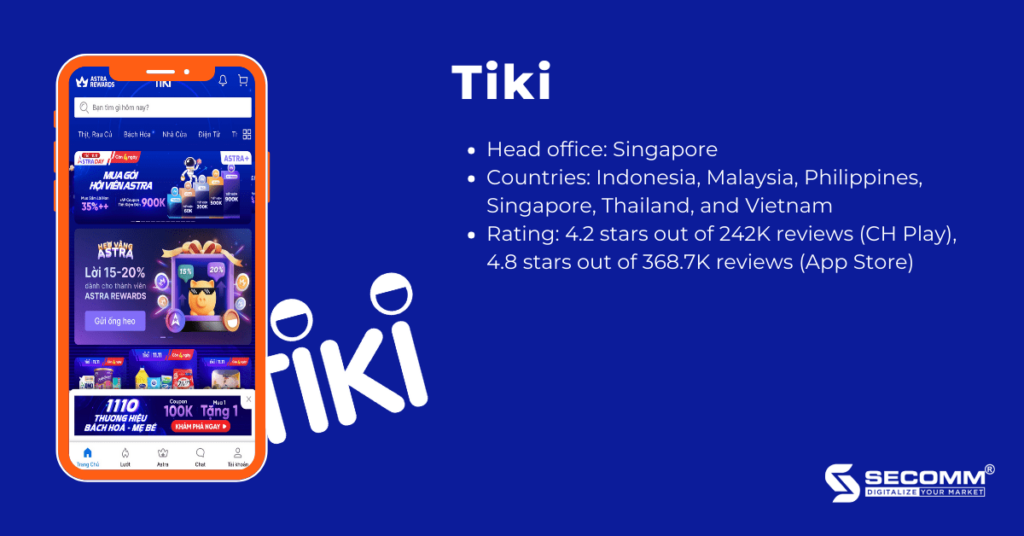 Tiki has been a pioneering marketplace in applying digital currency to business concepts, as proven by the launch of Astra, to boost up eCommerce. At the same time, Tiki refined its ecosystem by creating a series of extensions with mini apps from brands in various industries, including finance, gaming, food, shopping, health, insurance, entertainment, lifestyle, tourism, and community.
Head office: Singapore

Countries: Indonesia, Malaysia, Philippines, Singapore, Thailand, and Vietnam

Rating: 4.2 stars out of 242K reviews (CH Play), 4.8 stars out of 368.7K reviews (App Store)
MoMo
MoMo is an e-wallet created by Online Mobile Services Joint Stock Company (M Service) that allows users to make mobile payments and transactions. Through partnerships with more than 90% of Vietnam's banks and 10,000 local businesses, the company dominates more than 80% of the market for digital payments. As of 2022, MoMo e-wallet has more than 31 million users.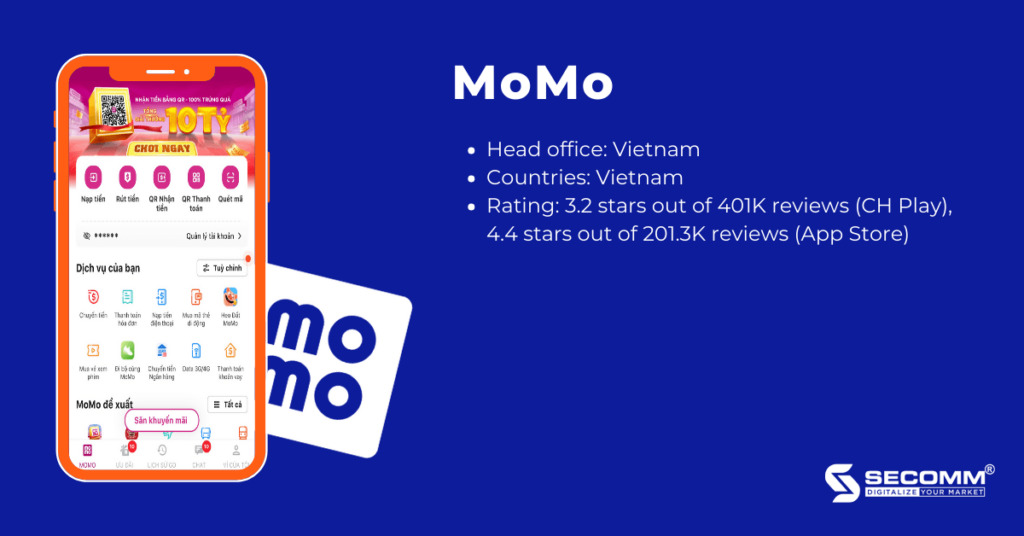 Since 2022, MoMo has developed a mini app technology, formally identifying itself as a super-payment app, helping small and medium companies to "climb on the shoulders of giants," and construct an ecosystem for MoMo. In particular, utilities from businesses such as online shopping, restaurants, transportation services, tourism and hotels, investing and banking, medical services and so on.
Head office: Vietnam

Countries: Vietnam

Rating: 3.2 stars out of 401K reviews (CH Play), 4.4 stars out of 201.3K reviews (App Store)
Zalo
Zalo was formally launched in December 2012, with the essence of a cross-platform instant messaging software built by the Vietnamese startup VNG. Zalo is a blend of Zing (a VNG-created social network) and alo (a phrase used to pick up a phone in Vietnam). Zalo has progressed to become a multi-functional, multi-platform social networking super app.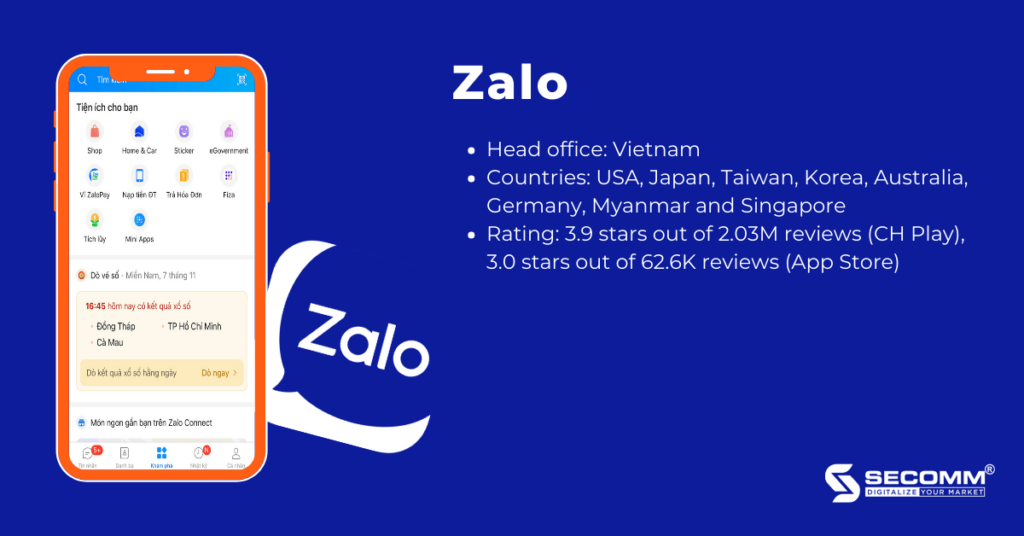 Like MoMo, Zalo created a new brand named Zalo Mini App to help other brands reach 65 million regular users on Zalo, and make diversity for this messaging platform. Since then, Zalo has also supported other services, primarily through partnerships with brands in finance, eCommerce, entertainment, games, restaurants and hotels.
Head office: Vietnam

Countries: USA, Japan, Taiwan, Korea, Australia, Germany, Myanmar and Singapore

Rating: 3.9 stars out of 2.03M reviews (CH Play), 3.0 stars out of 62.6K reviews (App Store)
As can be seen, the future of Vietnam's eCommerce industry will continue to rely on these "giants," thus businesses should incorporate eCommerce super apps into their business models as soon as possible to reap the full advantages of these applications. However, companies should not rely on these apps for long periods of time since it will result in a loss of customer data, income from commission per order, and so on.
With more than 8 years of experience in consulting and deploying eCommerce systems, SECOMM understands the challenges businesses face in implementing eCommerce business effectively. 
So we provide a free eCommerce consultation to help businesses catch on to this industry!