According to data compiled by Forbes Advisor, global Mobile Commerce sales reached $415 billion in 2022 and are expected to reach $710 billion in 2025. 
In fact, Mobile Commerce dominates the eCommerce industry, accounting for about 73%, and the use of eCommerce apps is growing faster than any other type of app on the market, with an annual growth rate of 54%. This shows that eCommerce apps contribute significantly to sales on mobile devices and implementing eCommerce apps is considered the right path for every business in the mobile commerce era. 
Boost Brand Awareness
Increasing brand awareness is one of the benefits that eCommerce apps bring to businesses. Since most customers spend hours on mobile devices (e.g smartphones), it's easier for brands to connect with them through eCommerce apps. However, to fully leverage the other capabilities of eCommerce apps, brands need to provide a rich and high-quality mobile app experience. As Statista has noted, about 32%-34% of app users will uninstall if the app is difficult to use or has too many unwanted ads.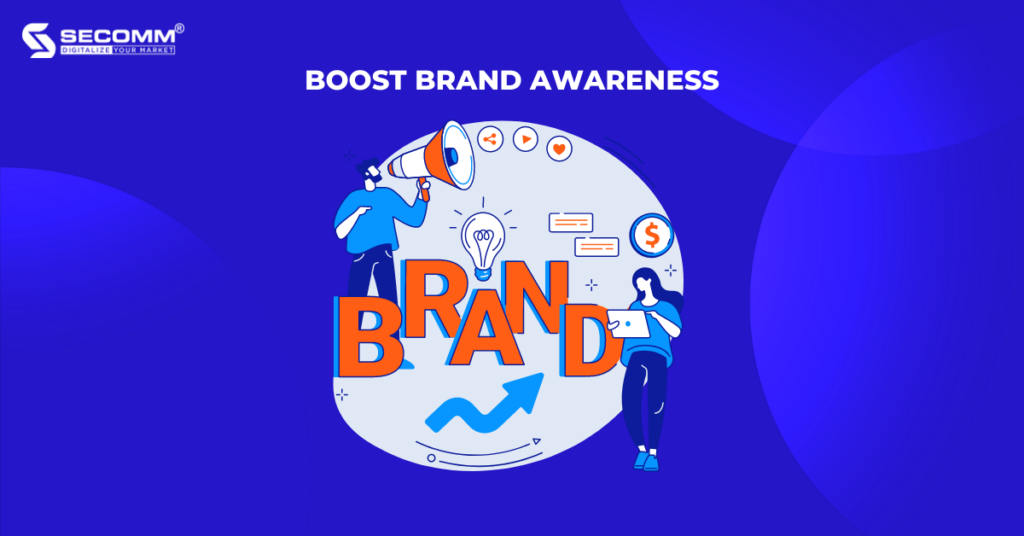 Offer Personalized Shopping Experience
eCommerce websites help deliver personalized shopping experiences with algorithms and support tools but eCommerce apps enable businesses to offer personalized special incentives or promotional programs right in the app without having to access the websites via browsers on desktop or mobile. As a result, among various methods, business owners can combine push notifications, and instead of sending the same push notification to all app users, they can send personalized notifications based on user behavior.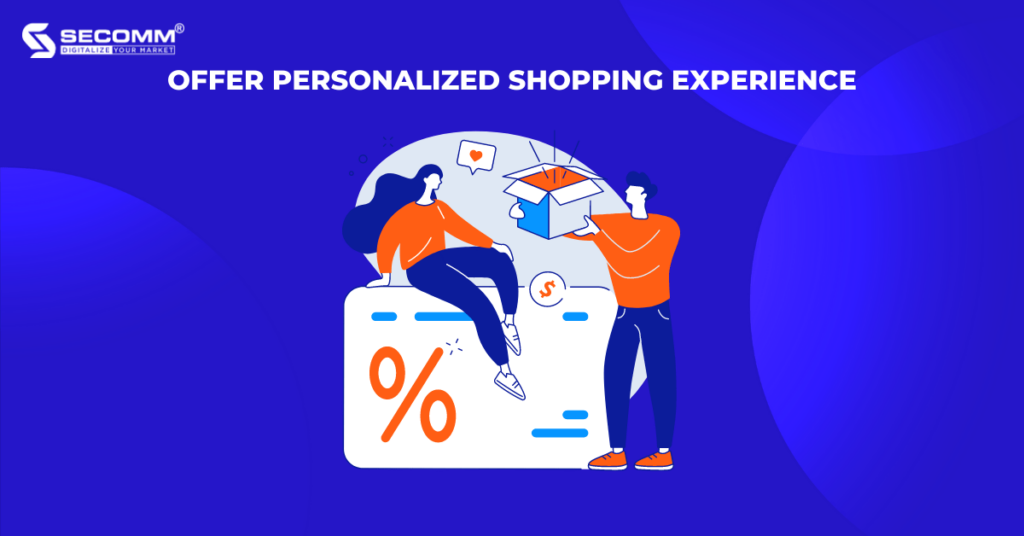 Increase Conversion Rates
As mentioned, customers tend to love and prioritize shopping on eCommerce mobile apps instead of eCommerce mobile web. Therefore, the conversion rate of the mobile app will be higher than that of the mobile web. The graph below indicates the different conversion rates between the mobile app and mobile web.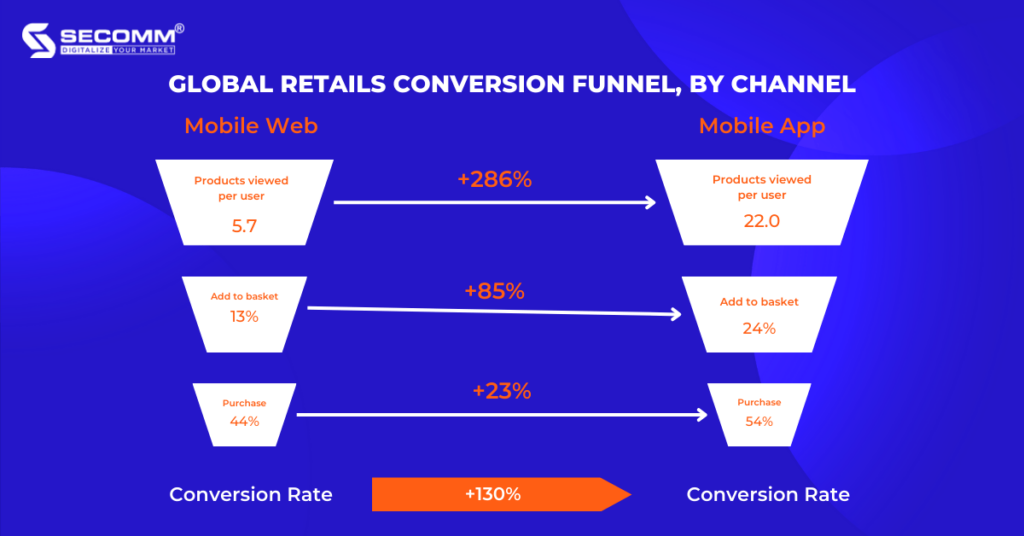 Mobile app users view products more than 286% and add items to the cart at a higher rate of 85% compared to mobile web users. Moreover, the graph shows that the conversion rate of mobile apps is over 130% higher than that of the mobile web. Naturally, when the conversion rate increases, it will lead to an increase in sales revenue and profits.
Increase Average Order Value
Building an eCommerce app not only boosts brand awareness, enhances customer experience, and improves conversion rate but also increases the average order value (AOV). This is the average dollar amount customers spend each time an order is placed on the eCommerce app.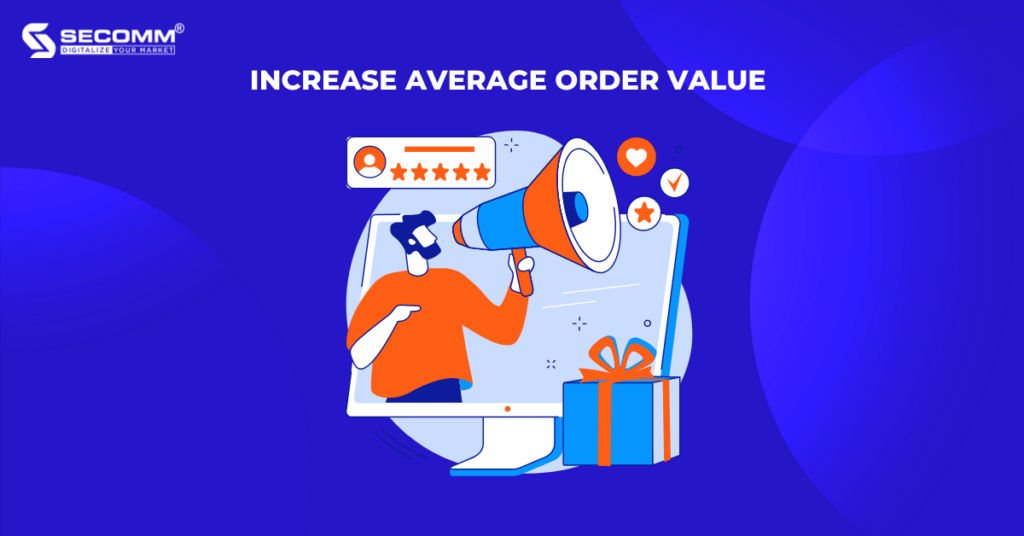 Customers prefer shopping on eCommerce apps because it's convenient for them to browse through products and make purchases. Therefore, they have more opportunities to browse through a wider range of products. This enables businesses to apply cross-selling and upselling techniques, suggesting complementary products to encourage customers to make additional purchases. As a result, the increased AOV drives up revenue and profits. 
Reduce Cart Abandonment
Some data on cart abandonment has been reported by Ruby Garage: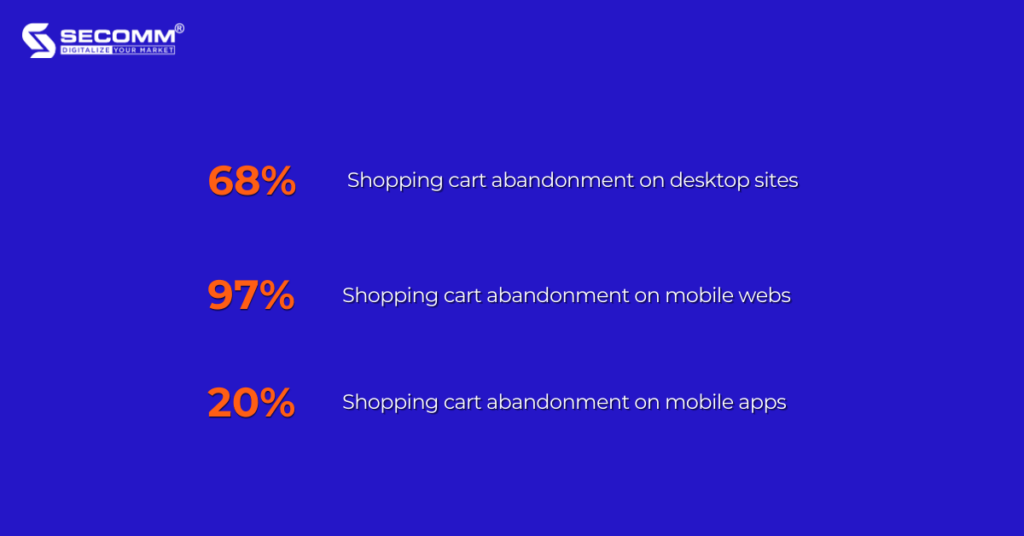 One of the top reasons for that is the long and confusing checkout process. eCommerce apps will help businesses reduce cart abandonment with the optimized checkout process. When customers buy products, relevant information will be stored in the app's system, so they don't have to re-enter their information but complete the purchase with a few taps. In addition, businesses can also shorten the checkout process to improve cart abandonment rates by integrating various payment methods into the mobile app. 
Improve Customer Retention and Loyalty
For every eCommerce business, increasing sales revenue is a valuable achievement. However, it's crucial to point out how many regular customers contribute to this success. According to the Harvard Business Review, the cost of acquiring a new customer is more expensive than retaining and satisfying an existing one, ranging from 5-25 times higher. But, if the customer retention rate increases by just 5%, profits can increase from 5% to 95%. As a result, businesses need to put their minds to existing customers. 
There is a 50% chance that customers will return to an eCommerce app within 30 days of their last purchase. In other words, businesses can increase customer retention and loyalty with their eCommerce app in several ways, including
Leveraging customer data to provide

personalized

shopping experiences;

Using

push notifications

as a means of communicating with customers;

Offering

exclusive incentives

to encourage users to download and use the app;

Building a

loyalty program

to encourage people to return to the app, shop, and interact more to earn reward points.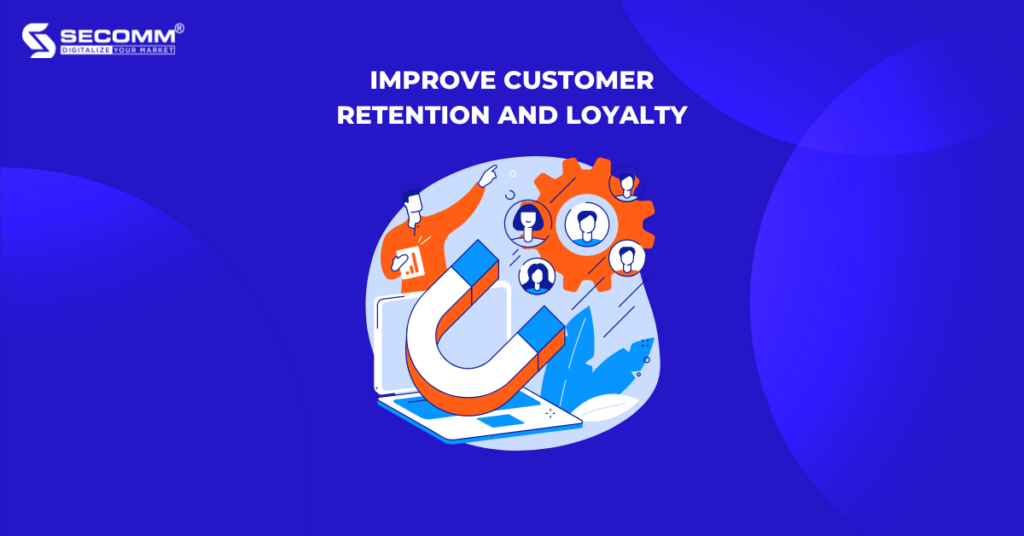 With the incredible benefits of mobile eCommerce apps, businesses are increasingly motivated to quickly build their app to enrich the customer shopping experience while capturing the Mobile Commerce trend.
With years of experience in implementing eCommerce for many businesses in many countries, SECOMM understands the difficulties and obstacles in developing eCommerce apps.
Contact us today for free advice.