Today, for businesses of all sizes, eCommerce websites play an essential role in reaching and buying products for a wide pool of potential customers on the Internet.
Thus, choosing the right platform to build an eCommerce website is incredibly important. A good eCommerce platform will make it easy for businesses to provide Omnichannel experiences, personalize customer experiences, offer a variety of services, products, and more to increase conversions and drive online sales.
Some commonly mentioned platforms for building eCommerce websites are Magento, Woocommerce, Bigcommerce, etc. Definitely, each business will have its considerations, but one platform that always appears as a top choice is Shopify. In spite of the fact that the platform is highly rated, businesses should still weigh the pros and cons of this platform before making a final decision.
As a result, SECOMM has prepared this review, helping businesses understand what Shopify is, how it works, implementation costs, and especially the pros and cons of using this platform to build a comprehensive eCommerce website.
What is Shopify?
Before becoming one of the most popular eCommerce platforms globally, Shopify started as an online ski store called Snowdevil in 2004. Later, the company transformed into an eCommerce platform named Jaded Pixel.
In 2006, Shopify was officially founded in Ottawa by young programmers Tobias Lutke, Daniel Weinand, and Scott Lake. Since then, Shopify has gradually affirmed its position as a reliable and fastest-growing eCommerce platform in the last two years when most companies faced many difficulties because of the Covid-19 pandemic.
Up to now, the number of Shopify users has increased significantly. As reported by StoreLeads, there are currently about 2 million websites using the Shopify platform to build and develop online businesses. In the second quarter of 2022, the number of newly opened stores reached 150,928, an increase of 10.8% compared to the same period in 2021. In Vietnam alone, there are about 2,000 websites using the platform in operation, up 9.8% in the second quarter of 2022 over the same period in 2021.
Total revenue in the second quarter of 2022 reached $1.3 billion, up 16% over the same period in 2021, corresponding to a compound annual growth rate for three consecutive years of 53%. Gross profit in the second quarter of 2022 increased by 6% to $655.6 million compared to $620.9 million in the second quarter of 2021 (According to Shopify's report).
While Shopify is one of the most popular and user-friendly eCommerce platforms available today, businesses still need to determine if this is what they need to expand their business, all the advantages and disadvantages of the platform, mostly the cost issue.
Pros of using Shopify for an eCommerce website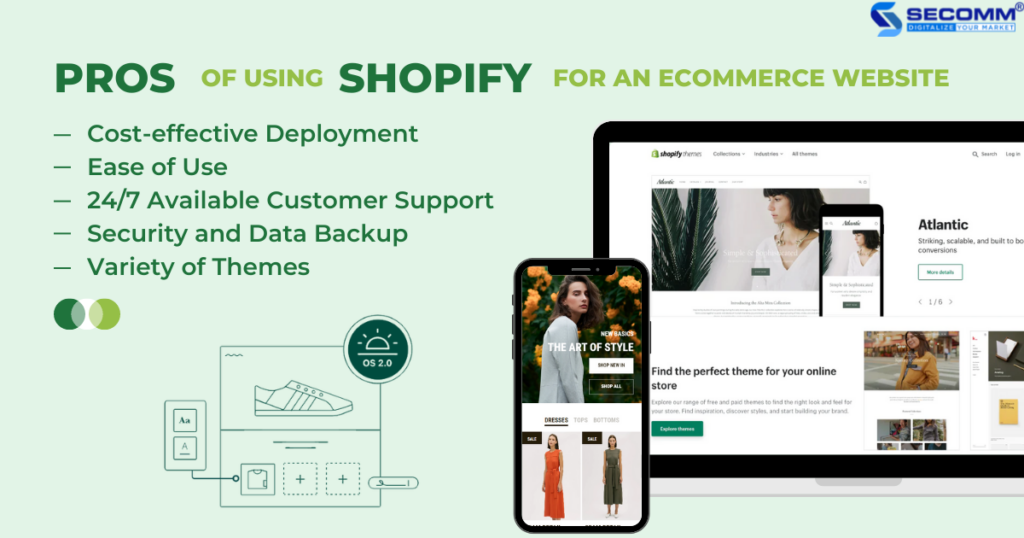 Cost-effective Deployment
For a start, businesses can enjoy a 14-day free trial without a credit card requirement. When the free trial ends, businesses are encouraged to opt for one of the solution packages with suitable features and appealing promotions.
Packages

Price

Main Features

Unique Features 

Ideally suited for 

Starter

Create product pages and get shareable links with product information, then send those links to customers via social platforms or message apps. 

Merchants that sell on social platforms or message apps with no website in demand

Lite

$9/month.

2.9% transaction fee for credit card.

 2.7% transaction fee for offline sales with Shopify Payment.

2% for external payments.

– Shopify Buy Button.

– Invoicing. 

Merchants that sell on an existing website or social platforms. 

Basic

$29/month.

2.9% transaction fee for credit card.

 2.7% transaction fee for offline sales with Shopify Payment.

2% for external payments.

– Customizable website editor.

– Website hosting and free TSL certificate.

– Unlimited number of products.

– Analytical reports

– Localization: currency conversion, website translation, regional domains. 

– Inventory Management.

– Shopify POS.

– Shopify Email.

-Shopify Payment.

– 24/7 Customer service. 

– 2 staff accounts.

– 4 inventory locations.

– Basic reports.

Businesses who have just entered or intend to enter the eCommerce world and look for comprehensive eCommerce solutions.

Shopify

$79/month.

2.6% transaction fee for credit card.

2.5% transaction for offline sales with Shopify Payment.

1% for external payments.

– 5 staff accounts.

– 5 inventory locations.

– Standard reports. 

Steadily growing eCommerce businesses.

Advanced 

$299/month. 

2.4% transaction fee for credit card. 

2.4% transaction fee for offline sales with Shopify Payment. 

0.5% for external payments. 

-15 staff accounts.

-8 inventory locations.

– Advanced reports.

– Automation tools. 

Large-scale businesses that sell internationally

Plus 

Từ $2000/month. However, businesses can contact Shopify for a custom estimate. 

– 9 expansion websites.

– Up to 100 themes. 

– Exclusive Shopify Programs: Merchant Success Program, Shopify Plus Academy, Shopify Plus Partner Program, Shopify Plus Community on Facebook 

Enterprise-level businesses that manage and operate multiple eCommerce websites.
Table list of price, and features of Shopify solution packages.
First and foremost, because Shopify is a SaaS platform, the cost to get started is usually quite low. Despite the fact that businesses must pay monthly fees, transaction fees, theme fees, and extension fees, Shopify is still significantly less expensive than open-source platforms such as Magento, WooCommerce, and others.
The development of an open-source platform necessitates the assistance of experienced programmers and takes a long time to deploy, whereas the SaaS platform is the inverse. That is the reason why starting with a SaaS platform, specifically, Shopify, will save businesses both time and expense.
Another cost highlight is that SaaS platforms, in general, and Shopify in particular, require an ongoing monthly fee rather than a one-time purchase fee to use the platform. This reduces the risk of businesses investing too much money in the Shopify platform but not meeting their expectations during the implementation process.
Furthermore, the Shopify platform is appropriate for different-sized businesses in the market. The Starter, Lite, and Basic packages are appropriate for SME businesses engaged in eCommerce. Shopify, Advanced, and Plus packages are ideal for large-scale businesses that require advanced features to run an effective eCommerce website.
Ease of Use
The only way to adapt to the ever-changing market and quickly reach a wide pool of potential customers is for businesses to deploy eCommerce websites as soon as possible to avoid being left behind in the competition of the digital transformation race. One of the important factors when building an eCommerce website is choosing the right platform.
In particular, the top goal to consider when choosing an eCommerce platform is the ease of use. If a platform takes users too long to learn and implement or makes users dependent on external support, then the platform is not easy to use
Shopify has an easy-to-use interface for users with little programming knowledge. Moreover, Shopify is a SaaS eCommerce platform with a pre-designed system that offers hosting, interface, features, and technology infrastructure maintenance, allowing businesses to easily build and operate the website system with just drag and drop without worrying about technical issues.
Simple steps to get started with the eCommerce website implementation with Shopify:
Choose from one of the solution packages depending on the business needs

Choose a business domain

Choose an appropriate theme and template

Choose essential features

Optimize the eCommerce website and add products

Go-live
24/7 Available Customer Support
This is one of the most crucial factors influencing users' decision to use Shopify. Difficulties and obstacles are inevitable when building an eCommerce website, so Shopify has assembled a reliable and trusted team to assist users.
As a result, if your business requires assistance, assistance is available 24/7. Businesses can reach Shopify via email, chat, and a hotline worldwide. What's more, users can access community forums and useful documents for developing eCommerce websites on this platform, mostly through the Shopify Support Center.
Security and Data Backup
The Shopify platform runs on PCI (Peripheral Component Interconnect) compliant servers, allowing merchants to accept credit card payments. Secure Sockets Layer (SSL) encryption is enabled on all Shopify websites to secure visitor data, while a backup system allows businesses to store and save data regularly by exporting data to a CSV file.
As an outcome, the platform encourages the addition of an advanced backup solution from the Shopify Store, such as the Rewind app, as it is seen as a lifesaver if users accidentally delete content such as products or images or a video demonstration. To keep your eCommerce website secure, simply back up your data on a regular basis and use a strong enough admin password.
Variety of Themes
The interface is the appearance of a business's eCommerce website. The more appealing the website interface, the more likely it is to retain customers, attract more visitors, as well as generate more conversions.
Shopify understands the importance of a website interface, so it has made a host of available themes, both free and paid, suitable for a wide range of businesses and fields, making it simple for businesses to choose from.
The free Shopify themes are ideal for startups, small and medium-sized businesses, and individuals. Businesses can customize their eCommerce website according to their needs and brand features by using features such as responsive web design, product filters, and product color display templates.
However, free themes have some downsides, including a limited number of themes, limited design, and a lack of advanced and specific features, which makes website customization difficult.
In fact, free themes are great for launching an eCommerce website. Premium interfaces, also known as paid themes, will be more suitable for large-scale businesses or businesses on the rise, with an average cost of around $140-$180/theme.
Shopify's paid themes include advanced integration features such as live chat support, newsletter popups, upsell features, faster page loading, and much more. Thereby, businesses can run an eCommerce website automatedly and smoothly.
The Cons of using Shopify for an eCommerce website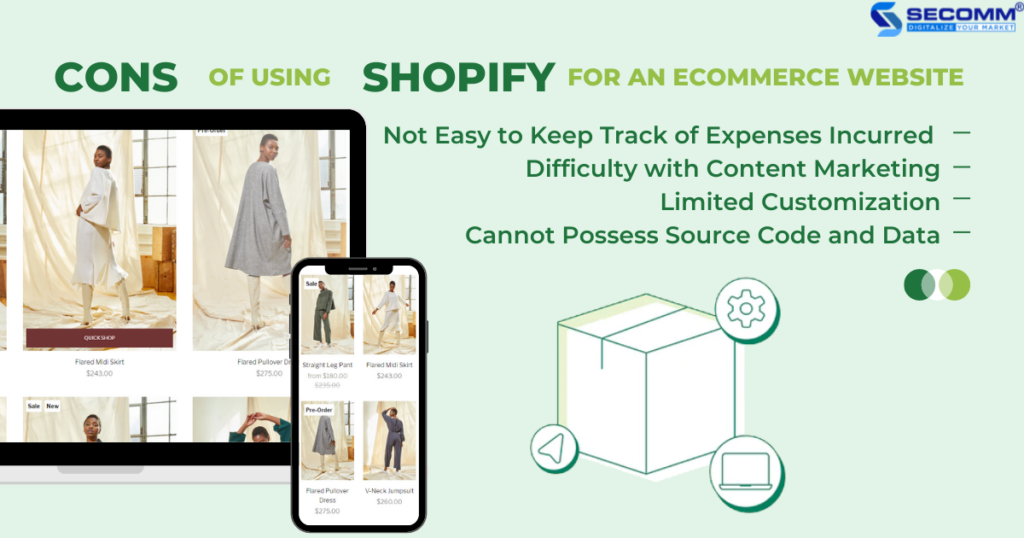 Not Easy to Keep Track of Expenses Incurred
The cost of using Shopify, besides the notable pluses, the platform has a small but enough minus to make some businesses hesitate to start.
In addition to the monthly fee for using the enterprise platform, businesses must pay for other costs such as themes, applications, extensions, marketing features, sales, and SEO on a monthly basis with no long-term possession.
For example, to use the Free Shipping & Hello Bar application that offers free gifts, free shipping, or other types of promotions, users will buy for $8.95/month, which means ongoing monthly in regards to other expenses, businesses will pay an additional $8.95 for this app until it is no longer used. 
When there are small expenses incurred each month, it is difficult to control cash flow for large-scale businesses that have to manage and operate many websites at the same time.
Meanwhile, open-source platforms require a one-time purchase fee rather than an ongoing monthly fee. Although the features are not yet available and take a long time to program, businesses can possess those features for eCommerce websites in the long run. Thereby, it makes cash flow management more convenient and effective.
Difficulty with Content Marketing
It is a great way to promote your eCommerce website. Users can use Shopify to blog and optimize SEO, drive free traffic, and improve brand positioning.
However, this blogging feature on Shopify is not as user-friendly as WordPress. Some of the criteria Shopify can improve regarding blogging and content writing include:
The outdated editor.

The blog layouts are inflexible

No categories force users to use tags

Cannot add related blogs

Cannot embed products in blogs

Not easy to integrate third-party add-ons
This will be a barrier for businesses when using Shopify to promote eCommerce websites by optimizing SEO if the content is a core element of the business's marketing strategy.
Limited Customization
Another limitation of Shopify is that the platform's interface is customized using the Shopify Liquid setup. Meanwhile, many website developers are already familiar with the PHP programming language to customize the themes and templates of the website, it is a common technique used by WordPress.
Therefore, users who do not have much experience in programming will face many obstacles when using Shopify's tools to customize the interface of the eCommerce website.
However, businesses of all sizes can still use other useful Shopify features like Shopify Themes, Shopify App Store, Shopify Blog, 24/7 support team, and more to set up an eCommerce website quickly and effortlessly.
Cannot Possess Source Code and Data 
Because the entire business's website system is hosted on Shopify's server, the ownership and control of the website source code will belong to Shopify, not the business. Similar to other SaaS platforms such as BigCommerce, Squarespace, Wix… Shopify has a Lock-in feature, which means that when converting a website from one platform to another, businesses will no longer be able to use the old website source code and have to rebuild from scratch on a new platform.
Similar to the source code, business data is also stored on Shopify's servers, so data ownership and control are quite limited. This makes it difficult for businesses to connect data among internal departments or users' personalization, etc. Especially when switching platforms, data loss or misalignment is often unavoidable.
Shopify will not assist in the event that businesses stop using the platform for any reason. The only asset businesses can keep and take away is a CSV report containing website information.
Hence, before starting an eCommerce website on the Shopify platform, businesses need to carefully consider the benefits and disadvantages of stopping using it to conclude whether Shopify is the best fit for business in the long run. 
Going by this article,  Shopify is one of the eCommerce platforms that many businesses would love to choose when deploying an eCommerce website. However, besides the outstanding advantages, there are still certain downsides, so businesses need to carefully consider and compare with other platforms before starting out. 
With many years of experience in implementing eCommerce in many countries, SECOMM provides free consulting services with professional eCommerce solutions.
Contact us today for free support and advice!