The Point of Sale (POS) software system stands as a crucial management system for all types of enterprises, be it online, offline, or O2O (online to offline) businesses.
What is POS? 
POS or Point of Sales is sales management software that empowers businesses to efficiently monitor all their business activities, anytime and anywhere. In essence, POS is a complete system comprising both hardware and software components, or it can be as straightforward as a point-of-sale device, such as a computer, tablet, smartphone, receipt printer, and so on.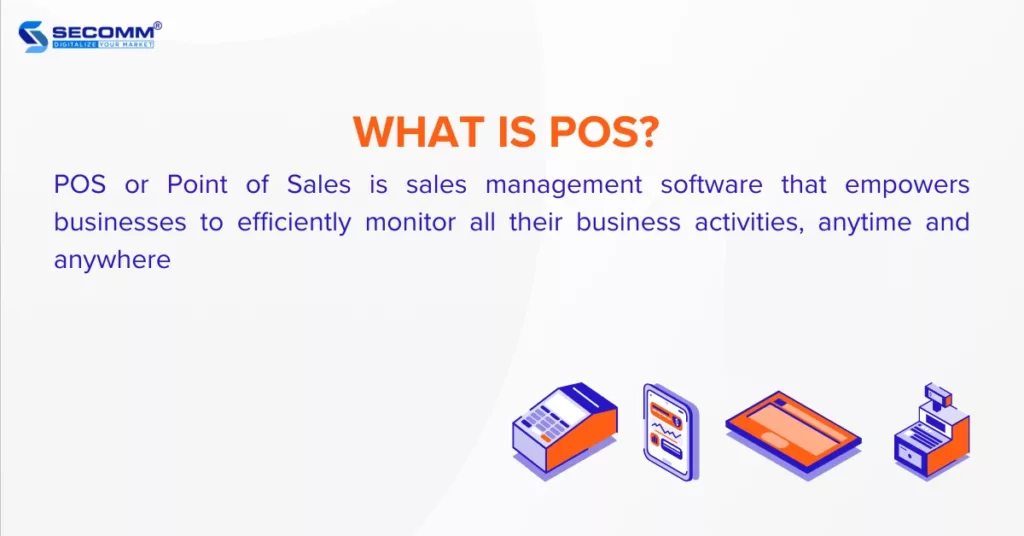 With its robust management capabilities, POS helps businesses oversee and process sales transactions, calculate payments, generate invoices, manage inventory, handle customer relationships, and deliver crucial insights regarding sales performance.
Types of POS system
There are four main types of POS systems that businesses commonly use today, including Legacy POS system, Tablet-based POS system, Mobile POS system and Cloud-based POS system.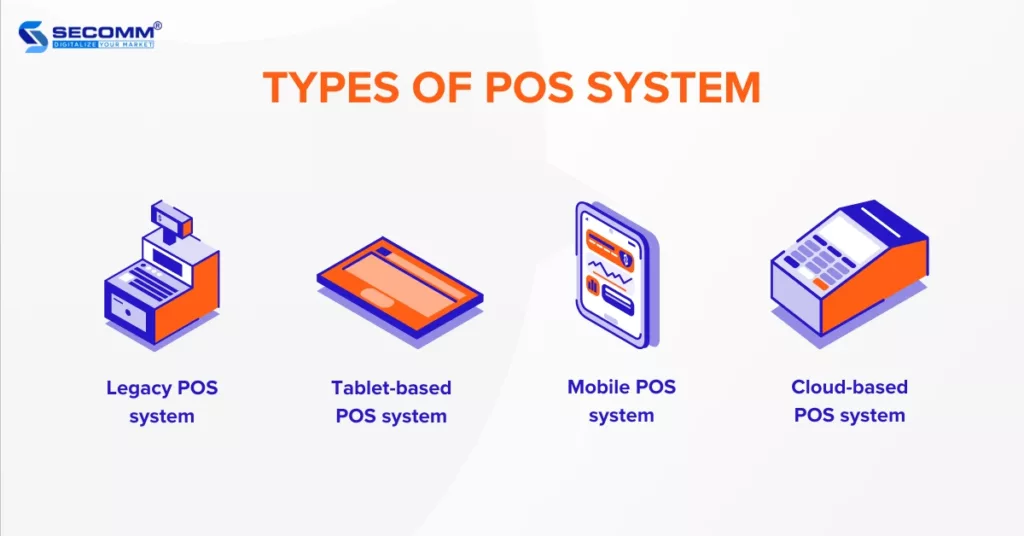 Legacy POS system
The Legacy POS system, also known as on-premise POS, is a type of point-of-sale system that relies on conventional hardware and software to handle sales transactions and manage local data. This means that all transactions and information are stored on a single device, with businesses only able to access the data from that specific device.
As a result, traditional POS systems often require installation and configuration at each individual point of sale, and they typically lack remote accessibility. This can slow down the integration process with eCommerce systems.
For example, some legacy POS systems include Aloha, Oracle MICROS, Squirrel Systems, and more.
Tablet-based POS system
A Tablet-based POS system is a type of POS system that employs tablets as the main devices for processing sales transactions, rather than relying on conventional computers or standalone POS equipment.
Due to its reliance on hardware that is familiar to many, integrating this POS system with eCommerce platforms and training staff tends to be more straightforward compared to legacyPOS systems.
Examples of well-known Tablet-based POS systems include Lightspeed POS, Square, Shopify POS, and others.
Mobile POS system
A Mobile POS system is a type of POS that employs mobile devices like smartphones, tablets, or wearable devices for handling sales transactions. This allows sales staff to move freely within the store or conduct transactions directly at the customer's location.
This functionality enables sales associates to access product details and customer records via the Mobile POS system, facilitating inventory checks and offering personalized recommendations to customers. Just like Tablet-based POS systems, integrating and training staff to use Mobile POS systems is generally uncomplicated.
Some widely used Mobile POS systems include Lightspeed POS, Clover, Square, and others.
Cloud-based POS system
A Cloud-based POS system leverages cloud computing technology to store and process sales data. Instead of keeping data on local computers or in-house servers, this system adopts an online approach to manage and access data from any device with an internet connection.
The majority of modern POS systems are cloud-based because they offer various advantages, including remote accessibility, flexibility, easy integration, and scalability. They enable businesses to oversee multiple points of sale from a unified platform, providing real-time data and insights for informed decision-making. Furthermore, Cloud-based POS systems reduce hardware demands and installation costs when compared to other POS solutions.
Some prominent examples of top Cloud-based POS systems for businesses include Lightspeed POS, Square, Clover, and others.
Benefits of using POS software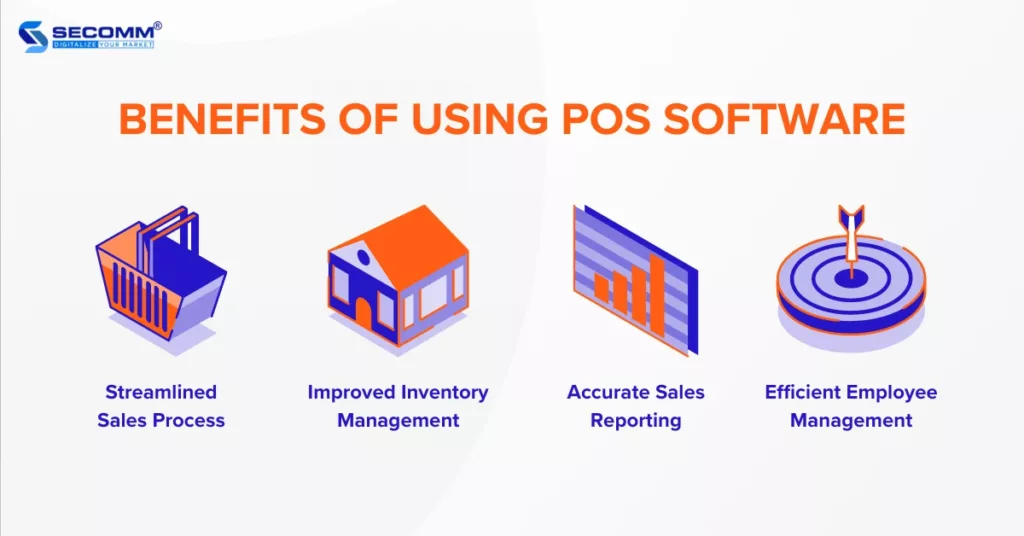 Streamlined Sales Process
The POS system streamlines and automates the sales process, ensuring faster and efficient transactions. Businesses can swiftly process payments, precisely calculate totals, and produce invoices or receipts within mere seconds.
Improved Inventory Management
The POS system empowers businesses to actively monitor and manage their inventory in real-time, receiving alerts when products are running low and automatically initiating reorder processes. This helps prevent stock shortages or excess inventory, ultimately optimizing inventory levels and reducing storage expenses.
Accurate Sales Reporting
The POS system offers the ability to analyze and report detailed revenue data, empowering businesses to monitor their performance, understand consumer trends, identify favored products, and so forth. Consequently, this data forms the basis for businesses to strategize for the future.
Efficient Employee Management
The POS system simplifies the process of monitoring each employee's sales volume, work hours, and performance indicators. Consequently, businesses can obtain precise data for calculating individual commissions, streamline payroll processing, and identify high-performing team members or those requiring further training.
Overall, POS stands as a vital management software within any eCommerce business framework. Businesses should conduct thorough research on different POS system types to choose the most fitting and effective management software in line with their business model and strategy.
Contact SECOMM or dial our Hotline at (02871089908) for consultation and the implementation of your POS system