Shopify represents a trustworthy name in eCommerce development and is the choice of many SMEs. However, for enterprise-level businesses with rapid growth, the standard Shopify plans may not meet their needs sufficiently, in addition to incurring high operational and website maintenance costs. Therefore, Shopify Plus emerged to address these aforementioned issues.
What is Shopify Plus?
Introduced in 2014, Shopify Plus is an enterprise-level eCommerce platform provided by Shopify. Shopify Plus is designed for large businesses with an annual GMV exceeding $1 million and high growth rates.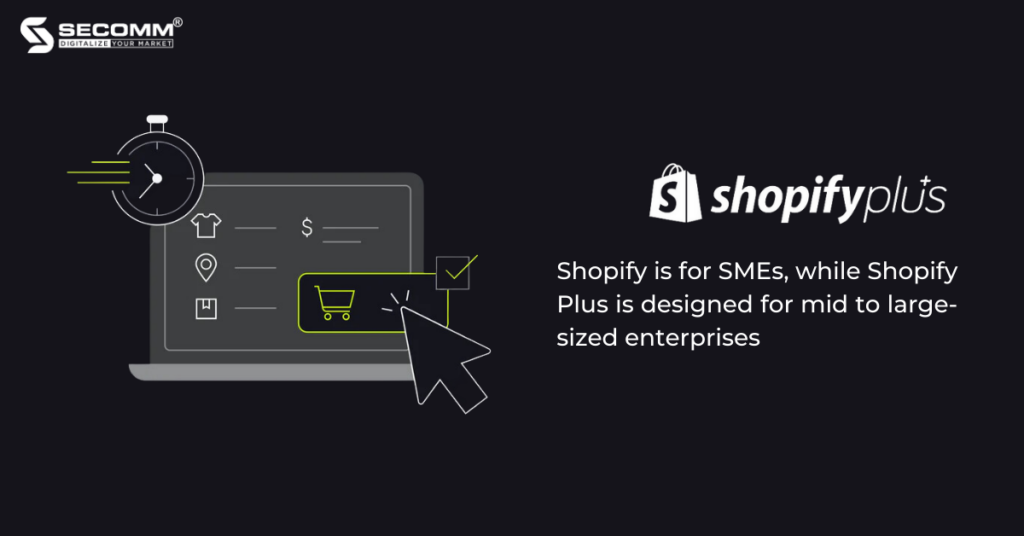 Simply put, Shopify is for SMEs, while Shopify Plus is designed for mid to large-sized enterprises. Some notable global companies implementing Shopify Plus include Gymshark, Kylie Cosmetics, Redbull, Fashion Nova, Fenty Beauty, and more. In Vietnam, leading brands such as Durex Vietnam, Skechers Vietnam, Trollbeads Vietnam, Supersports, Swee Lee, and others have chosen Shopify Plus.
Key differences between Shopify and Shopify Plus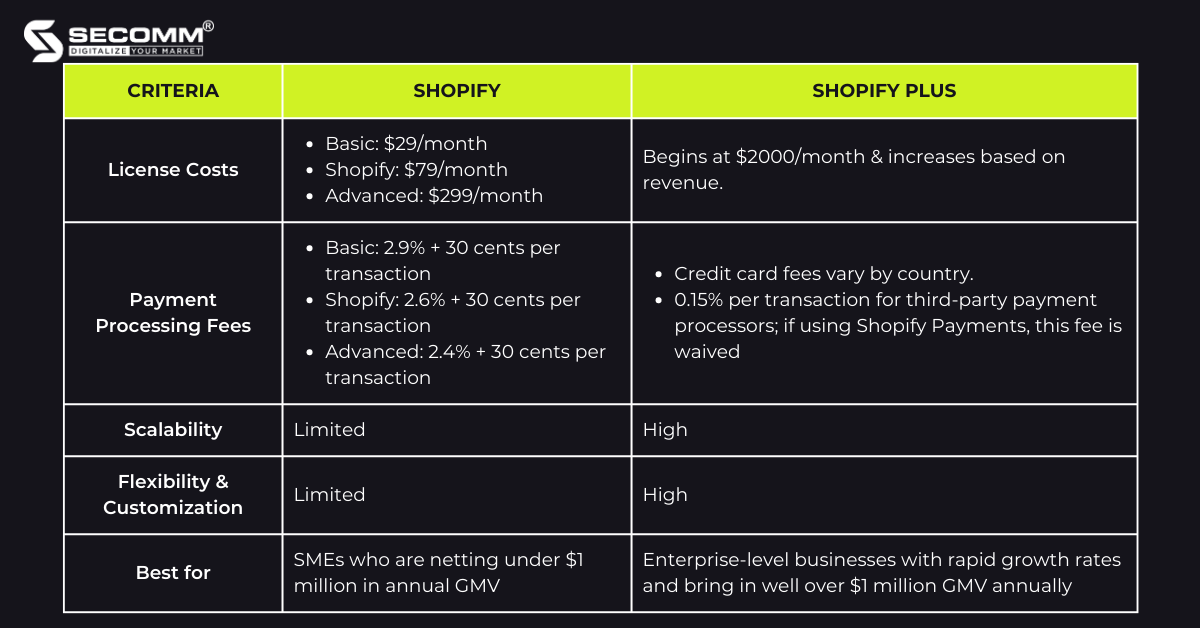 The Pros of Shopify Plus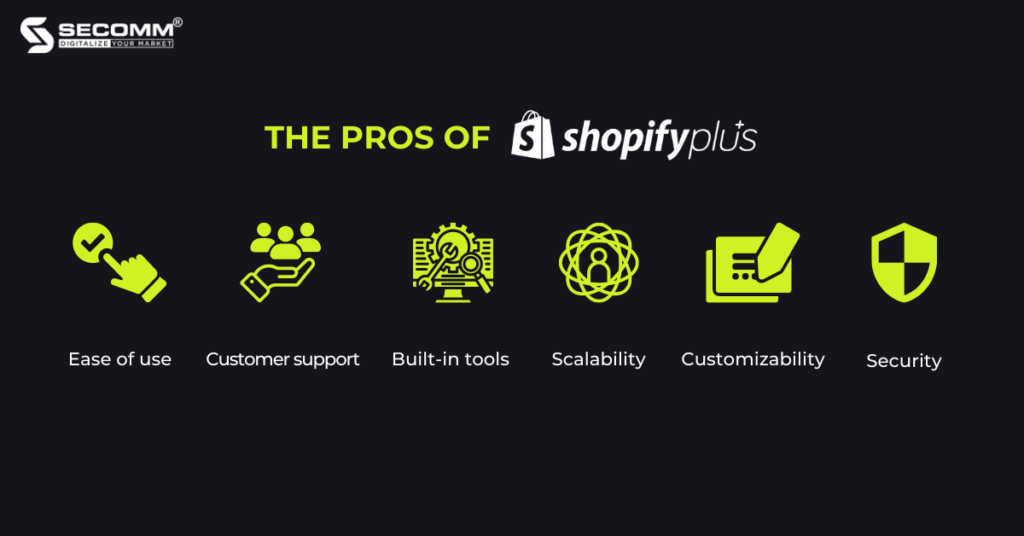 Ease of use
Due to its nature as a SaaS eCommerce platform, Shopify Plus is designed to be user-friendly, allowing businesses to quickly build and operate their websites with no coding knowledge required.
Moreover, by using Shopify Plus, businesses won't worry much about server management, security, or website updates and maintenance. The platform helps them save a significant amount of time and focus on more critical tasks such as sales, marketing, and customer service. 
Customer support
Shopify Plus provides top-notch customer support 24/7 and a dedicated account manager, which can help businesses address any queries through email, chat, and a hotline. It is great as large enterprises may have complex needs and require personalized support. 
Built-in tools 
The built-in tools are another advantage of Shopify Plus which supports businesses in building and operating their eCommerce websites. Among them, product management, inventory tracking, payment processing, shipping, tax calculation, advanced analytics, and more are notable. 
Additionally, Shopify Plus offers numerous customizable templates and apps, allowing businesses to create modern, professional, and feature-rich eCommerce websites without the technical skills required. Shopify Plus also enables businesses to easily scale as their needs change over time.
Furthermore, Shopify Plus gives businesses full access to Shopify's exclusive programs such as the Merchant Success Program, Shopify Plus Academy, Shopify Plus Partner Program, and the Shopify Plus community on Facebook.
Scalability
Unlike the standard Shopify plans, Shopify Plus has become a popular choice among large enterprises due to its high scalability. The platform can easily scale up or down depending on the business need which helps deal with increased website traffic and surges in orders during busy shopping periods. 
Customizability
Another significant advantage of Shopify Plus lies in its high level of customization, allowing businesses to tailor their eCommerce websites to specific needs such as customizing templates, apps, payment integration, and more. As a result, the eCommerce website is built with uniqueness and creativity, highlighting the brand image and providing customers with an excellent shopping experience. The platform's customizability has made it a powerful tool for driving online sales and sustainable growth. 
Security
Security is a top priority for eCommerce businesses, especially for large enterprises. Shopify Plus is a PCI-compliant platform that meets the data security standards of payment cards, ensuring that all payment transactions processed through this platform are secure. All customer data is encrypted using SSL to protect sensitive information from unauthorized access. Additionally, Shopify Plus integrates a DDoS protection feature, safeguarding against dangerous attacks that can disrupt website traffic and accessibility.
The Cons of Shopify Plus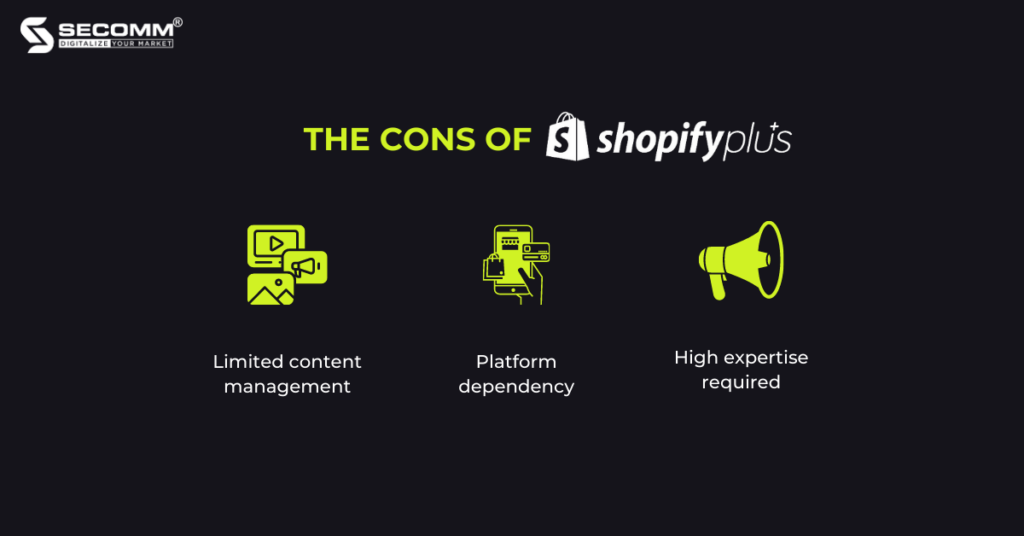 Limited content management
Content management is not a strong suit of both Shopify and Shopify Plus compared to other platforms, especially WordPress. First is the limited blogging functionality, which makes it difficult to create and manage blog categories on the website. Moreover, if the content is a core element of the marketing strategy, this limitation should be carefully considered as it can significantly impact SEO optimization. Another limitation is the lack of control over the URL structure of product pages, which poses challenges in optimizing URLs for search engines.
Overall, while Shopify Plus provides many features for businesses to build and manage eCommerce websites, if content management is a priority, it may be worth considering other platforms that offer more advanced content management capabilities.
Platform dependency
If businesses build their websites based on an open-source platform, the platform migration is relatively simple and they can fully own the source code and all data. 
On the contrary, Shopify Plus is a SaaS platform, and the entire website system of the business is hosted on Shopify's servers, which means ownership and control of the source code and data belonging to Shopify Plus. This means that data related to eCommerce activities on the website is tightly locked-in to Shopify's database. This leads to two issues:
Suppose Shopify goes bankrupt or faces unforeseen risks. In that case, the entire business operations on this platform would be lost, and it would not be possible to retrieve all the latest data. However, this risk is unlikely to occur.
In the event of discontinuing the use of Shopify and switching to another platform, the business can export data to a CSV file containing information such as product details, customer accounts, inventory, orders, etc. However, the data that Shopify allows to be accessed and exported is not comprehensive but only a portion of it.
High expertise required
Although Shopify Plus is considered user-friendly and suitable for users with strong technical skills, large enterprises need a certain level of expertise to effectively implement eCommerce with Shopify Plus. Because it is a highly customizable platform, businesses will need to have some understanding or collaborate with experienced developers to maximize the platform's features and capabilities.
Pricing
The cost of using Shopify Plus will be based on revenue. Initially, each business will pay a minimum of $2000/month for standard setup and integration. Once the revenue reaches $800,000/month, Shopify Plus will charge the business based on revenue, at a rate of 0.25% of the monthly revenue. However, the fee will not exceed $40,000/month or $480,000/year
Advantages 
At first glance, this may seem like a large amount of money but for enterprise-level businesses, this pricing is reasonable because Shopify Plus provides a robust eCommerce platform that helps businesses operate more efficiently compared to standard Shopify plans. 
As mentioned, the main advantage of Shopify Plus lies in its scalability and customizability but it is limited in standard Shopify plans. A growing business will need an eCommerce platform that can meet the demands of expansion and development. Shopify Plus is designed to handle high sales volumes and can support 10,000 transactions per minute. Additionally, businesses can customize their eCommerce website and leverage built-in features and tools to optimize their operations and sales.
Another advantage of Shopify Plus is that businesses do not have to pay for hosting, bug fixes, maintenance, or updates. The additional fees that businesses need to pay are transaction fees, specifically:
Credit card transaction fees that businesses have to pay to Shopify Plus will vary depending on the country but typically range from 1.5% to 2.5% per transaction.
In addition, Shopify Plus will charge a small fee of approximately 0.15% for transactions with third-party payment gateways, but this fee is waived if the business uses Shopify Payments as a payment method.
Compared to the three standard Shopify plans, the credit card transaction fees of Shopify Plus are still relatively low, with the following differences:
Basic ($29/month): 2.9% + 30 cents per transaction

Shopify ($79/month):  2.6% + 30 cents per transaction

Advanced ($299/month): 2.4% + 30 cents per transaction

Shopify Plus (starting from $2000/month):

2.15% + 30 cents per transaction

(fee applied for the US market)
→ It can be seen that compared to the highest-tier standard Shopify plan – Advanced, the credit card transaction fees of Shopify Plus will save businesses 0.25%.
Now look at the transaction fees with third parties:
Basic: 2% per transaction

Shopify: 1% per transaction

Advanced: 0.5% per transaction

Shopify Plus: 0.15% per transaction
→ The difference in fees for transactions with third parties is evident, and Shopify Plus is a better choice.
Shopify has a vast app store with over 6000 apps developed by Shopify and third parties. In Particular, there are many apps developed specifically for Shopify Plus. Depending on each business's needs, the cost of installing apps can range from $0 to a few hundred dollars or several thousand dollars per month.
The basic setup of the Shopify Plus platform is sufficient for businesses to operate their websites. However, to deploy more effectively and provide a better customer experience, businesses may need to install additional Shopify apps, which incur costs. Naturally, with the investment in these apps, businesses will gain equivalent benefits.
Disadvantages
Due to its nature as a SaaS eCommerce platform, businesses will not own the source code and website data, which leads to cost disadvantages. Businesses that have reached the level of using Shopify Plus will have a demand for utilizing features, apps, and tools or integrating with third parties. In addition to the fixed monthly cost of using Shopify Plus, businesses also have to pay monthly additional fees based on their needs. This makes it difficult for enterprise-level businesses to manage their cash flow. 
On the other hand, for most open-source platforms, although deployment costs are high and deployment time is long, businesses can make a one-time payment and own the source code, data, and long-term features. Therefore, using open-source platforms will help enterprise-level businesses manage their cash flow more efficiently.
Related article: Shopify Plus vs Adobe Commerce: Key Differences 2023
With many years of experience implementing eCommerce solutions for numerous businesses in different countries, SECOMM understands the potential of Shopify Plus to empower eCommerce operations as well as the challenges and difficulties they may encounter during the initial stage.
Contact SECOMM today or call our hotline (+842871089908) to receive a free consultation.