As per Statista's data, Social Commerce worldwide generated 992 billion USD in revenue in 2022, with projections indicating a potential surge to 2.9 trillion USD by 2026. This positions Social Commerce as a highly valued and potential trend in the future of eCommerce.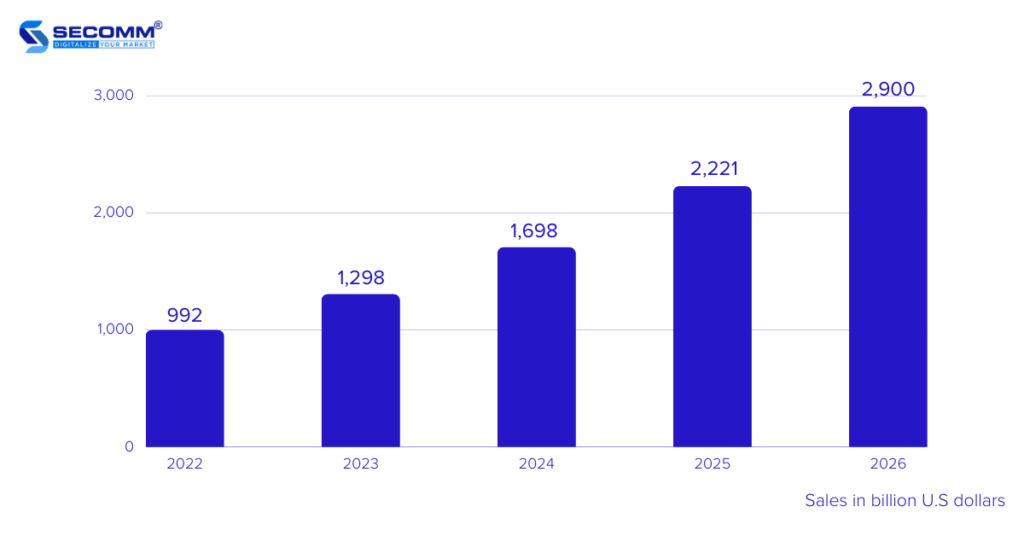 What is Social Commerce?
Social Commerce is a term that combines two key concepts: "Social" and "Commerce".
It represents a business model that seamlessly integrates social media and eCommerce, aiming to create a shopping experience that is more interactive and connected for customers.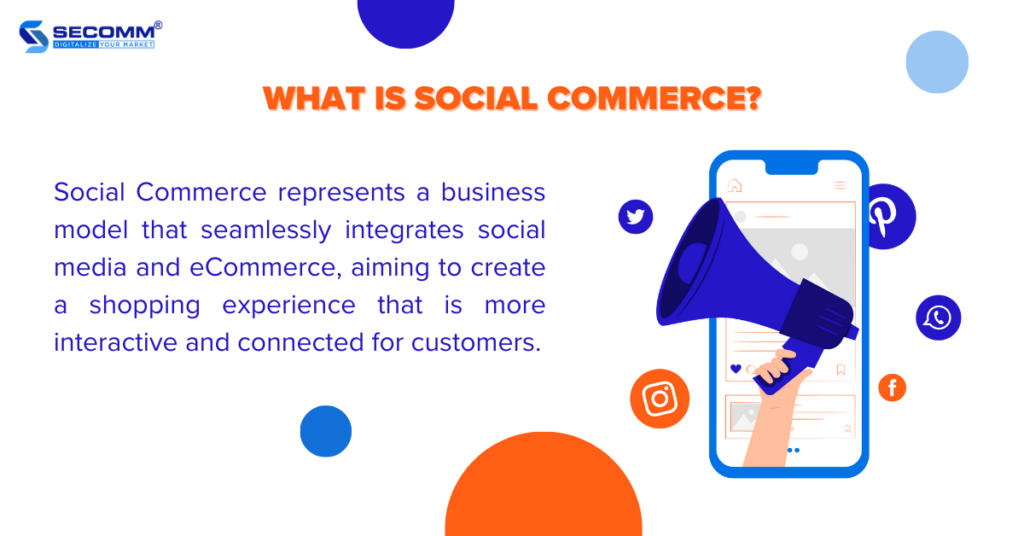 Social Commerce enables users to view and purchase products directly through social media platforms such as Facebook, Instagram, TikTok, etc.
This approach allows customers to delve into product details, read reviews, engage with comments from other users, and even make direct purchases through business posts, advertisements, or social platform storefronts.
The Social Commerce model often comes with interactive features, product-sharing capabilities, and personalized product recommendations.
Social Commerce takes advantage of the widespread popularity and extensive user base on social media platforms to naturally amplify the reach and influence of products and brands.
How does Social Commerce work?
Social Commerce vs eCommerce
Social Commerce and eCommerce are two distinct online business models, yet they share the common goal of online commerce. Here are the differences between these two models: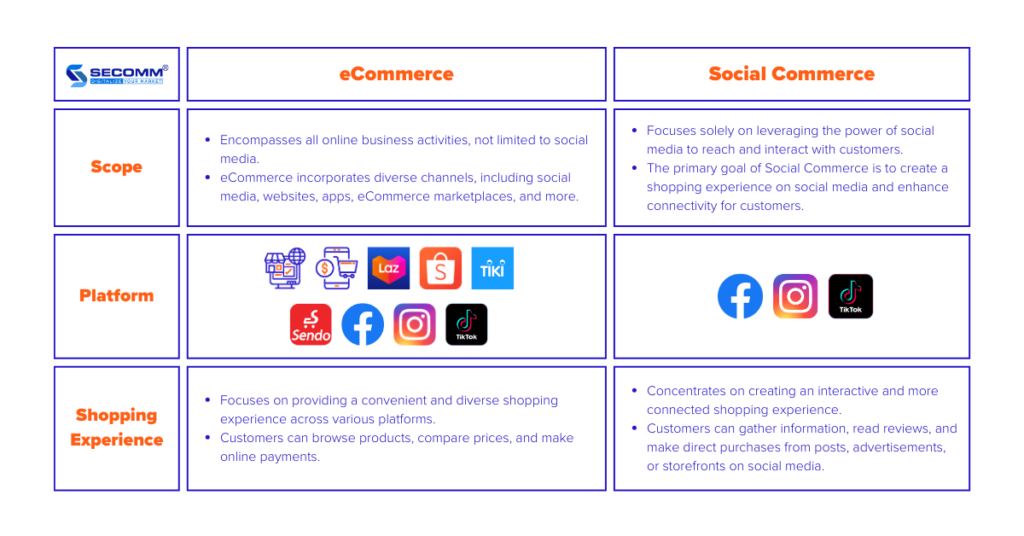 Types of Social Commerce
There are various popular types of social commerce, and the choice depends entirely on the scope and objectives of each business. Here are some common types of social commerce:
Influencer Marketing

: This marketing form leverages the influence of users with large social media followings. Businesses collaborate with celebrities or influential individuals to promote their products and brands.

Affiliate Marketing

: In this strategy, businesses empower influential individuals to promote or review their products/services in social media posts by embedding links, and incentivizing sales. In return, these affiliate partners earn a percentage of the revenue generated from those links.

Social Media Advertising

: This type of social commerce centers around using social media platforms as advertising spaces. Businesses can run ads on platforms like Facebook, Instagram, Pinterest, TikTok, etc., to reach their target audience.

User-Generated Content (UGC

): By encouraging customers to share their experiences using products or services on social media platforms, businesses aim to build trust among both current and potential buyers. 

Live Streaming

: Hosting live streaming sessions on platforms like TikTok, YouTube, or Twitch allows viewers to interact directly with the business. This involves introducing products/services, fielding questions, and receiving user feedback during the broadcast, ultimately boosting online interaction and sales.
Benefits of Social Commerce
Enhance brand identity
Social Commerce facilitates businesses in reaching millions of users across various social media platforms, particularly globally popular ones like TikTok, Facebook, Instagram, and Pinterest.
This approach not only boosts brand awareness but also promotes businesses' products and services to the extensive user base on these platforms, creating organic traction through user sharing and interaction.
The renowned sportswear brand Nike has successfully implemented Social Commerce by leveraging engaging posts, videos, and advertisements on social media platforms such as Facebook, Instagram, and Twitter.
The brand consistently runs advertising campaigns encouraging users to share their product experiences. Through user-generated posts and the strategic use of specific hashtags, Nike has sparked natural virality, resulting in an increased level of brand recognition.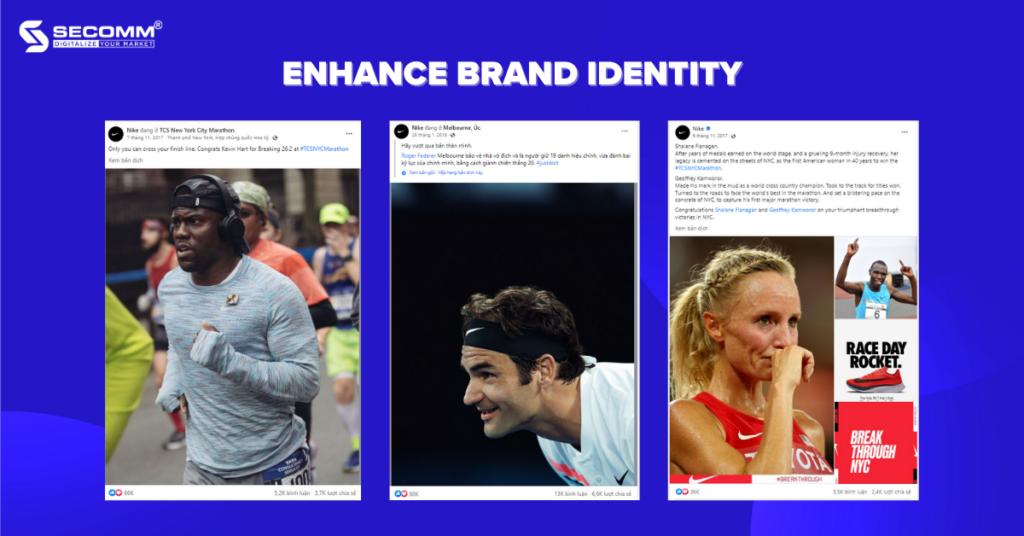 Optimize the shopping experience
A key feature of social commerce is its focus on creating a seamless online shopping experience for users, simplifying the transition from product browsing to actual purchases. Customers can buy directly from posts, advertisements, or online stores on social media platforms.
This not only streamlines the shopping process but also enables businesses to optimize customer experiences, save time, and boost the eCommerce sales volume for the brands.
The cosmetics brand L'Oréal has created various TikTok channels for each target market in its beauty chain, such as lorealparis (global), lorealparisusa (U.S. market), lorealparis_vn (Vietnamese market), lorealparisid_shop (Indonesian market), lorealparisth_store (Thai market), and so on.
This approach not only allows the brand to reach the right target audience but also takes advantage of TikTok Shop, enabling customers to purchase products directly through L'Oréal's TikTok channel.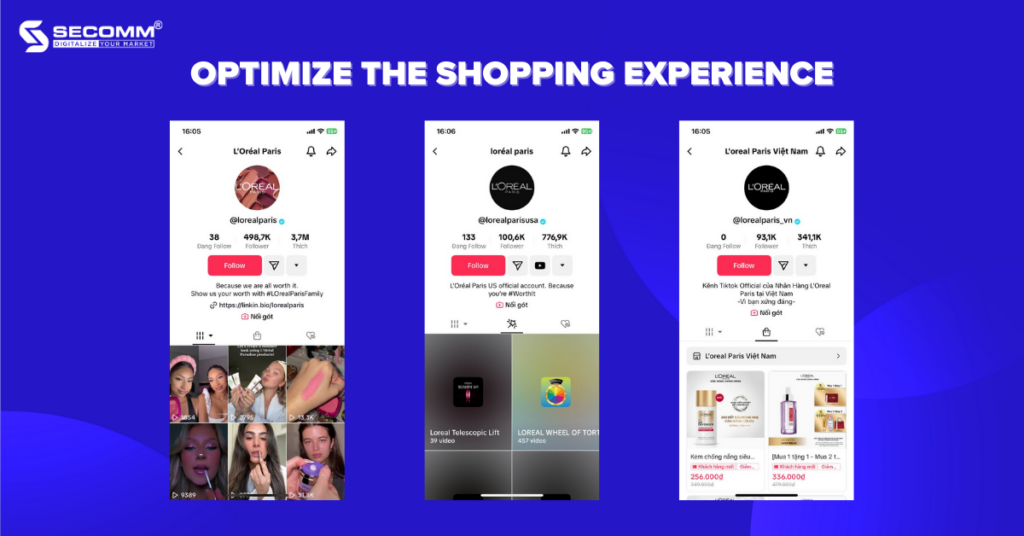 Monitor & measure performance
Presently, social media platforms offer comprehensive analytics and data measurement tools for businesses. For instance, Instagram Insights provides demographic information such as gender, age groups, and geographic locations.
Facebook Audience Insights goes a step further in collecting detailed data about a business's target audience, while TikTok Pixel allows tracking vital metrics like clicks, views, and conversion rates, and assessing the effectiveness of advertising campaigns.
Leveraging these data sources assists businesses in creating more efficient social commerce campaigns compared to traditional retail operations. A noteworthy example of the successful implementation of Social Commerce with optimized tracking and measurement is Fashion Nova.
This prominent American fashion brand specializes in offering women's clothing and accessories. Fashion Nova's Instagram posts often incorporate sharing and user tracking features, enhancing the dissemination of information about products and the brand.
Furthermore, Fashion Nova utilizes Instagram's measurement features and analytical tools to evaluate the effectiveness of the brand's marketing and advertising campaigns.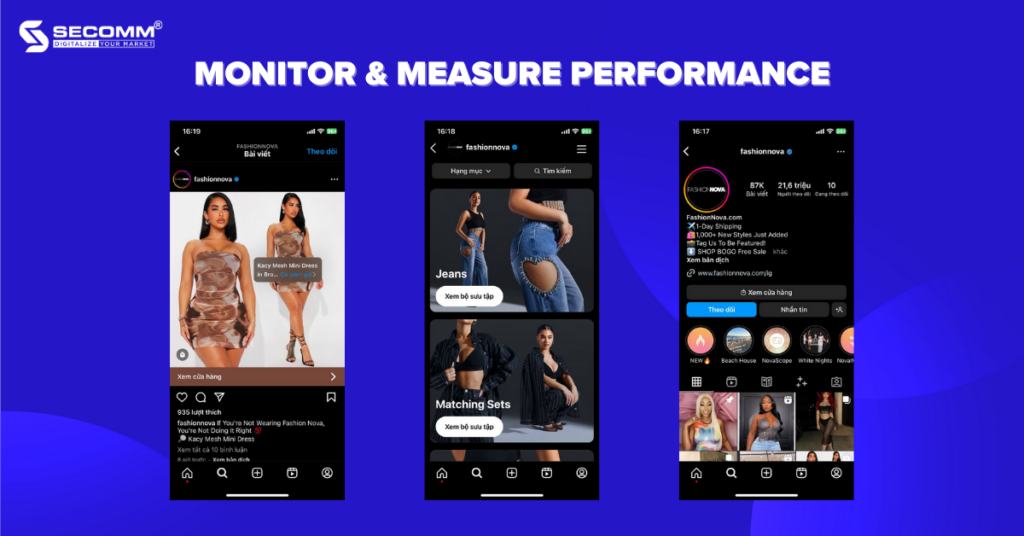 Boost engagement & customer service
Embracing social commerce enables businesses to seamlessly engage in direct interactions with customers and gather their feedback regarding the brand or product through posts, direct conversations, comment responses, and messages.
This facilitates quick customer support, addresses inquiries promptly, fosters satisfaction and fortifies customer relationships. Moreover, based on this valuable customer feedback, businesses can refine their products/services to align with customer expectations.
Tarte Cosmetics, a renowned cosmetics brand specializing in makeup and skincare products, has effectively utilized social media platforms such as Instagram, Facebook, and Twitter to implement social commerce. The brand consistently engages with customers across social media channels.
The administrative team promptly responds to user comments and messages, addressing inquiries and offering technical support. This approach builds trust and satisfaction among customers, actively strengthening positive customer relationships.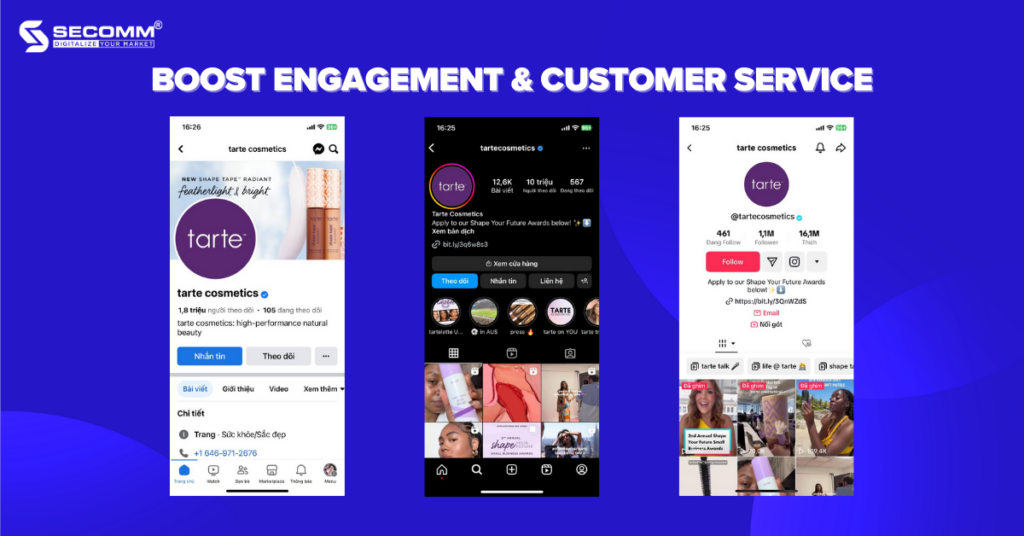 The Bottom Line
Here are insights, advantages, and examples of businesses effectively embracing Social Commerce. Depending on each business's strategy, administrators can blend social media and eCommerce to engage customers and establish a brand in the current digital era.
Related Reading: eCommerce: Inbound Marketing vs Outbound Marketing
Contact SECOMM or directly call the hotline at 02871089908 today for complimentary guidance on implementing eCommerce Marketing overall and Social Commerce specifically.