As eCommerce becomes a new trend that encourages a slew of brands to enter the market, selecting the right eCommerce platform to build a successful eCommerce website becomes critical. While Shopify is the most popular SaaS platform, Magento is the top choice in the open-source platform, and the WooCommerce plugin has won the trust of many brands due to its outstanding features and ease of use.
What is WooCommerce?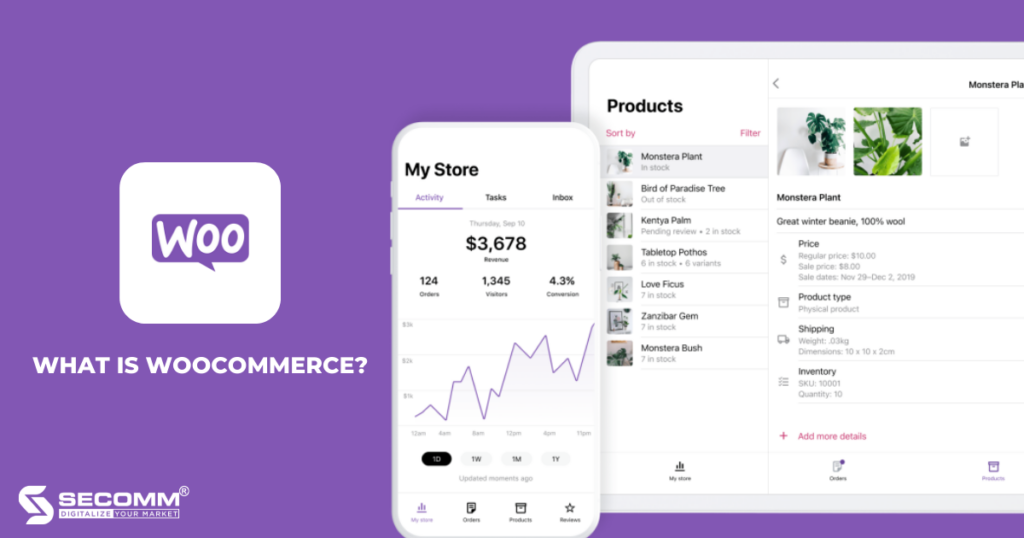 WooCommerce is a free WordPress plugin that allows brands to set up an eCommerce website by adding eCommerce functionality to an existing WordPress site. This plugin can transform a regular WordPress website into an eCommerce website with all the necessary features and easy customization with just a few clicks.
The benefits of using WooCommerce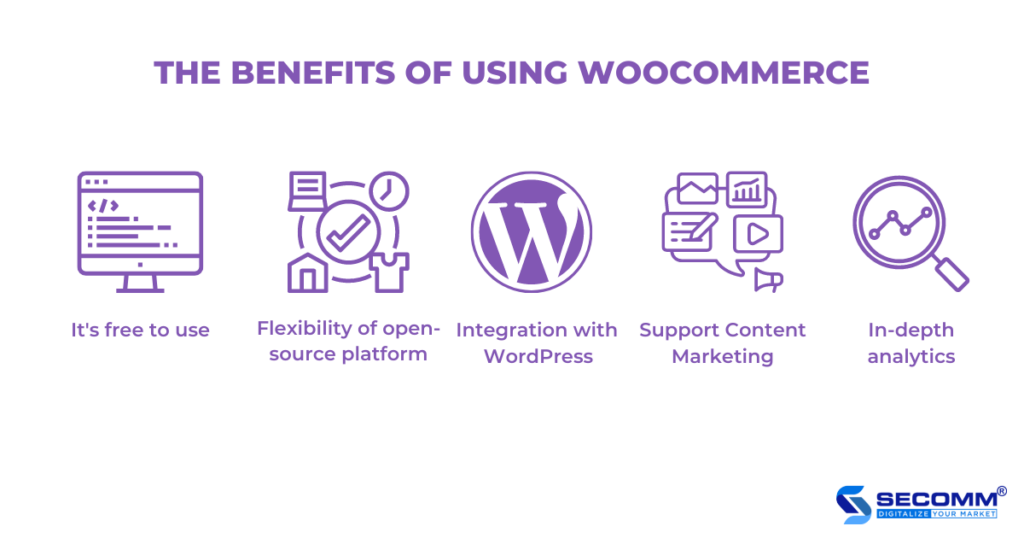 It's free to get started
Price is an essential factor to think about when selecting a platform for implementing eCommerce. Popular platforms on the market today have prices ranging from free to several thousand dollars per year, making it even more prominent and preferred by businesses because this plugin is entirely free to download and install.
As a result, any business can benefit from its features without committing to costly support contracts or software licenses.
The flexibility of the open-source platform 
It is an open-source plugin built on the WordPress CMS that gives users complete control and allows them to easily customize their eCommerce website to their specific needs. WooCommerce, in addition to being suitable for a variety of businesses serving different customer segments, also provides long-term scalability, giving businesses of all sizes more flexibility in deploying eCommerce.
Integration with WordPress
The seamless integration between WooCommerce and WordPress brings many benefits to this plugin because of the availability of the large WordPress community throughout the years. WooCommerce can take advantage of the platform's massive ecosystem of plugins, themes, guides, and other unique features.
Yoast SEO, for example, has long been a well-liked plugin with numerous international translations, ease of use, and advanced SEO support. Since WooCommerce integrates with WordPress, Yoast SEO also integrates with WooCommerce.
Especially when a business has a website on the WordPress platform and needs to turn it into an eCommerce website, WooCommerce will make it easy and seamless, so users do not have to start over with a brand new platform.
Providing qualified-standard content management 
Content Marketing is the key to an effective eCommerce website. If businesses are looking for an eCommerce platform built on the world's most popular content management system (CMS), WooCommerce can fulfill that expectation.
When the WooCommerce plugin is integrated into WordPress, many content management options, including Blogs, Landing Pages, Product Descriptions, Email Marketing, and SEO plugins (Yoast WooCommerce SEO), will help sellers optimize content for search.
Providing in-depth analytics
Integrated analytics is another advantage of the plugin because the more you learn about customers and how they interact with your eCommerce website, the more you can adjust to meet customer expectations. For example, businesses can use sales data to learn about customers, thereby establishing a customer persona to increase sales in the future.
Furthermore, it provides a comprehensive WooCommerce analyzer displayed in a clean and user-friendly interface. Businesses can then easily integrate WooCommerce with third-party analytics services such as Google Analytics, Google Tag Manager, and others.
The downsides of using WooCommerce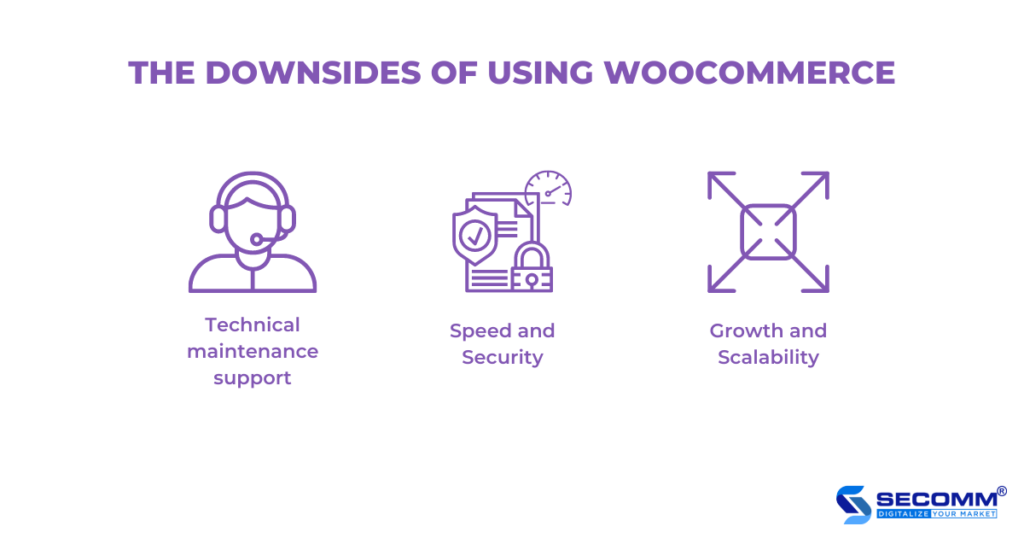 Technical maintenance support
When using this plugin, the user is responsible for keeping the eCommerce website up-to-date, accessible, and functional. In fact, there is some support from the hosting company and the WooCommerce community, but it does not allow users to simply call for technical assistance.
Plugins will notify users of security updates, but users must install and handle problems themselves. In fact, hosting companies will support this. Still, users need to have a bit of technical knowledge to facilitate the process of supporting related issues to avoid affecting the performance of the eCommerce website.
This disadvantage stems directly from the fact that businesses have complete control over the eCommerce website system's source code and data. Maximum authority entails maximum accountability. Although businesses continue to receive support for WooCommerce issues, compared to other eCommerce platforms such as Shopify, BigCommerce, Magento, etc., WooCommerce still has many shortcomings in the technical maintenance support process.
Speed and Security 
With the constant increase in unauthorized access (Website Hacking), website speed and security are more critical than ever. Speed and security are significant advantages for SaaS platforms such as Shopify and BigCommerce. At that point, your eCommerce website is housed in the infrastructure of these platforms, and a team of technical experts will continuously monitor and resolve any issues that arise to keep the website running smoothly.
Similar to a technical maintenance situation, WooCommerce essentially leaves the user responsible for the speed and security of the website despite the wide range of 3rd party support options.
Although speed and security are not an issue for some new businesses deploying eCommerce websites, this is still a significant drawback of this plugin when businesses are responsible for many issues ranging from technical maintenance to website speed and security, especially if the eCommerce site is on the verge of rapidly growing from hundreds to thousands of hits.
Growth and Scalability  
Because it is a WordPress plugin, it will operate in accordance with WordPress functions. Meanwhile, WordPress functionality is not explicitly designed for eCommerce but rather is based on the flexibility of open-source code. This means that when a user exceeds a certain query threshold, the way WooCommerce works is broken.
For example, when a large number of shopping carts are added, or checkout occurs at the same time, or when too many users visit the website simultaneously, overload occurs, making the operation of the eCommerce website difficult. This is difficult because the WordPress system and the WooCommerce plugin are no longer compatible. 
If your eCommerce website is still small and growing, this is not a problem; problems can still be quickly resolved. However, as the size of your website expands and grows rapidly, this is a disadvantage in terms of both performance and cost that businesses must consider before proceeding.
In a nutshell, WooCommerce is a fantastic plugin that many businesses would love to choose when deploying an eCommerce website. However, besides the outstanding advantages, there are still certain downsides, so businesses must carefully consider and compare with other platforms before starting out. 
With many years of experience implementing eCommerce in many countries, SECOMM provides free consulting services with professional eCommerce solutions.
Contact us today for free support and advice!